Oliver Wang

Baby's First Record (and Record Player)

Memories of the Phonograph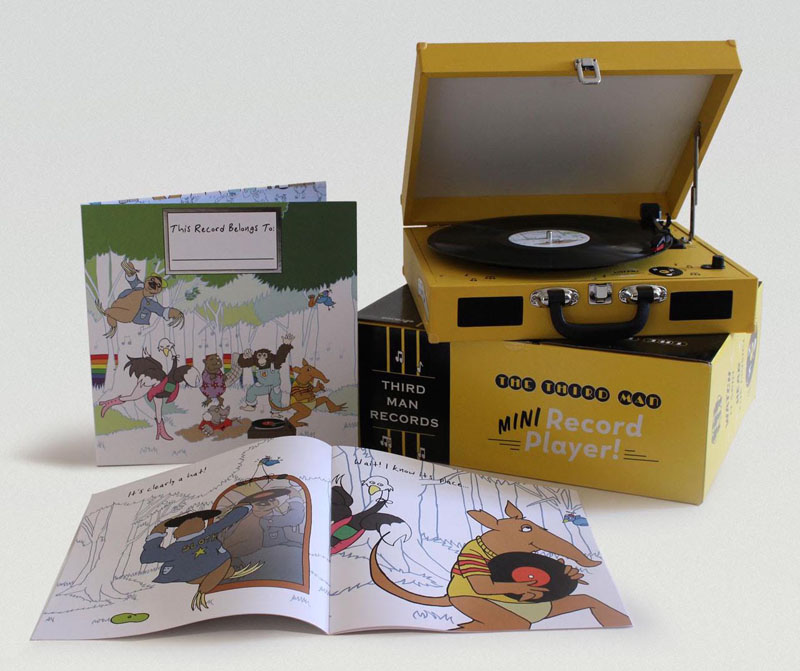 Light in the Attic and Third Man team up for "This Record Belongs To _______"
By Oliver Wang, November 25, 2015 as written in Cuepoint (1) and Honorary Friend of the Phonograph
Early in my daughter's childhood, I gave her a small Fisher Price record player and a handful of kids' records on 7". I confess this was partially an act of parental narcissism; we don't just want our kids growing up with our personalities or physical features, we want them to mirror our tastes too, in food, in sports teams, in obscure sweet soul singles. Setting my daughter up with her own turntable was a way to test whether my love of records was inheritable, a kind of cultural confirmation that she was, indeed, my girl.
Clearly, I'm not alone in this impulse since Seattle's Light In the Attic and Nashville's Third Man Records have teamed up to produce This Record Belongs To _____, a bundle comprised of both an album of children's music, compiled by Zach Cowie, and a portable turntable commissioned by Third Man. After all, why gift the child in your life their first record when you can also gift them their first record player too? It's a clever concept, one that makes you wonder why no one else thought of this sooner, but only half of it's worth your trouble.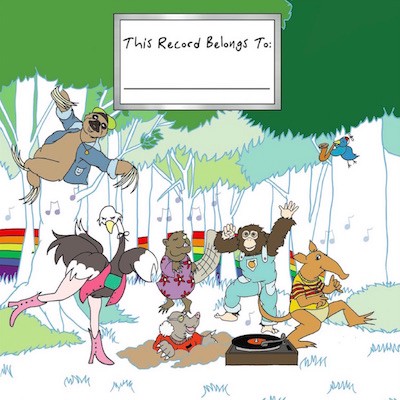 The bundle's better half is the This Records Belongs To _____ album. Cowie approached the compilation with a mixtape sensibility, opening with the mostly-charming, slightly-creepy "Invitation" from poet Shel Silverstein before immediately sliding into the catchy thump of Van Dyke Parks's cover of "Occapella" (I would have preferred Lee Dorsey's original, but whatever). It's clear from jump that Cowie wanted to steer clear from traditional children's standards; you won't miss hearing yet another version of "Wheels On the Bus," trust me. Likewise, at a time where contemporary kid's music seems mostly made up of cheap remakes of chart hits, This Records Belongs To _____ mines a slew of original compositions from rock, soul and folk traditions.
That includes everything from Carole King's "One Was Johnny," originally created by her and author Maurice Sendak for the mid-70s musical Really Rosie to folk legend Woody Guthrie, whose infectious "Dance Around," first came out in the early 1960s. Cowie roots around the more obscure as well, plucking out poet Ella Jenkins's ode to arboreal adoration, "Pretty Trees Around the World," and also includes "Running In the Garden" by Miss Abrams, backed up sweetly by the Strawberry Point 4th Grade Class choir.
As a 70s baby, I had the most fun rolling down memory lane with the funky countdown of the Pointer Sisters' "Pinball Number Count," which got heavy run on Sesame Street during my childhood. The album ends with another Children's Television Workshop classic: Kermit the Frog's "Rainbow Connection." Having heard seemingly dozens of cover versions — half of which were probably on a reality singing show at some point — the original "Rainbow Connection" was more sparse than I remembered, with the late Jim Henson (Kermit's voice) finding that magic zone between wistful melancholy and wide-eyed hope.
For all the thoughtfulness of the This Records Belongs To _____ record, its accompanying "Manny" record player seems to lack those same qualities. Commissioned by Third Man, the Manny was manufactured by Jensen, makers of all those middling, budget turntables littering big box retailers. It's billed as a "mini record player" yet loaded with batteries, it clocks in near 10 pounds and measures an anything-but-mini 800 cubic inches. My ten year old had trouble simply lugging it around; I can't imagine how a five or six year old would manage this without dropping it on someone's toes…likely their own.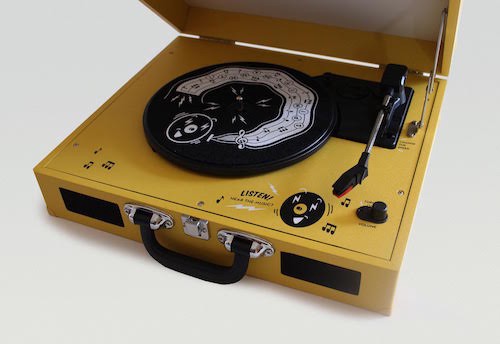 But for the sake of argument, let's say it wasn't so cumbersome. You're still left asking such reasonable questions as: why does it have RCA outputs and an auxiliary input but no headphone jack? Why offer an USB output for digitizing vinyl when the internal components are so lo-fi, you'd easily find better fidelity for a song on any digital music/streaming site? Why have a 45 adapter that falls out of its holder if you carry the turntable around? Why offer a 78 rpm speed setting when most 78s won't play well using the built-in 33/45 rpm stylus? Why does its oversized casing have no internal storage for the power cord? Why does a children's phonograph have such a heavy lid and complicated hinge mechanism that seems destined to mash the fingers of, say, a small child?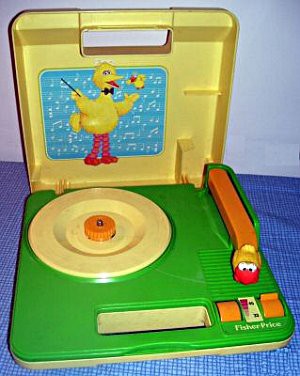 It shouldn't be that hard to commission a well-designed, practical, child-safe(r) turntable; heck, Fisher-Price created one over 30 years ago, with optional Big Bird headshell. It's not that the "Manny" is inoperative; it will do an adequate job of playing the record it comes with and sure, your child may ooh-and-aah over it (assuming they can pull it out of the box without hurting themselves). But compared to the thought put into This Record Belongs To _____, the record player feels constructed out of a series of questionable decisions. This is made all the more surprising because Third Man has lead the charge on delightfully creative vinyl-oriented concepts (or, as others might say, "gimmicks"). There was last year's 5-in-1 "Lazaretto" record which, among other things, plays from the inside out and has an outer rim groove that loops itself. Personally, I love that they released a flexible, postcard record that was literally distributed by balloons. However, their Manny turntable is a rare misstep: good in concept but subpar in delivery.
Despite all that, the Manny still produced at least one proud parental moment. After setting it up for my kid to check out, her first question was "can I scratch on it?" See? My girl.
(1) This article courtesy of Oliver Wang and Cuepoint - Medium's Premier Music Publication: An ear for the new, a heart for the classics