Advertised as the World's First Animated Talking Toy, Teddy Ruxpin enjoyed great popularity in the late 1980's. Manufactured by Worlds of Wonder (WOW) in 1985, this amazing bear had a moving mouth and eyes that synchronized with his words. Built around a special cassette tape and playback system Teddy could also be connected to his octopede friend Grubby. Matching the words of each storybook, Teddy and Grubby spoke their lines and moved their mouths while other characters joined in on the soundtrack in over 40 adventures.
The early full-sized Teddy's were manufactured by Worlds of Wonder until 1989 after which time a smaller Teddy was introduced by WOW/Playskool using special cartridges instead of tapes. A still smaller version of Teddy was produced by Yes! Entertainment from 1998-1999.

I can fondly remember my mother and I Christmas shopping at the Miller and Paine Department Store in 1985 and asking the salesman about Teddy Ruxpin who wasn't even on a display shelf. We were assured that Teddy was back-ordered and deliveries (special charter flights) were expected stateside any day. Retailing at $84.95 they were expensive. But the salesman spoke with enthusiasm about the books and accessories and careful planning that had gone into this product and assured us it was worth the price. After all, he noted, it was fun and educational. And thanks to my parents one did find its way to under the tree that Christmas.

Worlds of Wonder Brochure, 1985
Was Teddy the world's first animated talking toy? One would have to say no, as Mattel's Animal Yacker series in 1964 (toys like Crackers the Parrot whose beak moved when he spoke or Larry the Lion whose mouth moves and talks when his pull string is pulled) fulfill the animated and talking toy criteria of that world's first claim. But certainly, Teddy was the first of its kind and combined with his popularity Teddy Ruxpin is a worthy member of the Talking Toy Hall of Fame.
For information about how Teddy works go to Vaughn Hangartner's site by clicking How TR Works (http://www.mindspring.com/~mathue/workings.html)
Worlds of Wonder Brochure, 1985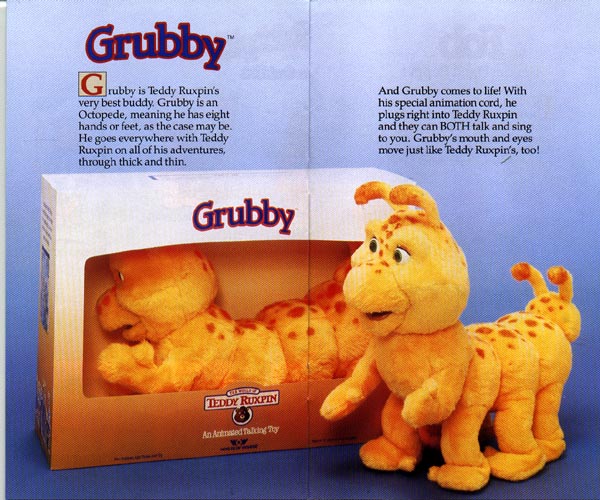 Teddy had ten outfits that could be purchased to dress him appropriately for his adventures. Five of the Teddy's outfits are displayed below ( Winter Outfit, Flying Outfit, Workout Outfit, Sleeping Outfit, Summertime Beach Outfit). Other available Adventure Outfits were: Hiking Outfit, Rain Outfit, Tuxedo, Santa Suit and a special order Doctor's Outfit.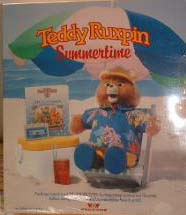 Talking Teddy by Lionel

This teddy bear and record player were made by Lionel in the 1950's. The record player played four speeds - 78, 45, 33 1/3 and 16 2/3. Teddy had a zipper in his back where the speaker from the record player could be placed so that the sound from the record player came out of Teddy. Tge Terri Lee doll from about the same period used a similar method for making the doll "talk", however, the speaker in Terry Lee was built into the doll. Pictured with the record player are two of the albums that could be used with Teddy.