Andy Orlando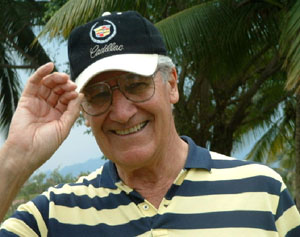 Memories of growing up and the phonograph
By Andy Orlando, 2009
My name is Fernando (Andy) Orlando. I was born in Dos Palos, California on December 6, 1932.
My parents immigrated to California from Moliterno, Italy in 1919. My dad hauled gravel for his first job in California, was able to buy 10 dairy cows for their small farm and in 1923 purchased, paying cash, 40 acres in Dos Palos. An old house was moved from Dos Palos to the newly acquired farm and it was in that house that I was born.
The Orlando Family c. 1935 (Andy is lower right with father's hand on his shoulder)
Our farm got electricity from PG&E in 1937 and I remember every Sunday morning at 10:00 a.m. my dad would listen to the Johnny Cardellini show on our cathedral shaped Philco radio. This was an Italian speaking show that I think was broadcast from San Francisco featuring journalist Johnny Cardellini who talked about the news and broke it up with music. My dad didn't speak any English so this was a show he could understand even though there was alot he didn't like about Cardellini's views.
The radio show was followed by our biggest meal of the week. My mother made her best spaghetti or beef roast for Sunday's noon-time meal that always included fresh Italian bread. We would go to the Dos Palos train station every Saturday night to pick up our week's supply of bread, five loaves of sourdough bread delivered by train from San Francisco as my dad didn't think store-bought sliced bread was really bread, saying simply "that's not bread!"
We got some supplies from a man who came by our house about once a month and took orders for anchovies, cheese and other goods. He was a gruff Italian who had no time for nonsense and would say "make up your mind, I got to go." When the placed-order was delivered we would pick it up at the train station. Other sources of goods were the Montgomery Ward's catalogue, peaches from Merced and the fish vendor who brought fresh fish from Monterey to Dos Palos every Friday. And of course mother had her garden which provided fresh produce for our table and for canning.
I think I was six when we got a spring-wound phonograph. It was an open, table top model in a wooden case with no lid. My dad loved Italian opera and I can remember him cranking up that phonograph and listening to his opera records. I remember one particular song that he played because we saw an opera at the moving pictures show in Dos Palos and I associate one of his opera records with a scene in the movie where a platter of spaghetti was carried out to a table, the platter got knocked over and the spaghetti went flying.
My dad mostly listened to his records on the weekends, particularly on Sunday after church while mom was fixing Sunday's dinner. I don't remember any other records being played on our phonograph except Italian opera. I do remember that when my grandfather died in 1940 and my mother opened the letter telling of his death (as he lived in Italy) I heard her scream and we had a week of mourning that included no radio or phonograph being played.
Since my parents weren't US citizens when the United States entered World War II and Italy was an ally of Germany, as Italians they were restricted to a 25 mile radius from their house and a requirement that they had to be inside their house by sundown each day. The government also took away their radio and their single-shot shotgun.
These were fearful times and the government was much harder on the Japanese residents in the US than they were on the Italians. So my parents in some ways were fortunate that they were able to continue to keep their farm and milk their cows. Nevertheless, the confinement did present some problems and there was some prejudice even though I had two older brothers, Joe and Fred, that would serve overseas during the War.
Joe was a Seabee in the South Pacific in 1942 and Fred joined the army in 1943, so that just left me and my twin brother Ace at home. We had 30 dairy cows in production during the War. I started milking cows when I was nine years old and milked ten cows in the morning at 5:30 am and ten after school. I had to wear bib-overalls (which I didn't like) for school and for work because they cost the same as jeans and according to my dad were a better value (more denim for the same price).
We raised alfalfa for the cows and got five or six cuttings during the summertime. After each cutting we would request irrigation water from the irrigation district. They would tell you when you could irrigate and then you would tell them when you were done and they'd charge you accordingly. Irrigation was done using ditches that had "checks" and you could do perhaps 4 or 5 checks at a time. You wanted to stop the water before it got to the end of the row so timing was important as you didn't want to waste water.
During the war my dad went out into the fields after dark to change the irrigation "checks", lantern in hand. Apparently on one occasion a neighbor or a "dollar-man" saw him and reported him for his violation of the sundown curfew. The sheriff came to our house the next day and my dad received a stern warning. I'm not sure what would have happened if they would have caught him outside his house after dark a second time.
When the War ended we could again have a radio but we didn't get our old one back, or our shotgun. I don't know what happened to that family phonograph with its Italian opera records. I'm sure a wind-up phonograph was eventually considered old and obsolete and thrown out.
When I married Judy in 1957 we bought a Sears black-and-white television, my first television, but it didn't have a record player with it. We did buy a 45 rpm record player a few years later and Judy had quite a few 45's for that machine.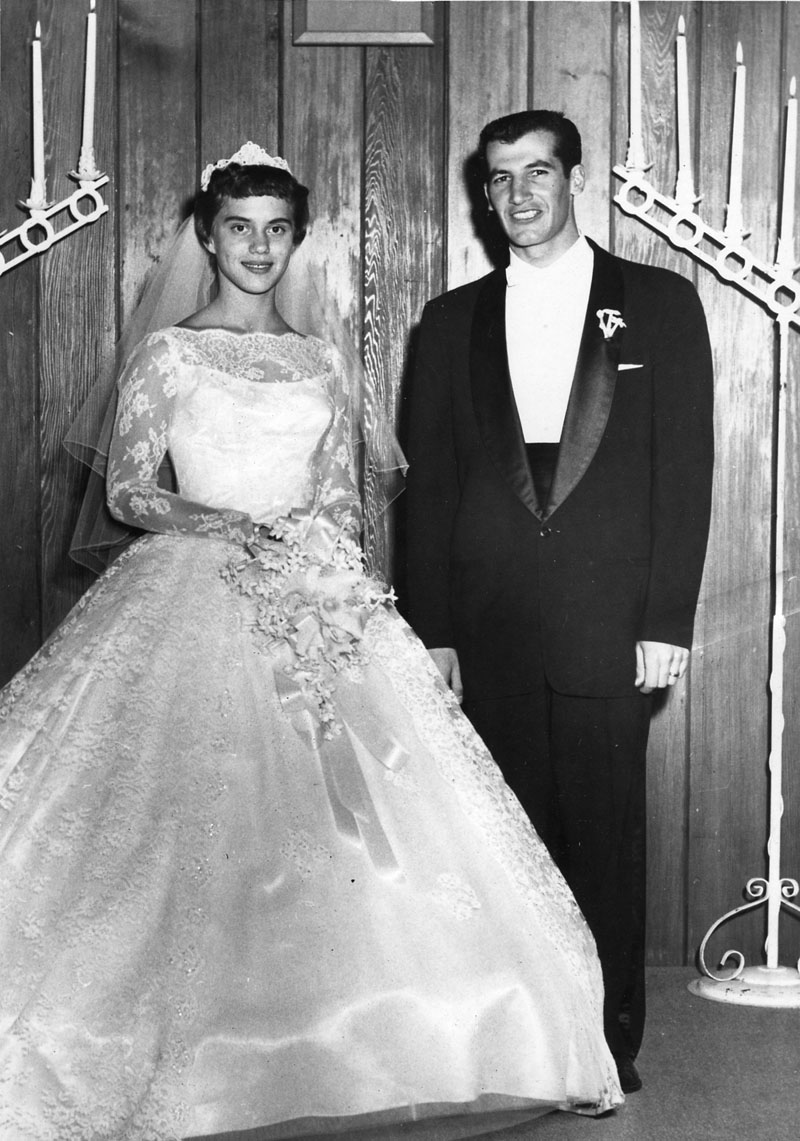 In 1976 we purchased a 1975 two-door, brown and tan two-tone Cadillac Coup de Ville that had an 8-track sound system in it. We really enjoyed the 8-track recordings on car trips as there was no switching of radio stations or loss of radio signal. Just continuous music at the push of a button.
Andy and Judy, 1977

Andy and Judy, 2002 with Edison Home Phonograph in background
Since then we have continued to enjoy recordings on cassette tapes, CDs and iTunes for Judy's iPod. So although phonographs haven't been a part of our home for many years, I'm pleased to be a "Friend of the Phonograph" and fondly remember those childhood Sundays and my dad listening to his Italian Opera records on his phonograph.
Andy's 80th Birthday

Note: "Dollar-men" - Called dollar-men because they got paid a dollar per year. They were the local civil defense group of the time, basically volunteers who were on the lookout for suspicious people or activities. They made sure windows were covered at night so that no lights would provide the enemy with any target, though I don't think the Japanese were going to invade Dos Palos. Nevertheless there was very real fears at the time as many thought an attack of the West Coast was possible. Historically, the original World War II "dollar-a-year" men were the corporate executives who quit the private sector to help the government during World War II.

In Memory of Andy Orlando - December 6, 1932 - April 11, 2018

PHOTO ALBUMS

Andy and Judy's 50th Anniversary Photo Album

Andy and Judy - November 7, 1957 - Often with Dance

Editor's note: Andy had the distinction, as a Friend of the Phonograph, of being born on December 6, the day when fifty-five years earlier Edison had completed his Phonograph, the first machine that could record and play back sound.

On December 6 the Friend's of the Phonograph annually celebrate the birthday of the Phonograph. I know Sharon and Doug will continue to give Andy an extra thought each year as the candles of the Phonograph's birthday cake are lit.

Phonographia