Evenings in any season are never dull with a phonograph

Winter Evenings

Ralph Wheeler, in Willa Cather's One of Ours, tells his mother that she needs a phonograph or else she will be dull "on winter evenings."

Phonograph ads, of course, had a very different message as the early phonograph industry promoted it in countless ways as "the finest entertainer in the world."

What Will You Do in the Long, Cold Dark, Shivery Evenings...Indoors?

Why!!! Have a Phonograph, of course.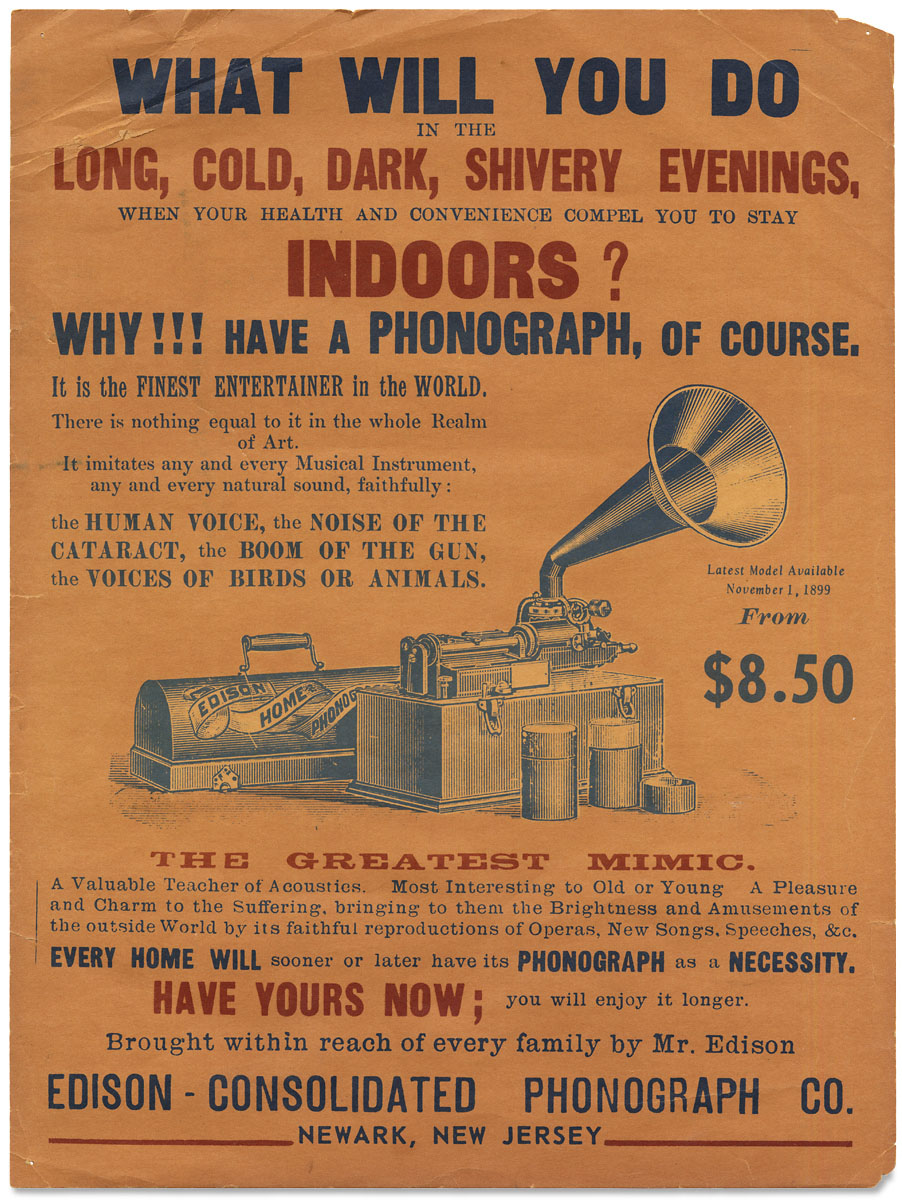 EVERY HOME WILL sooner or later have its PHONOGRAPH as a NECESSITY.
10" x 14" circa 1899 broadside (Courtesy of  Ian Brabner Rare Americana )
Ticket for an evening with the Phonograph. 1892, South Park Methodist Episcopal Church Hartford, CT
Any evening - "There is nothing like it for an evening's entertainment."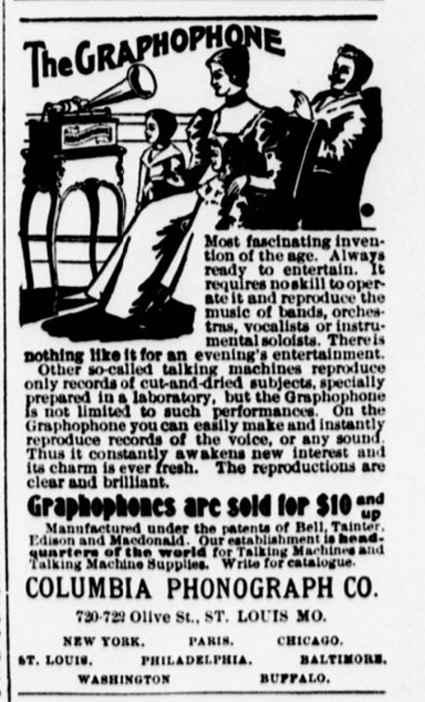 "Most fascinating invention of the age. Always ready to entertain."
May 13, 1898 Columbia Phonograph Co. ad, The Red Cloud Chief
"In the long evenings by the fireside" with "easy enjoyment of pleasing melodies."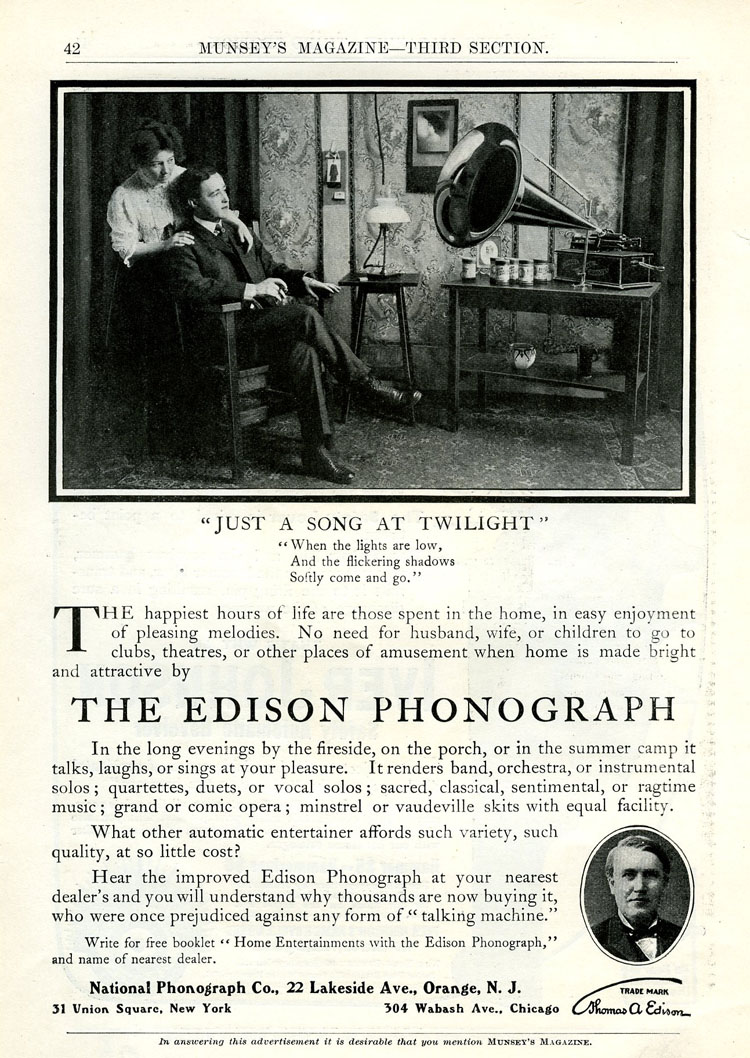 Munsey's Magazine, 1906 (PM-0891)
Keep a man at "home in the evenings" with the variety of amusement unmatched "by simply changing records."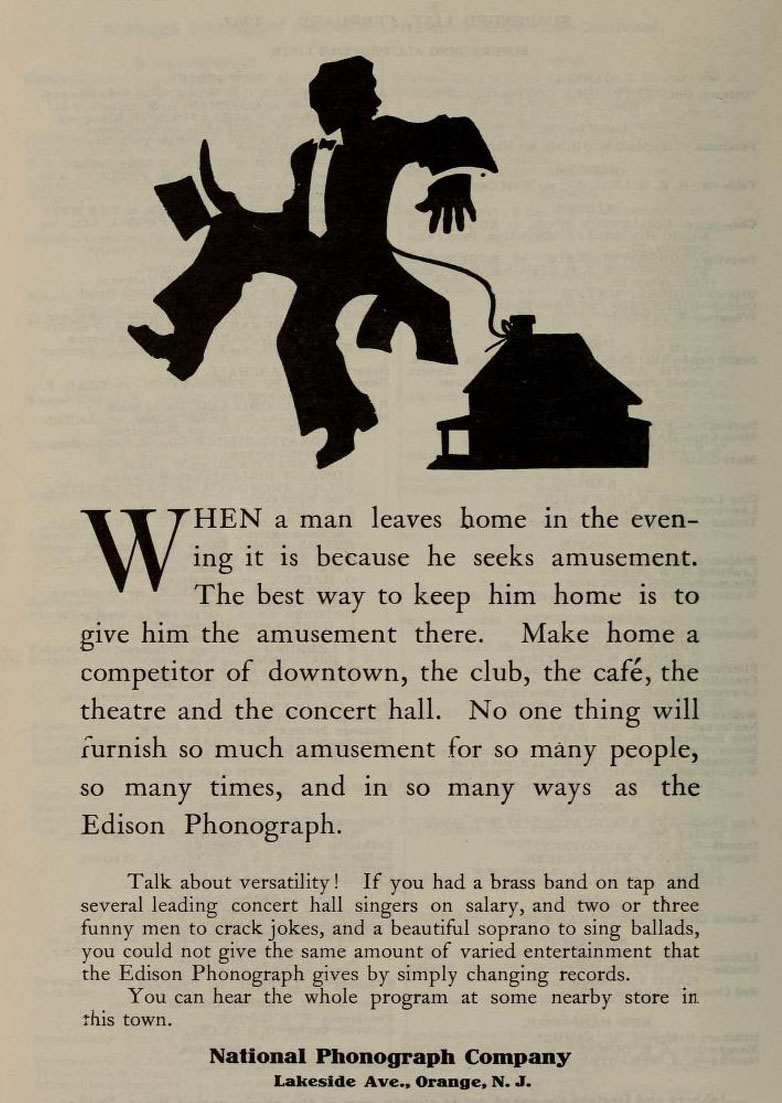 Edison ad for February Magazines, 1907
February 1907 The Edison Phonograph Monthly
"The hours need never drag"...if you have a Columbia phonograph for "joy filled evenings."

Columbia Graphophone ad, 1916

"These Autumn Evenings ENTERTAIN YOUR GUESTS with "His Master's Voice...."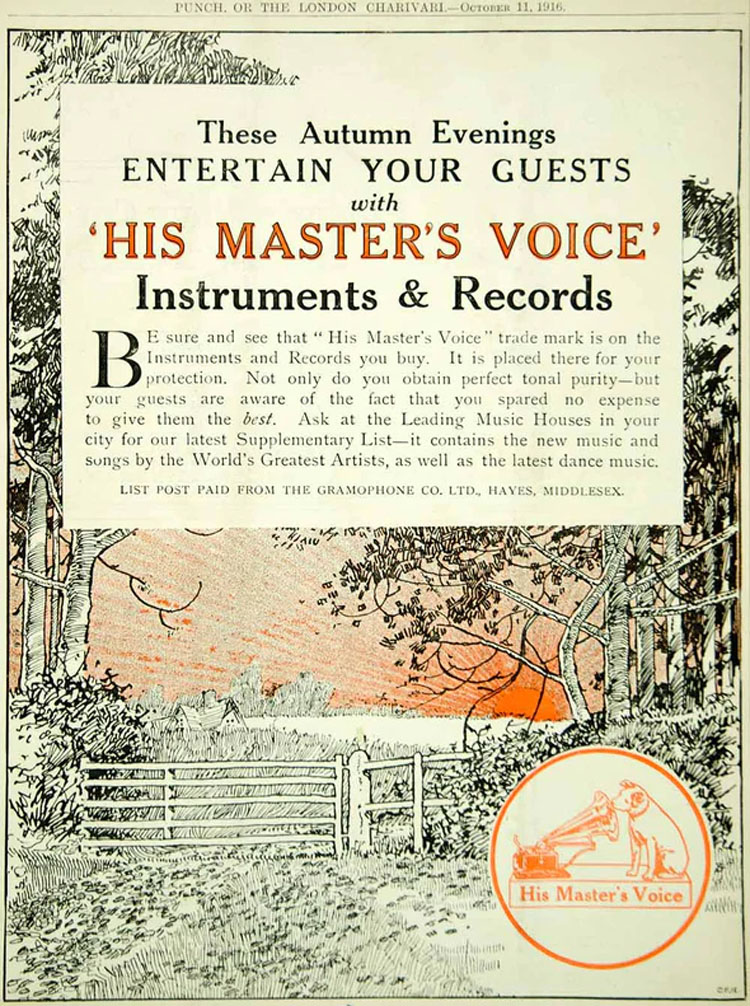 Punch, October 11, 1916
Hosting an evening of entertainment by bringing "the world's greatest artists into your home."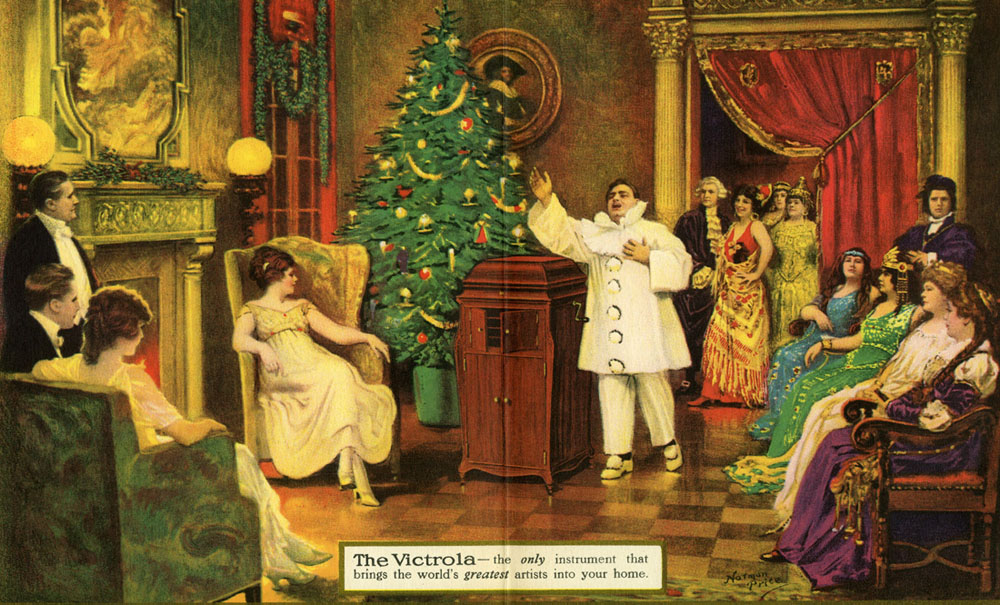 1916 Victrola advertising brochure (PM-0349)
"The hostess who has a Victrola never need worry about how the evening will go." (October 1913 Victrola magazine ad)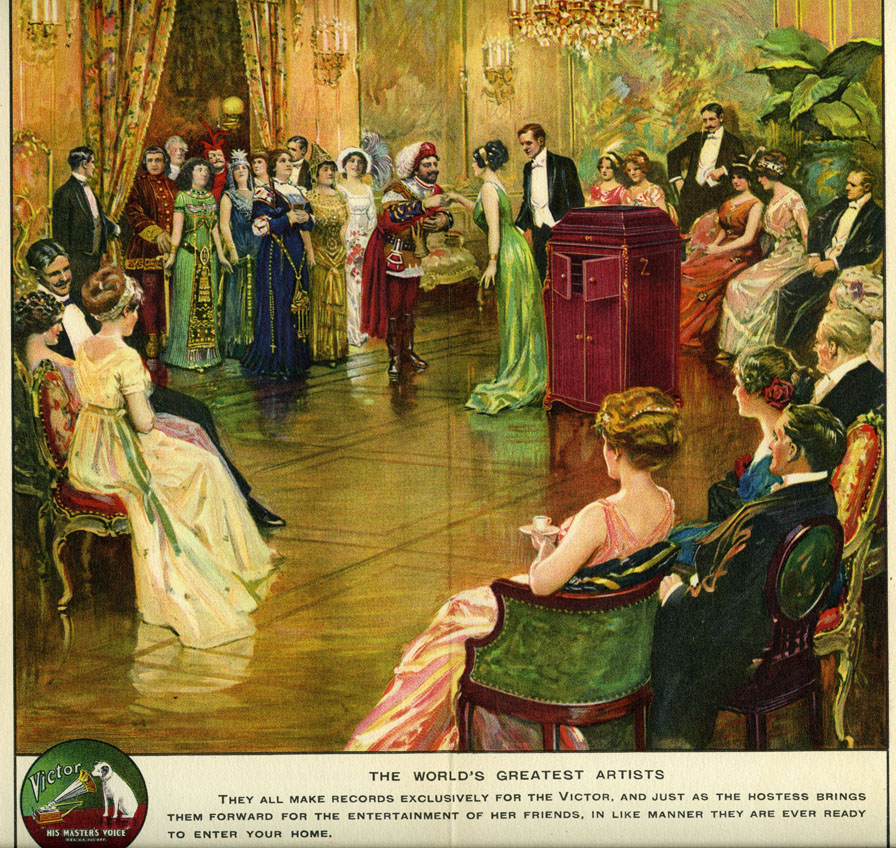 1914 Victrola advertising brochure (PM-0351)
"Evening delights by my favourite machine..."
Postcard, ca. 1920 (PM-0013)
"The crowning glory of long summer evenings..."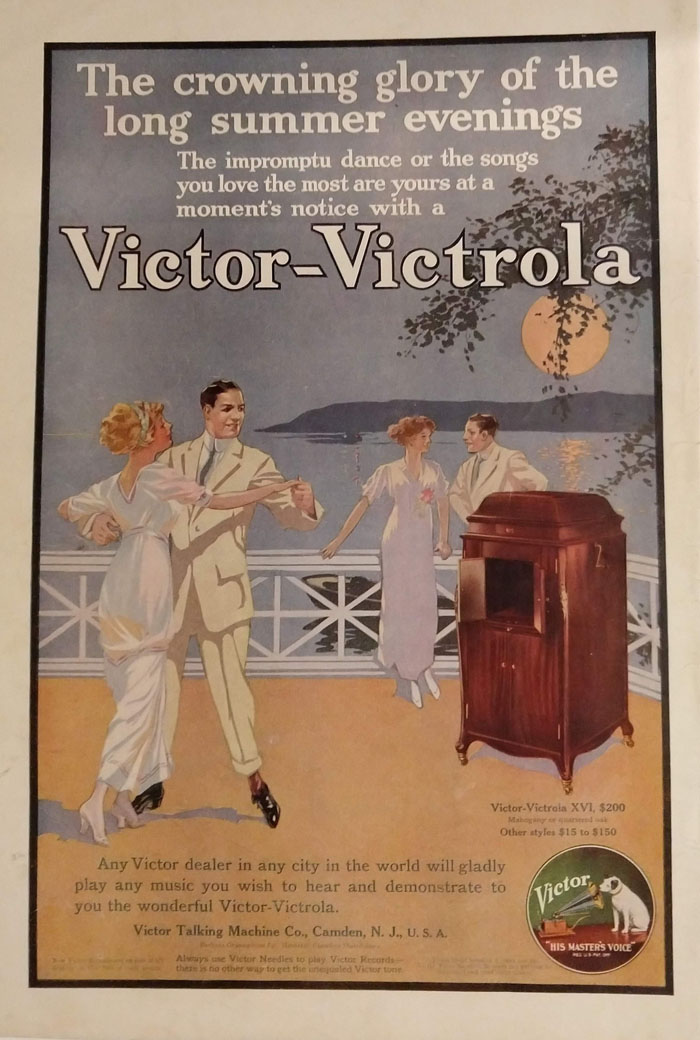 Victor ad, Collier's, 1911 (PM-0870)
See "Antique Phonograph, Gadgets, Gizmos & Gimmicks" for a novelty trade card depicting "a dull evening at home," circa 1908. By holding the card to the light a Zon-O-Phone magically appears as the "Ideal Home Entertainer - it drives dull care away." (2A)
One of Ours, on the bookshelf of PhonoLiterature
Phonographia