Fay Alice Vogt Erickson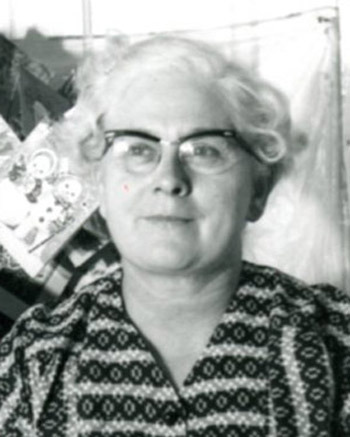 Sister Fay
By Doug Boilesen 2018 (my aunt and half-sister of Betty Ann Barr)
Fay Alice Vogt was born on March 22, 1904 at Elba, Nebraska to Frank and Anna Ellen Ender Vogt.
Fay had two brothers, Ray and Chris Vogt, and twenty years later a half-sister, Betty Ann Barr.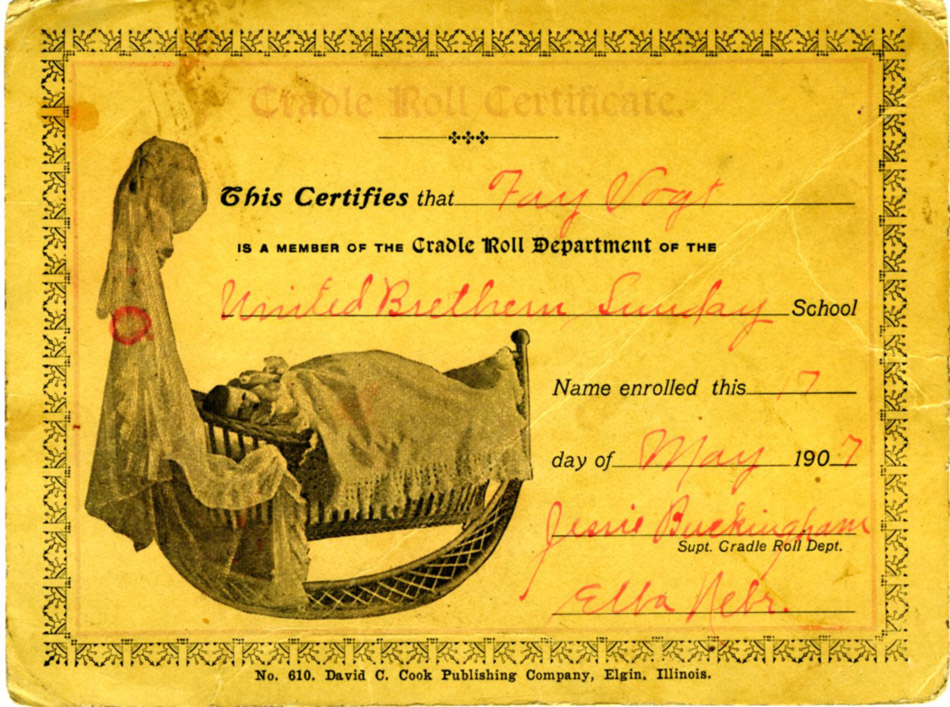 Fay was enrolled in the Cradle Roll United Brethern Sunday School Department on May 17, 1907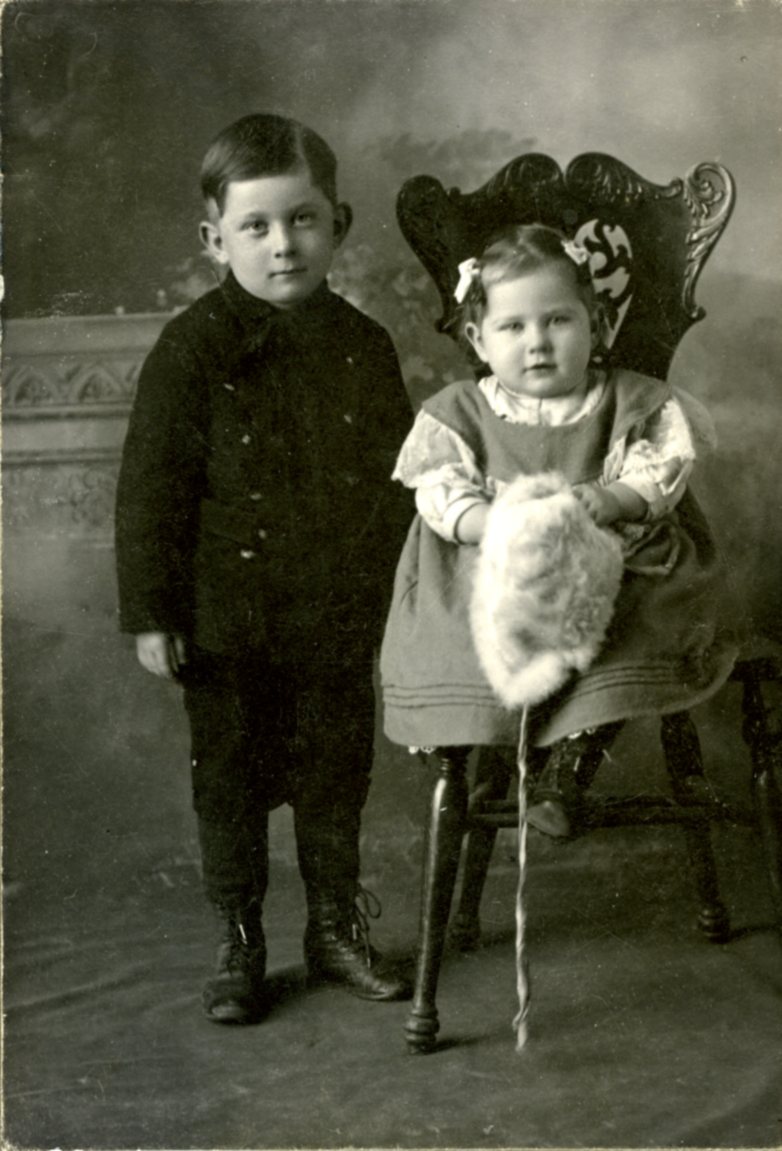 Ray and Fay Vogt, circa 1906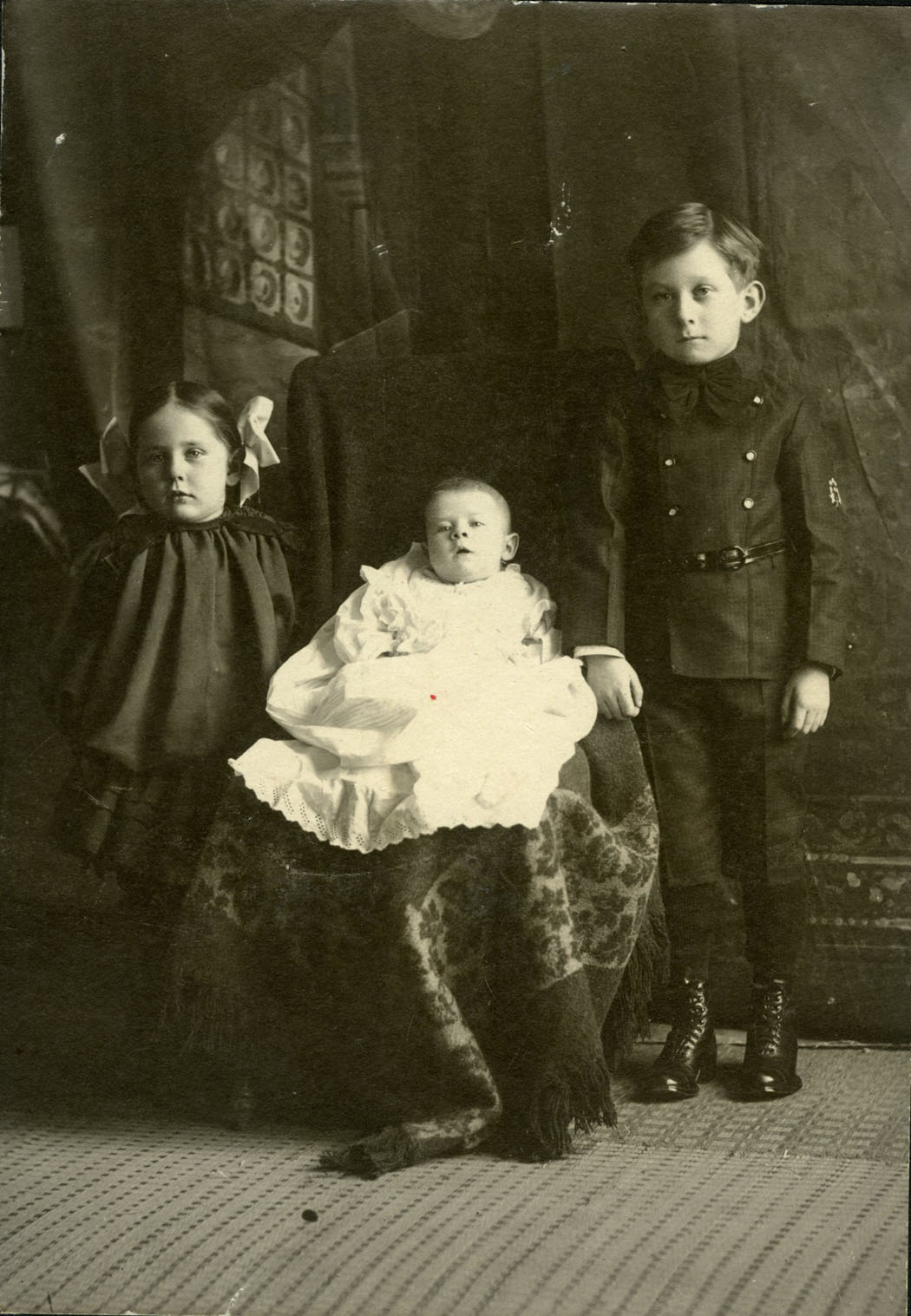 Fay, Chris and Ray Vogt, circa 1908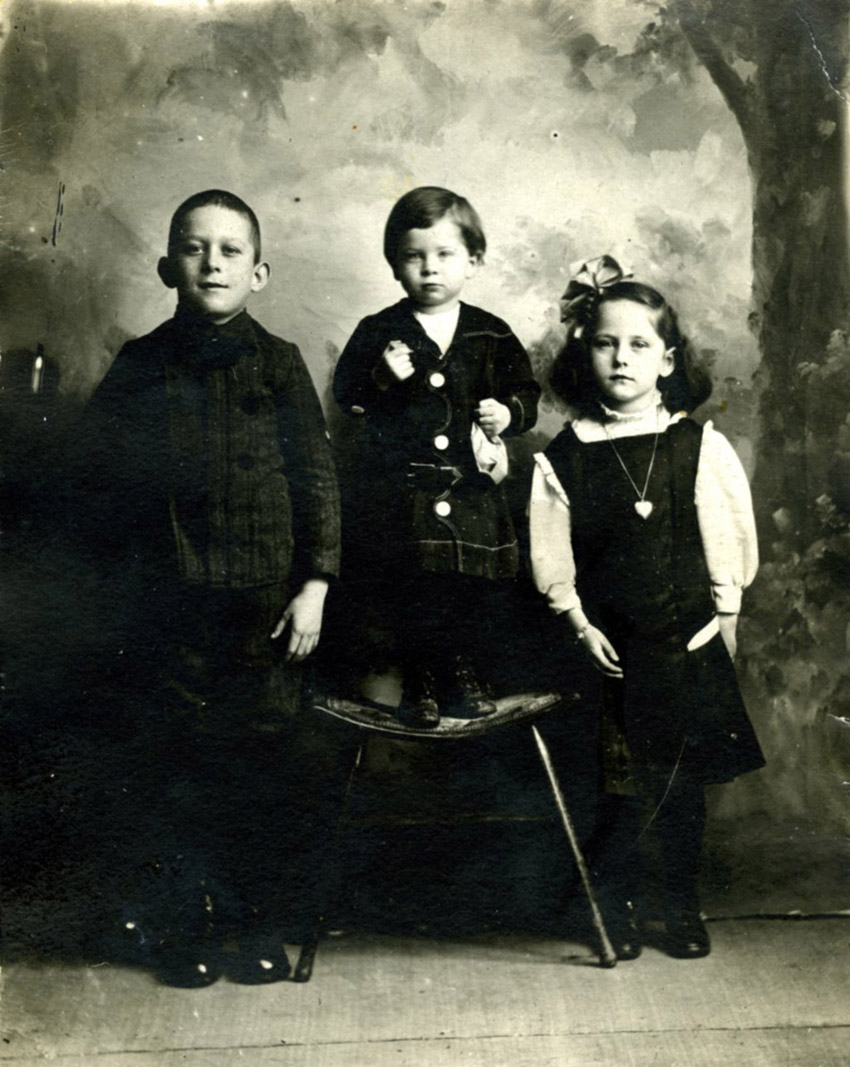 Ray, Chris and Fay c.1910
Fay grew up in the Elba area. This 3.5" x 2.5" card was probably made by Fay as a child (FAE - Fay Alice Ender)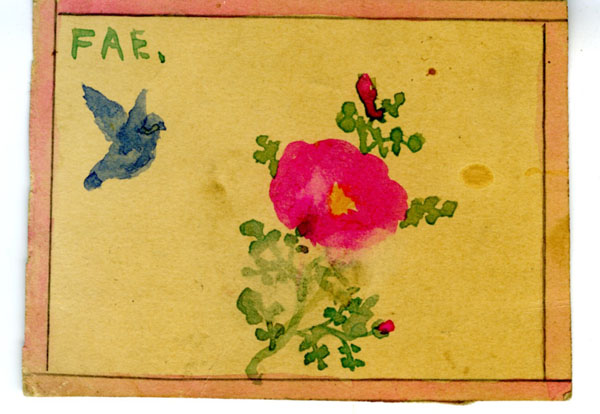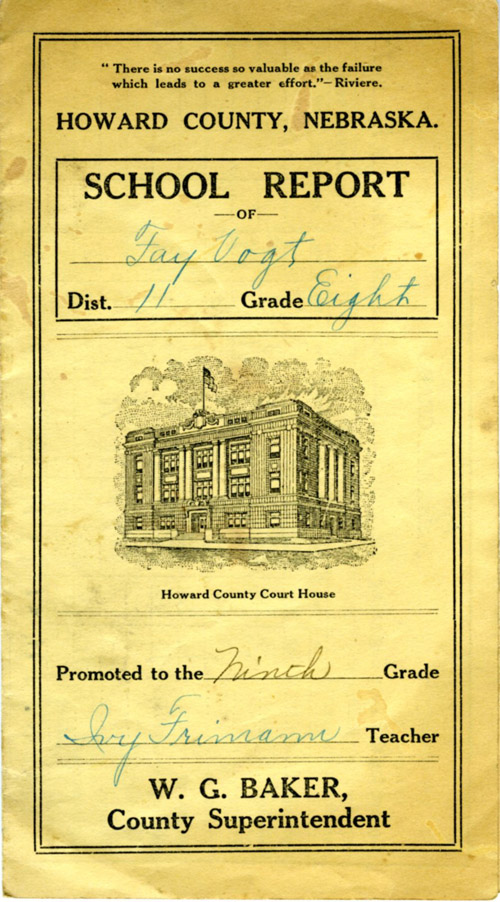 Fay's School Report for Grade 8, May 28, 1919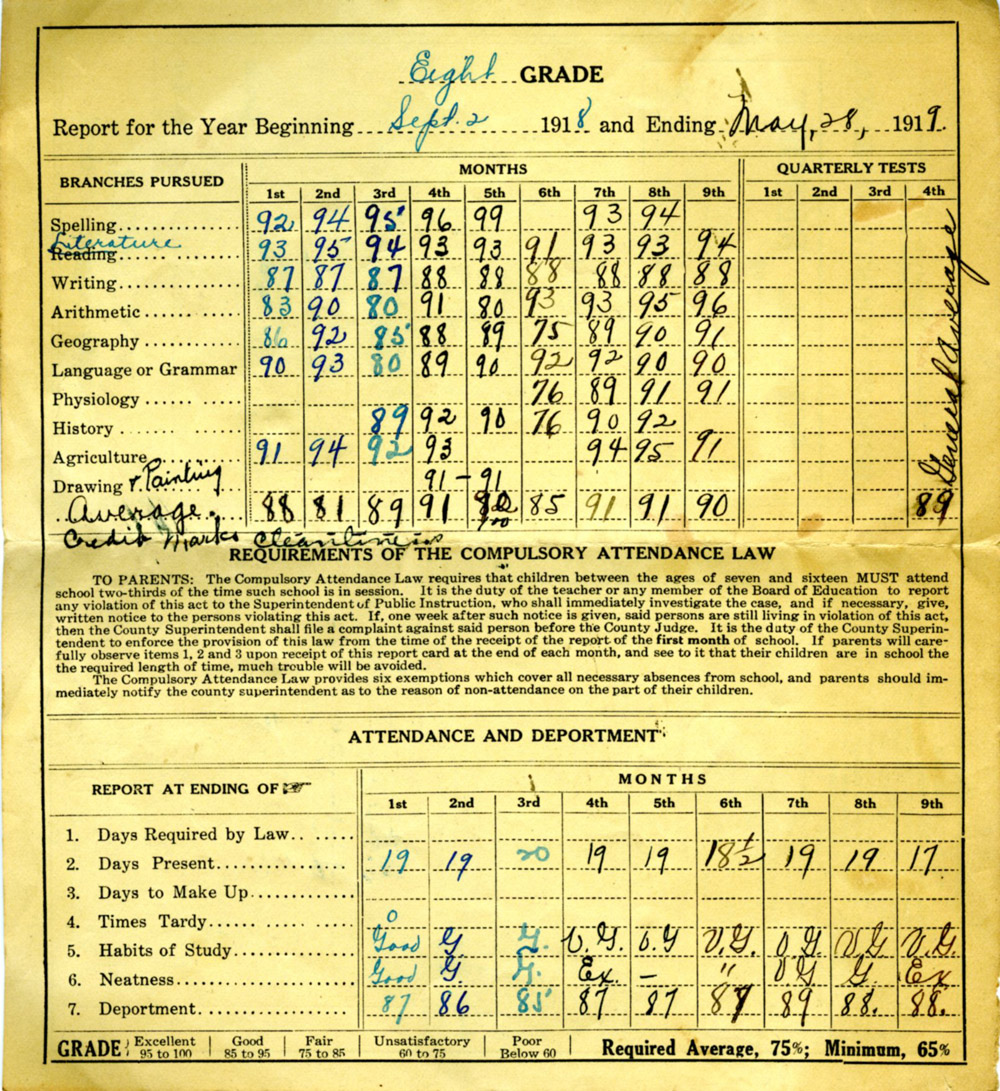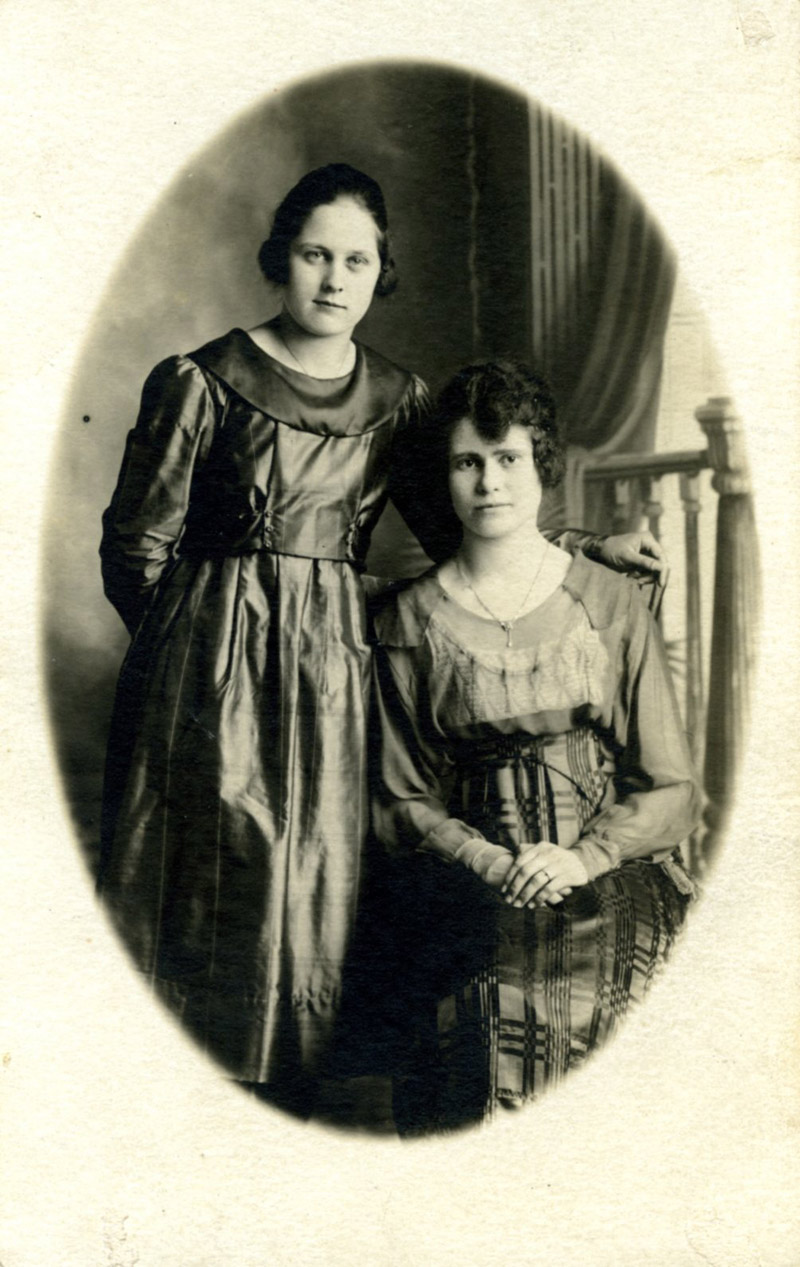 L-R Fay, and seated and probably Sarah Ericksen Keller, Andus' sister - RPPC 1919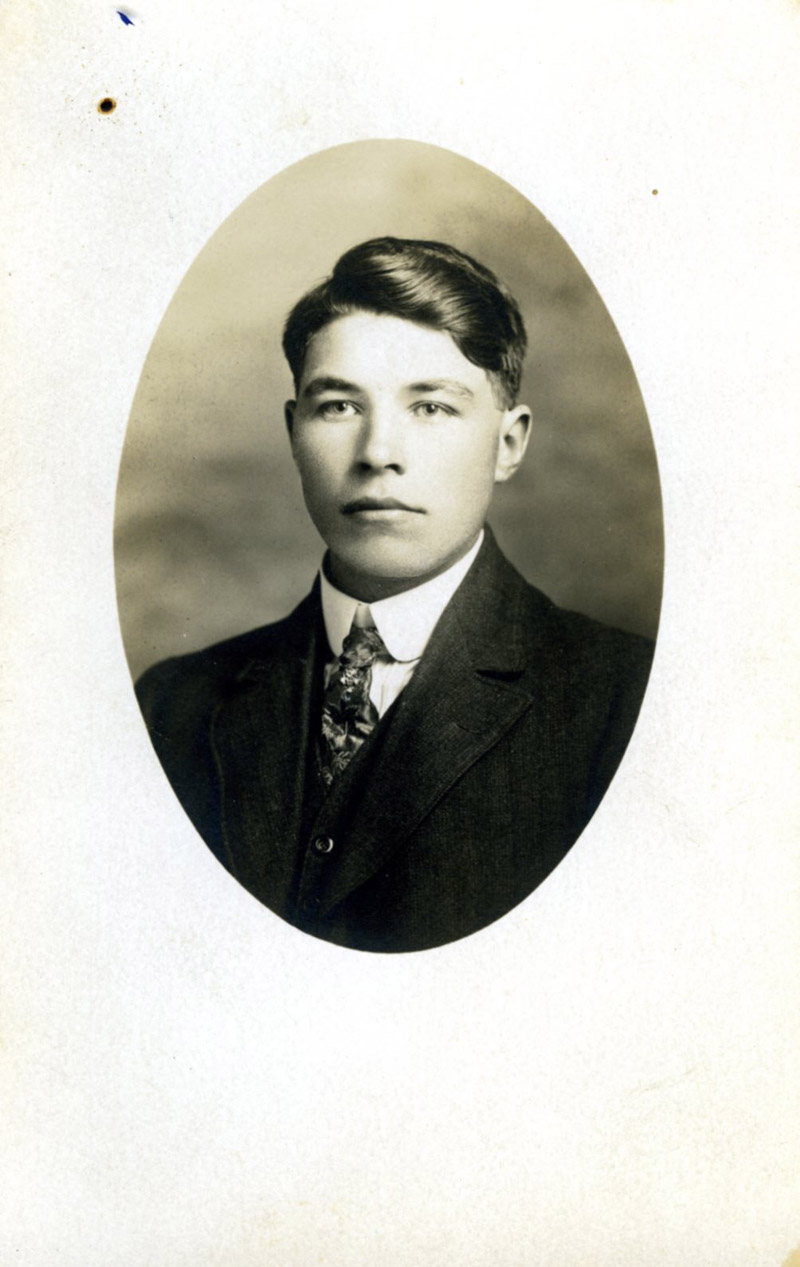 Andus on RPPC unknown year (circa 1913)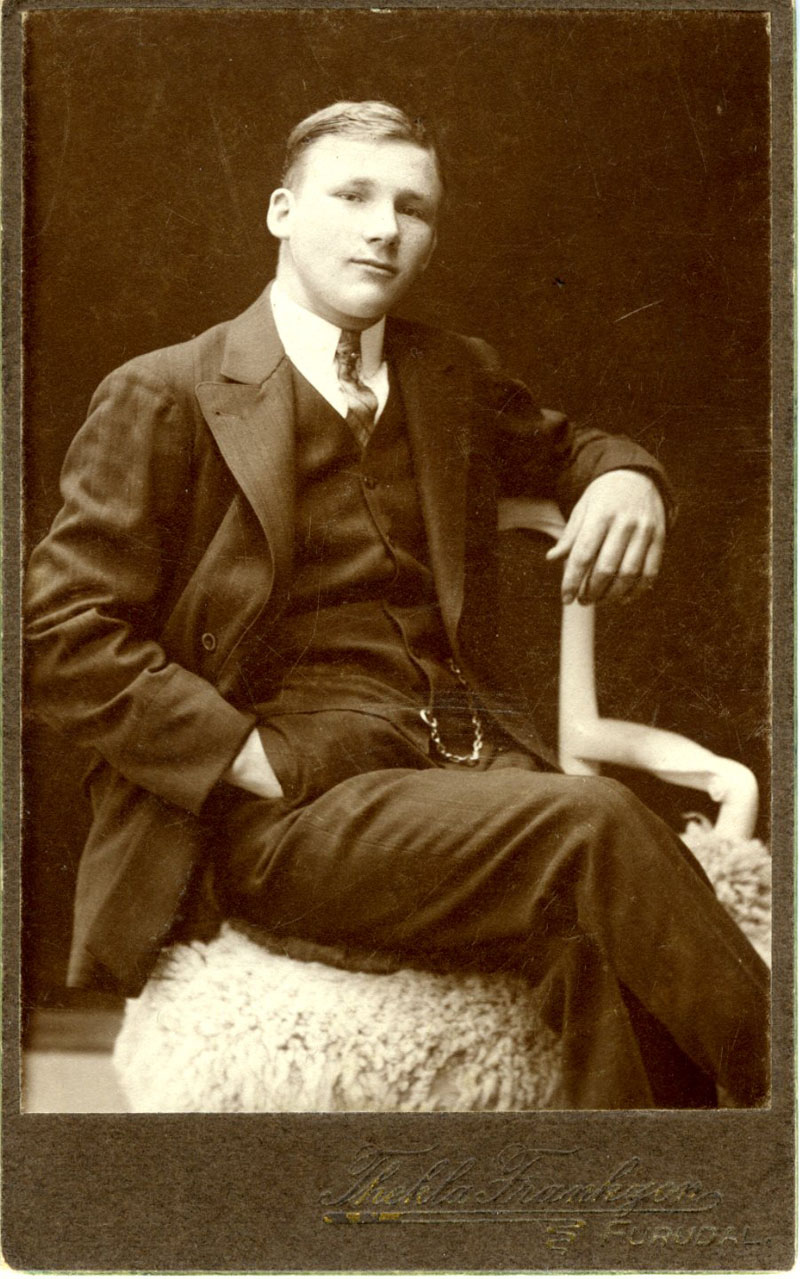 Unknown but may be Andus's brother who stayed in Sweden since picture was taken in Furudal, Sweden by photographer Thekla Frankzon and Andus was born in Ore which is in Dalarna County Sweden and Furudal is in same county.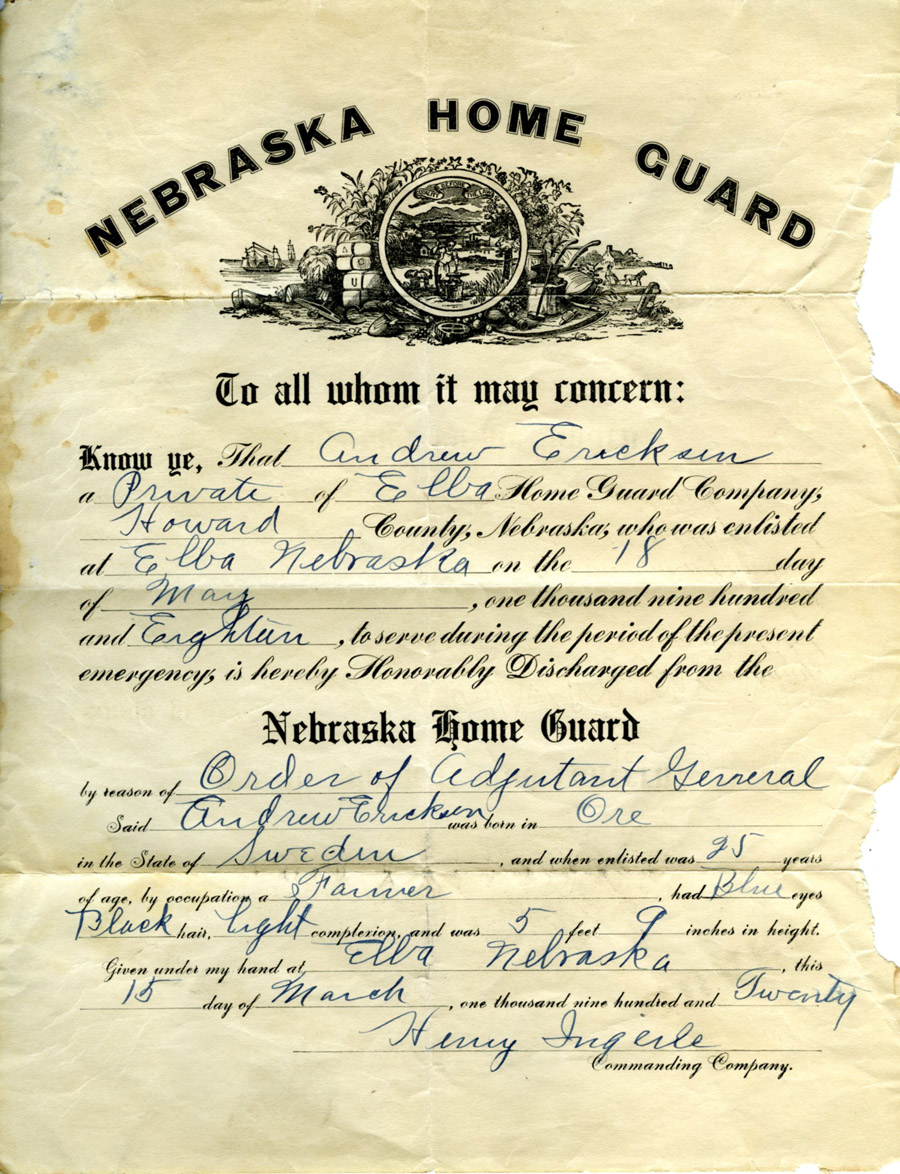 Andus's Discharge papers from the Nebraska Home Guard, March 15, 1920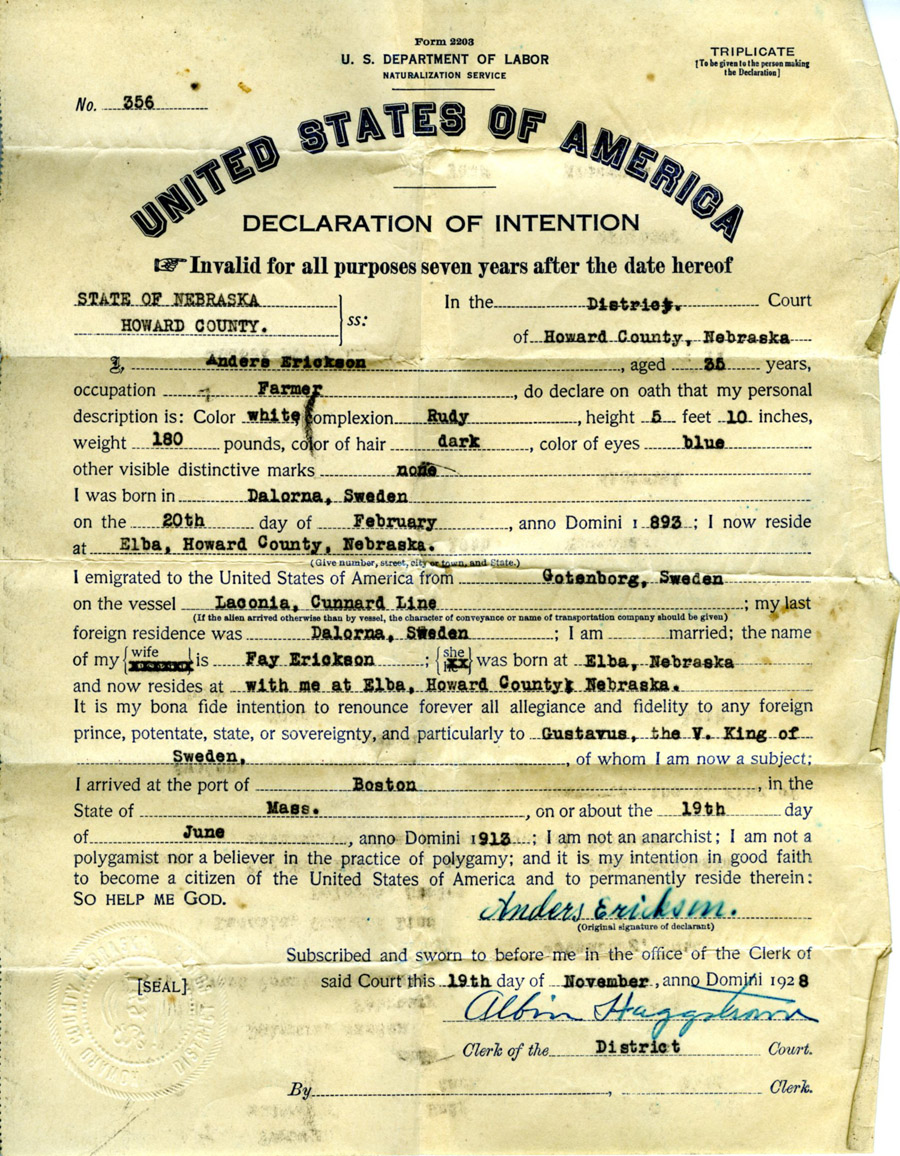 November 19, 1928 Declaration of Intention by Anders (Andrew 'Andus") Erickson to become a USA citizen
Fay married Andrew Erickson on June 28, 1922 at Elba, Nebraska. The couple farmed near Elba and later in the Wolbach, Scotia and Cotesfield areas until moving into Elba in 1966.
Fay and Andus had one daughter, Marjorie Ann, who died when she was eight. Marjorie Ann was the world for Andus and Fay and I have written a separate story just for her. The memory of Marjorie Ann cannot be separated from the life story of Fay or underestimated for its impact on Fay's life. Unfortunately, however, I don't remember my aunt Fay ever talking about Marjorie Ann (who died 25 years before I was born) and this page is by definition limited to what I know and what I remember about Fay.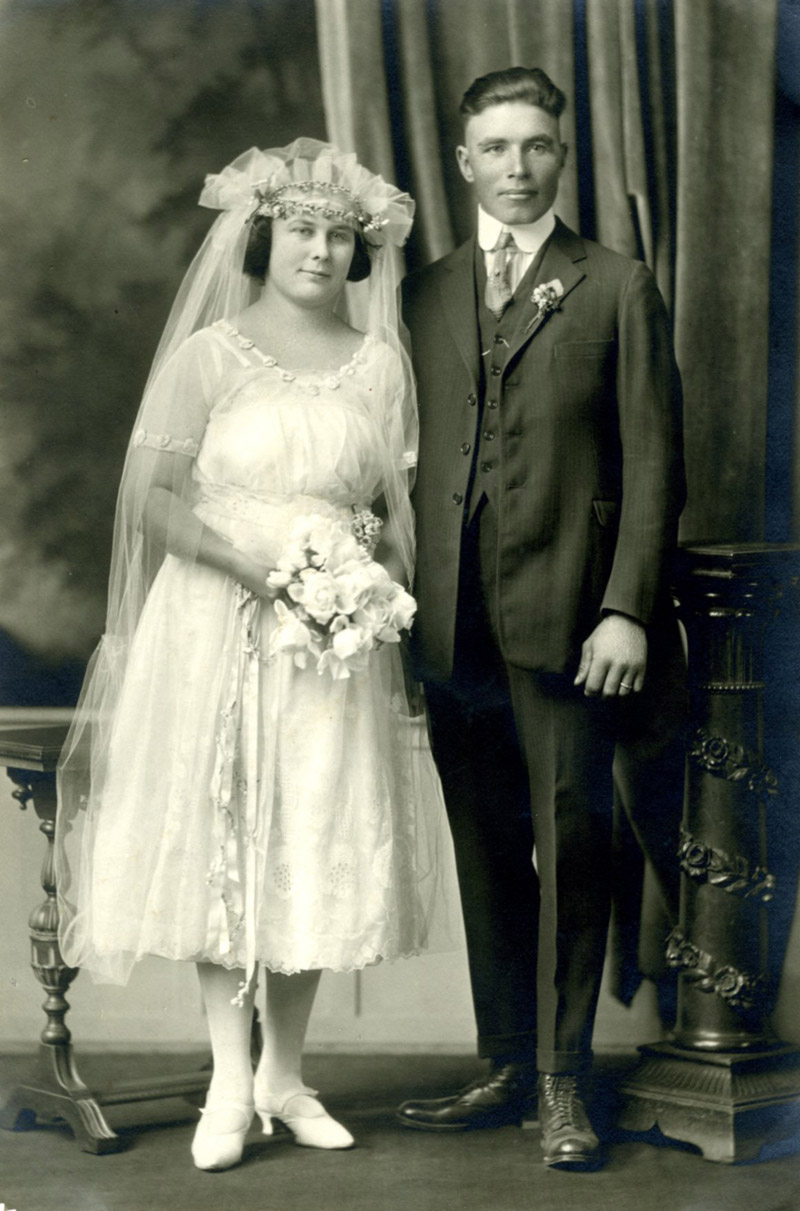 Fay and Andrew 'Andus' Erickson were married on June 28, 1922.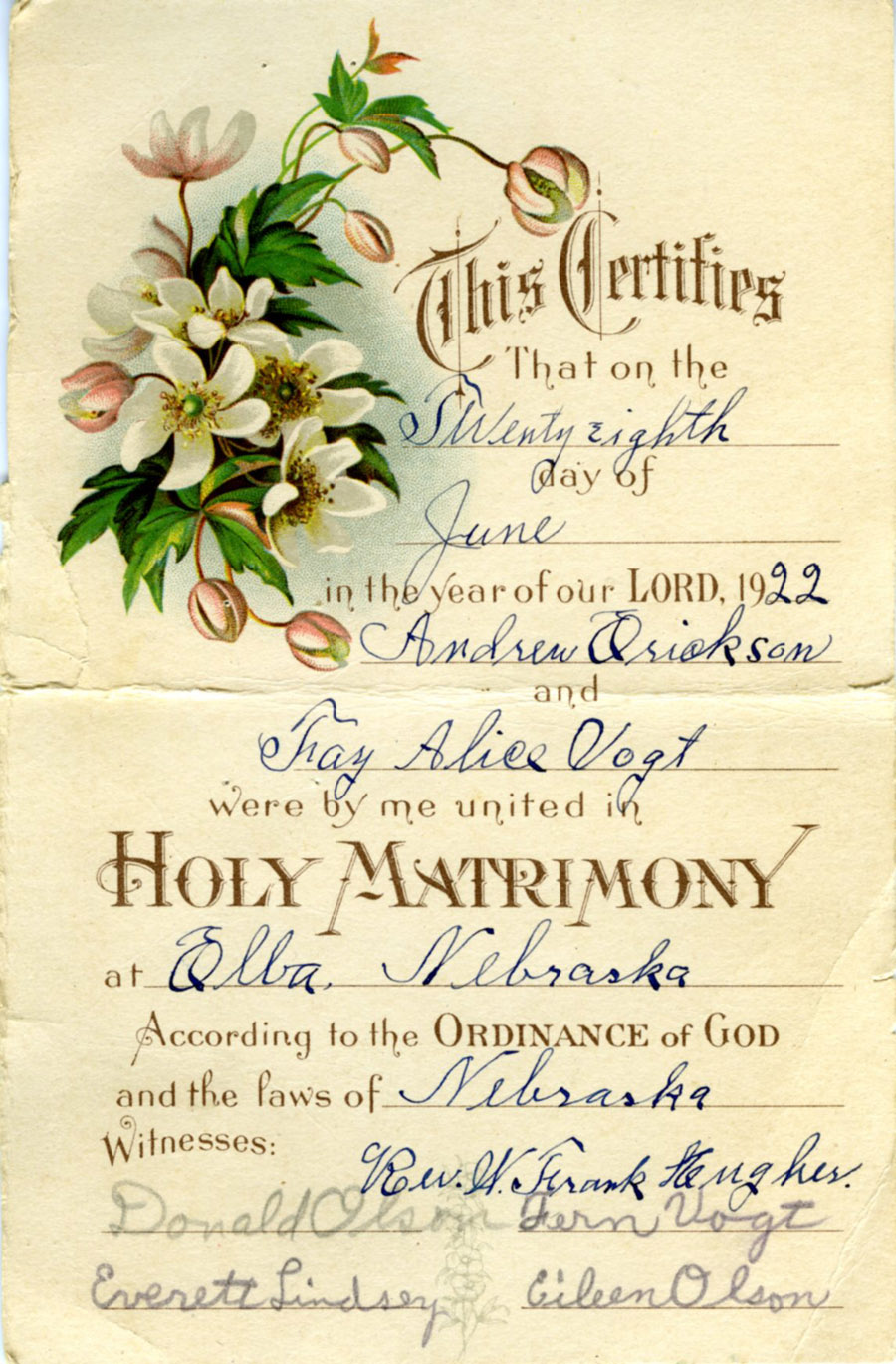 Fay and Andus Marriage Certificate June 28, 1922

St. Paul Phonograph, July 5, 1922, p8
Fay and Andus lived in what seemed to me to be a very remote part of the country with rolling hills and dirt roads that made it difficult to get to their house. Their farm was probably only 10 miles from where my grandparents lived but it seemed much farther and much more isolated. There were several years where we attempted to get to their house during the winter but simply couldn't get through on the unplowed roads. They had a phone but if a line went down they were completely cut off from the outside world.
My mother often commented how lonely Fay must have felt living out there with only her husband and few neighbors. I also did not know at the time about how much of her loneliness was because of the loss of their only daughter, Marjorie Ann, who had died in 1935 when she was 8 years and 28 days after "an illness of the heart of six weeks duration." It seems as though that was a subject that was private. I remember once when I was 8 or 9 years old going into their 'attic' and I saw an old cast iron small bed/crib. I came downstairs and asked whose bed that was. The response, or lack thereof, made me think that I had asked something that I shouldn't have. My mom would later explain to me that their daughter Marjorie Ann had died as a little girl. Looking back I realize that I never again asked my aunt anything that could potentially be about Marjorie Ann.
Andus had a brother Eric Dahlberg who had immigrated from Sweden in 1903 and according to the newspaper lived with Andus at Wolbach for 11 years but I don't know those dates. I remember seeing him at their farm and he may have been living with them but I was very young. See The Daily Independent Grand Island newspaper report of his death on November 10, 1956 for more details.
One house guest that I know they enjoyed was Andus's niece, Mary Ann, who came to live with them in the 1950's. She was unmarried and pregnant and had moved from Sweden to live with them until she had her baby. I'm not sure how long it was after the baby was born when Mary Ann returned to Sweden but I know she and the baby were always special to my aunt and uncle.
Fay loved to play Canasta and other card games and I think her social circle was focused around her women relatives of the family. Fay's mother Anna lived on a farm in Elba. Anna had a sister Sarah "Tay" Ender Vogt who also had a farm in Elba and the two sisters did alot of fishing together. Anna and Tay had married the Vogt brothers, Frank and Ernest. Frank had died in 1914 and Ernest in 1925. Andus had a sister Sarah Ericksen Keller who lived on a farm with her husband in Elba so I'm sure Fay visited these core relatives and some neighbor women as often as she could. But there was much work on a farm and houses were pretty far apart so I imagine for Fay that Sunday morning church and other social gatherings seemed relatively infrequent, especially in the winter.
Fay quilted and did embroidery on tea towels and pillow cases and had craft projects like Christmas decorations and table decorations but they lived a simple life. Not a lot of furniture, a few pictures, no indoor plumbing until the late 1950's, a dry (wooden) sink; a wood burning cookstove replaced in the late 1950's with an electric stove. They had a large nickel-plated parlor stove that sat in their living room to provide heat along with their kitchen stove.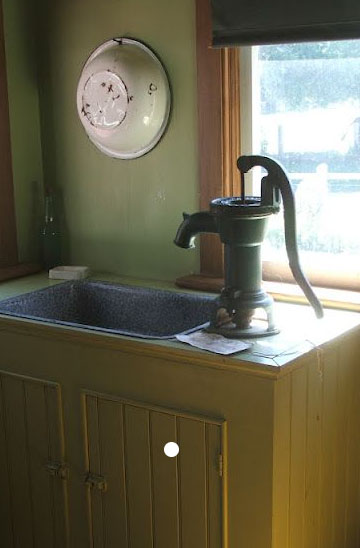 Fay's kitchen sink was similiar to this pump and dry sink (their base was painted white and its countertop was longer). No drain so the pan (like the one on the wall in this picture) placed in the dry sink had to be emptied outside after any use. Water was boiled on the cookstove to get hot water for dishes and baths. The kitchen had a linoleum floor and a light bulb hung over the kitchen tale.
When you drove up to their two-story white framed house you entered their kitchen through their porch. There was no fence around the house and like many farm houses of the time there was a 'front' door on one side of the house that went directly into the parlor/living room. This was considered the formal front door, however, I don't think anyone ever used that door. You always came through the front porch door. They had a cream separator in that enclosed porch that we always walked past as we entered their kitchen which I thought was an odd looking thing to have on their porch.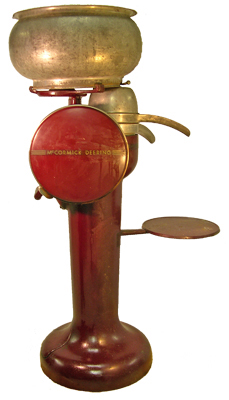 There was one bedroom on the main floor, the main living room with an oak round table and chairs at one end, the parlor stove at the other end and the kitchen on other side of the house. The attic upstairs was used for storage by the time I was around in the 1950's and in the late 50's an indoor bathroom was added next to the kitchen.
On their kitchen wall was a small framed lithograph of a man on a pennyfarthing high-wheel bicycle (aka bone shaker bicycle) riding on a road. I'm pretty sure there was also a "Last Supper" lithograph on one of the walls in the parlor/living room.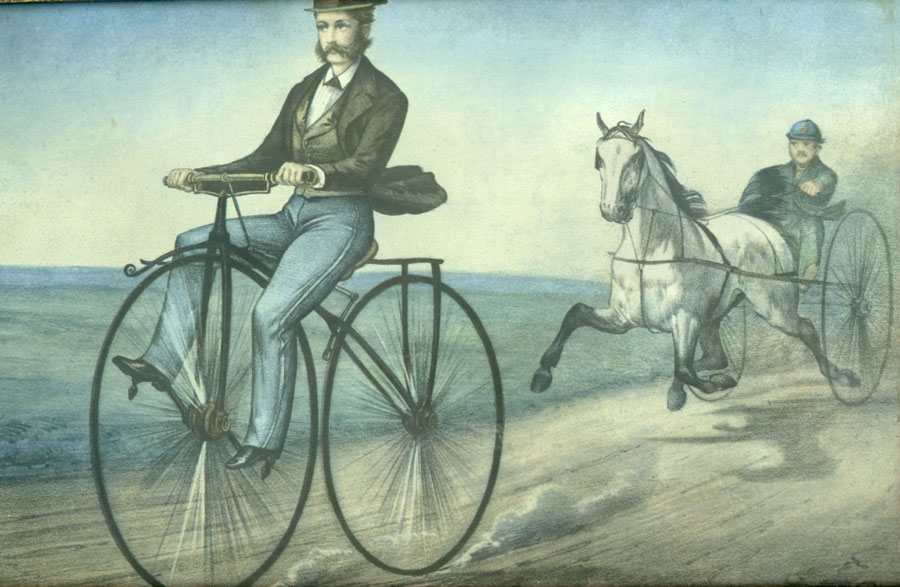 Fay and Andus's wedding photograph hung in a large oval frame in the main living room. Brother James now has this in his guest bedroom. In the main room there were a mission style dark oak and black leather couch and a mission oak buffet.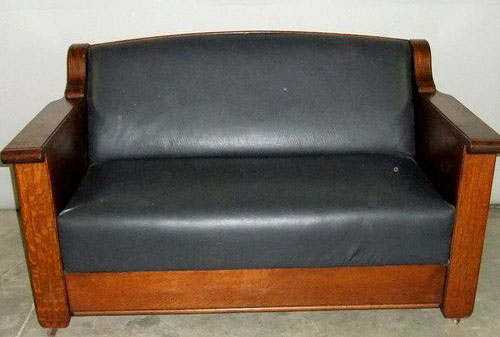 Their sofa style was similiar to this. I don't think theirs could be converted to a bed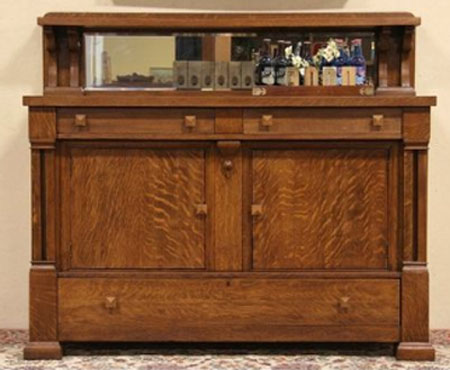 Their parlor sideboard was very similiar to this one. It was the place Fay put greeting cards and photographs and also where I remember they always had their traditional Swedish horse out for Christmas (perhaps it was even displayed all of the year).
.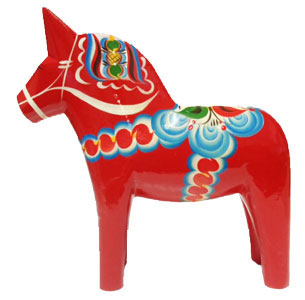 Fay and Andus 1947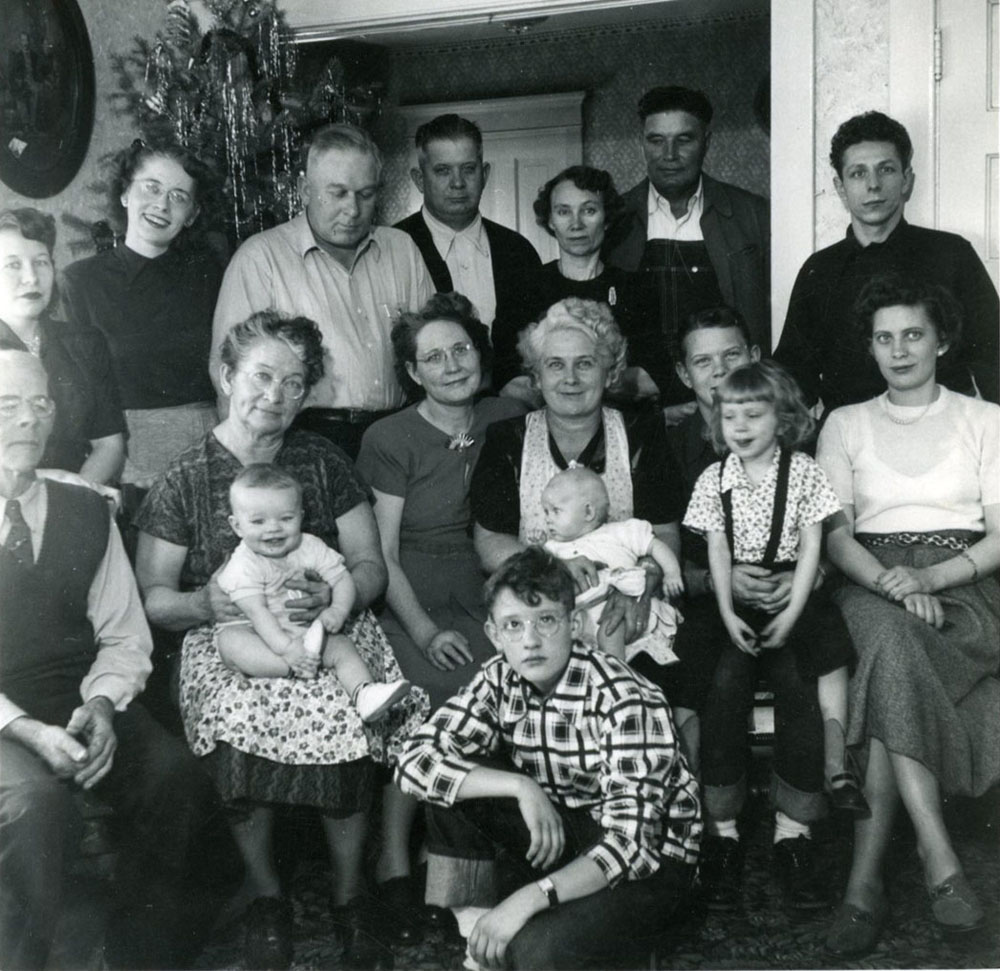 Christmas 1951 with Anna Barr's children and grandchildren
Front L to R: Manley, Anna with Doug on lap, Edna, Fay with baby on lap, Gary V. in front of Fay, Frank V. with Linda Holechek on lap, Dorothy Holechek
Back L to R: perhaps Mary Ann (niece of Andus), Betty B., Ray V., Chris V., Hilda V., Andus E., Elmer Holechek
When I was very little Uncle Andus liked to ask me in his broken English "What'll you have?" and if I'd respond "Pabst Blue Ribbon" he would then give me a quarter. Fay's mom had been active in the Women's Temperance Movement and my mother had likewise grown up watching her mom and Aunt Fay's involvement in WTM meetings. Since Mom seldom drank alcohol I think this reward that I received for my "Pabst Blue Ribbon" answer was a little controversial. I have a feeling that for Uncle Andus this was a bonus in addition to seeing me smile when I received my quarter.
For one of my birthdays Fay and Andus gave me a subscription to Dell Comic's "Donald Duck". I thought that was a great gift and I looked forward to receiving each new issue in the mail.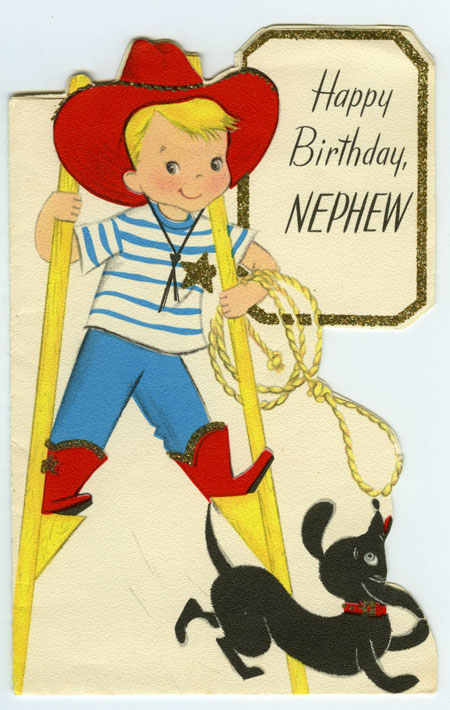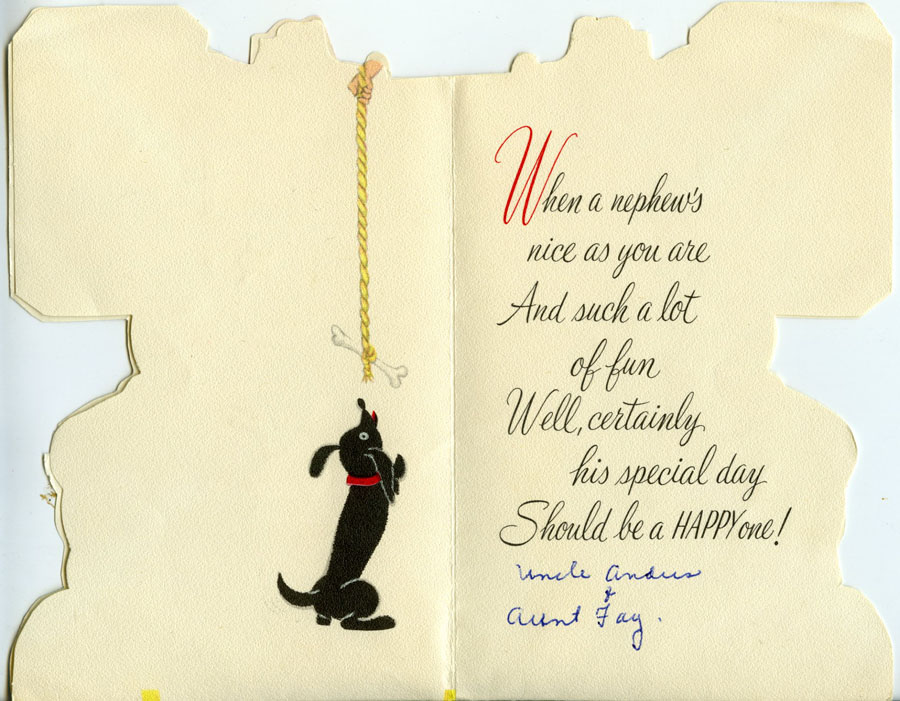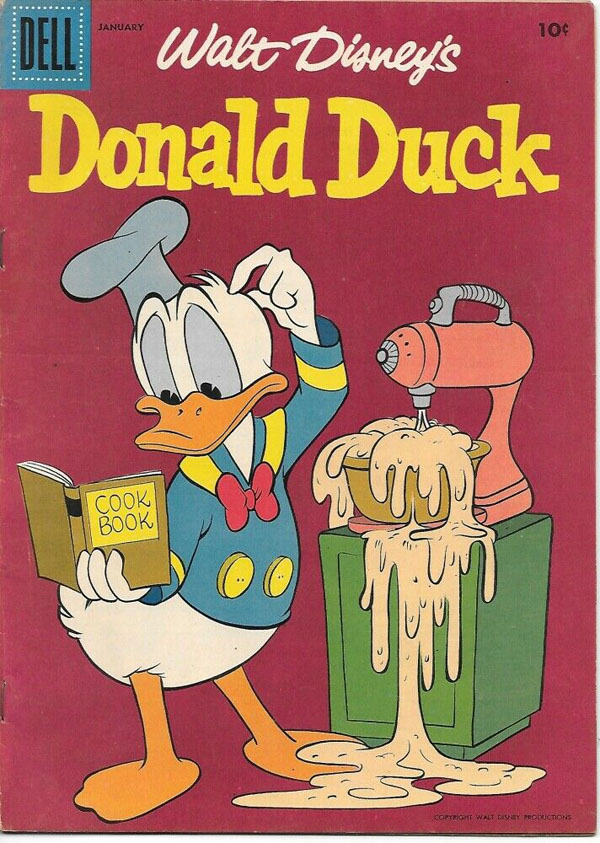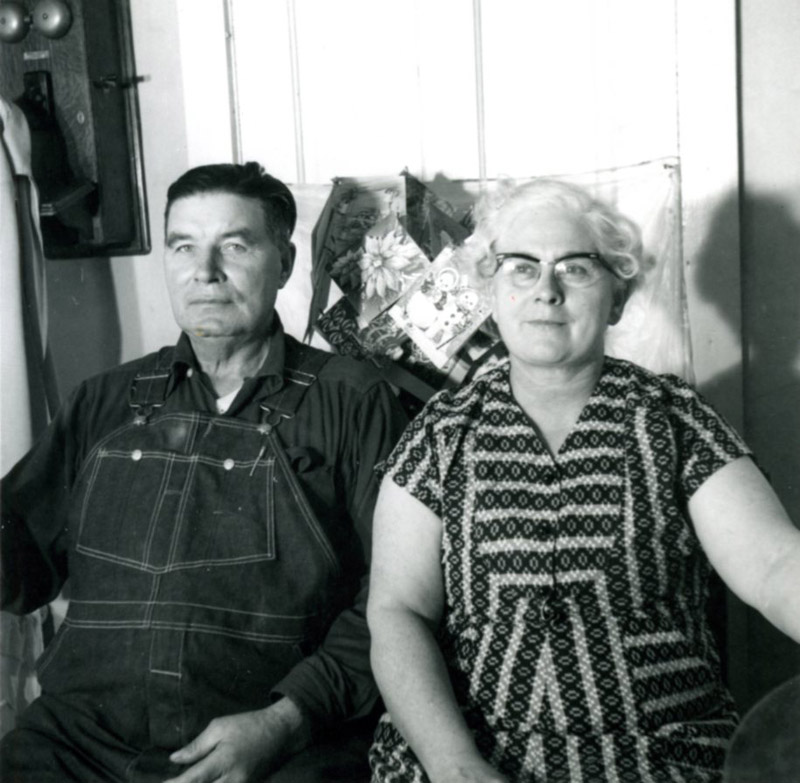 Fay and Andus with wall phone at their 'wash-out" region farm (in the hills between Cotesfield and Wolbach) circa 1958
Their telephone was a wooden wall model similiar to what I also saw at both of my grandparents' Nebraska farmhouses in the early 1950's. Made by Western Electric it hung on the parlor wall. It was a party line so you'd hear it ring even if the call wasn't for you. I think their number was two longs and a short which means you didn't dial a number, you turned the crank to make its bells ring sort of like sending a Morse code dah-dah-dit. When they got their rotary phone they gave me that 'antique' phone as I was always interested in turn-of-the-century technology and had already started "collecting."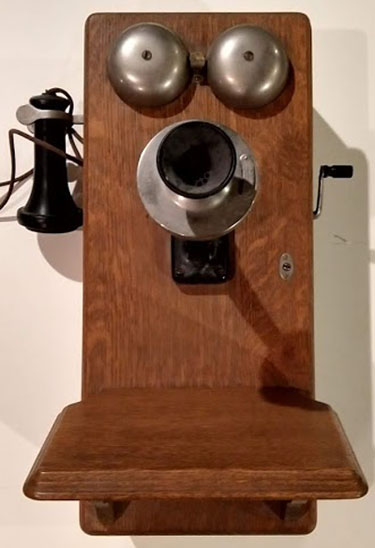 Circa 1956 Dad tied four or five long pipes to the side of his car, drove from Lincoln to their farm and assembled these pipes on the side of their house to make a long antenna pole. He had also previously delivered them a TV but it needed a tall antenna to really work. I remember thinking that Dad was on a really high ladder when he attached the antenna to the top of their roof. I never have liked heights.
It's easy to underestimate now how much that TV and antenna changed my aunt and uncle's world. The George Gobel Show, The Lawrence Welk Show, The Bob Cummings Show, The Red Skelton Show, I Love Lucy, The Jack Benny Program, I've Got a Secret, Art Linkletter's House Party - these were some of the shows I know Fay enjoyed and ones my Grandma Barr also watched as my dad had installed a TV in my grandparent's Elba home sometime earlier. Many of these shows were like old friends to them since they all had previously enjoyed listening to their favorite radio shows since in many cases these early TV shows featured the same stars from the radio shows that they had enjoyed in the 1930's and 1940's.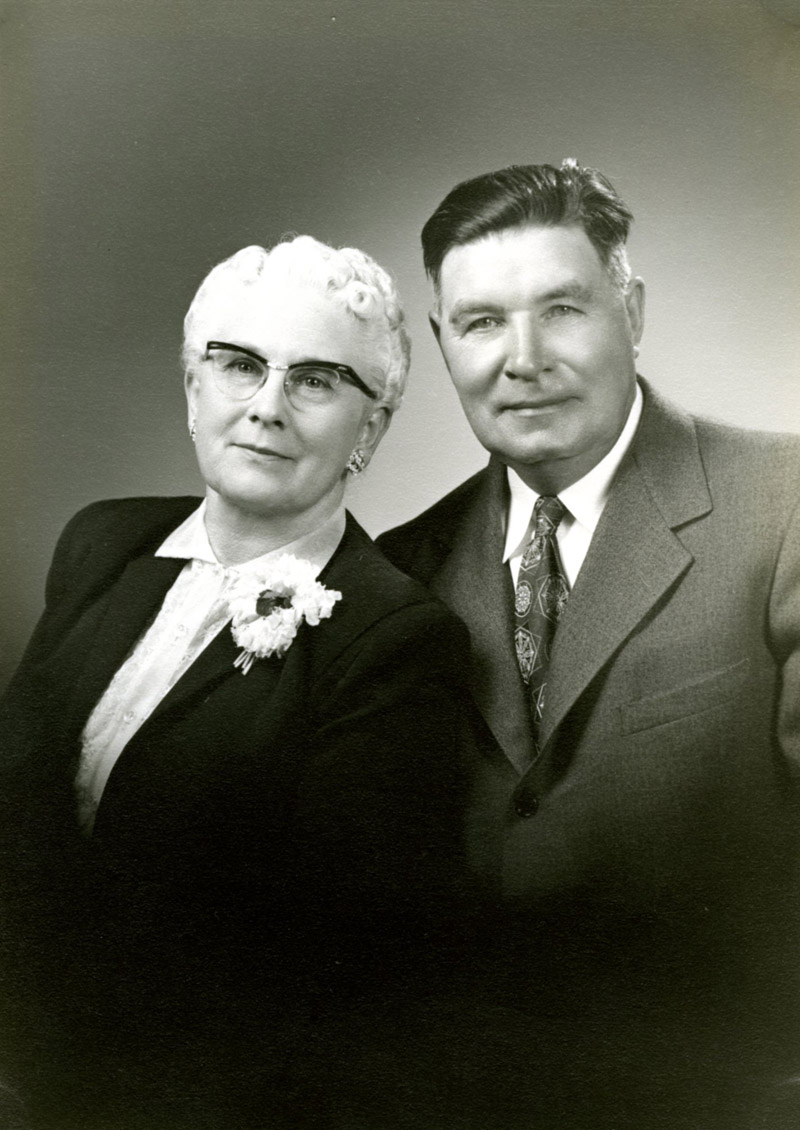 Fay passed on March 16, 1967. My dad came into my room to tell me that he had some "sad news" about Fay and at the same time gave me the other news that I had a new brother, James, born on March 16, 1967, and that my mom was doing fine in hospital.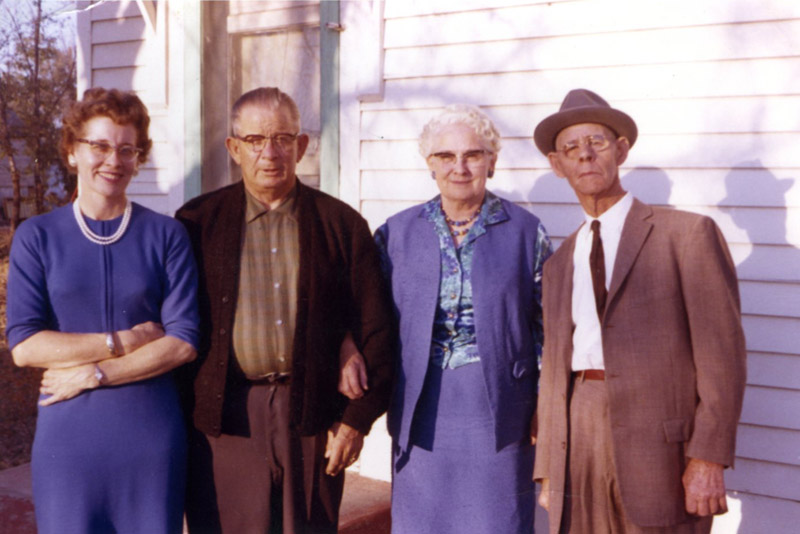 July 1965 - Betty, Chris, Fay, Manley
Andrew "Andus" Erickson was born in Sweden on February 20, 1893 and passed in Elba, Nebraska on April 5, 1983.
Andus left the bulk of the estate to the Jehovah's Witnesses. They had become frequent visitors to his Elba house in his last years and although I never knew what his religious beliefs were Uncle Andus apparently liked their company and their message. My mother, as the only surviving relative of her sister, did receive a small bequest which she would later designate as her "fun money" fund and my sister got about $6000 as she was Andus's "favorite". My sister did, however, end up splitting her inheritance three ways with me and my brother as we didn't receive anything (I believe my mother encouraged my sister that this would be the 'right' thing to do). Overall, I don't think my mother was very happy with Andus's gift to the Jehovah Witnesses since Fay had been a life-long member of the Elba EUB Church and it got nothing from 'his' estate.
Marjorie Ann Erickson August 23, 1927 - September 30, 1935
Marjorie Ann Erickson, who was born on August 23, 1927. Marjorie Ann passed away on September 20, 1935 after "an illness of the heart of six weeks duration."
For photographs and ephemera from Marjorie's brief life go to Niece Marjorie Ann Erickson.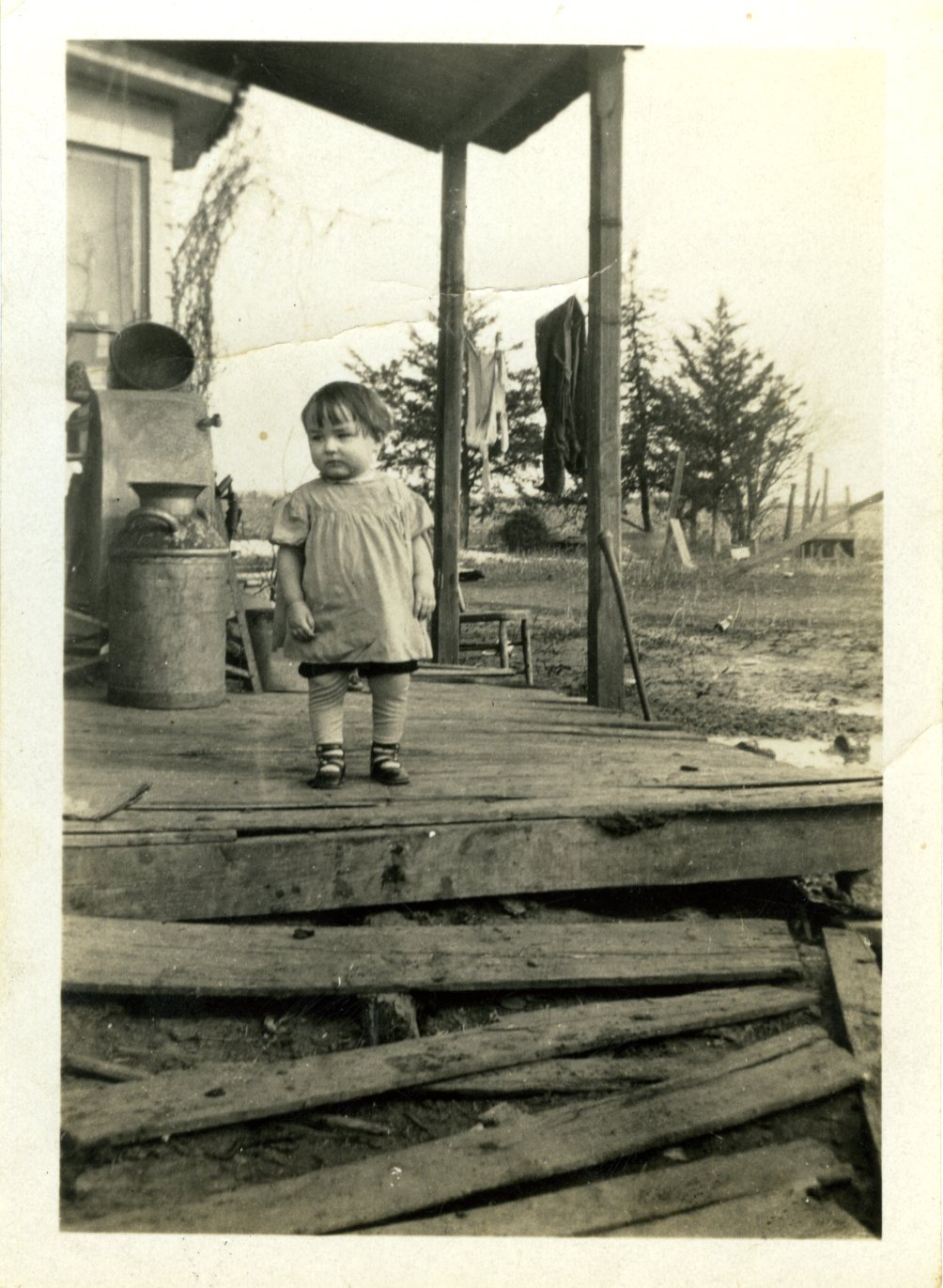 Marjorie Ann c. 1929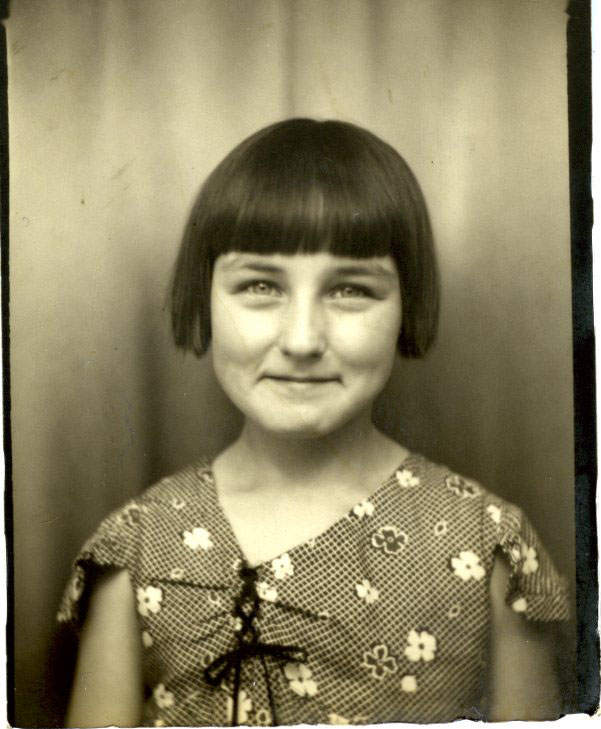 Fotomat photo found inside "Treasured Memories" 1935
Fay Alice Vogt Erickson May 22, 1904 - March 16, 1967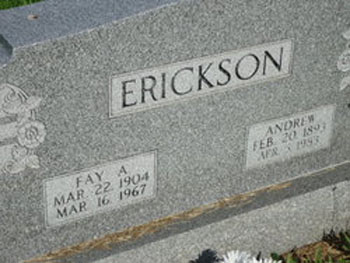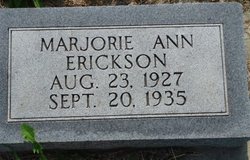 As I review what I've written here it seems like much of this story are random memories. I love that Marjorie Ann's story and photographs are now their own story, albeit sad as it was for those that she left behind. And of course it doesn't matter that there was a cream separator on their porch or that Fay gave me a subscription to Donald Duck comics for my birthday. Those details cannot make up for the overall gaps in Fay's story that are ultimately because I know so little about Fay herself.
We didn't visit Fay and Andus very often and my story about her is based on memories of more than 50 years ago and limited contact with her.
Fay was my mom's older step-sister and being twenty years younger than Fay her early life was really a generation away.
Extended family contact significantly diminishes after one generation passes and after two it all but disappears.
Nevertheless, I have written this because I believe stories matter. And in the case of Fay I wanted to include as much as I could because my aunt and Marjorie Ann were important to my mom and I'm one of the last in the family that can document anything about them.
My mom loved my Aunt Fay and Marjorie Ann and she loved family stories. For me those are reasons enough to share what I can.
And at the very least, today in this moment of time regarding Faye Alice Vogt Erickson, I can speak her name, say there is a connection and say that her life is remembered.