Phonographia Endnotes
Endnotes
Phonographia - What are Phonographia?
(1) Phonographia are connections based on popular culture. The three R's of Phonographia are Relate, Reference, and Remind.
Relate makes or shows connections with the phonograph.
Reference cites, alludes or mentions the phonograph
Remind documents or jogs a memory related to the phonograph.
Phonographia examples use one or combinations of the three R's:
Phonograph related paper memorabilia and ephemera - sourced from advertisements, photographs, and paper media, e.g., newspapers, periodicals, cartoons, postcards, comics, greeting cards, Valentine cards, sheet music, posters, art, etc.

Phonograph referenced words and phrases - such as 'sounds like a broken record,' 'in the groove,' 'record album,' 'B-Side', etc.

Phonograph references in lyrics of recorded music- excerpts from sound recordings that include references to the phonograph and recorded music.

Phonograph related stories remind us that because of its invention people grew up with recorded sound, have memories of listening to recordings, and understand it as part of daily life.

Phonograph related facts (factolas) are connected with the phonograph and recorded sound.

Phonograph reminders triggered by seeing a phonograph's morninglory horn, the Grammy Award statue, a phonograph in a movie, a phonograph in a museum, a phonograph in a modern ad, an album cover, etc.

Phonograph references, i.e., citing a source of information or simply mentioning a phonograph in a particular context. In the book Love and Other Consolation Prizes by Jamie Ford there is a scene that describes a Victrola as being in the finest Seattle dress shop where a character of the story is shopping for a dress. The Victrola is a detail of the room and the time period but not essential to the story.
For examples of wider connections including six degrees of separation connections with the phonograph see Connections and the Creation of an Industry.
(2) " with earlier "scientific breakthroughs in acoustics of the 19th century" having made it only a matter of time." See Sound Beats "Phonograph history" by Mason Vander Lugt, Syracuse University catalog librarian and proprietor of the historical music blog Dinosaur Discs, for the example of Thomas Young's 1807 description of a 'vibrograph' "used to measure the frequency of a sounding body (read: tuning fork) by etching the vibration of the fork into the surface of a soot-covered cylinder." Additionally, the 1843 design can be seen of Jean-Marie-Constant Duhamel's independently designed "vibroscope," "which moved the cylinder laterally using of a feedscrew, a feature of the first generation of phonographs." - Sound Beat, March 28, 2013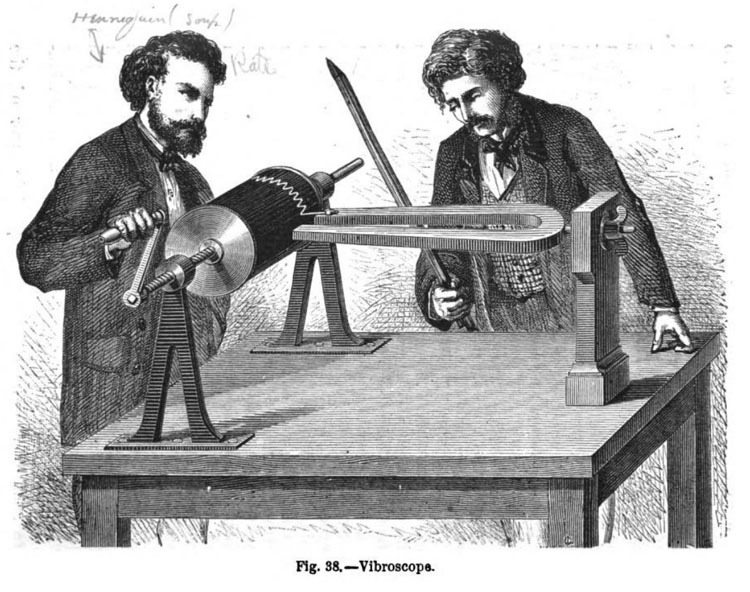 Duhamel's 1843 Vibroscope (Courtesy Sound Beat)
Trumpeting the Revolution
(3) "With morning-glory horn in hand, I take this opportunity to remind all: Do not forget the Phonograph. On December 6th, wish the Phonograph a Happy Birthday. The magic is alive." Doug Boilesen, Black Rock Portraits on the Playa by Douglas Keister ©1990
(1) Nickel-in-the-Slot Victor Record B-28211
Discography of American Historical Recordings, s.v. "Victor matrix B-28211. Nickel in the slot / Zez Confrey Orchestra," accessed April 22, 2021, https://adp.library.ucsb.edu/index.php/matrix/detail/800002225/B-28211-Nickel_in_the_slot.
The Phonograph Lives!
(3) Listen HERE for a listing of sounds of Earth on Voyager's Golden Record
(4) Photograph from NASA/JPL extracted on 8/29/2019 from UWNews, Greetings from Earth: Documents that Changed the World podcast revisits Voyager's 'Golden Record,' 1977
(5) Photograph from NASA/JPL "Making the Golden Record" extracted on 8/29/2019
(6) - Jet Propulsion Laboratory, California Institute of Technology
Friends of the Phonograph Go GREEN
Last year, two scientists presented a theory in quantum mechanics that they called "entangled histories." They argue that the existence of a particle in space is fractured along many alternate timelines, all of which must be considered to understand the full chronology of its life cycle. It is baffling and exhilarating in the way only quantum physics can be, but one idea stood out as particularly resonant. Jordan Cotler, an author of the paper and a graduate student at Stanford University, has said, "Our best description of the past is not a fixed chronology but multiple chronologies that are intertwined with each other." We've long known that this is how human history works — an unimaginable number of small stories, compressed into one big one. But maybe now we finally have the ability to record and capture them all, and history can become something else entirely: not a handful of voices, but a cacophony.
Using the internet and archives of social media will be a way to "generate a more prismatic recollection of history."
"I think of it almost in terms of young children and how they engage in the world. Growing up is becoming familiar with a series of rolling concentric circles. You're kind of circling your space, your home, your family. You're exploring all around. So to your question, becoming a parent was a huge thing. Once you have a child, your sense of time completely changes. You start thinking about a longer stretch of time, where you have to be responsible for another person's life. You have to think differently about responsibilities. If you have a parent who becomes ill and you're there, that's a familial responsibility. A friend is in trouble; you help the friend. These are extensions of that concentric circle. New neighbors move in; you try to welcome them. It's all the connections we make in life. Once you're connected, you feel responsibility. And "connected" means that it's a circular loop. I know you, but you have to know me, too. There's an energy circle that goes back and forth."
"One night in 1975, I was tying up the garbage when my husband called me to come and see something he was watching on TV. "You have to see this!" he called. I couldn't believe there was anything on television that I had to see, but he sounded as if he had found something exciting and wonderful.

There was a tall, dark, and almost handsome man, dressed in a black turtleneck sweater, with a button-down shirt and a checked sports jacket over it. He was standing on a stage, with a small record-player next to him, and when he put the needle on, it played the Mighty Mouse theme song. The man appeared to have no idea what he was doing until the singing began. Then he knew just what he was doing, and suddenly he turned into a baritone star from a nineteen-fifties musical as he started to lip-synch the words. It wasn't funny the way other things are funny. It just made you laugh.

The mysterious man was Andy Kaufman, on Saturday Night Live."

Note: This appearance by Andy Kaufman was on the premiere episode of Saturday Night Life, originally titled NBC Saturday Night, October 11, 1975
Researchers know that of the two primary forms of accessing memory, recognition and recall, the former is a simpler and more reliable process. It is the association of a physical object with something previously encountered or experienced. This could be because tangible memories utilize all five senses, evoking emotional triggers and transporting us back to a precise time, place or moment.
The Belfer archive allows us to feel this sense of history even more vividly, because we can hear what musicians, artists, authors, actors, statesmen, politicians, and other historical figures actually sounded like. This is emotional, visceral communication that goes far beyond the power ofthe printed page." -- Belfer Audio Archive: Our Cultural Heritage in Sound by John Harvith, p. 152 The Courier: Harvith, John, "Belfer Audio Archive: Our Cultural Heritage in Sound" (1995). The Courier. 323. https://surface.syr.edu/libassoc/323
"One of the most memorable things anyone has ever said to me about music came from musicologist James Hepokoski, formerly of Oberlin College, now at the University of Minnesota. What Jim said was both incredibly simple and profound: Music of the past tells us what it felt like to live during the period when it was created. Ibid p. 152
"The Anthology of American Folk Music" is probably the most significant example of how a particular collector's preferences can guide (if not dictate) a historical canon. Obscure records tend to survive only when there are collectors willing to seek out and preserve them. Most early recording masters were either destroyed or melted down for reuse, so the pressed and sold records became the only material evidence of these performances. If a record is lost to time or circumstance—78s are made from a shellac compound that is brittle and shatters easily—the performance is effectively erased."
"these performers "by necessity had a very different relationship to nature, family, work, play, food, consumerism, money, et cetera. . . . It does not feel alienated." He goes on to describe the set as "an esoteric beacon, broadcasting outside of our dysfunctional culture system."





"People who devote their lives to studying something often come to believe that the object of their fascination is the key to understanding everything. Books have been published in recent years on the transformative role in human history played by cooking, mothering, war...even salt. This is one of those books. I study moral psychology, and I'm going to make the case that morality is the extraordinary human capacity that made civilization possible. I don't mean to imply that cooking, mothering, war and salt were not also necessary, but in this book I'm going to take you on a tour of human nature and history from the perspective of moral psychology."

Johnathan Haidt, The Righteous Mind, Pantheon Books, New York ©2012
"When Edison invented the phonograph in 1877, telephone inventor Alexander Graham Bell was stunned that this opportunity had slipped through his fingers. In the 1880's, while Edison was pre-occupied with his electric light research, Bell founded a research laboratory where his cousin Chichester Bell and physicist Charles Sumner Tainter worked on improving the phonograph. They dubbed their version the "Graphophone" and designed it to play 6" long records consisting of a cardboard tube with a thin ozocerite wax coating (as seen in photograph). There was no mandrel -- the record fit between plungers at each end. Edison was outraged at this appropriation of his invention, and set about making his own 'perfected' phonograph, the Class M, in 1888.

The Graphophone of that era had a foot-powered sewing machine treadle as its motor, and in competition with the Edison Class M it was a dismal failure. By 1894 the company had a large backlog of unsold Graphophones. These were recycled by taking the upper works from treadle model Bell-Tainters and fitting them to new cabinets and motors. The Type K was made in early 1895, first with a battery-powered electric motor as in this example, and later with a newly-designed spring motor. A removable mandrel to fit the now-standard Edison cylinders was supplied with the Type K. (The entire mandrel has to be removed to put on a record, a very inconvenient arrangement.)

At $150 these were not big sellers, and it wasn't until the totally new Type N of late 1895 (priced at an amazingly low $40) that the Graphophone finally took off in the market. Very few Bell-Tainter styles were sold and today they are even rarer than the elusive Edison Class M."
Go on, wow your kids! Use the landline to call Gramma. Pass the receiver. Explain the dial tone. Tell them it is a prelude to something. Like an orchestra tuning its instruments. When each violin and each bow is propped at a slightly different angle reflecting the particularities of each human being. When the orchestra is on the verge of unison in the quest for the sublime.
Inscriptions for Air is the collective name for the body of elegiac poetry I've been writing for the last decade, dedicated to the memory of the martyrs of the Civil Rights Movement, known and unknown. Inscriptions for Air is a book with several spines, with many bindings, which include those of Murder Ballads, A Murmuration of Starlings, and Persons Unknown, while also exceeding them.
Language Study - French, German, Spanish and English

Dictation for business and pleasure, e.g., Business letters and 'The Modern Valentine' - sending your Valentine 'card' as a recorded message

Amusement - Music and Entertainment for Every Home and Everyone in the Home
Firstly, do you remember these titles? Castlevania, God Of War, The Last Of Us, and Resident Evil 2. At first look, they are recognized as video games. These titles also share something in common. Each of the titles has inspired the creation of a vinyl record that has charted on the Billboard 200.

Certainly, video game soundtracks have been contributing to the vinyl resurgence. iam8bit is one such label which prides itself as a label dedicated to producing video game soundtracks on vinyl. The label has sold 200,000 albums to date. At the present time, in 2019 there are various labels that specialize in video game soundtracks on vinyl. For example, Mondo, Fangamer, Data Discs and more emerging as the demand for the medium increases.
"Sometimes the best and most informative articles in the Times are the obituaries. Lives lived, captured on an album cover." - Rick Morris, Montreal, March 17, 2021