record
verb. "to set down, register, or fix by characteristic marks, incisions, magnetism, etc., for the purpose of reproduction by a phonograph or magnetic reproducer."
noun. "something on which sound or images have been recorded for subsequent reproduction, as a grooved disk that is played on a phonograph or an optical disk for recording sound (audiodisk) or images (videodisk). Compare compact disk."
recordrama
noun. RCA Victor introduced a series of recorded operas and musical stories in 1945 and called them Victor Recordramas and RCA Victor Recordramas. The "most thrilling scenes of the opera" were said to be included in the record album along with its story.
revolution of recorded sound, a.k.a. "Echo all over the World."
When Edison's recorded voice was heard in his Menlo Park Laboratory on December 6, 1877 an echo would metaphorically be heard "all over the World." It was an extraordinary event that marked the beginning of what would be a social and cultural revolution. And also a literal revolution with the turning of the crank and the revolution of the phonograph's mandrel playing its tinfoil recording.
Paraphrasing Thomas Paine ("simple facts, plain arguments, and common sense..." and the shot that would be heard round the world on April 19, 1775), the revolution of recorded sound is documented in Phonographia.com which offers simple factolas, plain connections between the phonograph and popular culture, and common phonograph advertisements.
For examples of recorded sound's revolution which lasted for decades see Phonographia's The Evolution of the Revolution.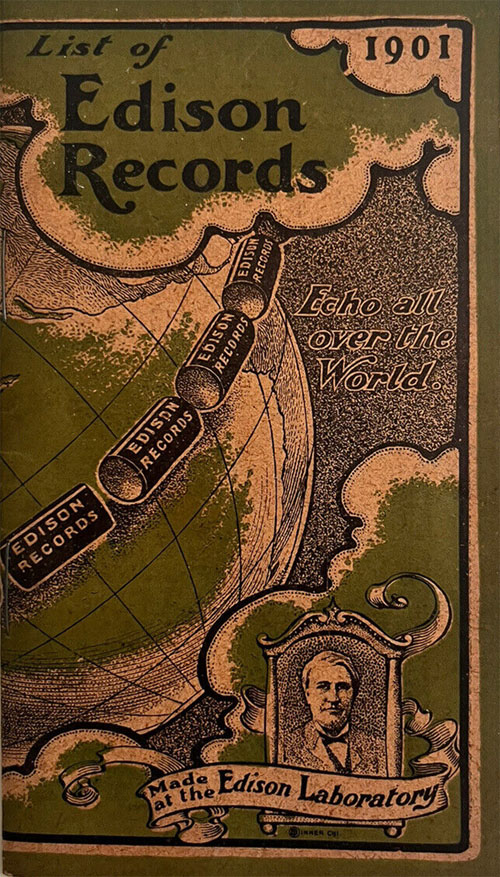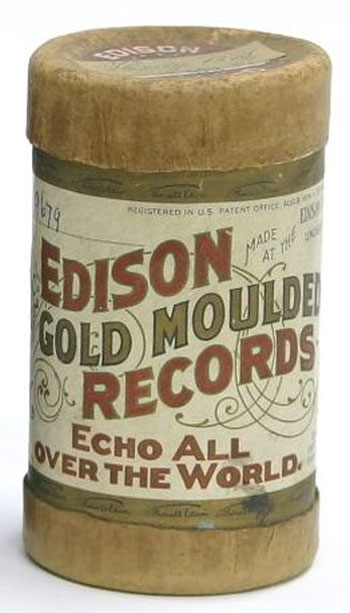 "Echo all over the World" 1899; Edison Records Catalog (1901) and Gold Moulded Record; "Echo All Over the World" - Edison ad, 1900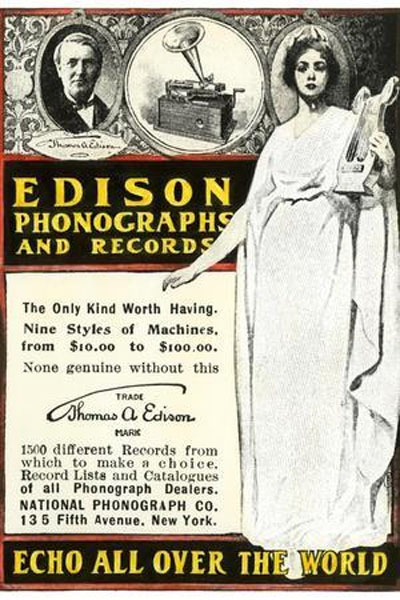 "Echo All Over the World," Edison ad, 1901
single
noun. Single, in the music industry, is a type of release, typically a song recording of fewer tracks than an LP record or an album. This can be released for sale to the public in a variety of different formats. In most cases, a single is a song that is released separately from an album, although it usually also appears on an album. Typically, these are the songs from albums that are released separately for promotional uses such as digital download or commercial radio airplay and are expected to be the most popular. In other cases a recording released as a single may not appear on an album. Wikipedia
The most common form of the vinyl single is the 45 or 7-inch. The names are derived from its play speed, 45 rpm, and the standard diameter, 7 inches (18 cm).
A 45 rpm single typically lasts between 2 and 5 minutes. See Records' Factolas Oscura for the longest playing 45 rpm single side ever recorded.