On This Day Factolas

On this Day Phonographia Calendar
January 1 - 1878 Edison exhibits phonograph at Western Union offices in New York. (Papers of TAE)
January 3 - 1878 Edison designs flywheel phonograph. (Papers of TAE)
January 4 - 1929 the Radio Corporation of America bought the Victor Talking Machine Company from its financier owners. Nipper and his Gramophone thus completed a journey from Berliner's June 1900, record catalogue to the world's largest manufacturer of radios. The little fox terrier would continue to represent the RCA Victor Division of the Radio Corporation of America." (The Talking Machine, F&P)
January 6 - 1906 "Phonograph Mars a Soiree. Paris Husband Will Use Record Against Wife Accused of Improprieties." See Phonozoic Text Archive, Document 008 to read this Chicago Sunday Tribune newspaper article.
January 6 - 1886 Chichester Bell and Charles Sumner Tainter "attempted to share their work with Edison, approaching the Speaking Phonograph Company in 1885 about obtaining a license to make improved Phonographs. When Edison balked, they formed the Volta Graphone Company, on January 6, 1886, to be based in Washington, D.C." (The Talking Machine, E&P).
January 7 - 1878 Edison licensed two Brooklyn men to incorporate phonographs in clocks and watches for the purpose of calling out the time, waking people, and advertising messages. (A Streak of Luck, Robert Conot).
January 7 - 1901 First use of "the dog" by Eldridge Johnson on a letter heading for Gram-o-phone
January 7 - 1894 Fred Ott "sneezes" in Orange, NJ as the star of an Edison kinetoscopic film The Sneeze made by W. K. L. Dickson. This is the earliest surviving copyrighted motion picture. (See January 9 entry for details)
January 8 - 1913 British Patent No. 607 - Records with Vertical Undulations Made from Condensation Productions of Phenols and Formaldehyde fused to an Insert Filler, such as Wood Pulp (T.A. Edison and J. Aylsworth) - The Edison Diamond Disc. (ECP - Frow & Sefl)
January 9 - 1894 The Edison Kinetoscopic Record of a Sneeze received by the Library of Congress. The Sneeze is one of a series of short films made by W. K. L. Dickson in January 1894 to promote Edison's Kinetoscope. The star is Fred Ott, an Edison employee who also was working for Edison at the time of Edison's invention of the Phonograph in 1877.
The 81 image photographic record of the film was received in the mail by the Library of Congress on January 9, 1894 as a copyright deposit from Dickson and is the earliest surviving copyrighted motion picture. The five-second motion picture appeared in the March 24, 1894 issue of Harper's Weekly and refers to the sneeze being heard by means of a phonograph acting as an accompanist making sounds of a precise "as-shew".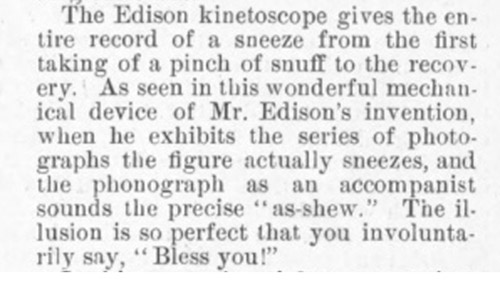 See the 1894 Harper's Weekly article for some "Sneeze-lore" and the 'record' submitted to the Library of Congress for the purpose of copyrighting.
January 10 - 1949 RCA Victor unveiled a new breed of phonograph record -- the 45. Just seven inches across, with a one-and-a-half-inch hole in the middle, the new record played at 45 revolutions per minute, with greater fidelity and clarity than the old 78 rpm record. "Listen, compare, and you, too, will agree that RCA Victor's 45 RPM record is the finest and best ever made," said one record company promo. (transcript from CBS Morning Almanac, January 10, 2016)
January 11 - 1890 "A Phonogram Library." Public Opinion VIII:14 p. 348, reprinted from the San Francisco Examiner. See Phonozoic to read this newspaper article that calls for "some benevolent millionaire" to found "the first phonogram library on earth. (Phonozoic Doc. 002)
January 12 - 1982 LJ's Birthday, a Friend of the Phonograph
January 19 - 1889 "Sale of the Phonograph. Said to Have Caused Edison and His Lawyer to Fall Out." New York Times, January 19, 1889.
January 19 - 1967 The Beatles began recording the song "A Day in the Life", with a working title "In the Life of...", on 19 January 1967. The total duration of time spent recording "A Day in the Life" was 34 hours. In contrast, the Beatles' earliest work, their first album Please Please Me, was recorded in its entirety in only 10 hours.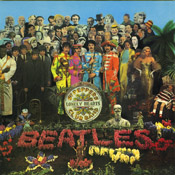 January 21 - 1928 "Together" was recorded by Paul Whiteman and his Orchestra on January 21, 1928 in New York and released as Victor 35883. The B side was "My Heart Stood Still". "Together" was number one for two weeks.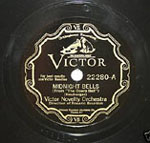 January 24 - 1896 Edison organized the National Phonograph Company primarily as an entertainment company. (A. Koenigsberg)
January 26 - 1857 Leon Scott De Martinville lodged a sealed envelope with the Academie des Sciences in Paris, containing the principles of phonautography, with details of a phonautograph.
January 27 - 1896 Edison forms the National Phonograph Co. with the purpose of manufacturing phongraphs for home use on January 27.
January 28 - 1969 "Don't Let Me Down", the B-Side song from the 7" single by The Beatles with Billy Preston was recorded on January 28, 1969.
January 29 - 1878 With Charles Batchelor, Edison visits Ansonia (Conn.) Clock Co. and experiments with applying the phonograph to clocks.
January 29 - 1964 "Can't Buy Me Love" was recorded on 29 January 1964 at EMI's Pathe Marconi Studios in Paris, France, where The Beatles were performing 18 days of concerts at the Olympia Theatre.
January 30 - 1878 Edison signs agreement for commercial exploitation of the phonograph in the United States. This photograph shows a Congressional Reporter using a cylinder dictating machine, in its role as a business machine, to transcribe records (from the Library of Congress, circa 1908).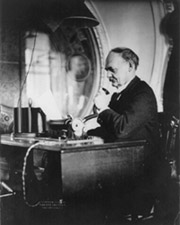 February 6 - 1867 Eldridge Reeves Johnson (February 6, 1867 in Wilmington, Delaware founded the Victor Talking Machine Company alongside Emile Berliner, a United States corporation, and built it into the leading American producer of phonographs and phonograph records and one of the leading phonograph companies in the world at the time.
February 11 - Thomas Alva Edison, born February 11, 1847, Milan, Ohio, American inventor and businessman, who has been described as America's greatest inventor.
February 18 - Jesse Harrison Lippincott, born February 18, 1842 (Mt Pleasant, PA), founder of the North American Phonograph Company (July 14, 1888)
March 3 - Alexander Graham Bell, born March 3, 1847 Edinburgh, Scotland - scientist, inventor, engineer and innovator who is credited with patenting the first practical telephone; Bell funded the Volta Laboratory in 1880 which became an experimental facility devoted to scientific discovery, and the very next year it improved Edison's phonograph by substituting wax for tinfoil as the recording medium and incising the recording rather than indenting it, key upgrades that Edison himself later adopted. The laboratory was also the site where he and his associate invented his "proudest achievement", "the photophone", the "optical telephone" which presaged fibre optical telecommunications. - Wikipedia
March 12 - Leon Forrest Douglass (March 12, 1869 – September 7, 1940) was an American inventor and co-founder of the Victor Talking Machine Company who registered approximately fifty patents, mostly for film and sound recording techniques.
March 25 - 1857 Édouard-Léon Scott patents his Phonautograph
May 15 - John Kruesi, was a Swiss born machinist (May 15, 1843 – February 22, 1899) and a close associate of Thomas Edison. As Edison's head machinist at Menlo Park he took the rough drawing from Edison and constructed the first Phonograph. Kruesi was also involved in many other Edison inventions, including the quadruplex telegraph, the carbon microphone, the incandescent light bulb and the system of electric lighting.
May 20 - Emile Berliner (May 20, 1851 – August 3, 1929), originally Emil Berliner, was a German-American inventor. He is best known for inventing the phonograph record (called gramophone record in British English and originally also in American English) and the phonograph (gramophone in British English and originally also in American English). He founded the Berliner Gramophone Company in 1895, The Gramophone Company in London, England, in 1897, Deutsche Grammophon in Hanover, Germany, in 1898 and Berliner Gram-o-phone Company of Canada in Montreal in 1899 (chartered in 1904). See Emile Berliner and the Birth of the Recording Industry.
April 9 - 1860 the first line of Au clair de la lune was recorded by Édouard-Léon Scott on his Phonautograph. This is the "earliest clearly recognizable record of the human voice yet recovered." See First Sounds for a comprehensive story of its creation and restoration.
April 25 - 1817 birthday of Edouard-Leon Scott de Martinville (April 25, 1817) , a French printer and bookseller, who invented the earliest known sound recording device, the phonautograph.
August 25 - Charles Sumner Tainter, born Aug. 25, 1854, Watertown Mass., U.S - American scientific instrument maker, engineer and inventor, best known for his collaborations with Alexander Graham Bell, Chichester Bell, Alexander's father-in-law Gardiner Hubbard, and for his significant improvements to Thomas Edison's phonograph, resulting in the Graphophone, one version of which was the first Dictaphone - Wikipedia
August 20 - Voyager 2 launched by NASA on August 20, 1977. September 5 - Voyager 1 launched by NASA on September 5, 1977.
September 5 - Voyager 1 launched by NASA on September 5, 1977.
September 9 - 1922 Release of "Carolina in the Morning" by Paul Whiteman & His Orchestra on Victor 18962-A
October 1 - 1842 Birthday of Charles Cros (or Émile-Hortensius-Charles Cros), born in Fabrezan, Aude. French poet and inventor who was the first person to conceive a method for reproducing recorded sound with an invention he named the Paleophone.
November 30 - The birthdate of Chichester Bell, cousin to Alexander Graham Bell, is unknown other than he was born in 1848. Chichester, Alexander Bell and Charles Tainter's successful development of the Graphophone led to the formation of the Volta Graphophone Company of Alexandria, Virginia in February 1886 by those three principals, along with Chichester's brother, lawyer and banker, Charles B. Bell.
Overall, Chichester is to be remembered for his important contributions in developing improved versions of the phonograph. November 30 has been selected for Chichester Bell's "On This Day" in recognition of Bell helping to establish the Edison Bell company on 30 November 1892 in London to sell phonographs produced by the Edison United Phonograph Compnay.
December 3 - 1877, the envelope sealed on April 3, 1877 by Charles Cros and given to the French Academy was opened and the Cros letter was read in public. This letter establishes that Cros was the first person to conceive a method for reproducing recorded sound with an invention he named the Paleophone.