Enrico Caruso (Naples, February 25, 1873 – Naples, August 2, 1921) was a famous Italian tenor, who sang to great acclaim at the major opera houses of Europe and the Americas and was a key pioneer in the field of recorded music. His tremendous record sales and extraordinary voice, celebrated for its power, beauty, richness of tone and remarkable technique, made him arguably the greatest male operatic singer in history. (Wikipedia)
Enrico Caruso's first recordings, made in Milan in 1902, were for the Gramophone and Typewriter Company. He began recording exclusively for the Victor Talking Machine Company in 1904. While most of his early recordings were made in typically cramped studios in New York and Camden, New Jersey, Victor also occasionally recorded Caruso in the old Trinity Church in Camden, which could accommodate a larger orchestra. The conductors included Walter B. Rogers and Joseph Pasternack. Caruso's final recordings were made in September 1920. The last two selections were excerpts from Rossini's Petite Messe Solennelle.
When RCA acquired the Victor Talking Machine Company in 1929, it reissued some of the old discs with the accompaniment over-dubbed by a modern orchestra. Several previously unreleased Caruso discs continued to appear as late as 1973.
In 1950, RCA reissued some of the fuller-sounding recordings on vinyl 78 rpm discs. Then, as LPs became popular, many of the recordings were electronically enhanced for release on LP. Some of these recordings, remastered by RCA Victor on the 45 rpm format, were re-released in the early 1950s as companions to the same selections by Mario Lanza in the "Red Seal" series. Interestingly, however, the labels for the Caruso versions, although designated "Red Seal", were printed on a lighter (gold) background to distinguish them from the Lanza records. Many of both were also pressed on translucent red vinyl.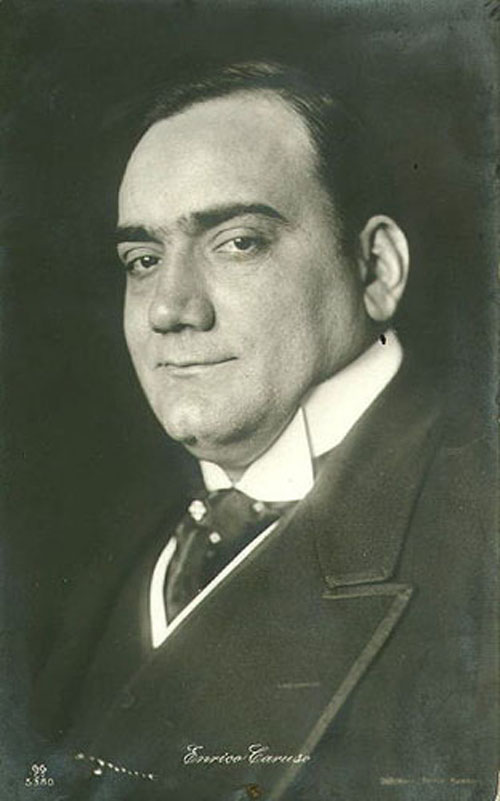 Listen to O Sole Mio sung by Enrico Caruso, Victor Records 1916
Victor Orchestra, Walter B. Rogers, Conductor
Enrico Caruso sings "O Sole Mio" in this recording from February 5, 1916 with the Victor Orchestra.