Chichester A. Bell was a chemist, first cousin of Alexander Graham Bell, and instrumental in developing improved versions of the phonograph. His actual birth date is not known other than the year 1848.
In 1881 Chichester Bell began working with Alexander and their associate Charles Tainter on addressing the drawbacks to Thomas Edison's phonograph. The three men created the Volta Laboratory Association to be the holder of their patents. Their successful development of the Graphophone led to the formation of the Volta Graphophone Company of Alexandria, Virginia in February 1886.
Upon his return to London Chichester Bell helped establish the Edison Bell company. The Edison Bell company was established on 30 November 1892 in London to sell phonographs produced by the Edison United Phonograph Company.
* Note - Chichester's actual birth date is not known other than the year 1848 so Friends of the Phonograph have assigned November 30 as his birthday to be able to celebrate a Red Letter Day for his contributions to the Phonograph.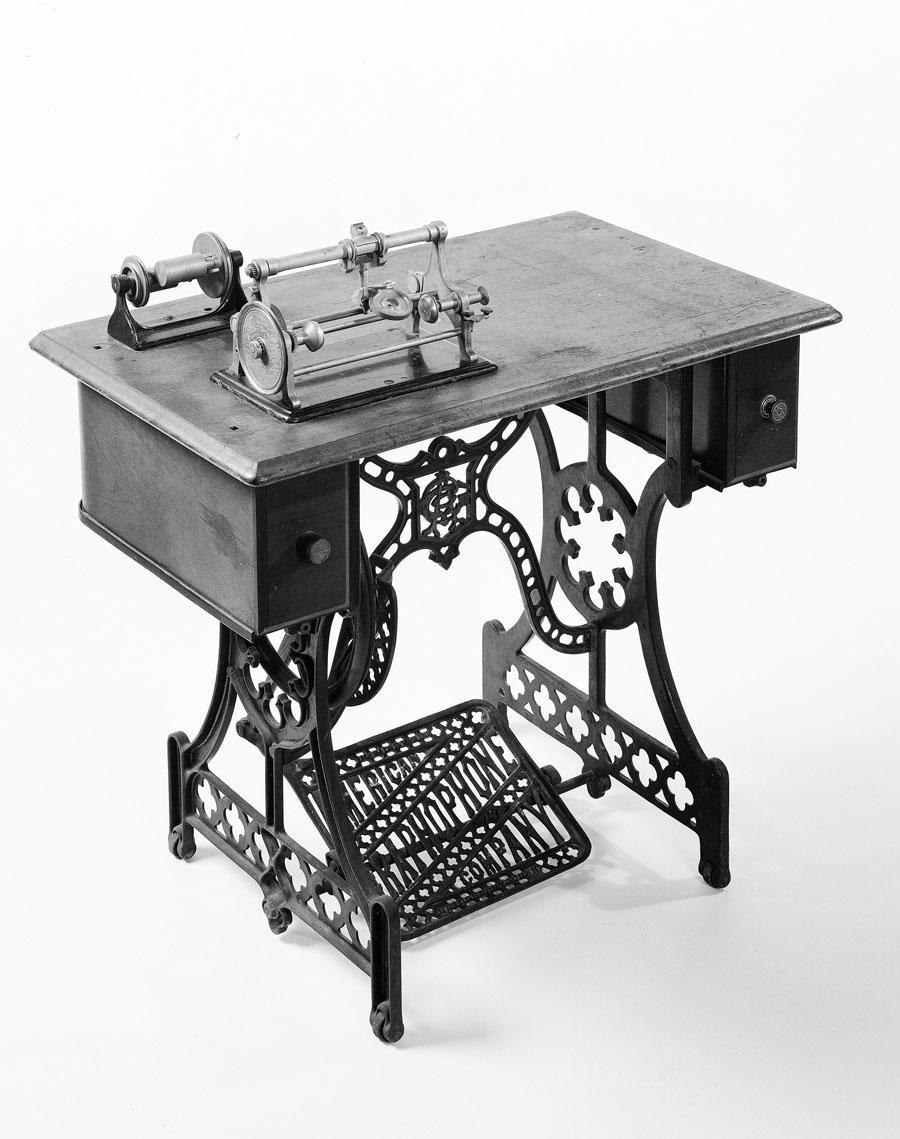 Early Graphophone courtesy of National Museum of American History
Here is the description from the National Museum of American History Collection's website extracted on 8/25/2019 which details Tainter's contributions to this early Graphophone:
DESCRIPTION
This is a business dictation machine that uses wax cylinders to record and play back sound. The basic design for the machine emerged from research at the Volta Laboratory, Washington, D.C., the sound research facility established by Alexander Graham Bell with his associates Chichester Bell and Charles Sumner Tainter.
Tainter refined the design, patented several versions of it, and oversaw the manufacturing of the first six experimental graphophones at Bergmann & Co in New York in 1885. He also supervised the making of commercial models in a sewing machine factory in Bridgeport, Conn., beginning in 1887. In these early commercial machines, the dictation apparatus sits atop a sewing machine table and employs a treadle to rotate the mandrel holding the cylinder recording.
On this machine from 1888, the treadle is marked "American Graphophone Company"; the governor is marked "Patented July 20th 1886." The recorder-reproducer is marked: "The Phonograph-Graphophone m'f'd by the American Graphophone Company for Jesse H. Lippincott, Sole Licensee/ Type C No. 03042" and numerous patent dates.
Reference:
Wile, Raymond R. "The Development of Sound Recording at the Volta Laboratory," Association for Recorded Sound Collections Journal 21, No. 2, 1990, pp. 208-225.