While Edison was in San Francisco to be honored at part of the Panama-Pacific International Exposition's October 21, 1915 Edison Day, two Edison phonograph related events took place.
By transcontinental telephone Edison listened to an Edison Diamond Disc recording of Anna Case singing "Charmant Oiseau" (Bird Song). This demonstrated that music from the Edison Diamond Disc Phonograph can be carried from ocean to ocean" and be perfectly heard (3)
Also, "The first Tone Test on the Pacific coast was given at the Panama-Pacific Exposition in San Francisco in October 1915 by Christine Miller..." (4)
The Boston Sunday Herald reported the following details in their November 21, 1915 edition about Christine Miller's Tone Test performed on October 21, 1915:
The first tone test was given at the Panama Pacific exposition on October 21, Edison Day, as it was called....On that day Miss Christine Miller consented to prove to Mr. Edison just what perfection he had attained in reproducing the human voice. Before a vast crowd of visitors from all corners of the globe Miss Miller sang her first duet with herself. So astounding was the initial performance, so identical was her voice with its laboratory reproduction, that even Edison admitted that he had invented something far beyond his ambition." (5)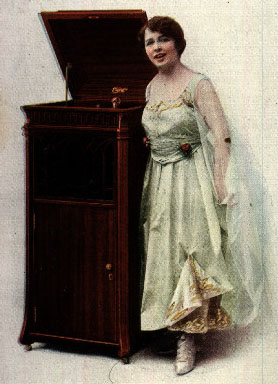 Christine Miller
Edison Tone Tests became an important advertising strategy for promoting the Edison Diamond Disc Phonographs and discs and for the next ten years. Tone Test Recitals would be performed around the country in listening rooms, rented halls, and auditoriums. Countless newspaper ads leveraged the popularity of these 'tests' and emphasized the difficulty listeners had in telling the difference between the 'live' and the recorded sounds. The conclusion stated in many Edison ads was simple: "Comparison With the Original Artist Reveals No Difference."