By Doug Boilesen, 2020

Lucrezia Bori has been identified by scholars (1) as a prototype used by Cather in her opera related story Scandal, i.e., the prototype for the "Spanish woman."

Besides starring on the opera stage Bori made phonograph records and was seen in advertisements which added her celebrity status, artistic reputation, and the prestige of opera to the promotion of the early phonograph.

This gallery provides examples focused on Lucrezia Bori and her popular culture role as seen in advertisements and other ephemera.
.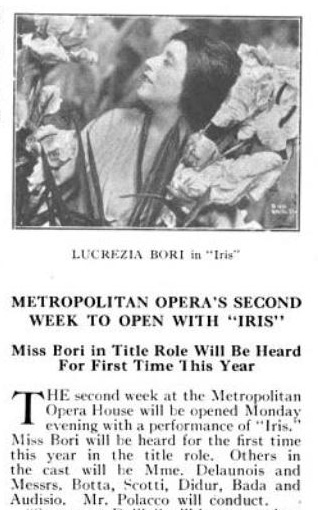 Opera News, November 20, 1915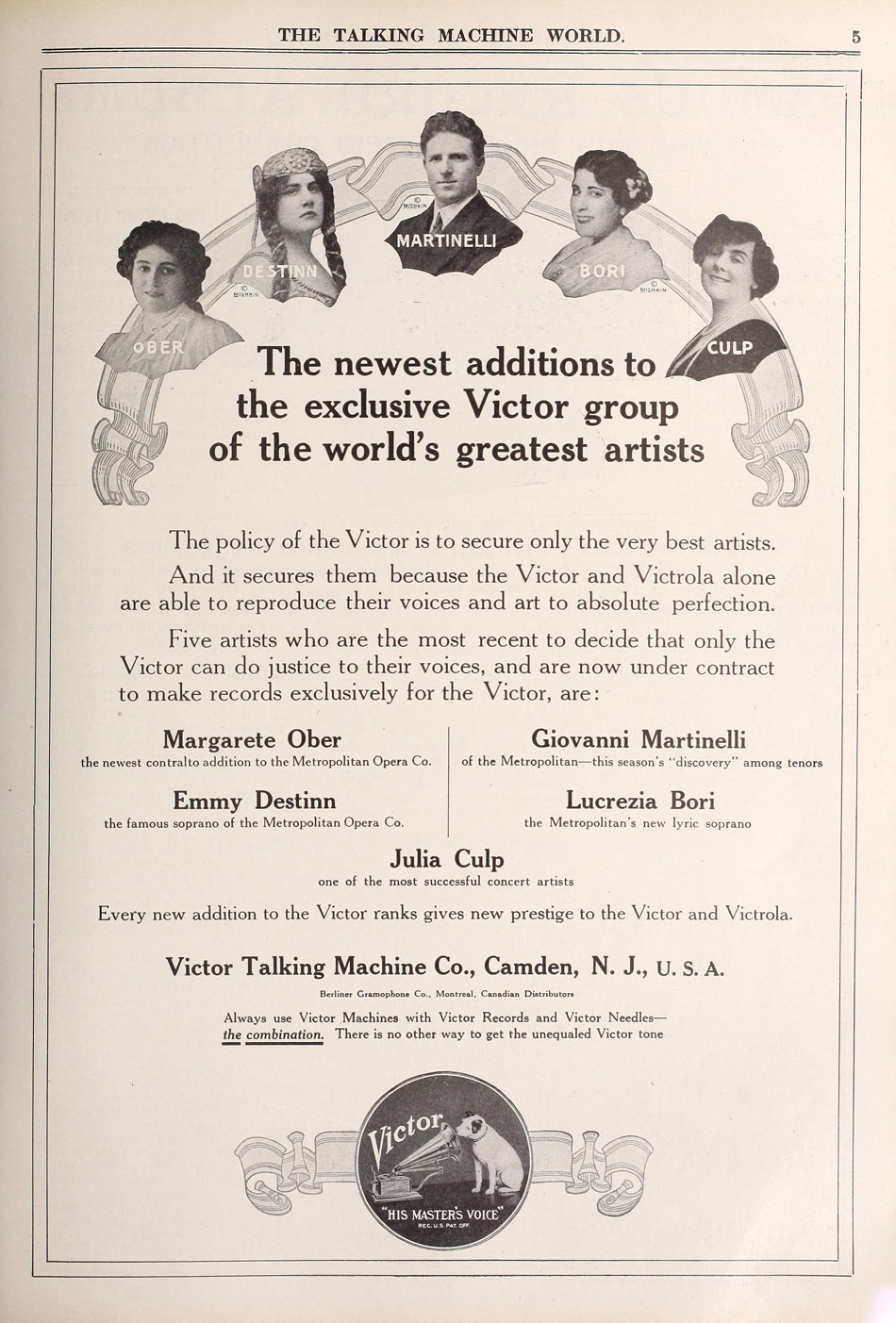 The Talking Machine World, May 15, 1914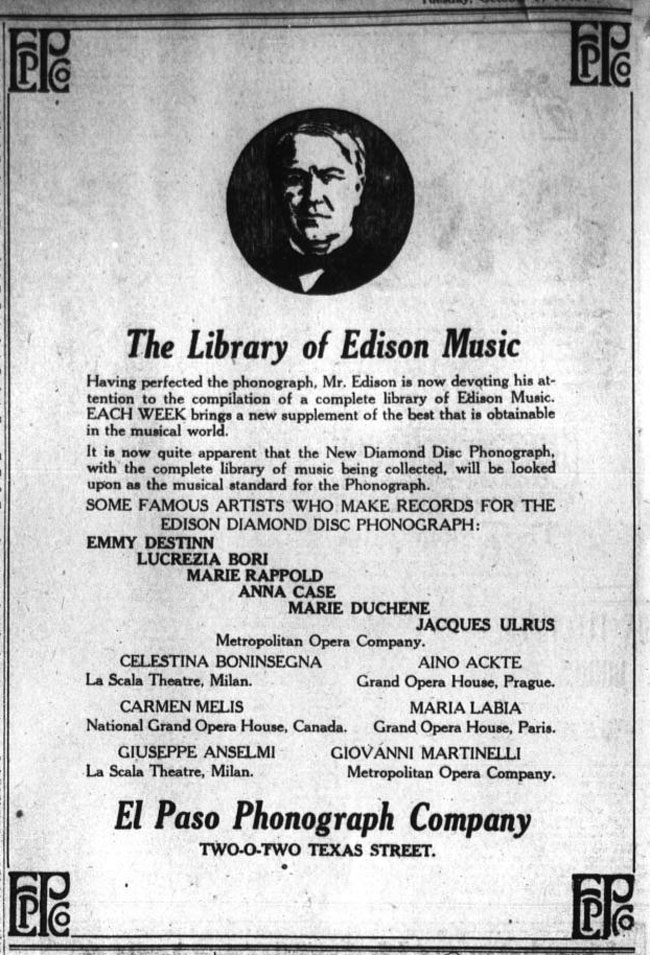 Lucrezia Bori promoted as famous artist making records for the Edison Diamond Disc Phonograph, newspaper ad in El Paso Morning Times, October 5, 1915
To listen to Ah! fors' e lui - La traviata performed by Lucrezia Bori, August 1910 Courtesy of NPS object catalog number EDIS 87690-a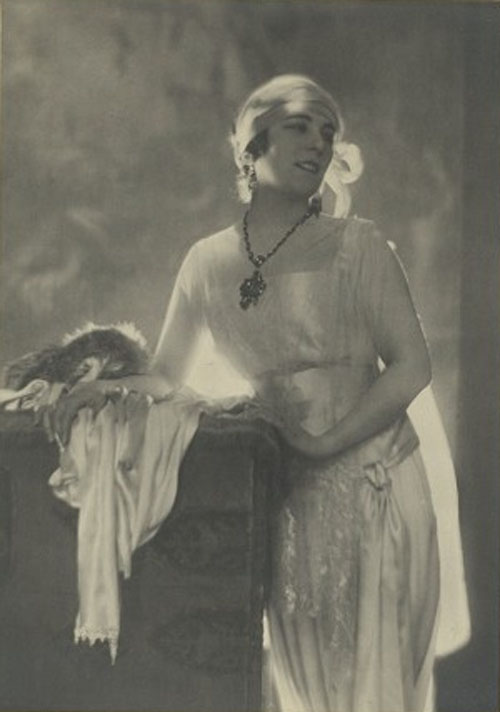 Lucrezia Bori, Photograph (Courtesy Wurlitzer-Bruck and available for purchase)
Lucrezia Bori, Geraldine Farrar, Mme. Schumann-Heink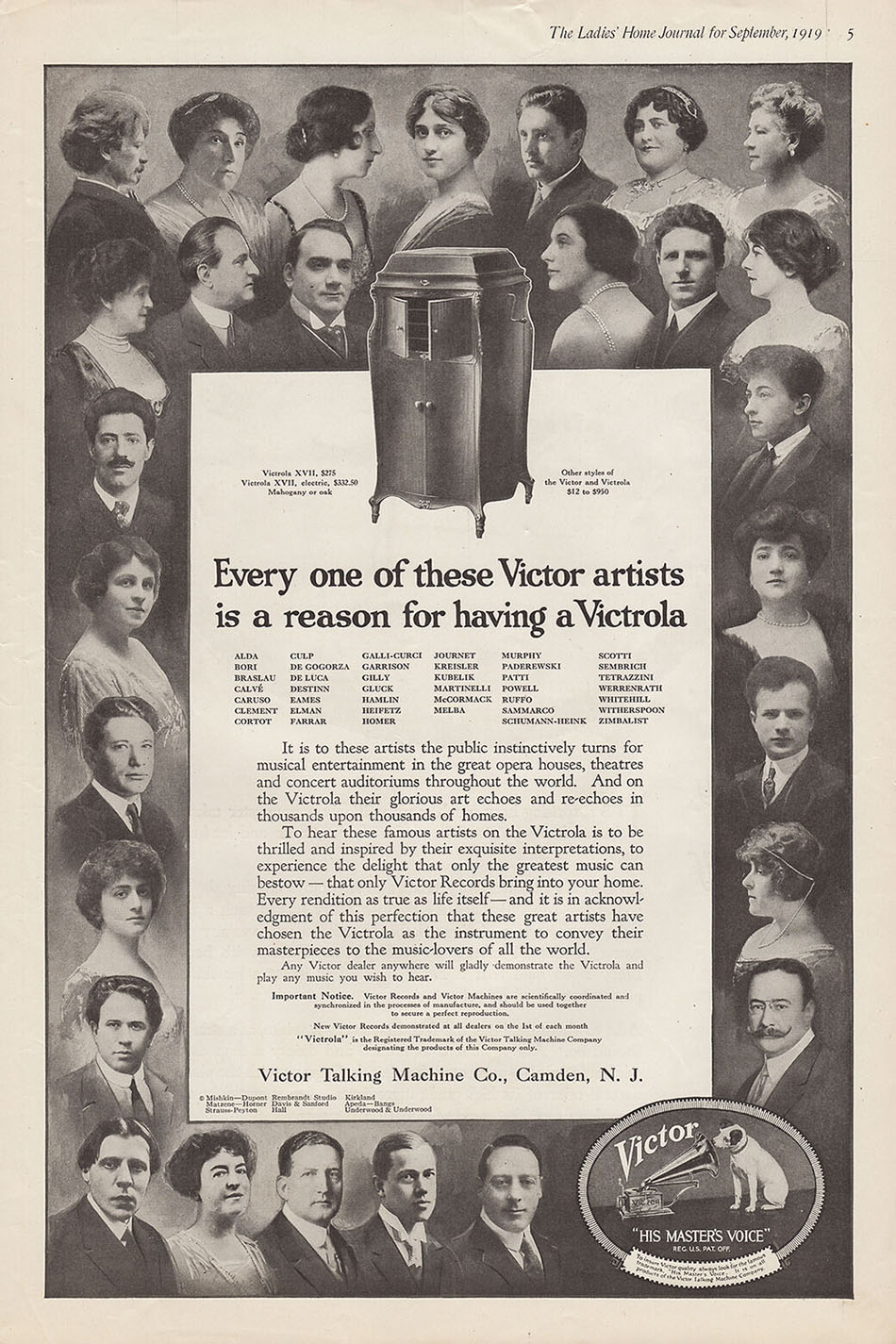 Farrar, Schumann-Heink and Bori, The Ladies' Home Journal, September 1919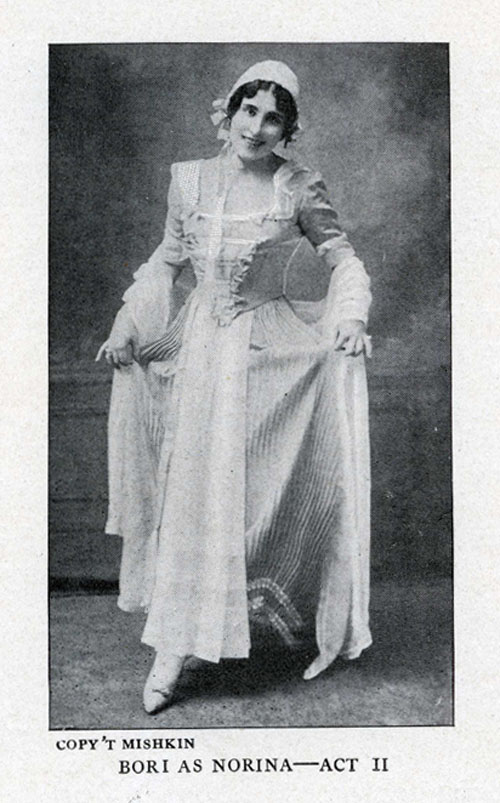 The Victrola Book of Opera, Lucrezia Bori in Don Pasquale by Donizetti, 1921, p. 81
.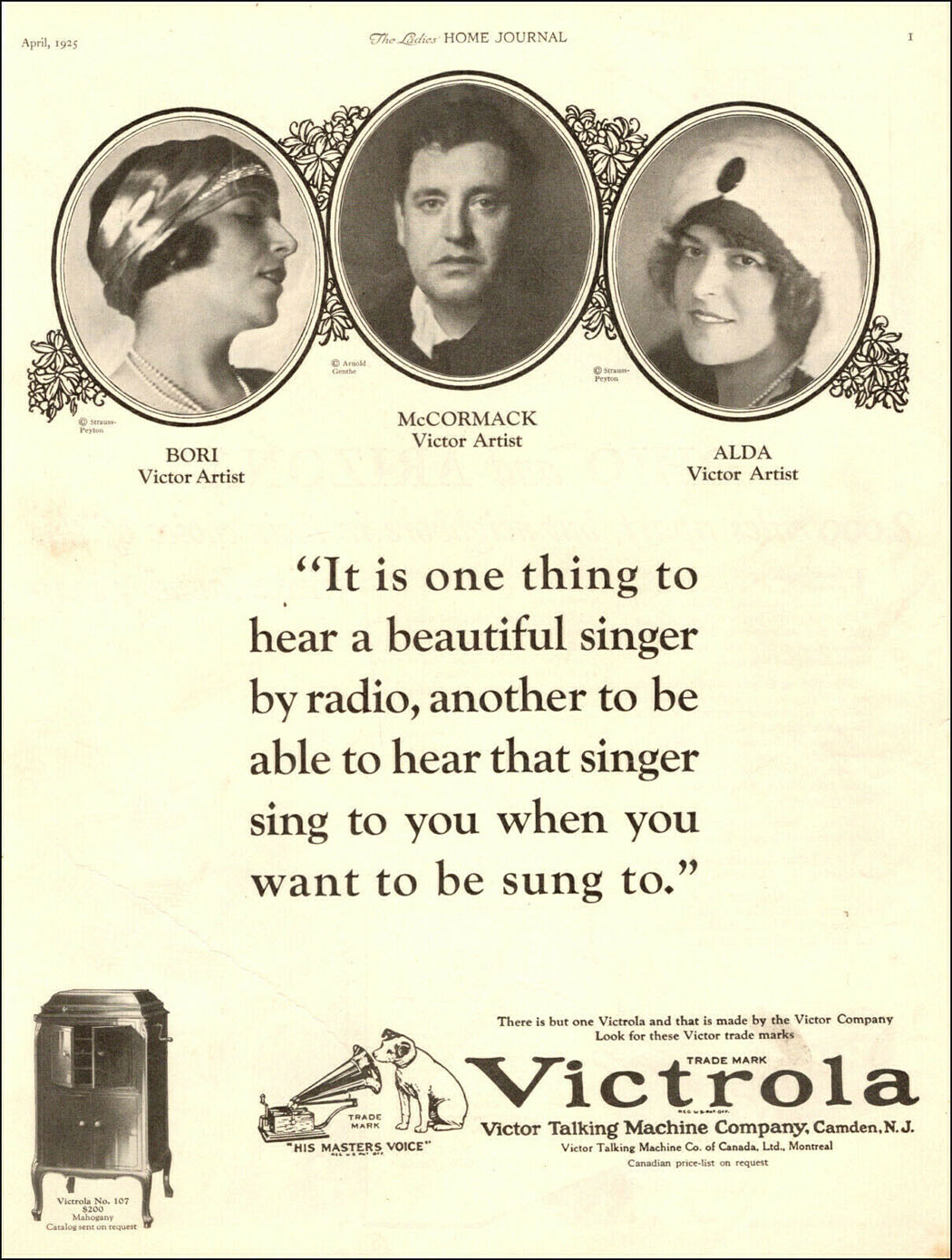 Lucrezia Bori, The Ladies' Home Journal, April 1925
Lucrezia Bori entry in A CATALOGUE OF MUSIC by International Artistes
BEING A LIST OF "HIS MASTER'S VOICE" CELEBRITY GRAMOPHONE RECORDS" ca. 1920
Courtesy The British Library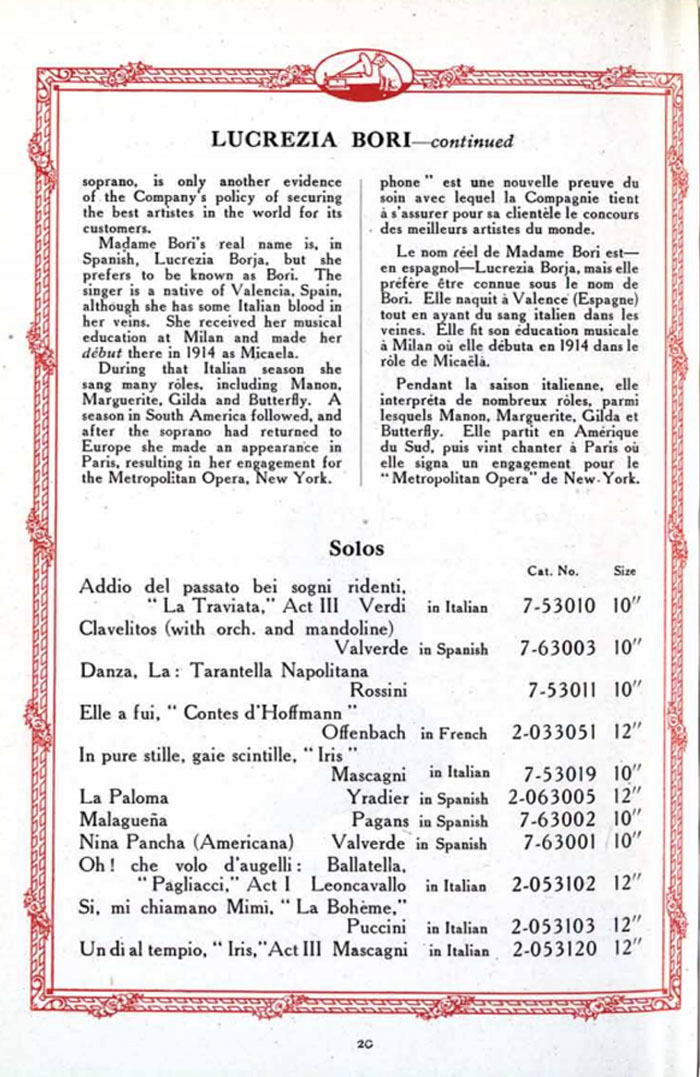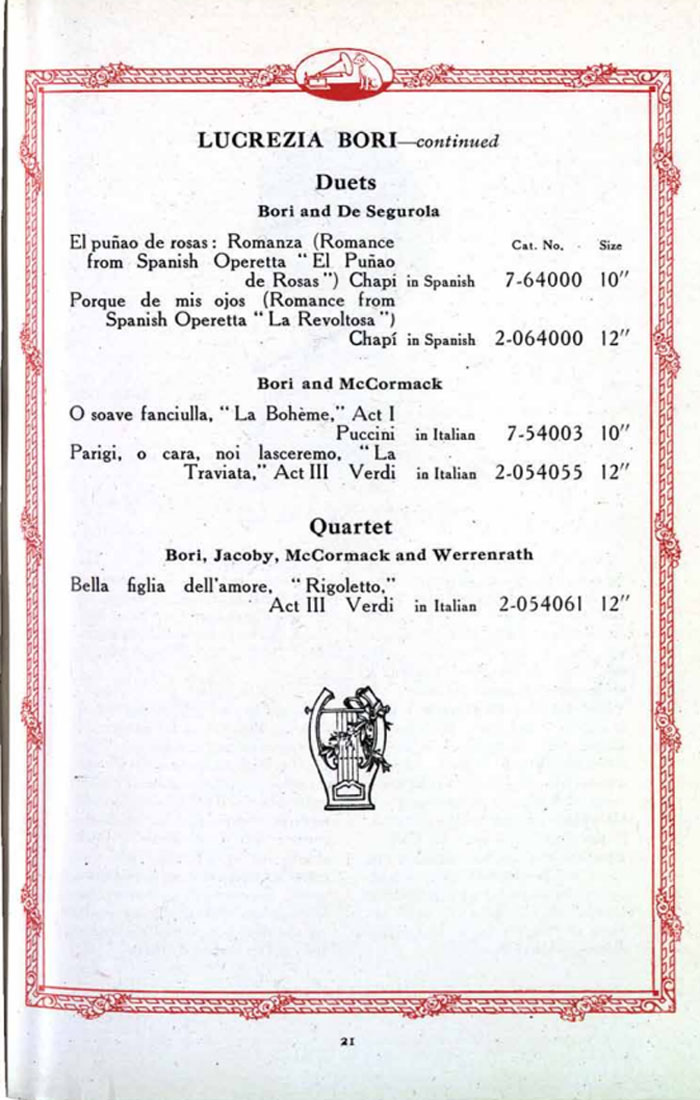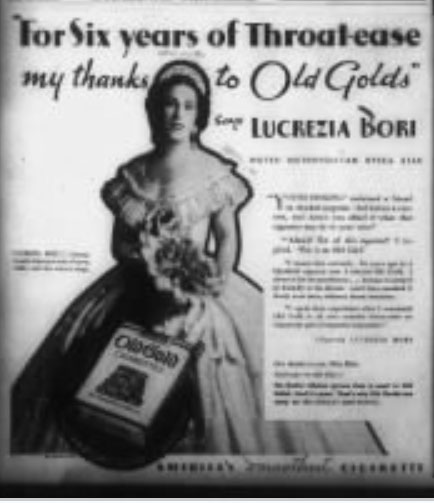 September 6, 1934 Morning Post
Visit the Phonographia gallery Willa Cather's Opera Prototypes who were Recording Artists for an overview of Cather's six opera related prototypes: FARRAR, FREMSTAD, NORDICA, GARDEN, SCHUMANN-HEINK and BORI.

For biographical notes, pictures, and comments related to Lucrezia Bori and her recordings, see Andrea's cantabile - subito, Lucrezia Bori created by Andrea Suhm-Binder as part of her site for collectors of Great Singers of the Past.
.