Willa Cather's Opera Prototypes Who Were Recording Artists
.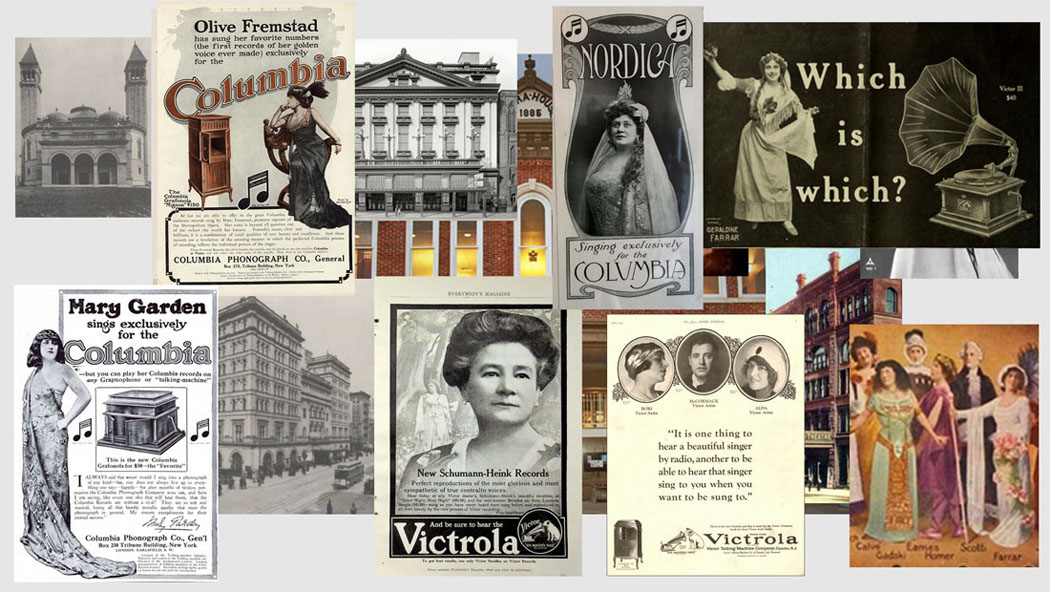 FARRAR FREMSTAD NORDICA GARDEN SCHUMANN-HEINK BORI
By Doug Boilesen, 2020

Willa Cather loved opera and was a devoted patron of opera wherever she lived or travelled. She had friendships with opera stars, understood the world of opera, knew the challenges of being an artist in a consumer world and of being a woman artist in male dominated domains, and wrote multiple stories where a prima donna or an aspirational artist was the central character.

Six of the prima donnas identified by scholars as likely prototypes (1) for Cather opera related characters made phonograph records and appeared in phonograph ads.

By appearing in popular culture magazine ads these prototypes added their celebrity status, artistic reputations, and the prestige of opera to promote key phonograph industry themes; namely, that the world of entertainment, highlighted by opera, was available to anyone, anytime and anyplace. The stage of the world, it was advertised, could now be in your own home where you would be more comfortable than in a theatre; it was more convenient than going to a theatre, no expensive tickets to buy, unlimited reperotoires, and always the best seat in the house.

The new reality and "truth," according to the phonograph industry, was that recorded sound should be considered an equivalent of live music and not a sound-reproducing novelty. "The Victor Record of Farrar's voice is just as truly Farrar as Farrar herself."

Cather prototype artists and their respective ads featured in this gallery are the following:

Geraldine Farrar (one of the prototypes for Kitty Ayshire in Scandal and A Gold Slipper and interviewed by Cather for her article Three American Singers).

Lillian Nordica (prototype for Cressida Garnet in The Diamond Mine)

Mary Garden (prototype for Eden Bower in Coming, Aphrodite! and one of the prototypes for Kitty Ayshire in Scandal)

Olive Fremstad (prototype for Thea Kronborg in The Song of the Lark and interviewed by Cather for her article Three American Singers).

Ernestine Schumann-Heink (prototype for "soprano soloist" in Paulís Case).

Lucrezia Bori (prototype for "Spanish woman" in Scandal).

Cather's first collection of short stories (The Troll Garden, 1905) were written in the early years of the phonograph entering the home. In the following decade, when Cather was writing many of her opera and aspirational artist stories e.g., The Song of the Lark (1915) and the publication of her collection of short stories Youth and Bright Medusa (1920), the phonograph became the definitive home entertainer. Electrical recordings were introduced in 1925 and the prevalence of radio in the 1930's would further alter how sound was experienced.

The evolution of the phonograph from 1900 to 1920 included advertisements made by six of Cather's opera prototypes which reveal aspects of the new century's consumerism and themes of "live" versus recorded music, the "Stage of the World' entering homes and the advertising power of prima donnas.

E.T. Paull - Sheet music published by E.T. Paull Music Co., New York, 1900. - Sheet Music from University of Indiana



Geraldine Farrar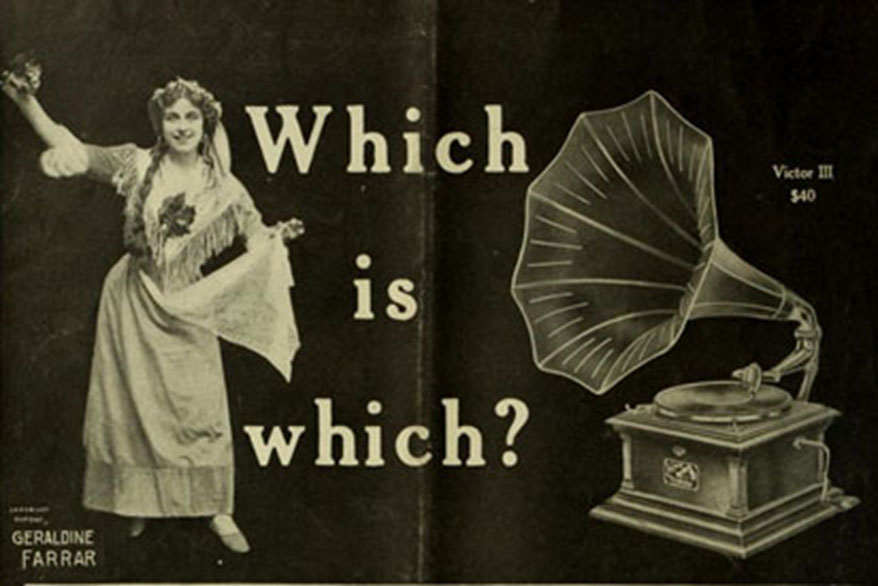 In 1908 Victor ran an ad campaign questioning if you could tell the difference between a live performer and a record. "You think you can...But can you?" Victor then suggested there was a way to find out: "Why not hear the Victor for yourself?". Geraldine Farrar was one of the opera stars featured in these "Which is which" ads.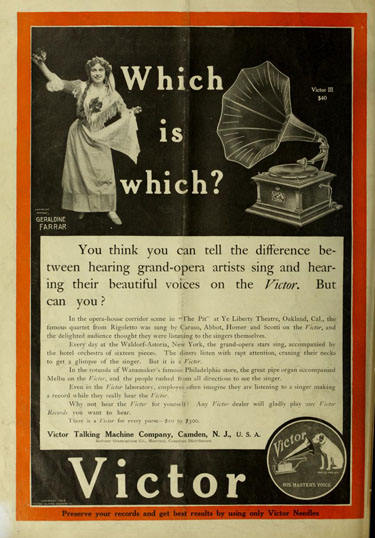 October 1908
In promoting opera The Victor Talking Machine Company led the way with its advertising campaigns featuring opera, Caruso and "the greatest artists of the world." Columbia was a strong competitor and promoted the exclusivity of their 'greatest artists of the world" whenever they could. Edison didn't have as many of the first-tier opera stars and seems to have been more interested in advertising the technical accuracy of his phonograph than promoting world-renowned artists. However, Edison did recruit some 'famous artists', including Lucrezia Bori, to make records for his Edison Diamond Disc Phonograph, and Edison phonograph ads were seen in popular culture media for almost four decades.

Victor's 1908 "Which is which?" ad campaign was the first series of advertisements asking the pivotal realism question. The Victrola's "Both are" advertising campaign of 1914-15, in which Farrar was again one of the featured artists, was a campaign where Victor seemed even more confident with a declarative instead of a question: "Both are Farrar." There was now no difference between a recorded voice and the voice of an artist on stage. With a record and an artist positioned side by side, the artist and the record were said to be equals -- a record had "the same singularly beautiful voice, with all the personal charm and individuality of the artist." In listening to Farrar's record you will "be stirred with enthusiasm, just as were the vast audiences" that heard in in the Metropolitan Opera House. "The proof," said the Victor ad, "is in the hearing."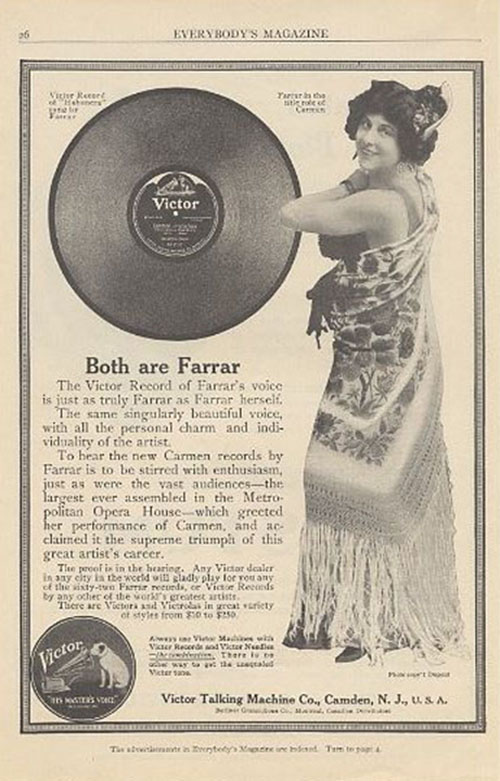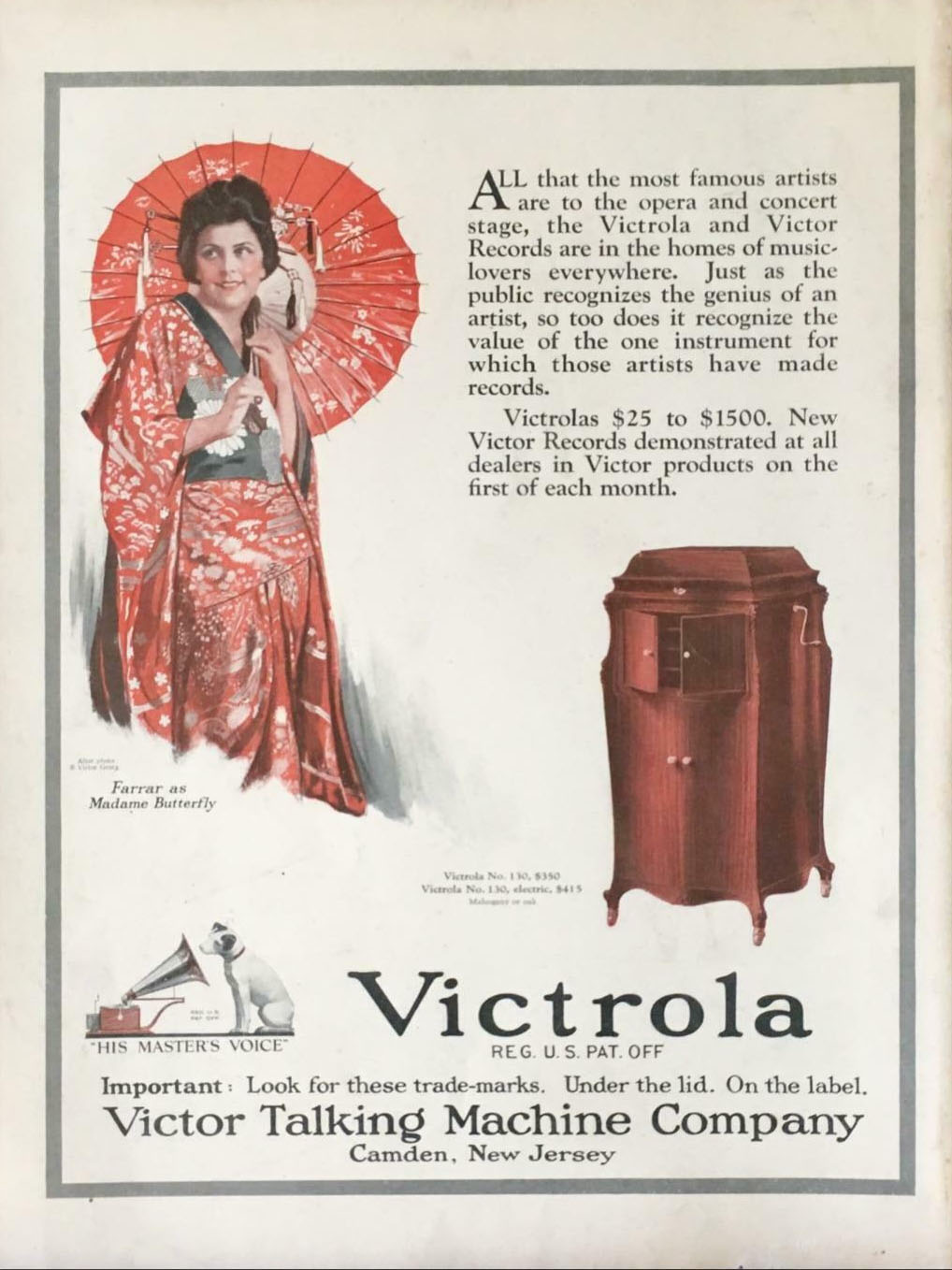 Farrar as Madame Butterfly, 1921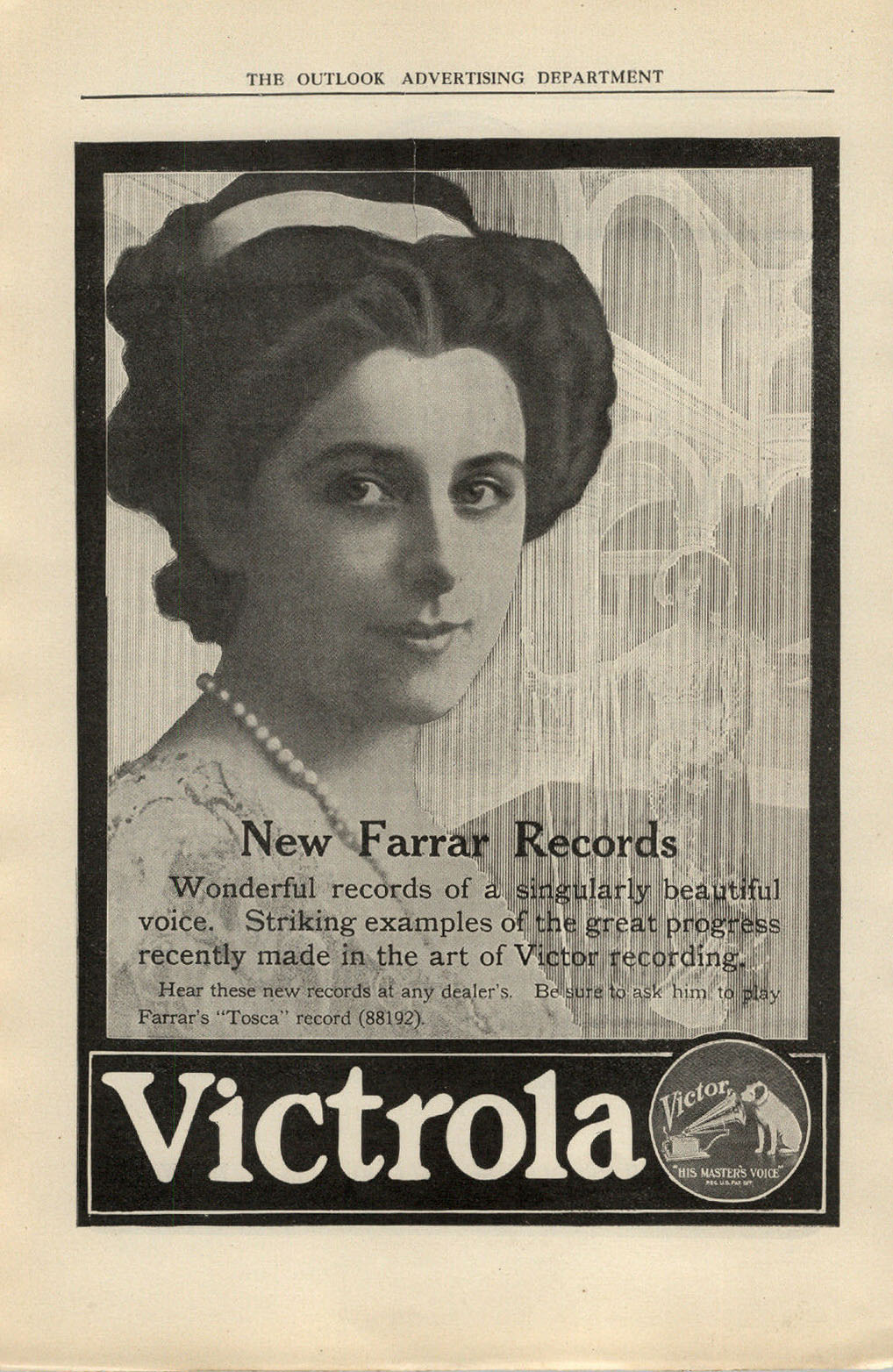 The Outlook Magazine, 1909
For additional examples of Geraldine Farrar, visit Geraldine Farrar - Recording Artist and Willa Cather Opera Prototype
.
.
Mme. Schumann-Heink

.

Schumann-Heink Postcard, 1907

.

Everybody's Magazine, 1910

The Victrola's "Both are" advertising campaign of 1914-15, included Madame Schumann-Heinkin as one of Victor's featured artists. Repeating the same truth as their "Both are Farrar" ad, Victor again defined their new reality: "The Victor Record of Schumann-Heink's voice is just as truly Schumann-Heink as Schumann-Heink herself."

Life, September 9, 1915

For additional examples of Mme. Schumann-Heink, visit Schumann-Heink - Recording Artist and Willa Cather Opera Prototype





Mary Garden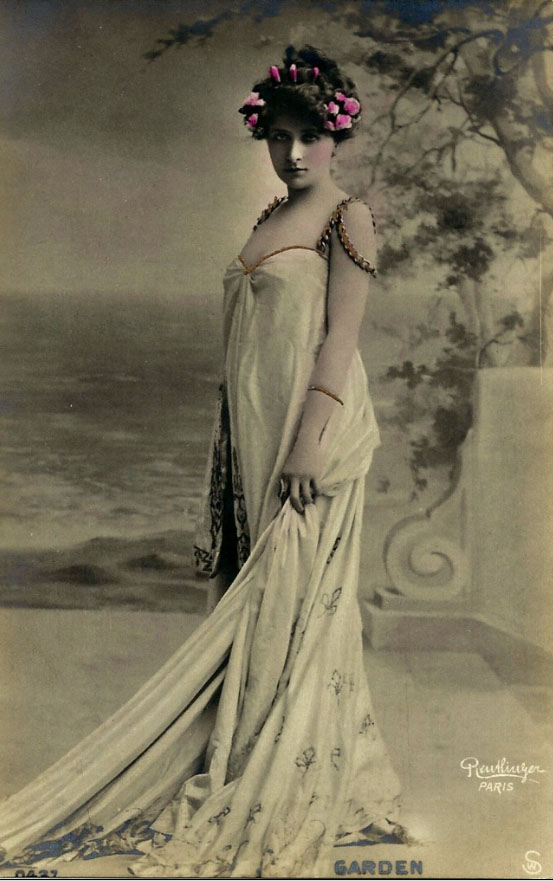 Mary Garden as Thais, photograph by Reutingler, Paris, postcard c. 1901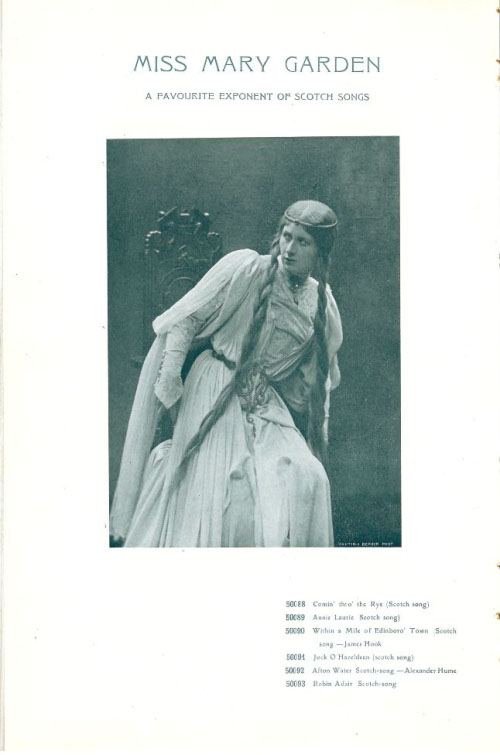 Mary Gardenís Scottish Records, Pathe Record Catalog, 1904 (Courtesy British Library)
The Talking Machine World, April 1911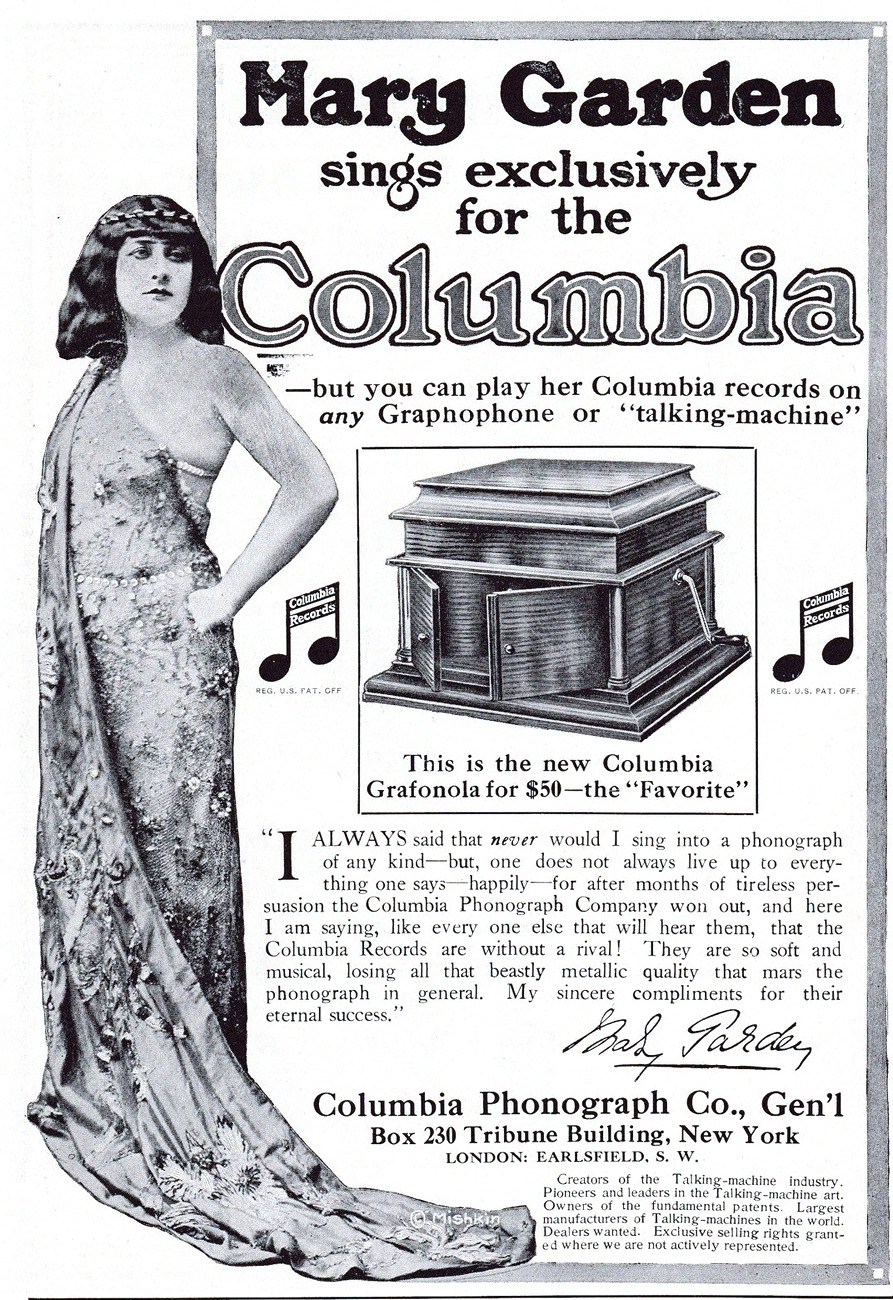 1911
For additional examples of Mary Garden, visit Mary Garden - Recording Artist and Willa Cather Opera Prototype
Lillian Nordica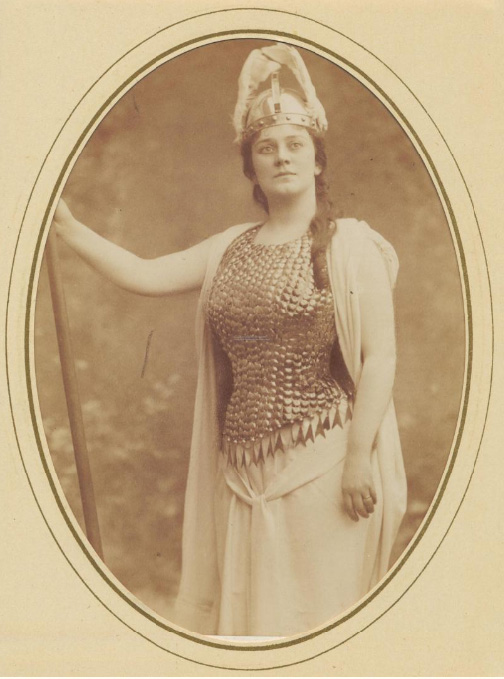 Lillian Nordica as Brunnhilde, 1898 (Courtesy of Nordica Memorial Association)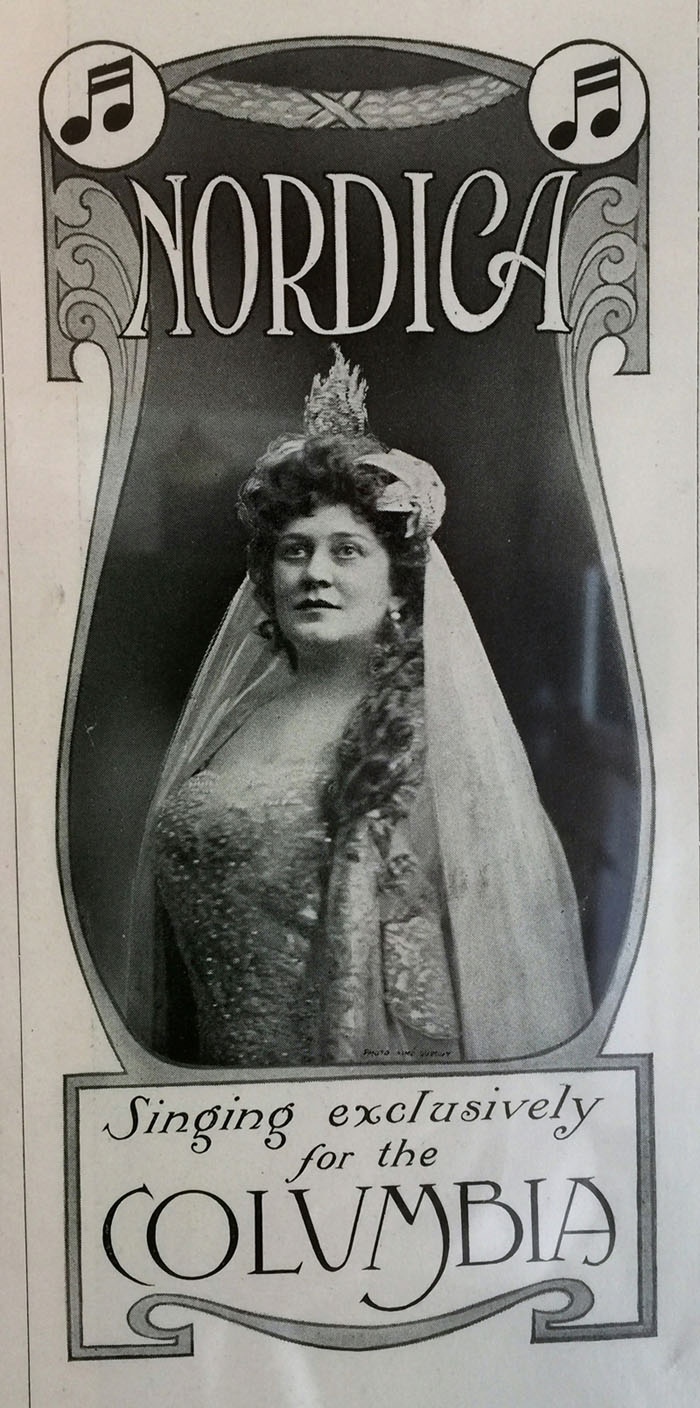 Columbia advertisement courtesy of The Nordica Memorial Association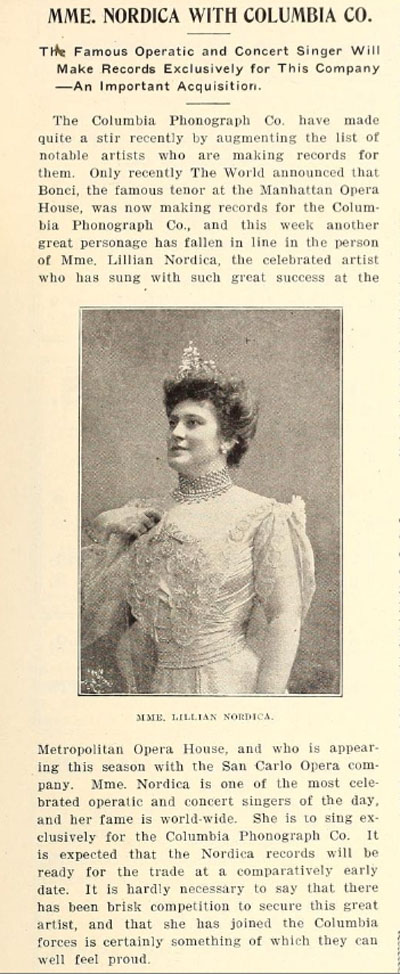 The Talking Machine World, February 15, 1907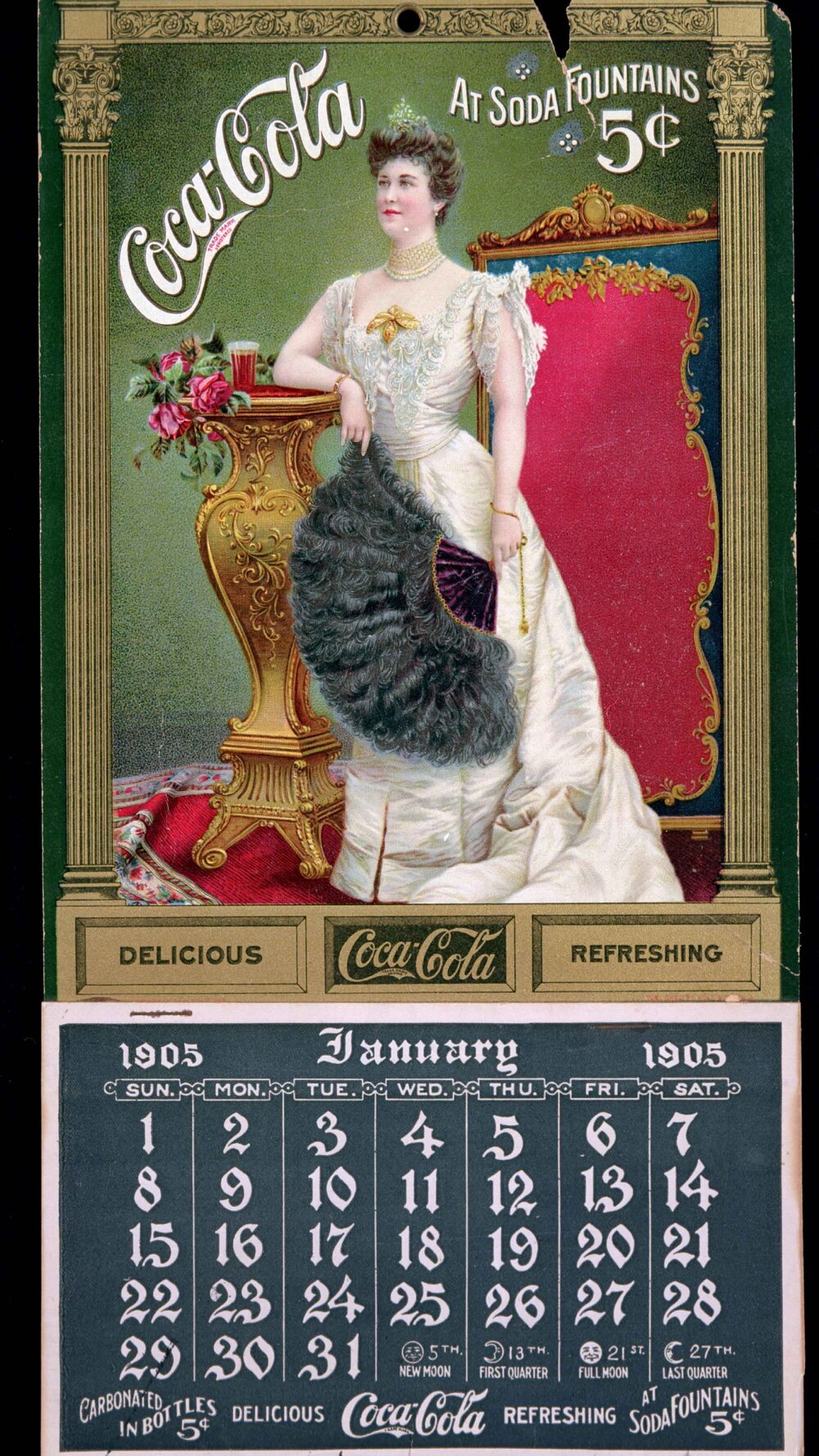 Nordica was featured on Coca-Cola calendars, trays and advertising posters in 1904 and 1905
For additional examples of Lillian Nordica, visit Lillian Nordica - Recording Artist and Willa Cather Opera Prototype
Olive Fremstad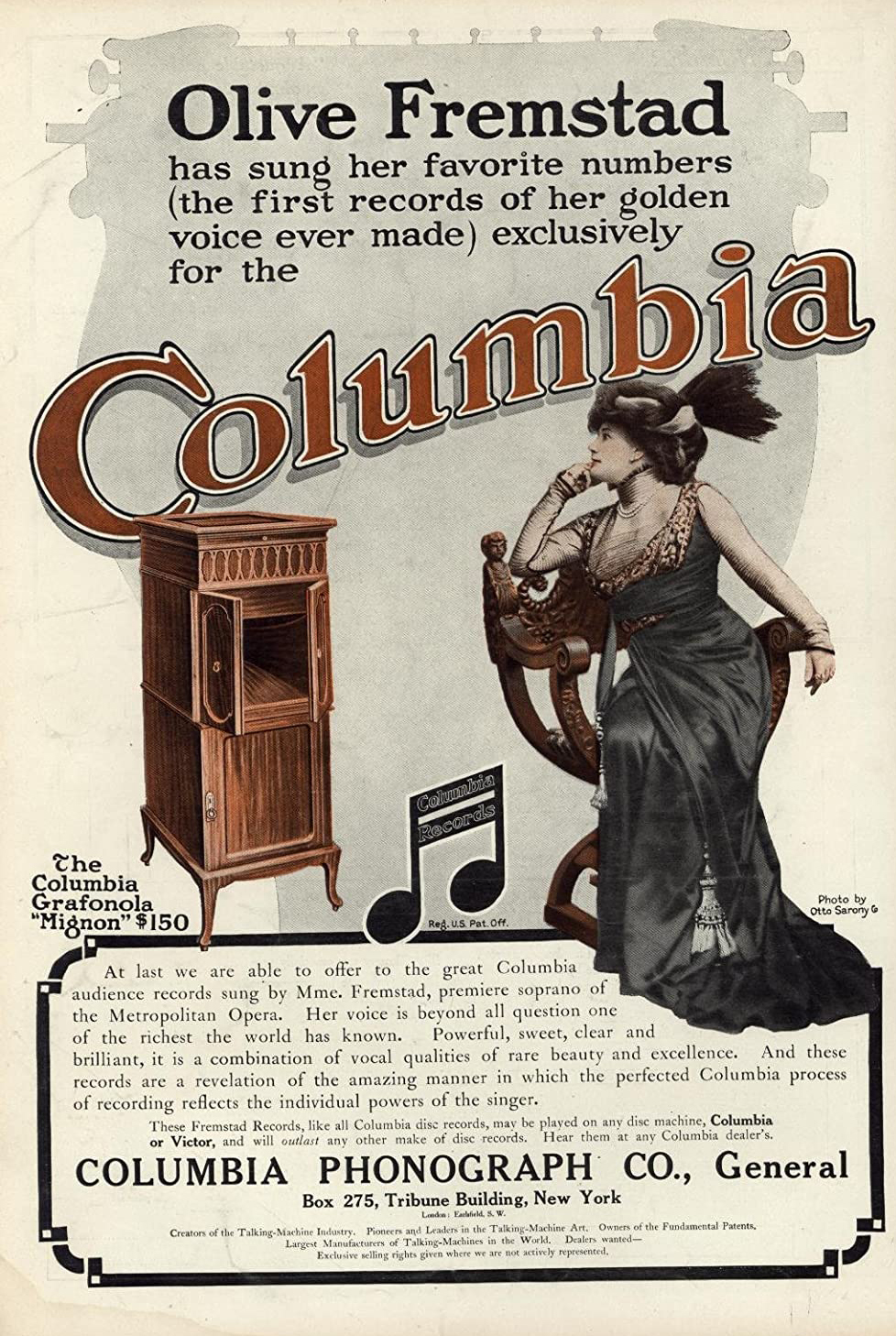 First records of Fremstad's voice ever made exclusively for Columbia, 1911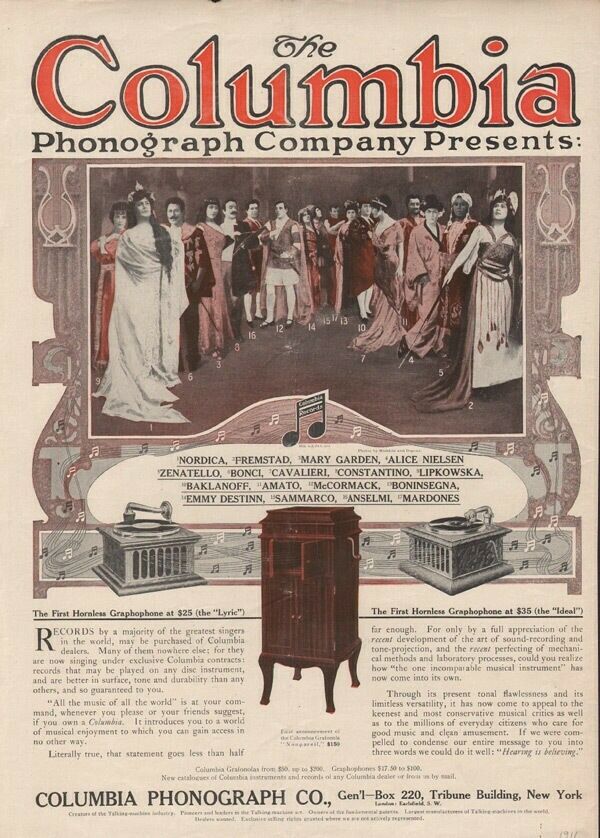 Nordica, Fremstad and Mary Garden, 1911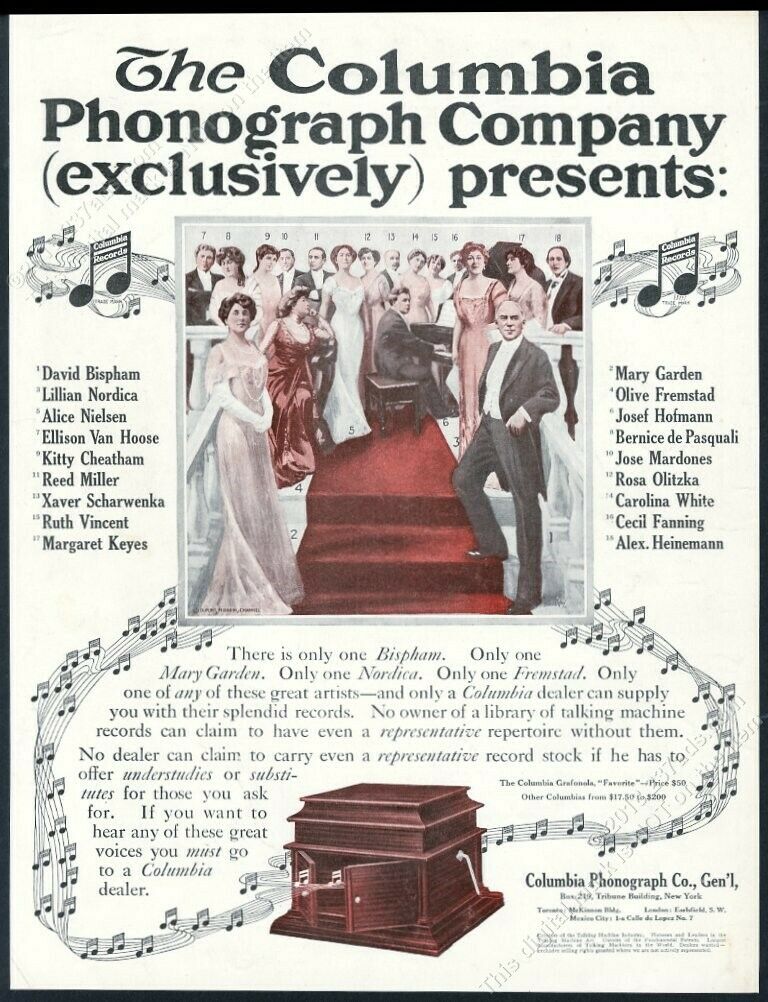 Nordica, Fremstad and Mary Garden, 1912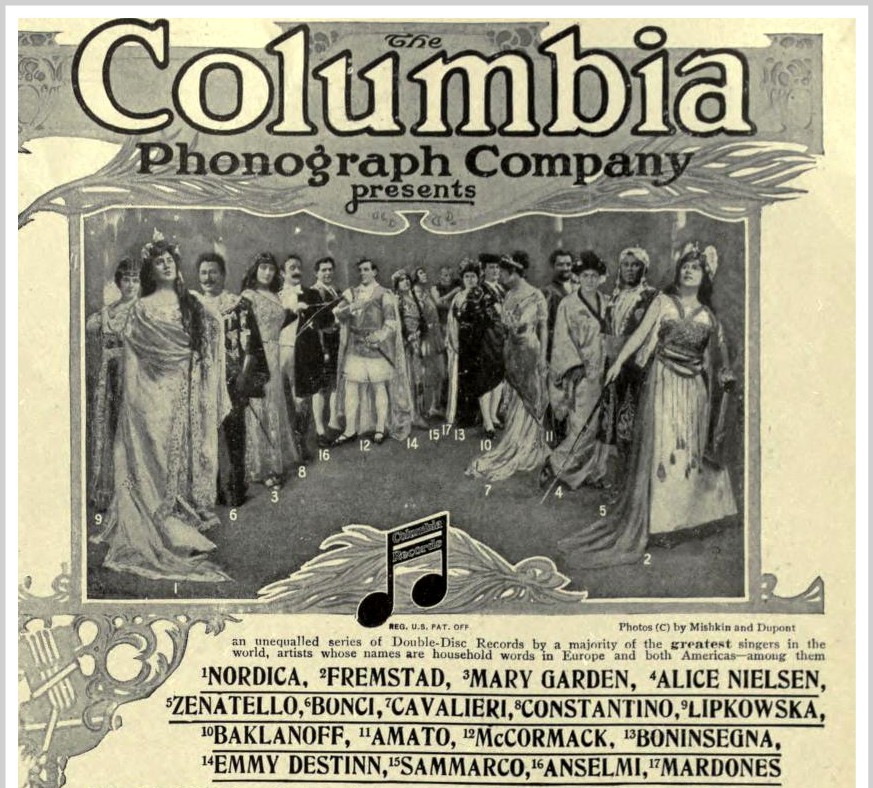 Nordica, Fremstad and Mary Garden, 1911
For additional examples of Olive Fremstad, visit Olive Fremstad - Recording Artist and Willa Cather Opera Prototype
Nordica, Fremstad and Mary Garden, Columbia Graphophones and Grafonolas postcard 1911
.Lucrezia Bori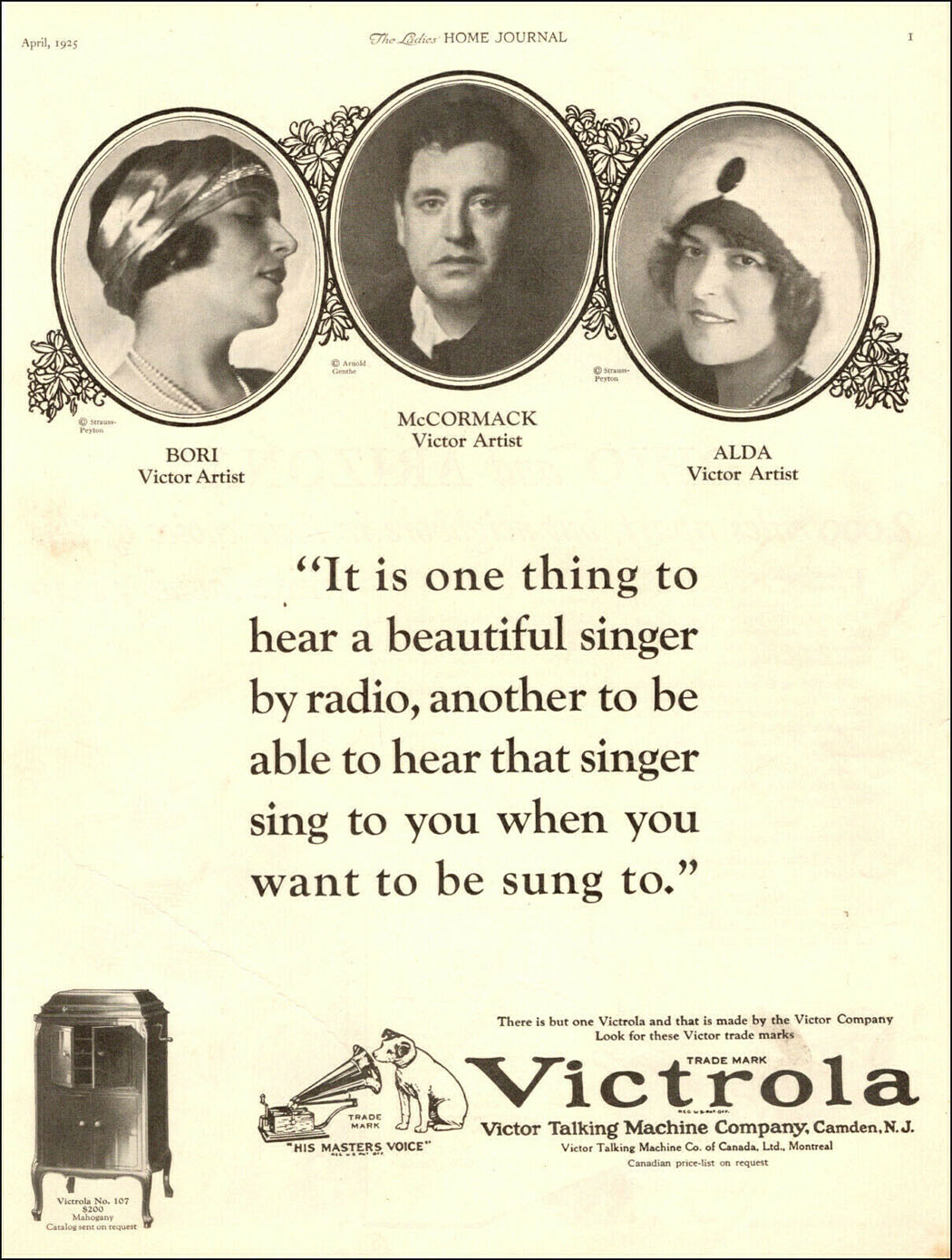 Lucrezia Bori, The Ladies' Home Journal, April 1925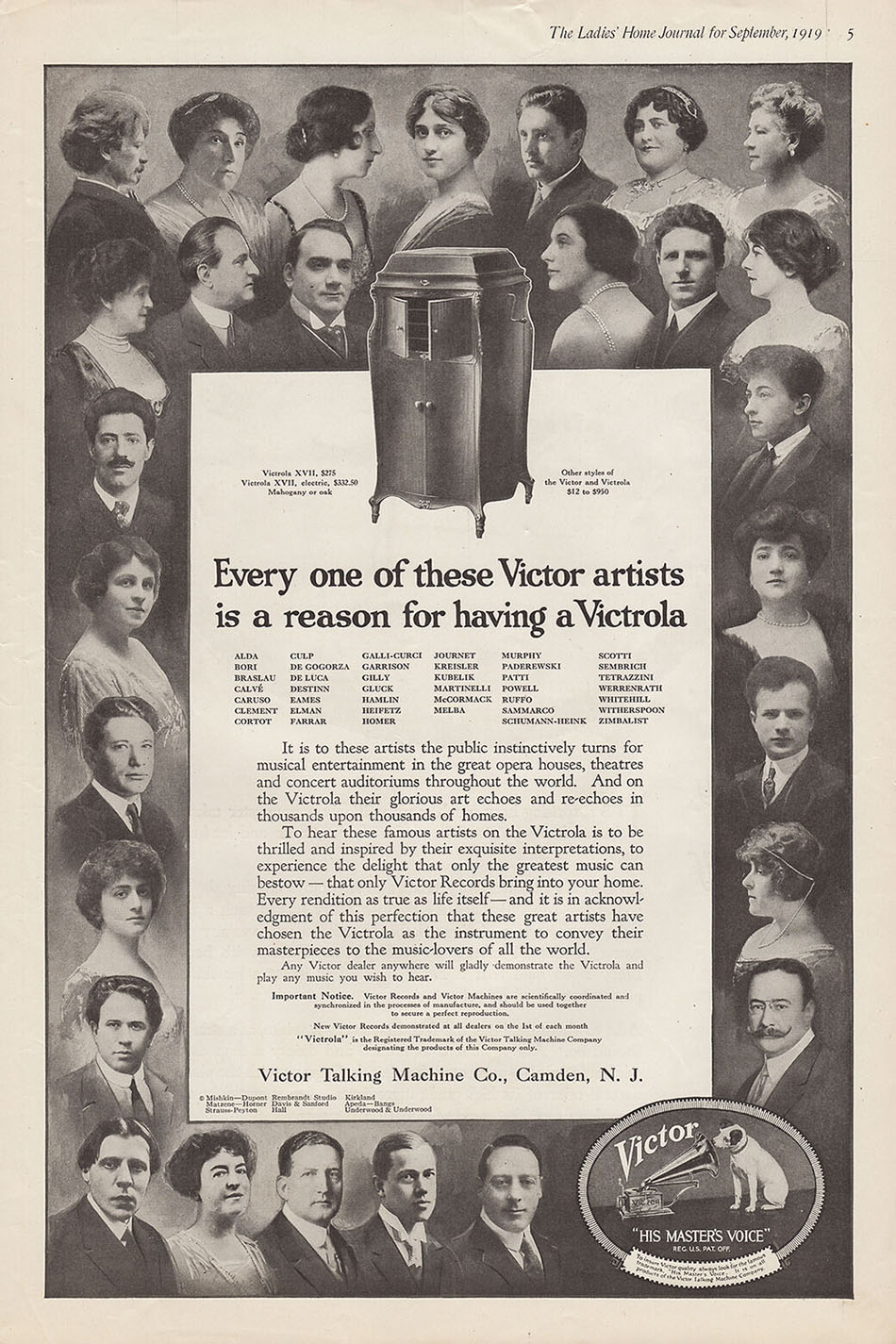 Farrar, Schumann-Heink and Bori, The Ladies' Home Journal, September 1919
For additional examples of Lucrezia Bori, visit Lucrezia Bori - Recording Artist and Willa Cather Opera Prototype