The Victor Book of the Opera

Stories of the Opera published by the Victor Talking Machine Company from 1912 - 1976
The publication of The Victrola Book of the Opera cleverly combined the company's business canny with a tone of altruism. The foreward to the first edition of the book (1912) notes:
"During the recent season several hundred performances of grand opera, at an estimated cost of millions of dollars, were given in the United States. This great outlay for dramatic music alone would not have been possible had it not been for the increased interest aroused in opera by the widespread distribution by the Victor during the past ten years of hundreds of thousands of grand opera records, at varying prices… For every person who cannot attend the opera there are a hundred who cannot. However, many thousands of lovers of the opera in the latter class have discovered what a satisfactory substitute the Victor is, for it brings the actual voices of the great singers to the home, with the added advantage that the artist will repeat the favorite aria as many times as may be wished, while at the opera one must usually be content with a single hearing…"
The shrewdness of The Victrola Book of the Opera publication was observed in a review of the 1924 edition by William Braid White for Talking Machine World [quoted here by Allan Sutton in his 2008 work Recording the Twenties: The Evolution of the American Recording Industry, 1920-29.]
"Here is something which even the veriest moron can understand, but which is not unworthy of the attention of the most learned music lover. Every sale of this book, in fact, means that one more man or woman has been started on the way to become an enthusiastic buyer of Victor Records. The Victor Book of the Opera is not only a fine piece of artistic propaganda, but a very shrewd piece of publicity; and the best of it is that every party to it reaps a profit from its existence." (Courtesy of Library of Congress and Allan Sutton, Mainstream Press)
An Interactive "The Victrola Book of the Opera"
The Library of Congress has published an interactive edition of 1919 The Victrola Book of the Opera which has links for to nearly every song in the book.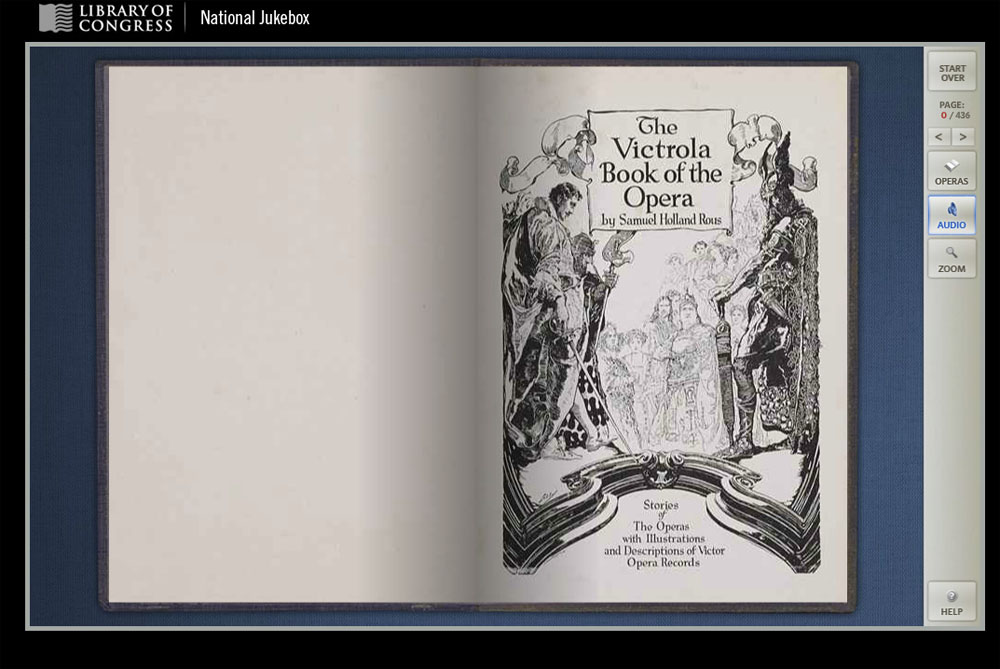 The 1919 edition of the Victrola Book of the Opera describes more than 110 operas, and is reproduced as an interactive digital facsimile. It includes plot synopses and lists of recordings the Victor Talking Machine Company offered in 1919. In addition to reading the original text, you can listen to nearly every recording listed in the book and even compare different interpretations of the most popular arias of the period. (Courtesy of the Library of Congress)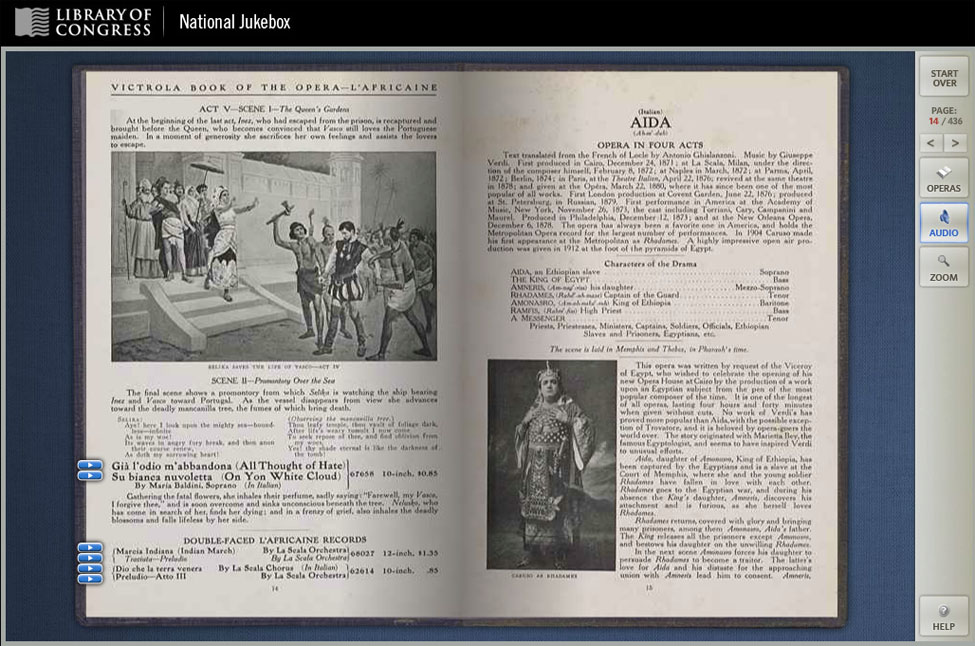 From the interactive Library of Congress page you can listen to "Aida a me togliesti" sung by Louise Homer and Enrico Caruso recorded on December 29, 1910
Note: Content requires a web browser with Javascript enabled and Adobe Flash Player 10+
Phonographia