FN2 Comments: This lengthy article covering their nine day trip (six days at the fair) had many details of the fair regarding architecture, gallery sizes, flower gardens, what street they entered the fair from, the supper they "enjoyed" for 75 cents, a good glass of beer on the grounds for 5 cents, and all of the buildings which they saw or went into including the Electricity Building where "all manner of electrical appliances, telephones, graphohones, motors of all kinds; ...Edison's first phonograph and his latest invention, the kinetograph, for taking instantaneous pictures;"
The author describes many details to provide the setting of being at the fair with many of those details sounding like they came from a guide book. This doesn't mean that Jim and his wife didn't go to Chicago. But it could mean that many of the details were filled in after the fact or in lieu of actually seeing a specific exhibit.
The description for the kinetograph as a device "for taking instantaneous pictures" is dated and goes back to how Edison was describing his kinetograph 'camera' in 1891 to a Times correspondent and reported in The Pall Mall Gazette, May 29, 1891. In a paragraph headlined "Genuine Instantaneous Photographs" the article explained how you could photograph motion with the kinetograph camera. Said Edison, "My idea was to take a series of instantaneous photographs of motions so rapidly that in the reproduction photographic representations would become dissolved in pure motion instead of a series of jerks. The kinetograph can take a series of forty-six photograph in one second..."
The kinetograph exhibit and the one advertised as Edison's Individual Exhibit of his latest wonder was supposed to be the device that showed moving pictures and be accompanied by sound from Edison's phonograph. Instead, this kinetograph is described as a camera.
Additionally, where is the excitement and sense of wonder by the visitors at seeing moving pictures if the kinetograph was actually being exhibited? There is no evidence that the kinetograph that "transmits scenes to the eye as well as sounds to the ear" was on exhibit and seen by this couple.
FN2 Conclusion: The kinetoscope was not at the World's Columbian Exposition of 1893. The Kinetograph (the camera) may have been displayed as a device but there is no evidence that anything seen by this couple was operational.
FN2 Article - The Brooklyn Daily Eagle, July 16, 1893 - Inside the Electricity Building...was "Edison's first phonograph and his latest invention, the kinetograph, for taking instantaneous pictures;"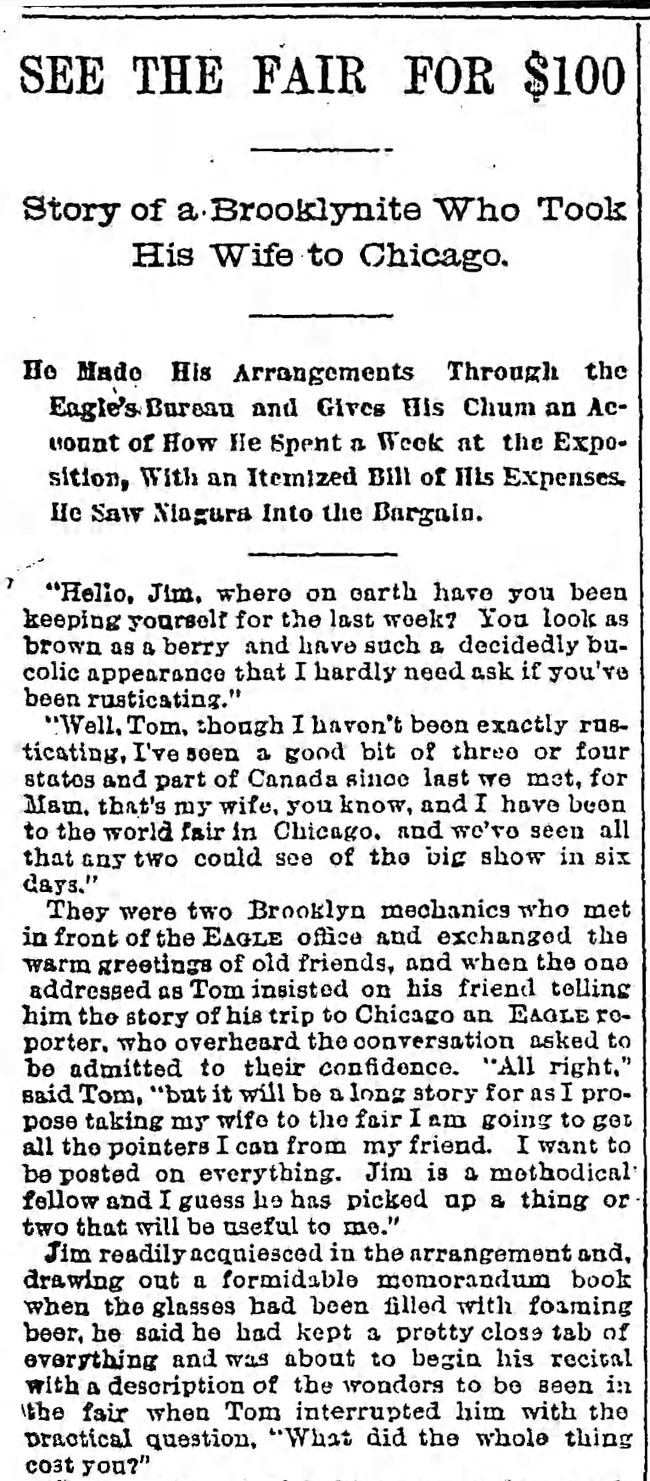 \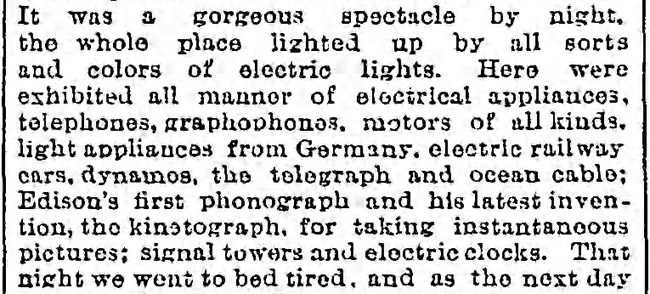 The Brooklyn Daily Eagle, July 16, 1893