A Virtual Art Exhibit Dedicated to Nipper


By Doug Boilesen, 2007*


NipperArt is a gallery featuring artwork related to Nipper, the Terrier that was the trademark for the Victor Talking Machine Company and its later RCA incarnation. The original painting of this part Bull Terrier, part Fox Terrier dog listening to an Edison Bell Phonograph was rejected by Edison's British company, but Nipper did get a new machine to listen to in a revised painting which would become one of the most recognized product images in the history of advertising.

An early Nipper advertisement was noted in a November 1901 "letter to the editor" of the Edison trade magazine The Phonogram with the writer pointing out that this was essentially product misrepresentation since the dog couldn't be listening to "His Masters' Voice" because, unlike the Phonograph, owners of the gramophone couldn't make records on their talking machines.

The rest, of course, is history as the disc record became the dominant format, the Victor Talking Machine Company became the largest phonograph company in the world, and Nipper became an icon inspiring cartoons, parodies and other derivitive creations for over a century.
Dog Looking at and Listening to a Phonograph (Original)

Artist: Francis Barraud, 1898

Media: Oil on canvas, 36" x 28"

Description: The original painting by Francis Barraud displayed an Edison Bell Phonograph as the featured talking machine.

Dog Looking at and Listening to a Phonograph (revised with gramophone)

Photograph of Francis Barraud, 1898.

Description: Francis Barraud revised his Phonograph painting with what was to become known as "His Master's Voice"

Leonard Petts, author of the Story of Nipper and the 'His Master's Voice' picture (published for The Talking Machine Review International, 1973), quotes Alfred Clark (Managing Director of the Gramophone Company in 1935) as follows: "He (Francis Barraud) took it to a company then prominent in the sale of wax cylinder phonographs, to see whether they were interested enough to acquire it. They did not seem at all impressed by the originality and beauty of the picture, but asked for more time to think it over."

Barraud replaced the cylinder machine (an Edison commercial model) with a brass horn and a talking machine supplied by The Gramophone Company. Johnson's company then purchased the updated picture.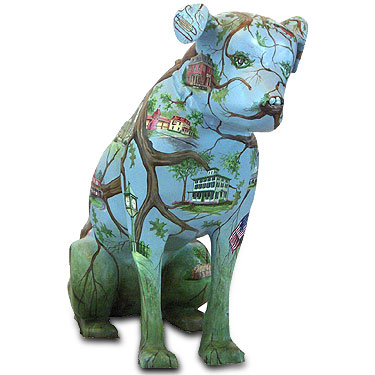 The Moorestown, New Jersey Nipper's, Roots of Nipper

Artist: Margaret Ingersoll, c. 2005

Media: Paint on fiberglass

Sponsor: Lockheed Martin

Click on this Nipper to see the entire Nipper Moorestown exhibition

Photographs courtesy of Nipper 2005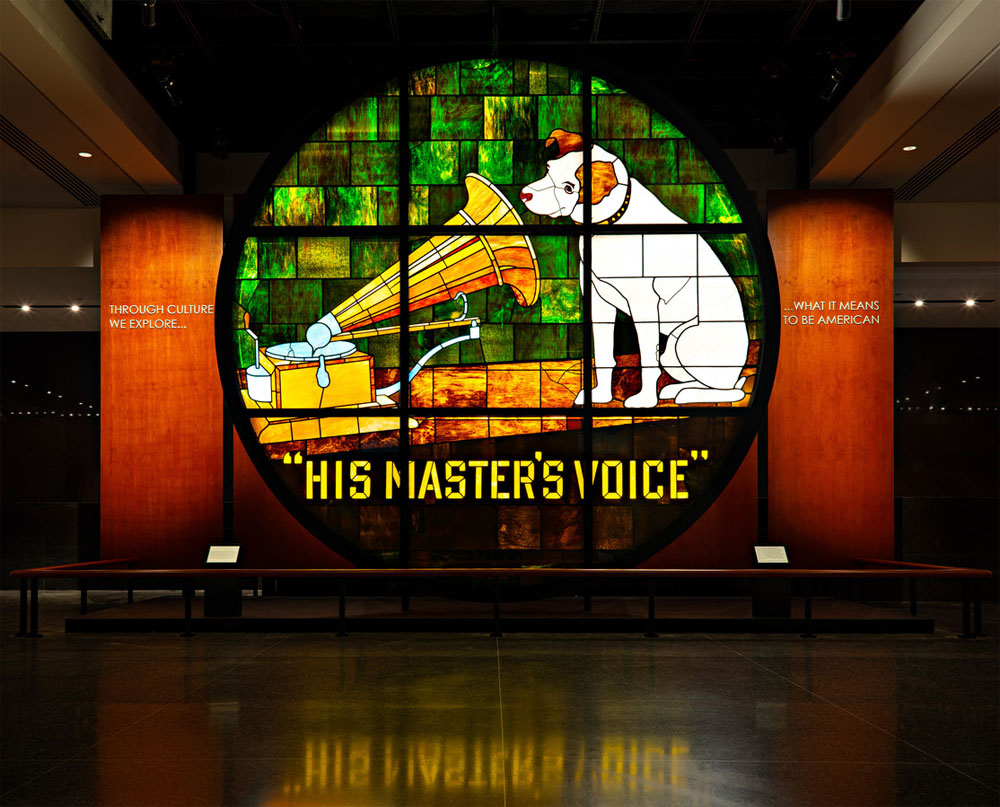 The 14-foot stained-glass window, one of four originally in the tower of the Victor Company's headquarters in Camden, New Jersey, on display in the Ray Dolby Gateway to Culture Wing at the Smithsonian's National Museum of American History. (Courtesy of the Smithsonian's National Museum of American History and Jaclyn Nash).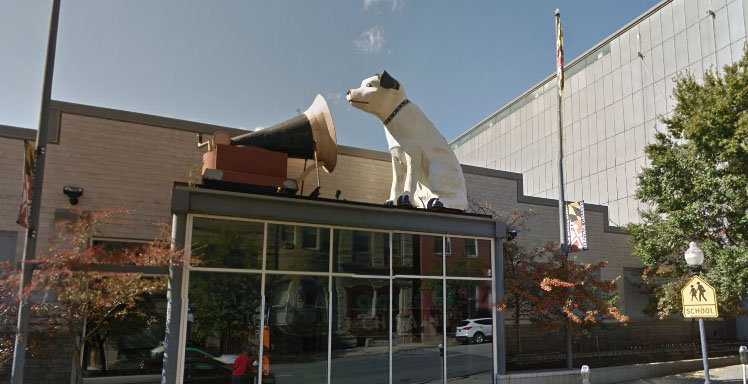 Nipper on roof (2) of Maryland Historical Society building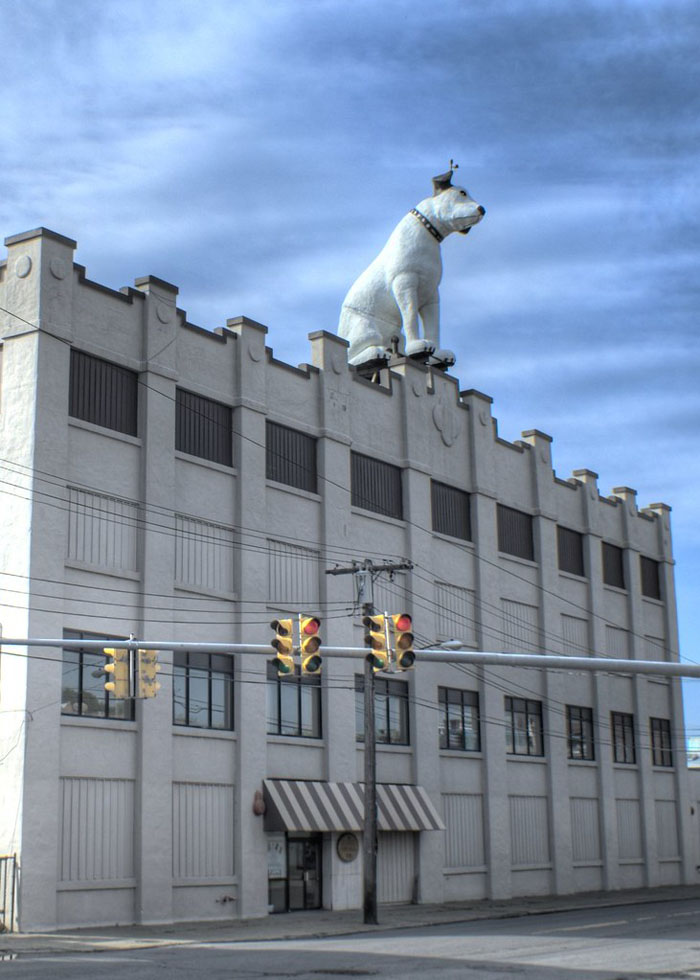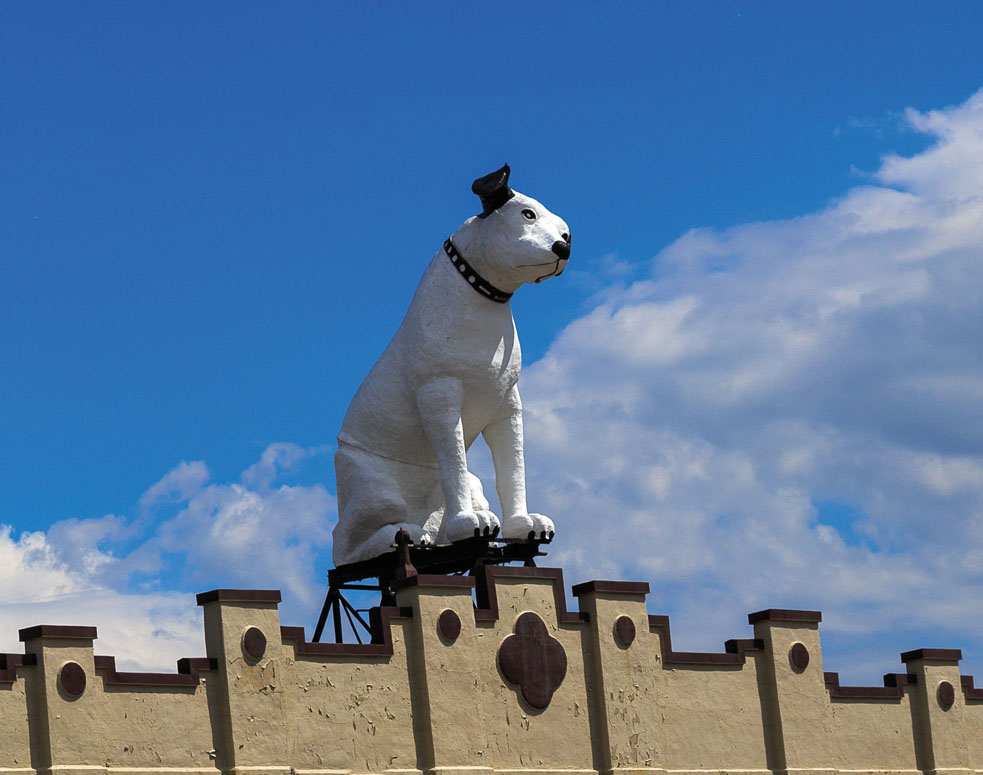 A Nipper Sighting - Walking down a Luzem, Switzerland street in 2006, Doug Fink, a Friend of the Phonograph, photographed this painting of Nipper.
Nipper in Gold, 1904 St. Louis Exposition, The Booklovers Magazine, 1904

Cover of The Talking Machine World, February 15, 1916

Nipper and His Master's Voice design "is familiar to more Americans than any of the world's great masterpieces."

Nipper, The Flatwater Folk Art Museum, Brownville, NE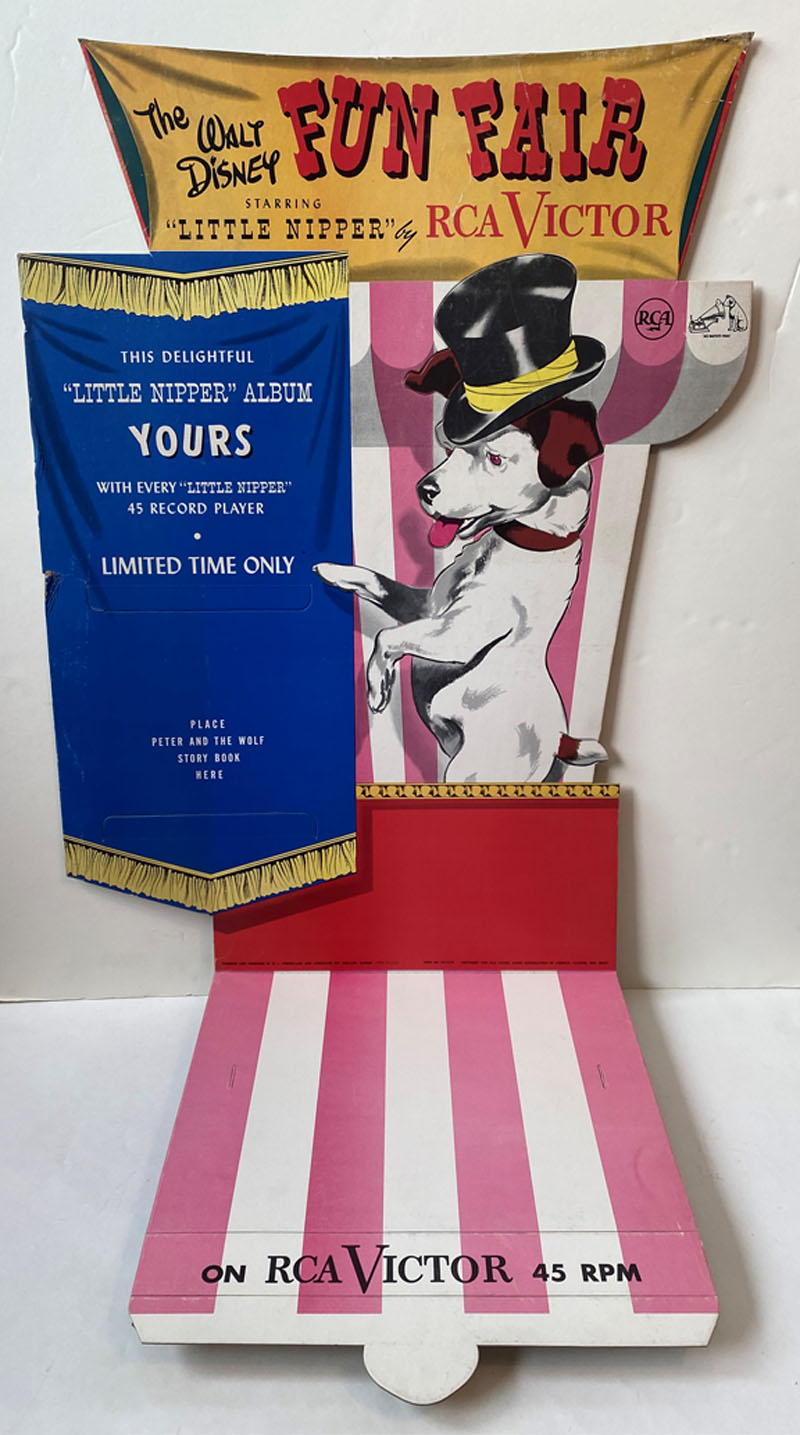 "Little Nipper" Point of Sale Display for RCA Victor 45 RPM record player and "Little Nipper" Record Albums, 1949 (PM-1975)
"Little Nipper" Point of Sale Display (PM-1975)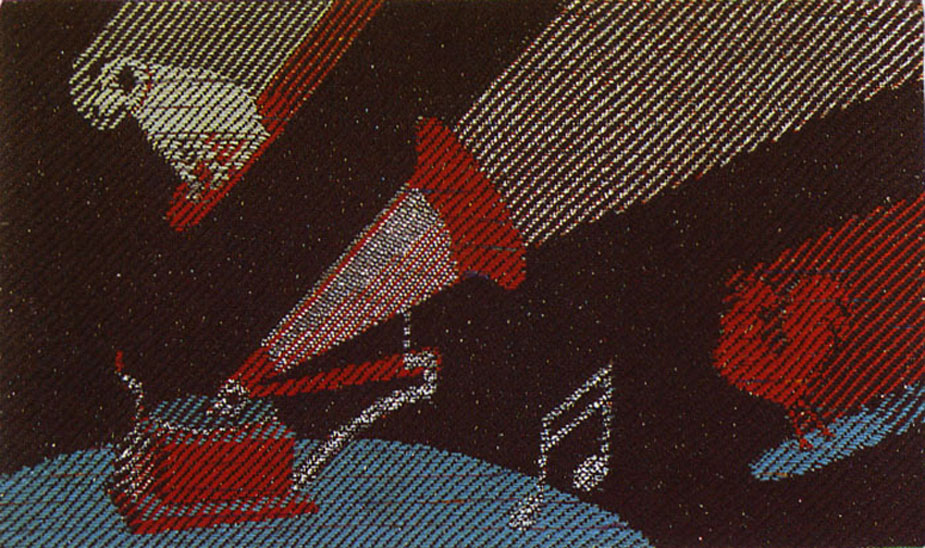 First Recorded Sighting of the Big Nipper
Artist: Sheila O'Hara, Oakland, CA, 1987
Media: Woven tapestry, 32.5" x 19.5"
Location: Private Collection (FP1034)
Gramomobil

Artist: Unknown, Color postcard, Berlin, 4 1/4" x 5 3/4"

His Master's Voice

Artist: Anne van Wijk, Amsterdam, 1988

Collage, color postcard, 4 1/2" x 5 3/4"

His Master's Voice - You are the Girl for Me

Artist: Unknown, Postcard, circa 1912 (?)

His Master's Voice (with Apologies)

Artist: Tom Brown, Publisher: Davidson Bros., postcard 1909 (PM-0422)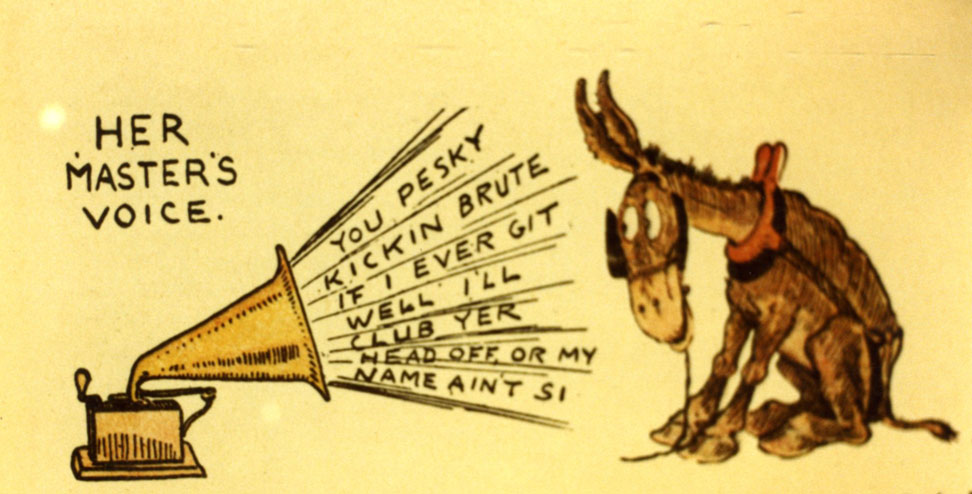 Comic Header from "And Her Name Was Maud!" by Fred Opper

Comic Supplement of the Boston American, July 9, 1905 by the American Journal-Examiner (Smithsonian Collection of Newspaper Comics)

1908 Campaign Button - Bryan vs. Taft (Courtesy Heritage Auctions)

Hearing

Artist: A.E. Kennedy, postcard (PM-0501)

His Master's Voice - Back cover of Consolidated Talking Machine Co. Catalogue

Artist: Francis Barraud, c.1901

Media: Embossed color paper, 4" x 6", 38 pages

Front cover of Consolidated Talking Machine Co. catalogue




Re-creation of His Master's Voice at the South Pole

Artist: Unknown, photograph, b-w

Scott's Antartica Expedition replaced the fox terrier with a husky listening to "His Master's Voice."

Home Music Voice

Artist: Unknown, c.1920, needle tin, HMV imitation with chicken replacing Nipper

The Success Sausage Machine

Artist: Unknown, 1908, Postcard (PM-0415)

Temperance and Prohibition, His Master's Voice, 1904 (Courtesy of Ohio State University) (from Prohibition Cartoons by D.F. Stewart and H.W. Wilbur, Defender Publishing Company, 1904

His Master's Voice - William Jennings Bryan running again in 1908 (PM-2109)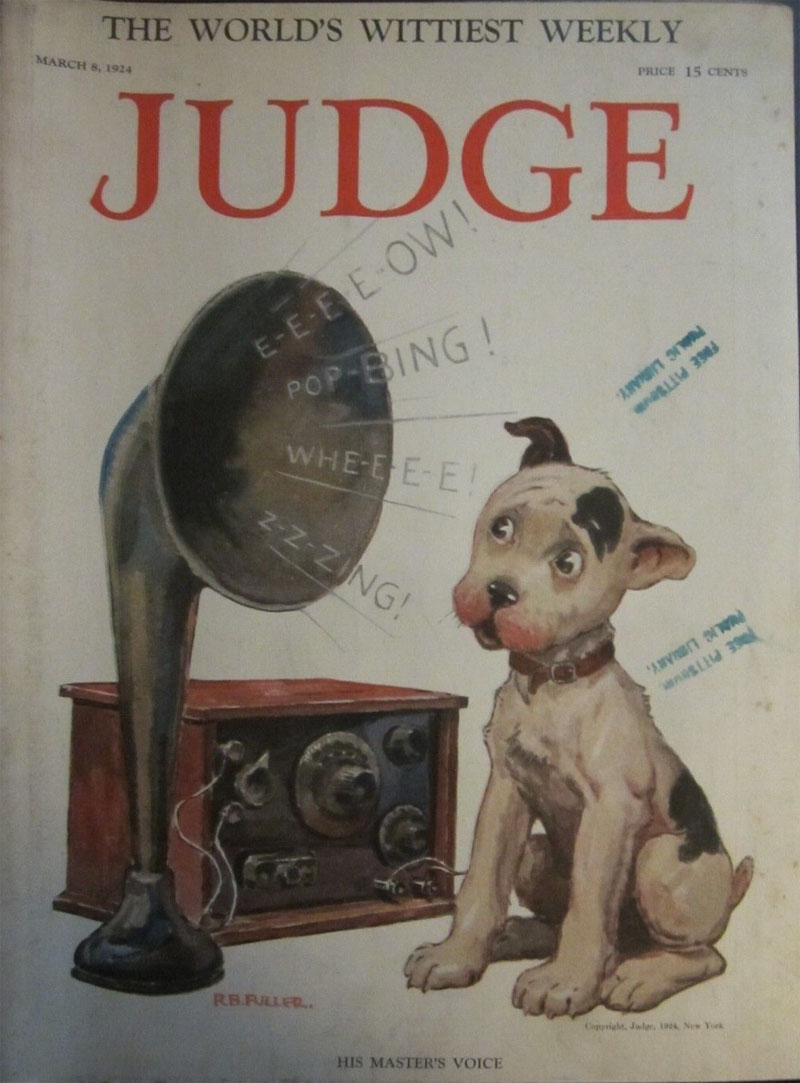 His Master's Voice - Radio, Judge, March 1924
Title: His Master's Voice

Publisher: Schnabel Cliche Druk, 1925

Illustrator: Lawson Wood (Clarence Lawson Wood was born in Highgate, London in 1878)
Cartoon by Chon Day from The New Yorker, 1954
.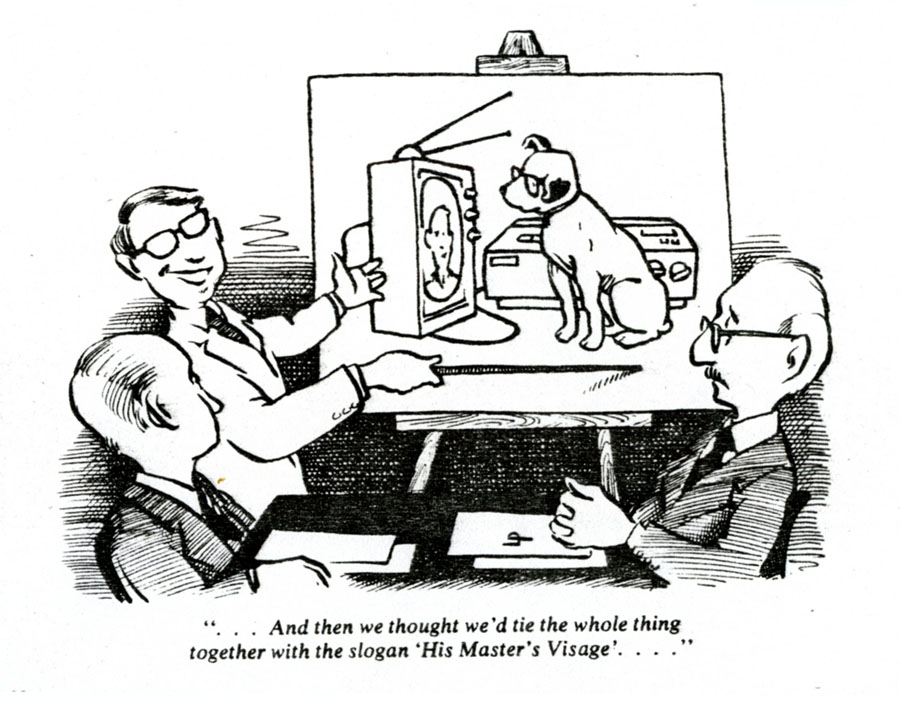 His Master's Visage, Stereo Review, October 1978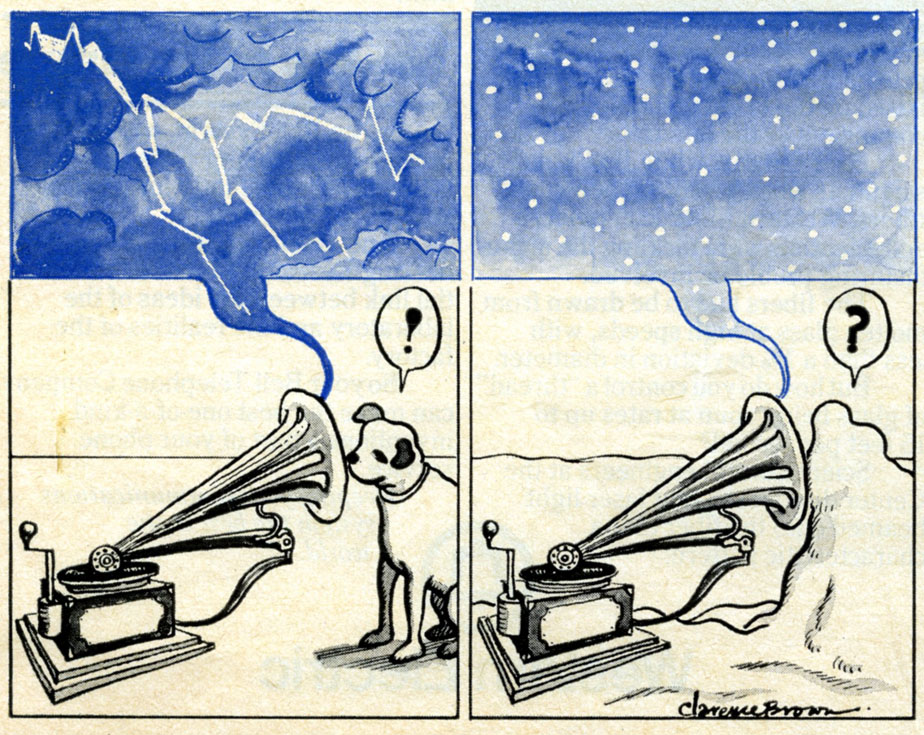 "Cool Tunes" by Clarence Brown, Saturday Review, August 1979

(This illustration accompanies an article about an LP available from Syntonics™ of a "Country Thunderstorm" and an "Alpine Blizzard" which dry off your brow as you listen to them patter and sough coolly in the background." (4)

Source: "Records: The Ghost of Budapest Bygone" Record review by Alan Rich, New York magazine, October 22, 1979




.

Not a word!

Artist: Unknown, postcard

A cat takes the place of Nipper in this postcard that depicts a cat waiting to hear something (instead of Nipper listening to his master's voice). The card also features two double-meaning phonograph related phrases: you've 'broken the record" and "I'm winding up"

Frank and Ernest by Bob Thaves, 9-3-1988 - Newspaper cartoon

His Master's Voice Mail by Mike Peters, 11-13-1993 - Newspaper cartoon

His Master's Voice and Company

Artist: Captain Robert Falcon Scott, c.1901 (Courtesy: grammophone.ch)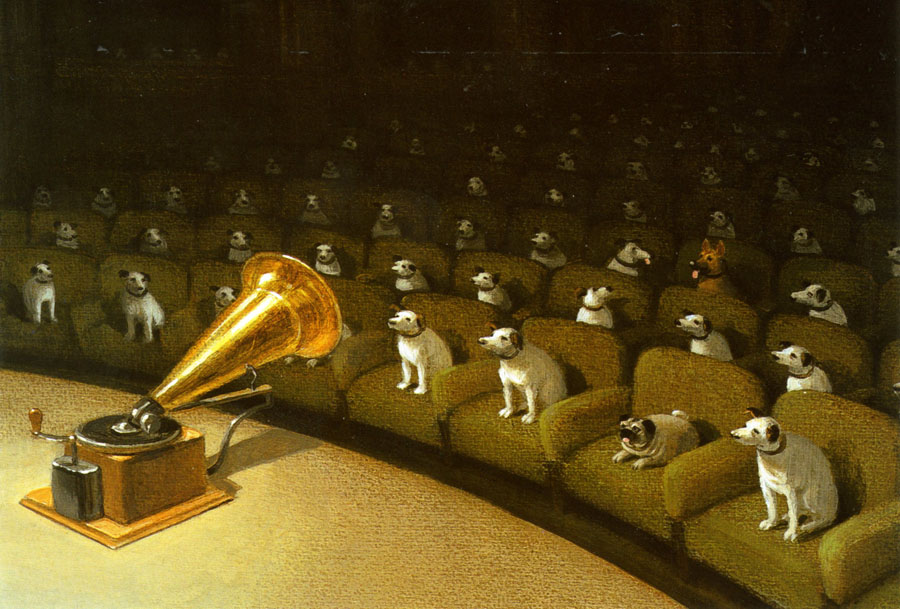 "Their Master's Voice," ©Michael Sowa

Advertising Revealed

Artist: Hillary B. Price, November 23, 2003

His Master's Vice, Artist: Unknown, c.1905

This postcard is one of many Nipper parodies that removed the "o" in "Voice," to create "His Master's Vice." Many of these cards featured Nipper and the whiskey bottle. This card actually depicts multiple vices. But since Nipper represented the "World's Greatest Music," isn't it natural that these other vices would join Nipper to complete the trilogy of "Wine, Women and Song?"

Color Management for Photographers

Artist: Unknown, c. 2005, Bookcover

A Nipper-like dog watches and listens to music on a computer...the new master of the 21st century.

.

His Master's Voice

Color postcard shaped like Nipper c.2005

Master Your Music

Artist: Unknown, 2006, PC Magazine, August 22, 2006

Homage to Nipper, listening to an Apple video iPod

Old Records Go In, CDs Come Out

Artist: Stuart Goldenberg, 2006, Newspaper illustration (New York Times August 17)

January 26, 2007 Courtesy of Royston Robertson for the cover of Prospect magazine

January 9, 2008 Courtesy of Royston Robertson

March 2008 Courtesy of Royston Robertson for the cover of Prospect magazine

June 30, 2009 Courtesy of Royston Robertson

Artist: Unknown; Advertisement reprint on canvas, 8" x 10"

Amazon and Nipper, June 2016





Dog in Car sticker 4" x 4" from Kanazawa Phonograph Museum, Ishikawa, Japan - gift of Peter and Joey Lippett, 2019 (PM-1038)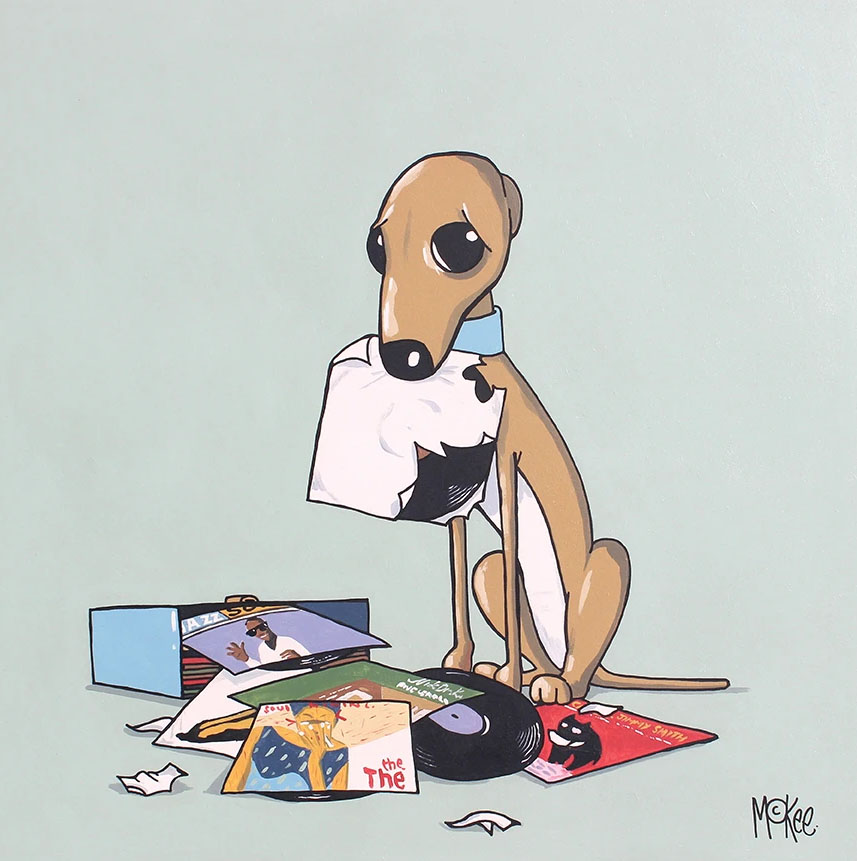 Dog's Dinner by Pete McKee from his Thud, Crackle, Pop 2016 collection - Print available for purchase

Radio Apocalypse, Alternate Cover Art by Megan Hutchison-Cates, 2021 Issue No. 1 (PM-1967)