PhonoFood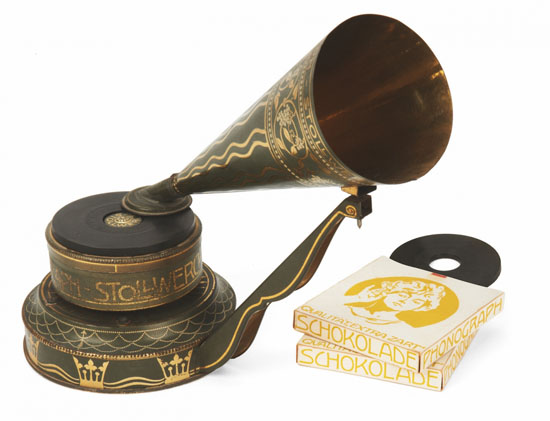 Food and Chocolate connections with the Phonograph

Chocolate

Advertising calendar for Chocolat de líHermitage. The Father's voice is heard by playing the record on a Pathť Le Gaulois crystal horn phonograph. The calendar sheet displayed is December 1903. (Source: ww.phonorama.fr)

1903 Stollwerck Gramophone

These two very rare tin phonographs pictured were made in late 1903 and were designed to play foiled wrapped disk records made of chocolate! (1)

"Made by the Stollwerck Chocolate company in Germany, the phonographs were powered by a tiny clock motor...Stollwerck's French partner, Kratz-Boussac, sold the identical machine in France under the brand name "Eureka," without the Stollwerck markings, as pictured on the left." (Text and photograph courtesy of Rene Rondeau and Edisontinfoil.com.)

The discs were wrapped in foil and it was on the "foil that the ridges were stamped to enable the music to be played through the phonograph (rather than the needle touching the chocolate directly." For more information about "Stollwerck Talking Chocolate" visit a Great Taste in Music

.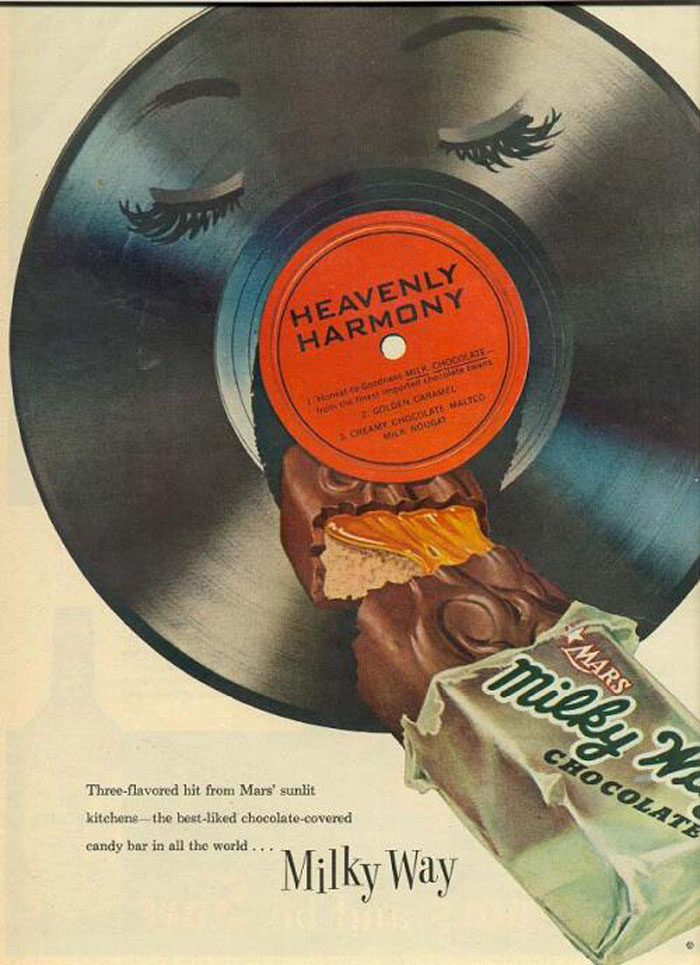 1955 Milky Way chocolate bar magazine ad

Trader Joe's Belgian Milk Chocolate Bar with Gramophone on box - 6.3 oz for Christmas Gift, 2014
Chocolate Phonograph Record made by Li-Lac Chocolates in 2017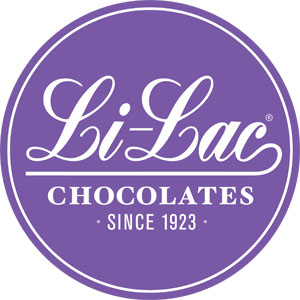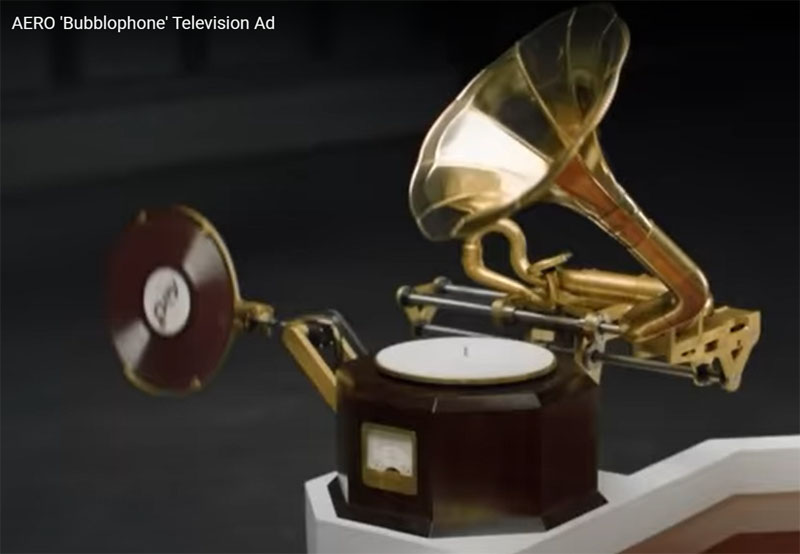 Nestle AERO Chocolate Bar — WATCH HERE.
"How they get the bubbles in the chocolate." Nestle 2023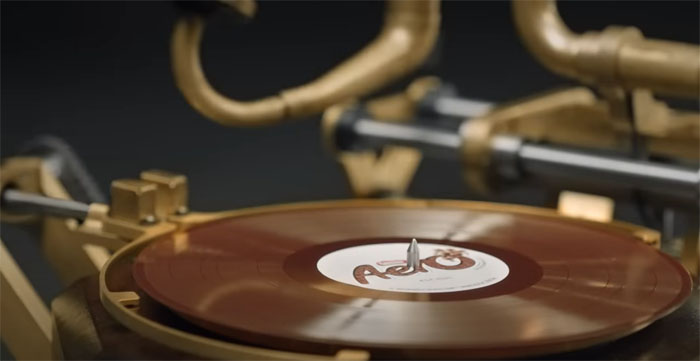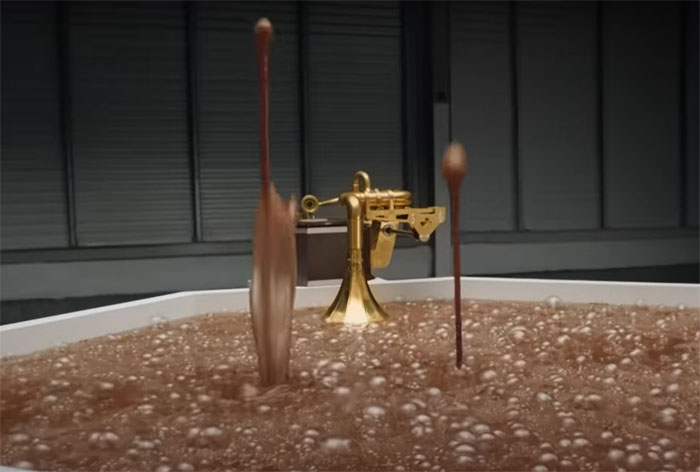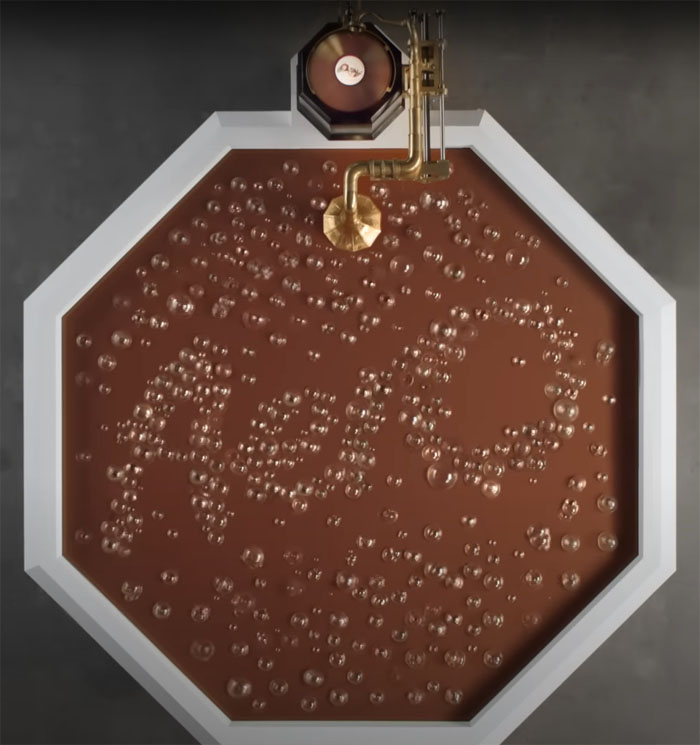 Food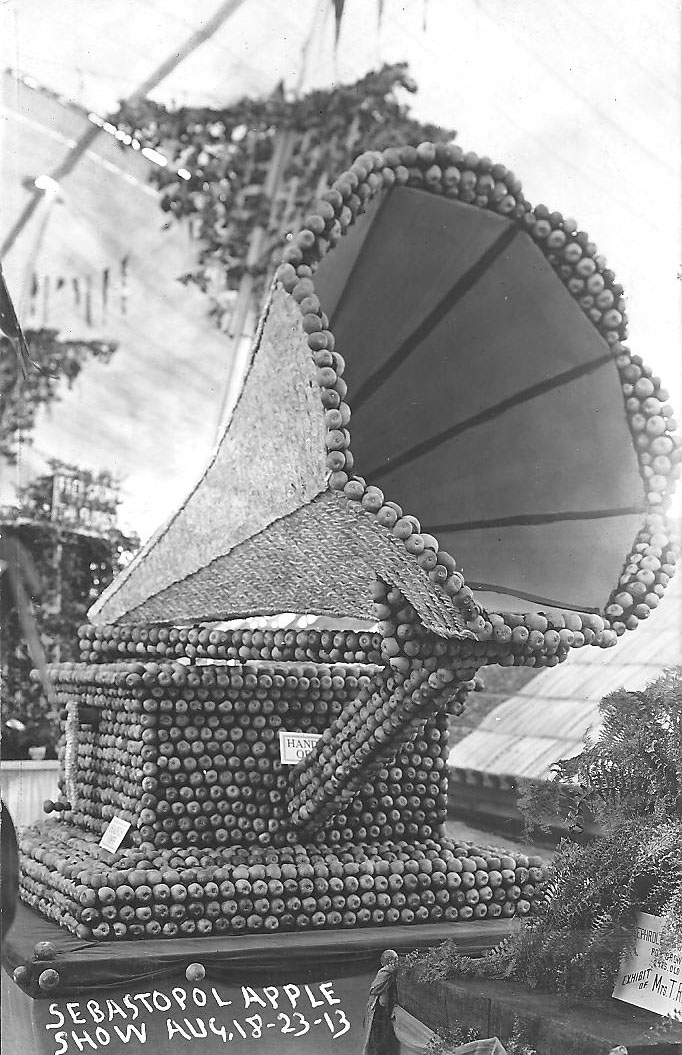 Display of Gramophone made of apples

RPPC 1913 Gravenstein Sebastopol Apple Show, Courtesy Western Sonoma County Historical Society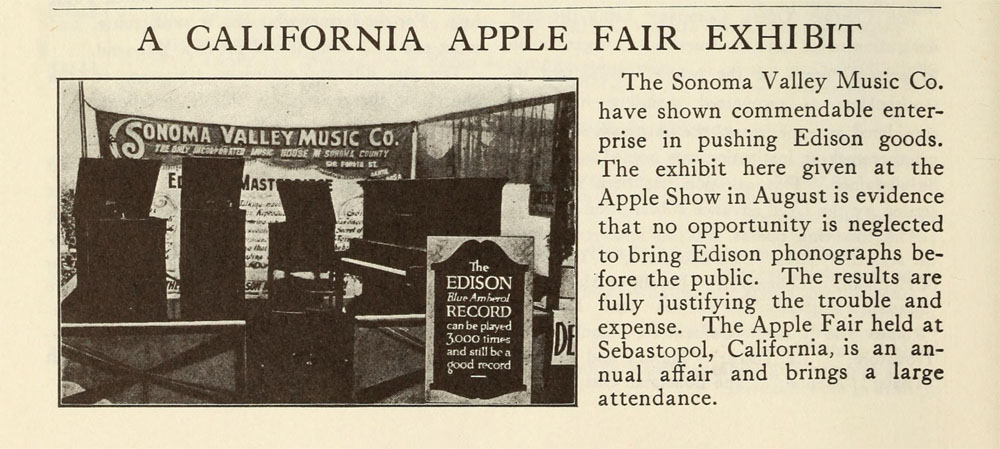 Edison Phonograph Exhibit at the 1913 Sebastopol Apple Fair - The Edison Phonograph Monthly, October 1913

The Crew Cuts singing on a record - 1957 Kraft Chocolate fudgies newspaper ad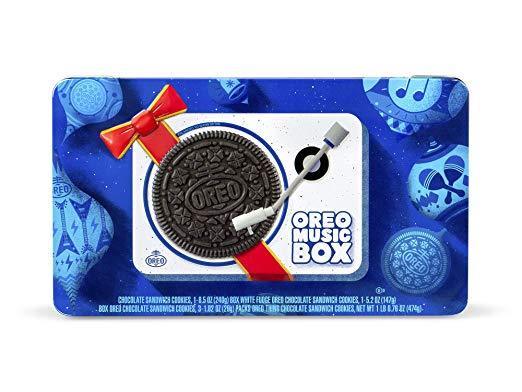 Oreo Music Box - 2018 collectible packaged in a holiday tin that plays a tune when an Oreo cookie is placed on the turntable and the tone arm is moved as if to play a record. Unlike the 1903 Stollwerck chocolate record there are no grooves on the cookie as it is not really a record. This "music box" phonograph plays assorted tunes each time anything is put on the turntable.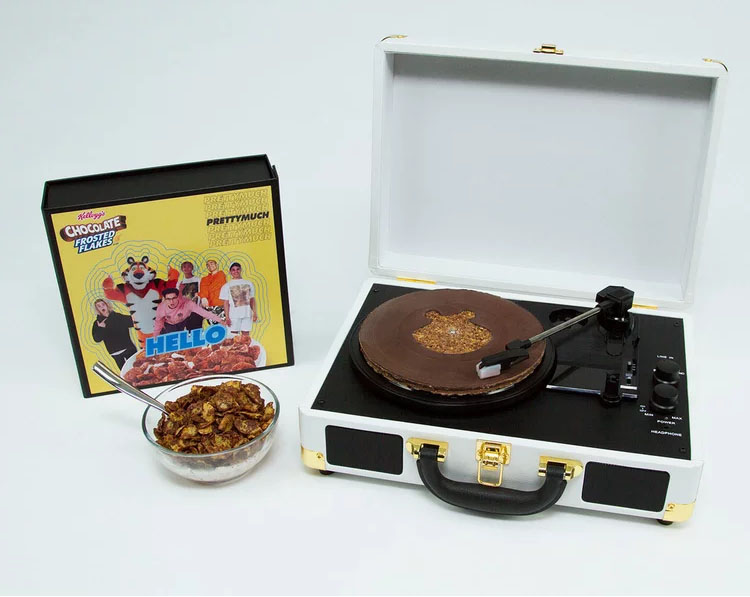 Kellogg's created what's being called the world's first record made of breakfast cereal out of its Chocolate Frosted Flakes and the music of Simon Cowell-mentored boy band PrettyMuch.

Here's how the record was made according to ADAM CAMPBELL-SCHMITT in his April 19, 2018 FOOD & WINE on-line article:

First, a mold of the record was 3-D printed with the grooves of the record in relief. Then, layers of dark and milk chocolate were poured in to create the flat surface necessary for a phonograph needle to read, along with a core of Chocolate Frosted Flakes cereal in between. The center of the record is cut out to reveal the cereal in the shape of Frosted Flakes mascot Tony the Tiger's head. After a little time in the freezer to harden, the resulting cereal and chocolate record is unmolded and ready to play on any turntable or, if you choose, devoured.

Here's the link for listening to their song "Hello" and Step 2 of the recipe, creating the 3-D Mold.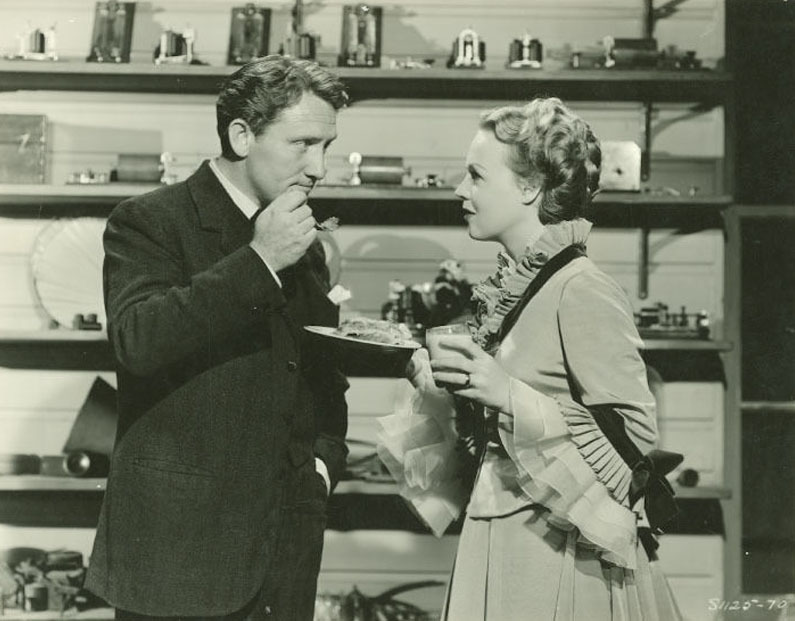 Apple pie and milk - Edison's favorite foods. Movie still from the 1940 MGM film "Edison the Man" with Spencer Tracy and Rita Johnson (in Edison's laboratory).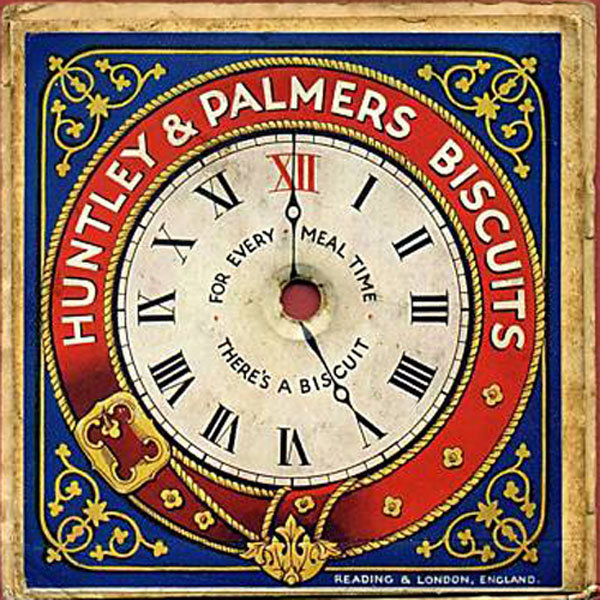 Huntley & Palmers Biscuits Advertising Record c. 1930 - This gramophone record was made to advertise a visit to the Huntley & Palmer biscuit manufacturing company. The front of the record states "for every meal time there's a biscuit." The reverse advertises Huntley & Palmers of Reading and London Biscuit Manufacturers.

Cadbury's Cocoa - Instead of Nipper, there is a white cat listening to the Gramophone.

Album Chocolats - Trade card, c. 1900 Lithographed Trade card with Thomas Alva Edison and his phonograph advertising Album Chocolats.

This card is courtesy "Antique Phonograph, Accessories & Contraptions by Fabrizio & Paul. Their text reads: "These delightful lithographed cards were among the various subjects used as premiums for turn of the twentieth century European products such as Liebig meat extract. The public was encouraged to collect entire series ("famous inventors", etc ..) by frequent patronage of the product ..." Note that the phonograph is a disc machine, something Edison never made with an open horn. Size : about 2 x 1.5 inch.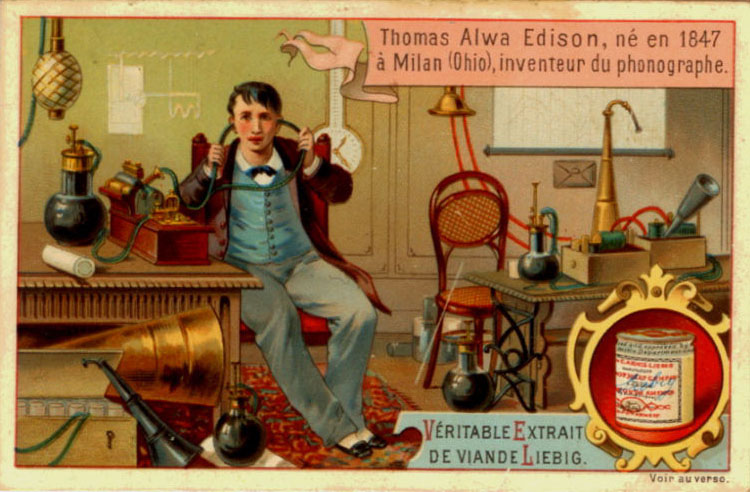 Liebig Meat Extract - Trade card for French meat extract product, 1 1/2" x 4" - Edison listening to battery powered Class M Phonograph

Liebig Meat Extract - Trade card for French meat extract product, 1 1/2" x 4"

An Edison Home Phonograph is pictured as "Le Phonographe." The card depicts a cylinder recording scene using battery powered Phonographs.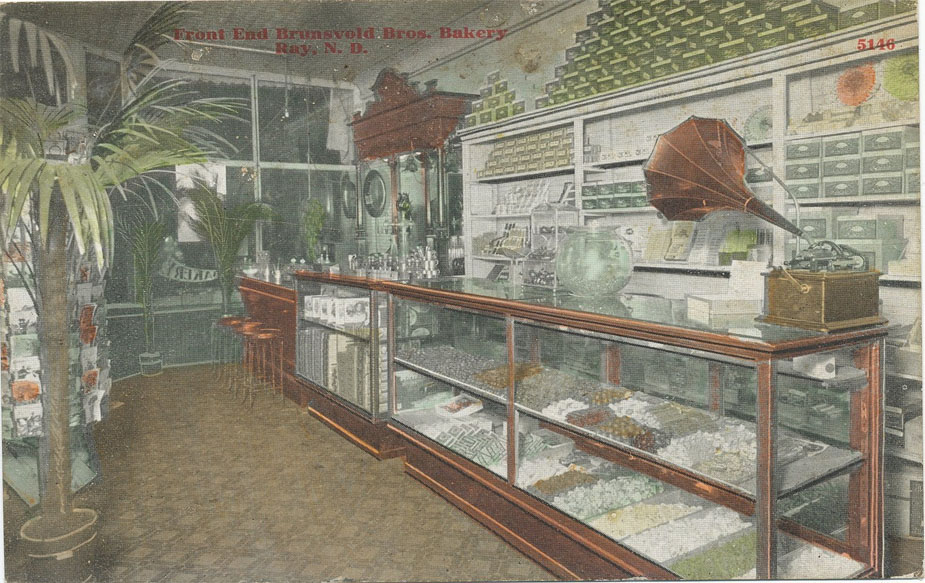 Front End Brunsvold Bros. Bakery with Phonograph for entertainment , Ray, North Dakota ca. 1910

1954 Newspaper ad

Vinyl Lunch Box c. 1959, Aladdin Industries (said to be the first vinyl lunch box made by Aladdin)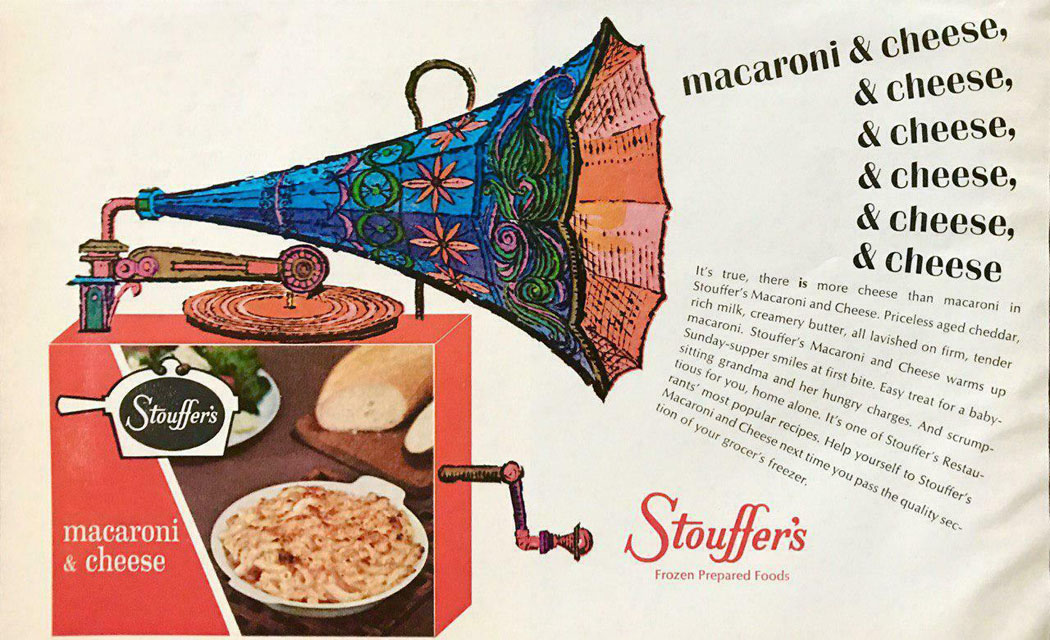 Stouffer's 'broken record." 1964

Kellogg's Rice Krispies Cereal ad, 1965

Campbell's Soup advertisement postcard, 1915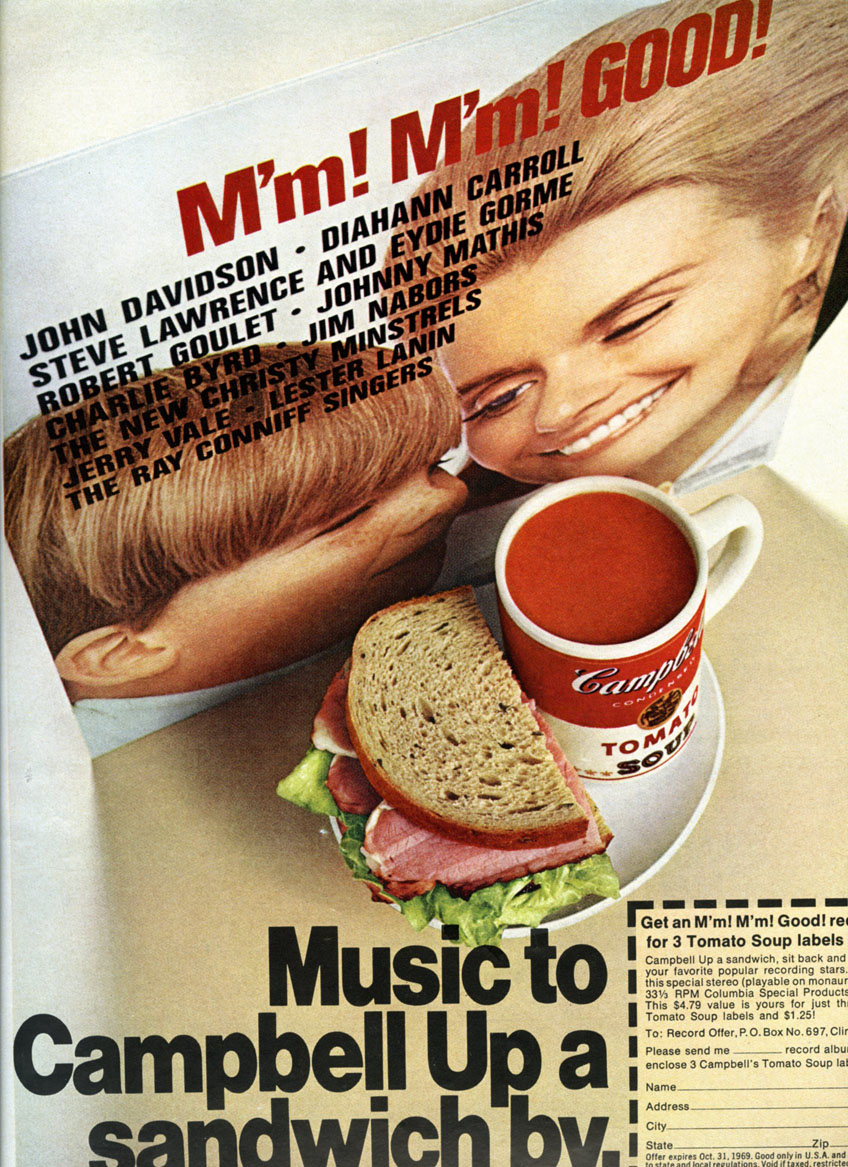 Campbell's Soup offer for Record Album - M'm! M'm! Good!

Eurodisc LP Album Cover, 1982




1982 Life Savers Record Player, Model SP15 made by DeJay Corporation

Electric Banana Stereo Phonograph 1973

Ice-cream cool sound Phonograph - 1976 Catalogue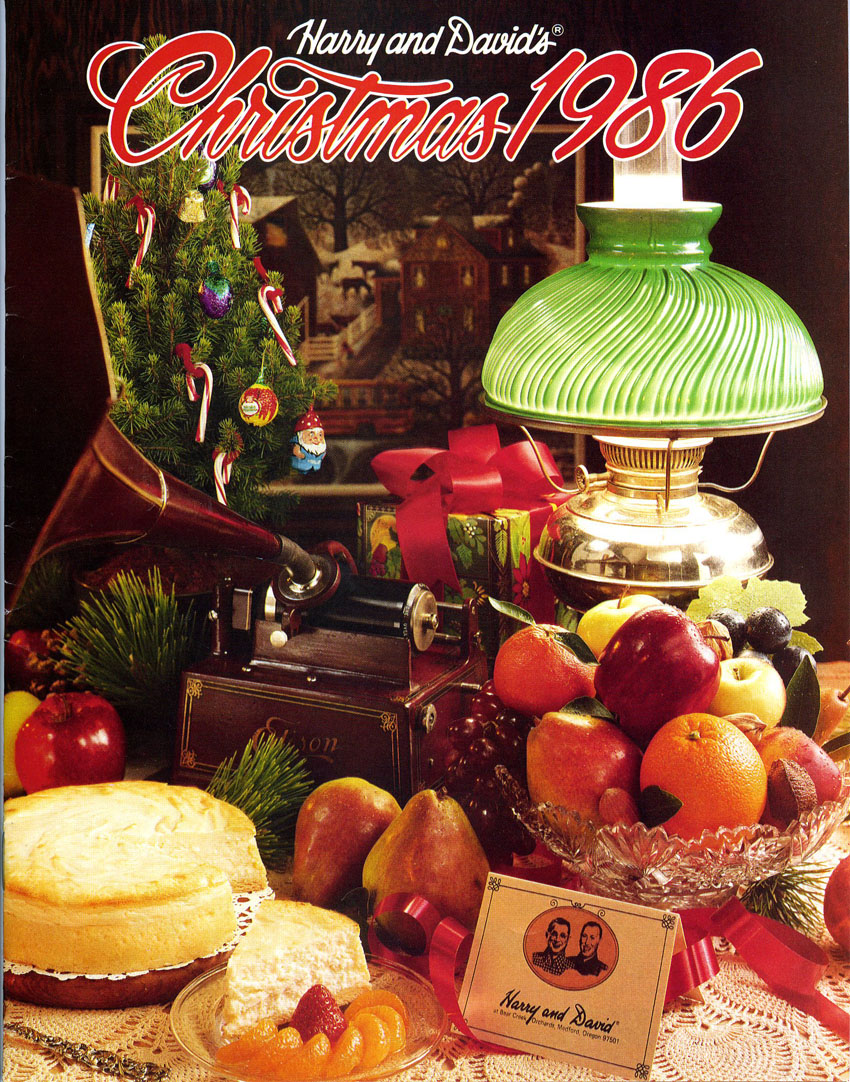 Harry and David's Christmas 1986 Catalogue

Sara Lee Snacks promotional ad, 1989

Hershey's Symphony Mail-in Offer, 1991
Kentucky Fried Chicken TV advertisement - Hot and Spicey on Fire, January 17, 2016
KFC Nashville Hot and Spicy chicken is placed on the phonograph turntable, the turntable rotates and the chicken 'flames" showing how hot it is. "But not that hot" says the Colonel. Note the phonograph turntable settings are "Smoky", "Crispy" and "Spicy".

To watch this commercial Click HERE.




The State of Kentucky Fried Chicken Address


Kentucky Fried Chicken TV ad - The Colonel's Address May 2015

This record player and a Colonel Sanders record album are in the opening image of the KFC television ad featuring yet another version of a Colonel Sanders who announces that he has been gone for awhile and "boy howdy, have things changed since the Colonelís been gone!

To watch this commercial Click HERE.

Lundberg ad with rice cake playing on Victor IV Talking Machine, ad circa 2000

Thanksgiving Playlist for Google Play Music circa 2015

Lady Gaga Oreos, 2021

The specially-themed packages of the cookies are based on Lady Gaga's latest album, "Chromatica." The cookies, which come in six-cookie or full packs, are "pink-colored Golden Oreo cookies with green colored creme" and feature designs inspired by the album on the wafer.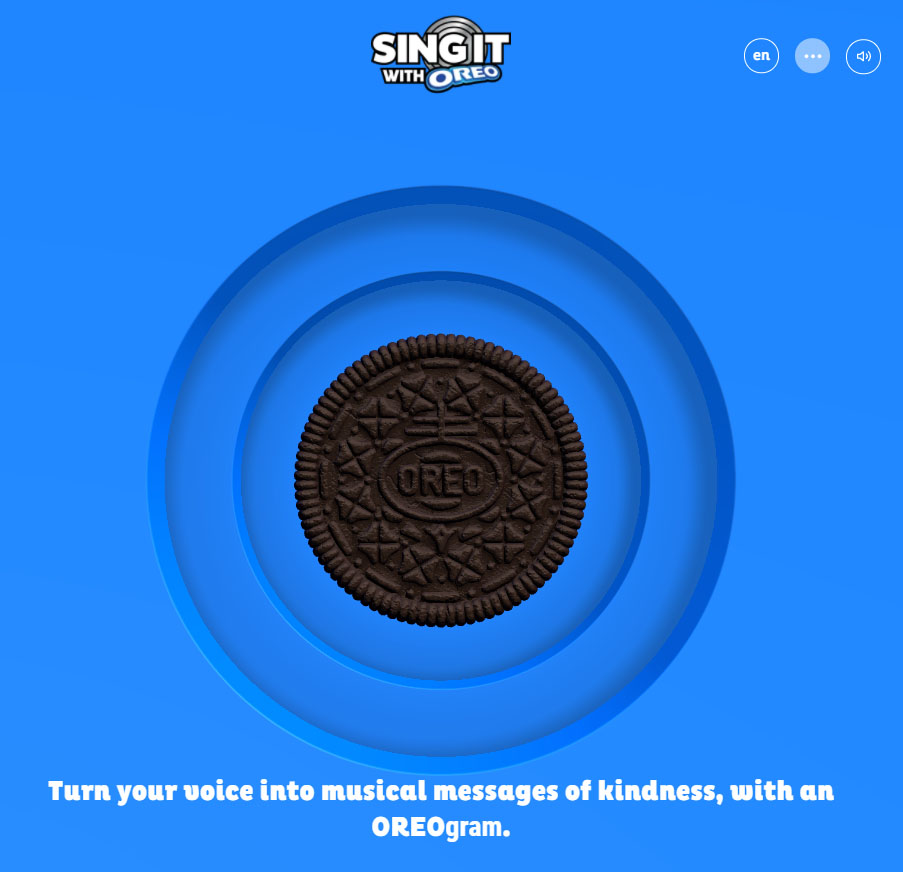 "Just sing from the heart, and make someone's day a little brighter."

The "Sing it with Oreo" Lady Gaga Promotion, 2021- Create an Oreogram as a musical message to a friend.

Playing the 'record' backwards. Pizza Hut, 2021

DJ: "What'd you say, record?"

Record: "Three Toppings Just eleven ninety-nine."

DJ: "Amazing."

WATCH Original Stuffed Crust Pizza Hut Commercial

September 1, 2018 - Celebrating the Phonograph in HuskerNation with a Phonograph cookie. A day to be remembered for the debut of Scott Frost as the new Head Coach and for the first Nebraska football game in 128 seasons cancelled because of weather.

Special delivery for Friends of the Phonograph, September 1, 2018

Phonograph Birthday Parties and Food

Friends of the Phonograph have been annually celebrating the Birthday of the Phonograph since 1977 and food inspired by the phonograph has been an important part of that event.

2009 Phonograph Birthday cakes

2007 Phonograph Birthday Party

2006 Phonograph Birthday Cake

2004 Phonograph Birthday Party

1997 Phonograph Birthday Cookie

1993 Phonograph Birthday

1992 Phonograph Birthday cake

1990 Brenda's Brownie Birthday Record (with LP Record for the serving bowl)

1990 Phonograph Birthday Party - It's all about discs with holes in the middle (or has Gertrude Stein wrote "The World is Round")

1990 Phonograph Birthday Party desert

1989 Phonograph Birthday Party (with LP record serving bowls)

1989 Phonograph Birthday Party

1988 Phonograph Birthday Party cake

1987 Phonograph Birthday Party

Restaurants and PhonoFood

Pizzeria in Malinska, Croatia - "Hear the Difference" 2018

Cafe Gramophone, Palam Vihar, Gurgaon

Cafe Gramophone, Tehran




Calibro 35, LP Album cover, 2020 (Italy)

Other Phonograph Cakes Celebrating Personal Birthdays

80th Birthday

Happy 33 1/3 Birthday

Phonographia