The Eiffel Tower, an Edison Record and Tomorrowland
The Edison Record - "A One Way Ticket in case of Emergency."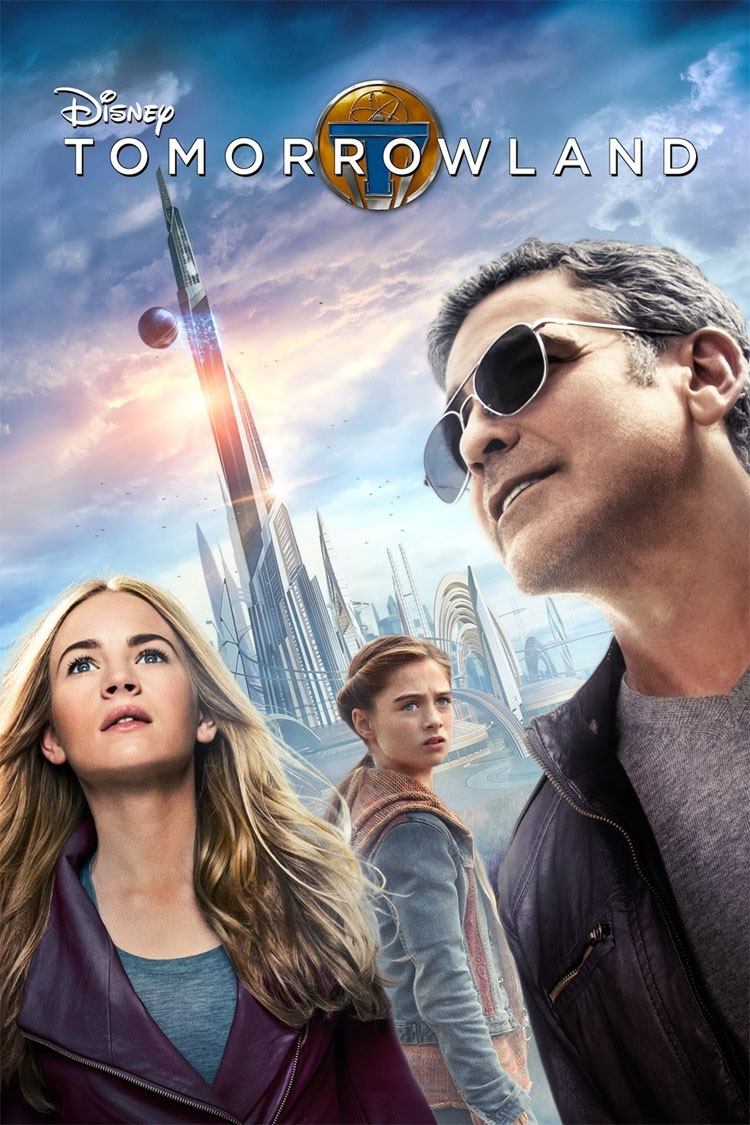 Disney's 2015 Tomorrowland movie poster (Casey, Athena and Frank)
The 2015 Disney movie Tomorrowland provides several phonographia factolas for Friends of the Phonograph.

A key part of its story involves Gustave Eiffel's secret apartment at the top of the Eiffel Tower and an Edison record.

Factola 1: Gustave Eiffel had an apartment at the top of the Eiffel Tower where Eiffel hosted Thomas Alva Edison on September 10, 1889. Edison presented Eiffel with an Edison Class M Phonograph.
Wax figures of Thomas Edison and Gustave Eiffel sitting in front of an Edison Class M Phonograph (Gustave's daughter Claire is in the background). For more details and ephemera related to this meeting, see René Rondeau's Edison at the Eiffel Tower.

For more details about Edison and his family's visit to Paris (1), the Eiffel Tower and the 1889 Paris Exposition see René Rondeau's article Edison and the Eiffel in the June 2013 issue of The Antique Phonograph.

For W. J. Hammer's visit to the Eiffel Tower with Edison on September 10, 1889, see the typed unpublished reference by Hammer of that experience, provided by Allen Koenigsberg. (3)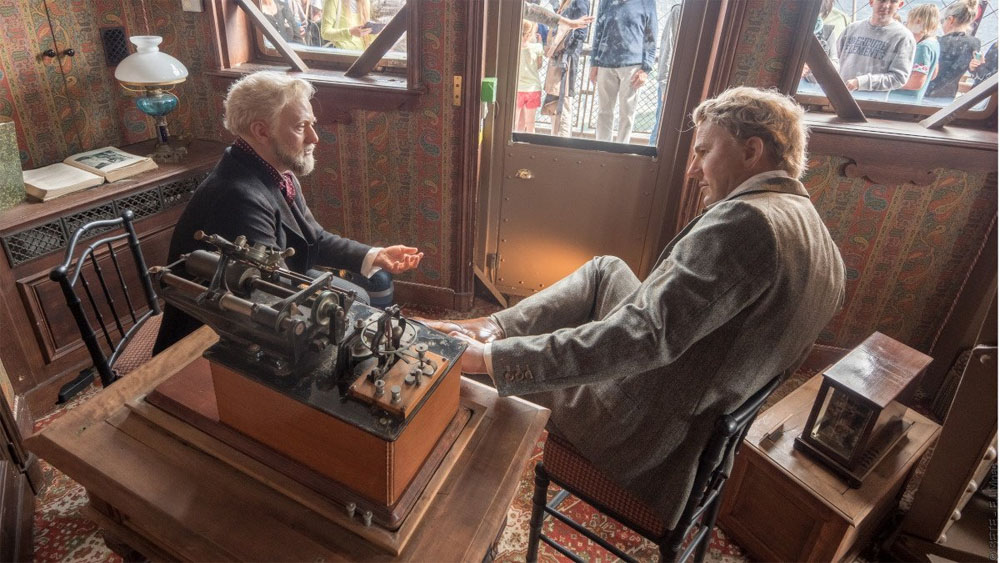 Another view of Edison Class M Phonograph with Eiffel Tower tourists looking into the room
Disney's 2015 movie TomorrowLand

If you haven't seen the movie, here is The Plot in Wikipedia's Tomorrowland (the film).

The three main characters are Frank Walker (played by George Clooney, a "grizzled inventor" who as a young boy had visited Tomorrowland, a futuristic cityscape), Casey Newton (played by Britt Robertson, an "optimistic and tech-savy teen") and Athena (played by Raffey Cassidy "an audio-animatronic droid").
For Friends of the Phonograph, the star of the show is this Edison Record. Frank Walker grabbed this Edison Record container before he and Casey escaped from Frank's house which was under attack by animatronic assassins.

With Frank having escaped with the Edison Record, Athena asks for it from Frank:

Athena: Give me the Edison tube and we'll go without you.

Frank Walker: I don't have the Edison tube.

Athena: It's in your bag. I have x-ray vision.
Factola 2:

The Edison Record cylinder container shown in the movie was made post-September 1905.

(2)
After their escape from Frank's house, Frank, Casey and Athena used a teleportation device to go to Paris and the Eiffel Tower.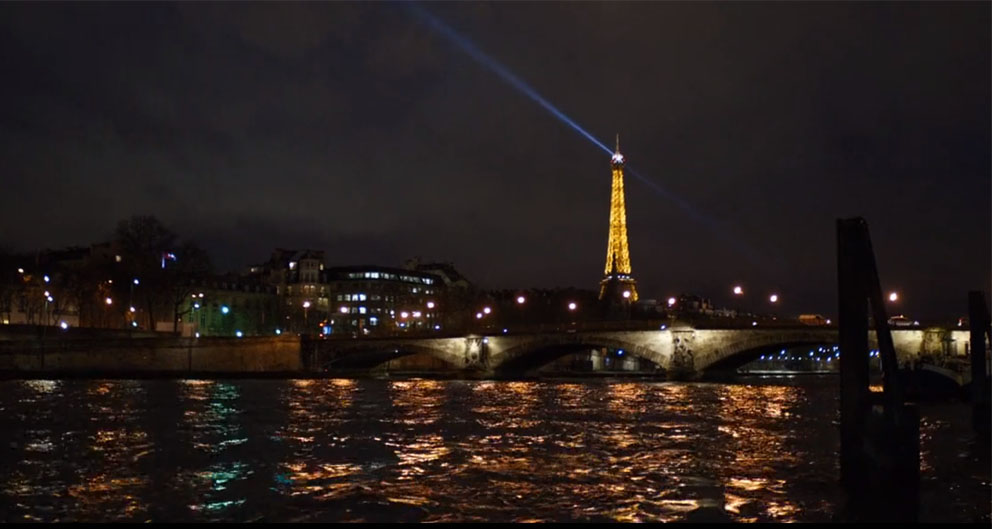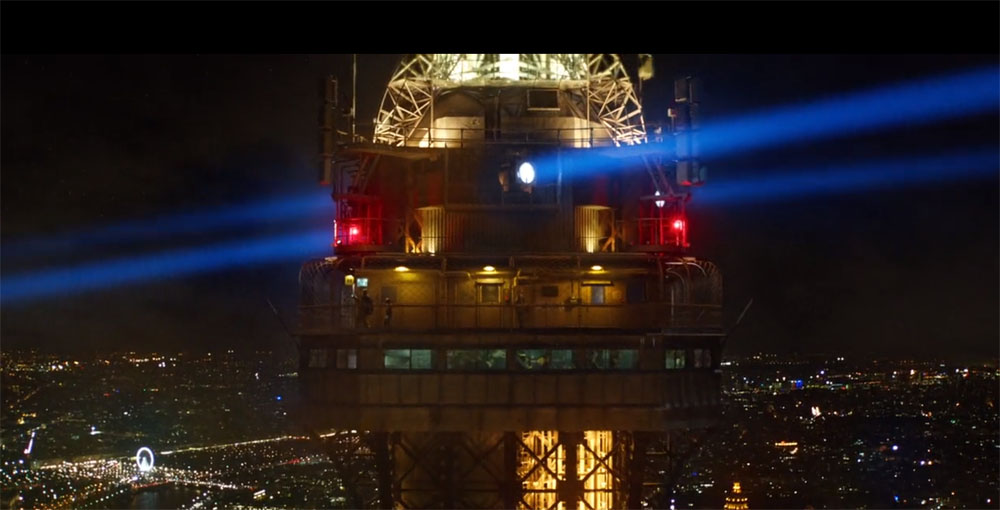 Upon their arrival and entry into Gustave Eiffel's secret apartment atop the Eiffel Tower, Casey sees four wax figures in the room. Frank explains that these are Gustave Eiffel, Jules Verne, Nikola Tesla, and Thomas Edison and that they created a secret society, Plus Ultra.
FACTOLA 3: Edison visited Eiffel's apartment on September 10, 1889

while attending the

Exposition Universelle de 1889

in Paris (believed to be the only time Edison visited that room). It is highly unlikely that Tesla, Edison, Verne and Eiffel were ever all together.

(4)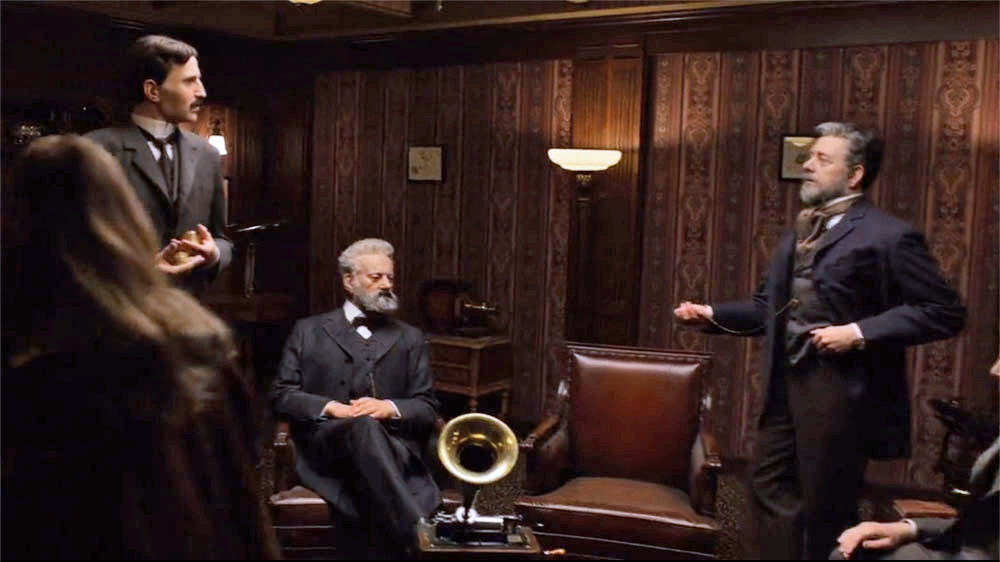 Frank then provides some background for Casey noting that the French hated the Eiffel Tower when Eiffel first unveiled it for the Paris World's Fair:

"They thought it was an eyesore. Eiffel didn't care. It wasn't meant to be a monument." "Eiffel, Jules Verne, Tesla, and Mr. Edison" created a secret society, Plus Ultra. "Tesla designed the tower as an antenna to observe every kind of frequency in the universe. Subspace, transdimensional, you name it...And they found exactly what they were looking for."
FACTOLA 4: The first 'Kruesi" tinfoil phonograph which Edison completed on December 6, 1877 was displayed for several months in 1889 "with Edison's exhibit at the Universal Exposition in Paris." (5)

"Original Kruesi tinfoil photographed in Paris in 1889" (5)

(Courtesy Thomas Edison National Historic Park.)
Frank: "There were always rumors of a secret entrance for a floor kept just for themselves...A one way ticket in case of emergency."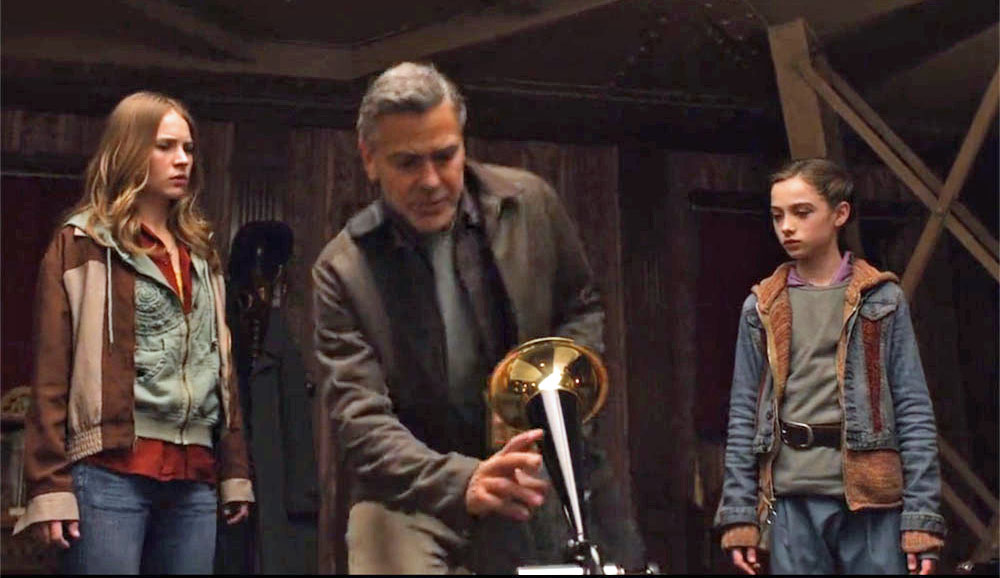 Frank then walks to the phonograph and pushes the horn all the way back (which is technically not required for putting on a record).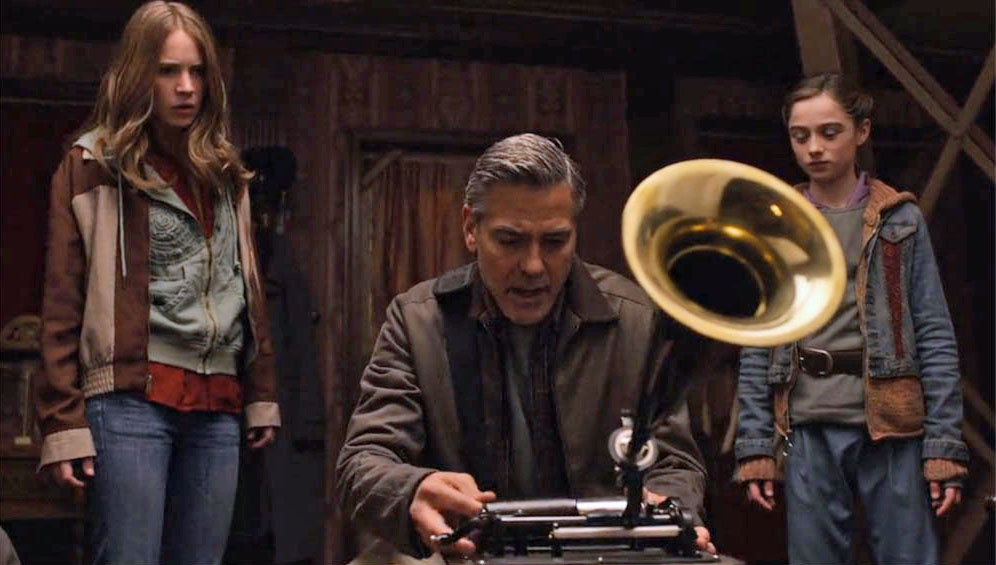 Frank slides his Edison cylinder record onto the phonograph's mandrel.

Frank next brings the horn and stylus back into position to play the record.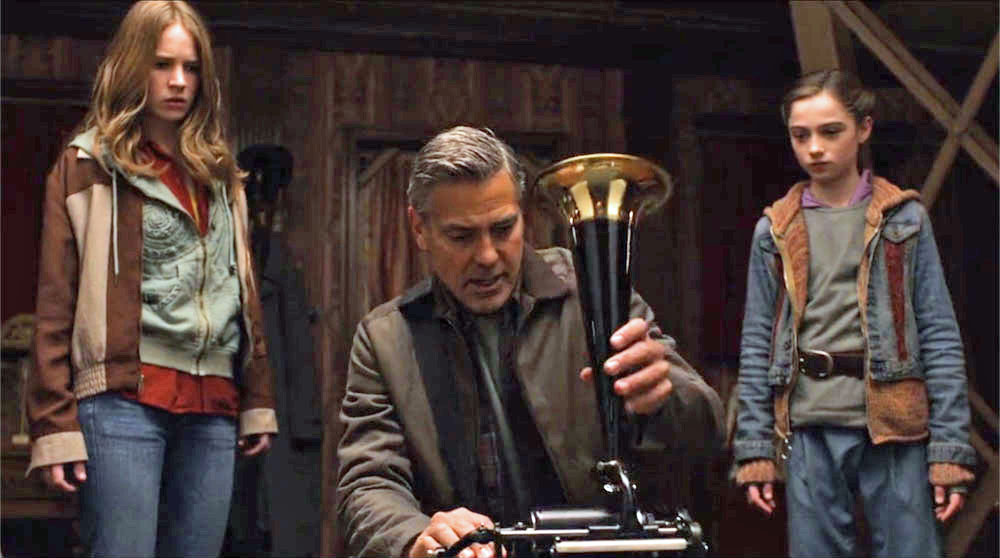 Frank doesn't ever wind-up the machine even though it appears to be the spring-wound Edison Standard Model A circa 1902 (and from another view its crank is visible).
Frank moves the machine's start/stop lever and the Phonograph starts playing "La Marseillaise" (the national anthem of France).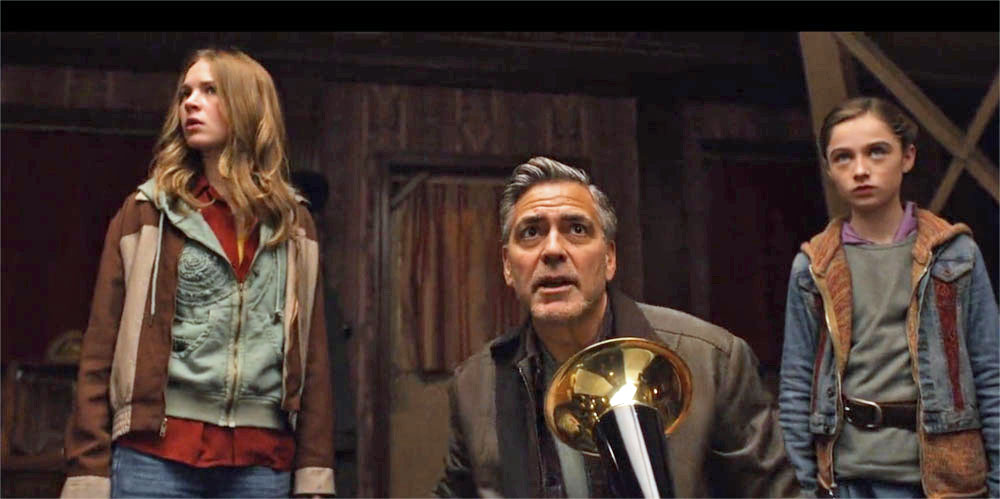 As they listen a louvred wall opens revealing another room with a complex machine of gears and wheels turning. The launch sequence has begun.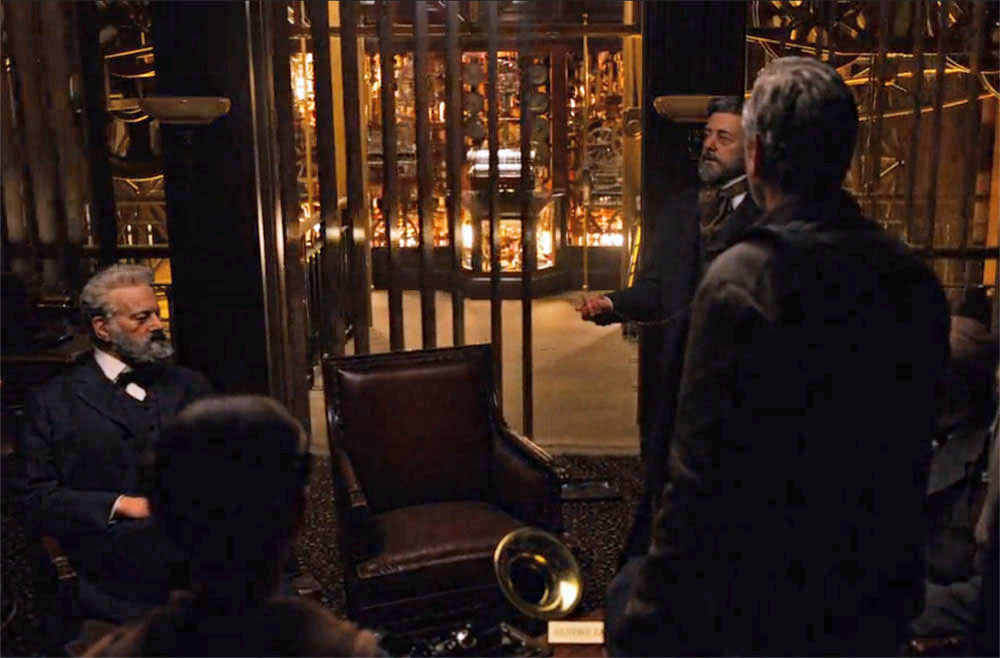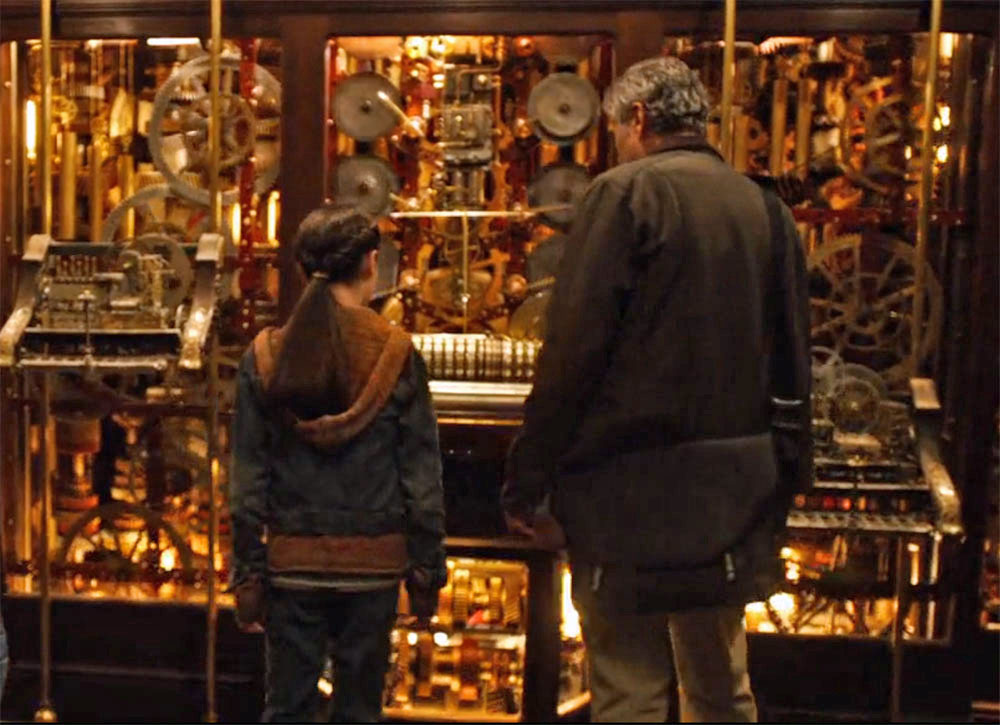 The machine continues to whirl with numbers and symbols spinning until the large brass cylinder locks in on a number and signals it is done with the message 'Bon Voyage" popping up.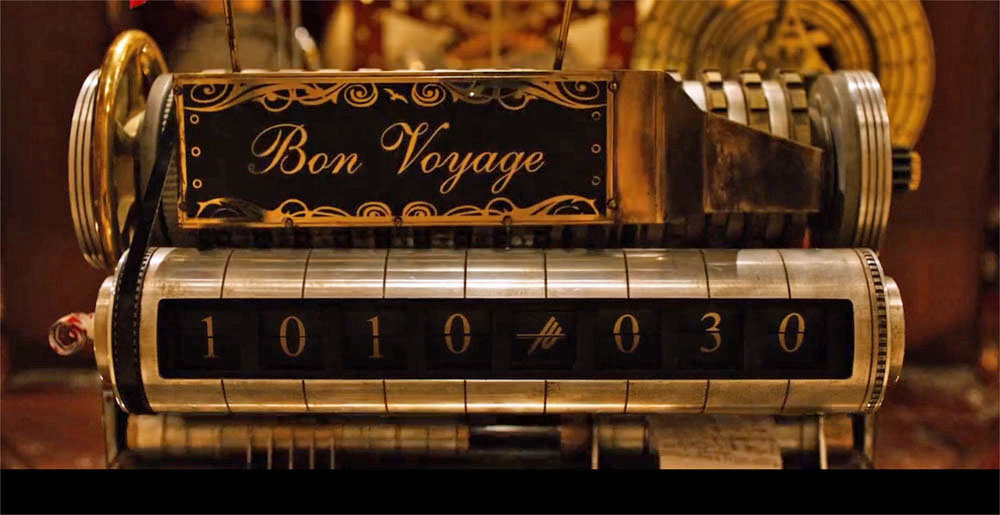 Outside observers watch the Eiffel Tower separate into two sections; a rocket emerges from underneath the Tower. Frank, Casey, and Athena board the ship and are launched into space.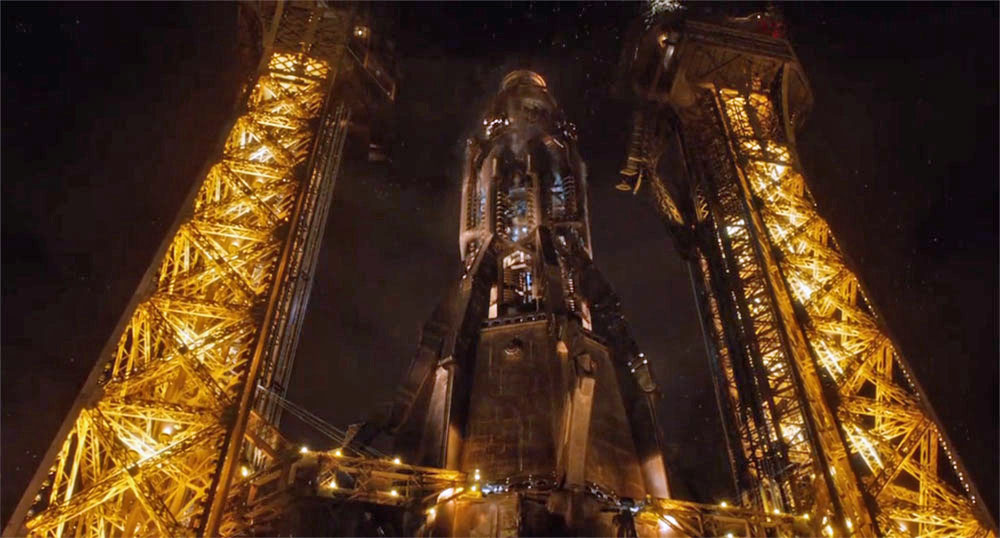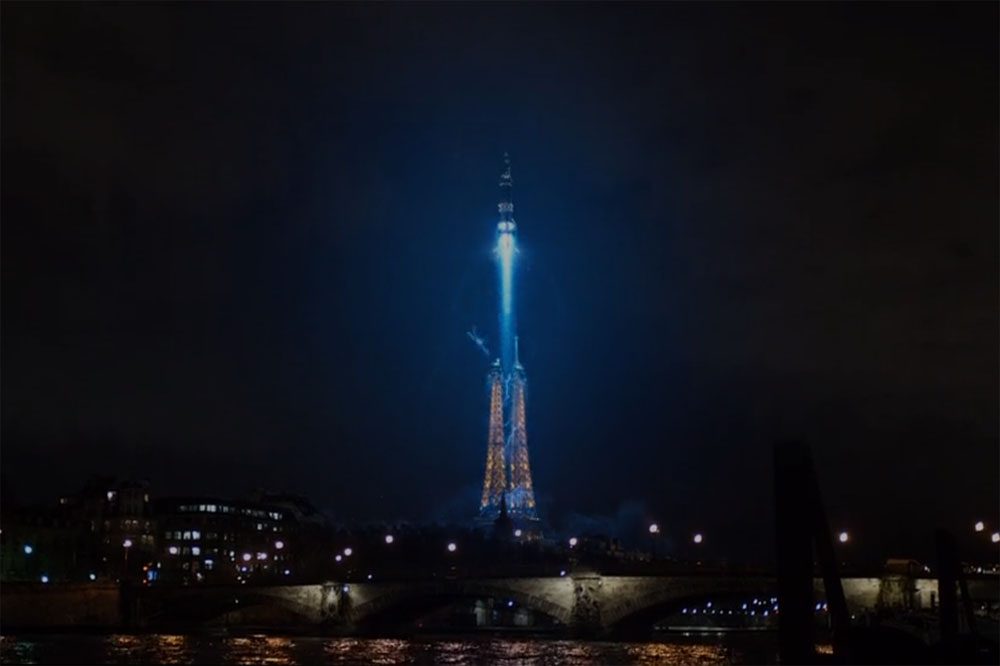 The Edison Record, in the end, saved the world "in its emergency" by providing the starting key and means for Frank, Casey and Athena to travel in the Eiffel Tower's rocketship.

With the successful conclusion of their trip the initial dream for Tomorrowland resumed.
Additional Notes:

There were other early recordings of La Marseillaise but of note is Edison Gold Moulded Record No. 40 made over from the brown wax series (1896-1901) using the gold moulded process.

La Marseillaise. [Marseillaise]

Performers: Edison Military Band

Issue Number: Edison Gold Moulded Record: 40

Release year: 1902?

LISTEN (courtesy of UCSB Digital Archive)
Phonographia