W. K. L. Dickson Violin Solo Experiment
Sound Synchronization Experiment at Edison's Black Maria, c. fall of 1894 - April 2, 1895.
W. K. L. Dickson playing violin in front of large horn recording the music. Two men dancing. A fourth comes onto the stage. The wax cylinder of the music for this experiment was believed to be lost until 1964 when it was catalogued as "Violin by W.K.L. Dickson with Kineto." In 1998 the record was repaired and re-recorded at the Rogers and Hammerstein Archive of Recorded Sound, Lincoln Center, New York, and provided to the Internet Archive by Walter Murch and Sean Cullen. The melody of the recording is The Barcarolle from "Les Cloches de Normandie" (a light opera written in 1878). See Filmsound.org for more details.

This sound-synchronization experiment, West Orange Laboratory in Black Maria, was shot not earlier than the fall of 1894 and before April 2, 1895." The Kinetoscope, America's First Commercially Successful Motion Picture Exhibitor by Gordon Hendricks, New York, 1966, p. 122.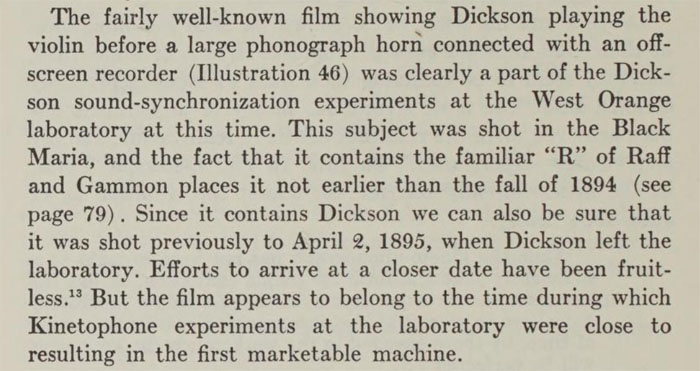 Ibid. p. 122.
Watch and Listen to the version which includes the restored sound and the Library of Congress preserved film.
Listen carefully, and before the film starts you can hear someone say: "Are the rest of you ready? Go ahead!"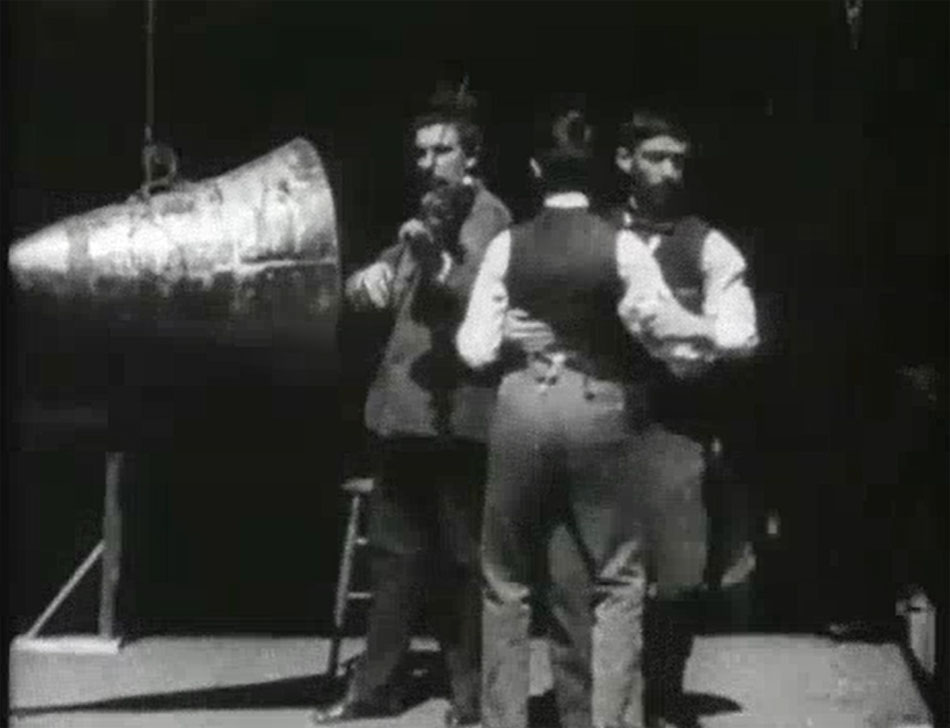 Watch the Library of Congress presentation (without sound)
Film strip from W.K.L. sound synchronization experiment - The Kinetoscope, Hendricks, Illustration No. 45
The original nitrate motion picture material preserved by The Library of Congress Motion Picture Conservation Center. Original wax cylinder sound track provided by The Edison National Historic Site; Cooperatively restored by Walter Murch, Rick Schmidlin, Industrial Light & Magic, and Skywalker Sound with The Library of Congress and The Edison National Historic Site.
Phonographia