Anna Ellen Ender Vogt Barr
Anna Ellen Barr
By Doug Boilesen (grandson of Anna), 2018
Anna Ellen Ender Vogt Barr was born on April 7, 1884 in Elba, Nebraska. Her mother, born in Sweden, was Bertha Johnson Ender. Her father, Christian Ender, was born in Switzerland.
Anna "Entered into Rest" May 29, 1959 in Elba, Nebraska.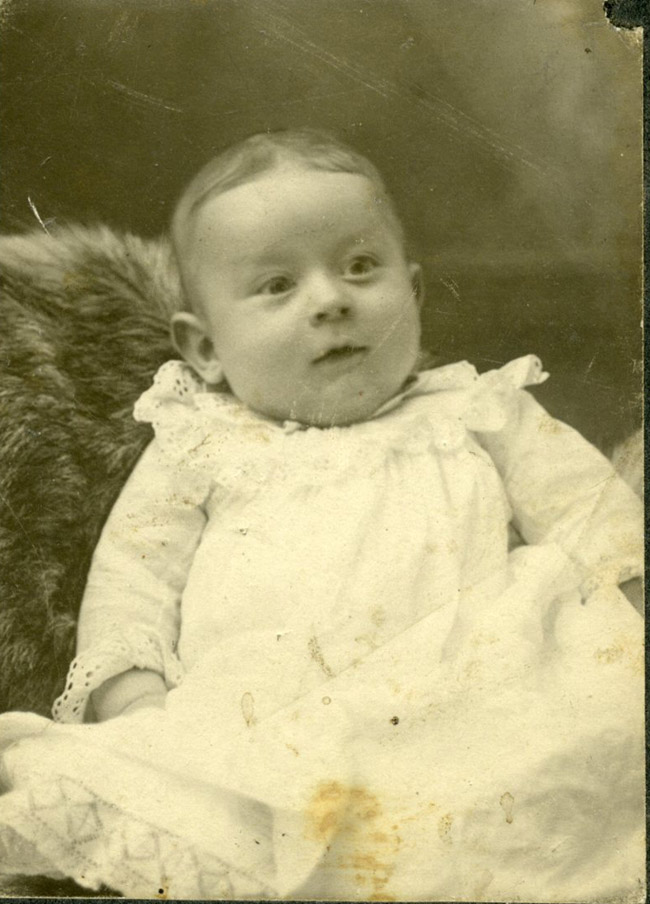 Anna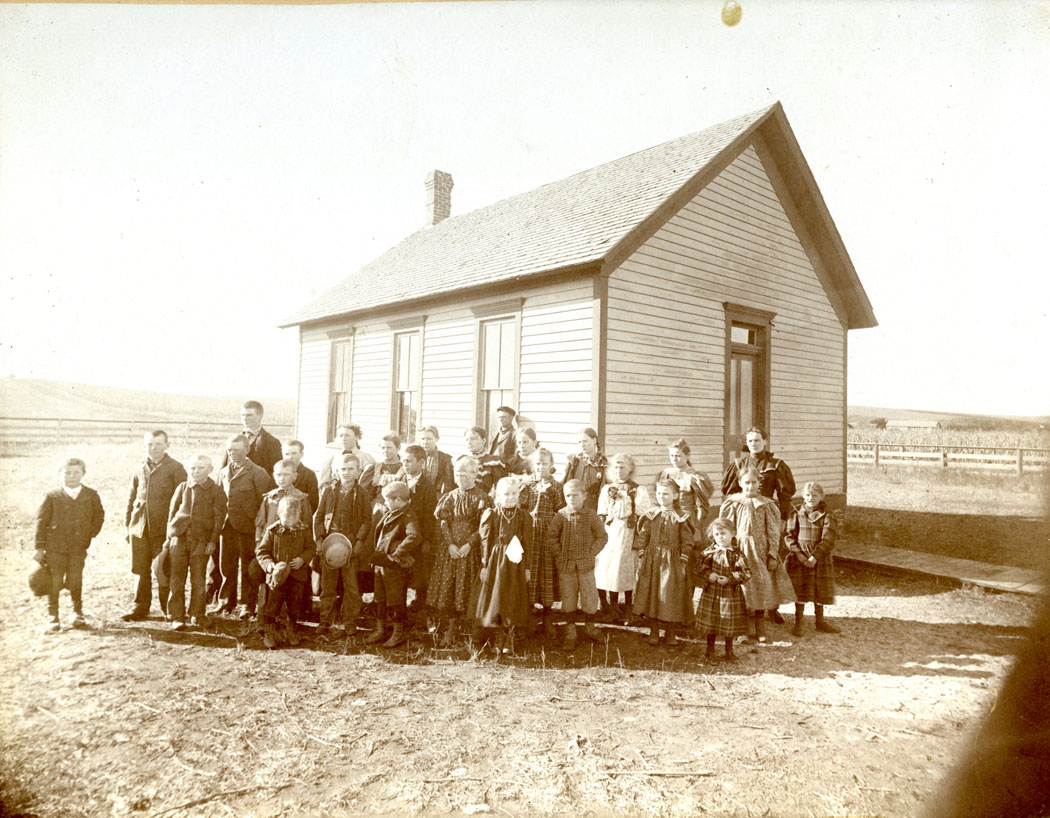 Elba School - Circa 1895 (Tay "Sarah" Ender and Anna Ender, third and fourth from left in back row)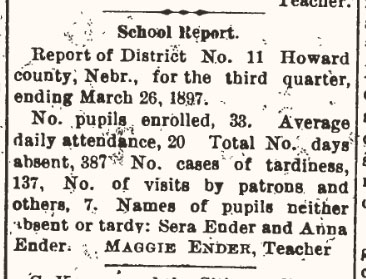 Anna and Sister Sarah's perfect attendance report - April 9, 1897 School Report. - St. Paul Phonograph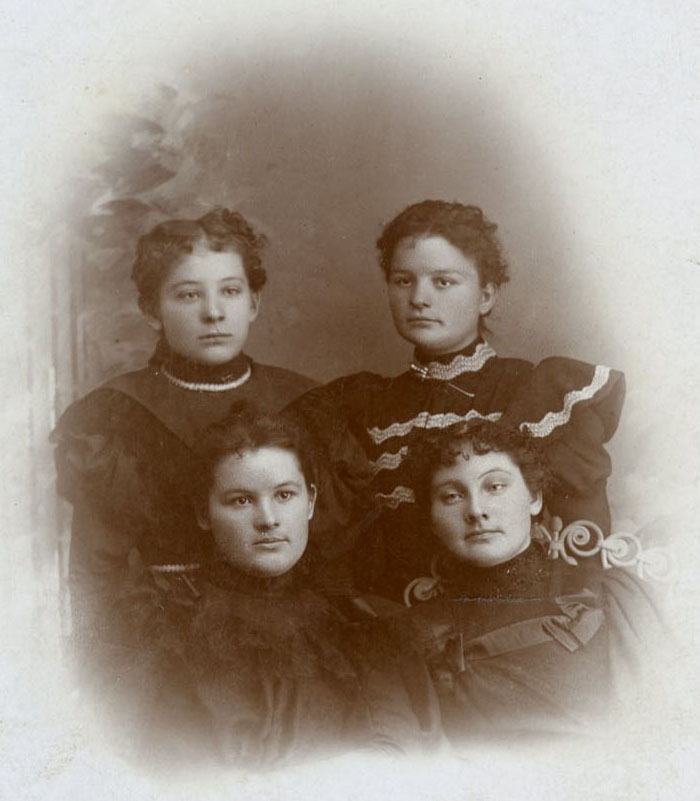 The Ender sisters ca. 1894 - Top left Anna, Sarah (Tay); Bottom row Maggie, Mary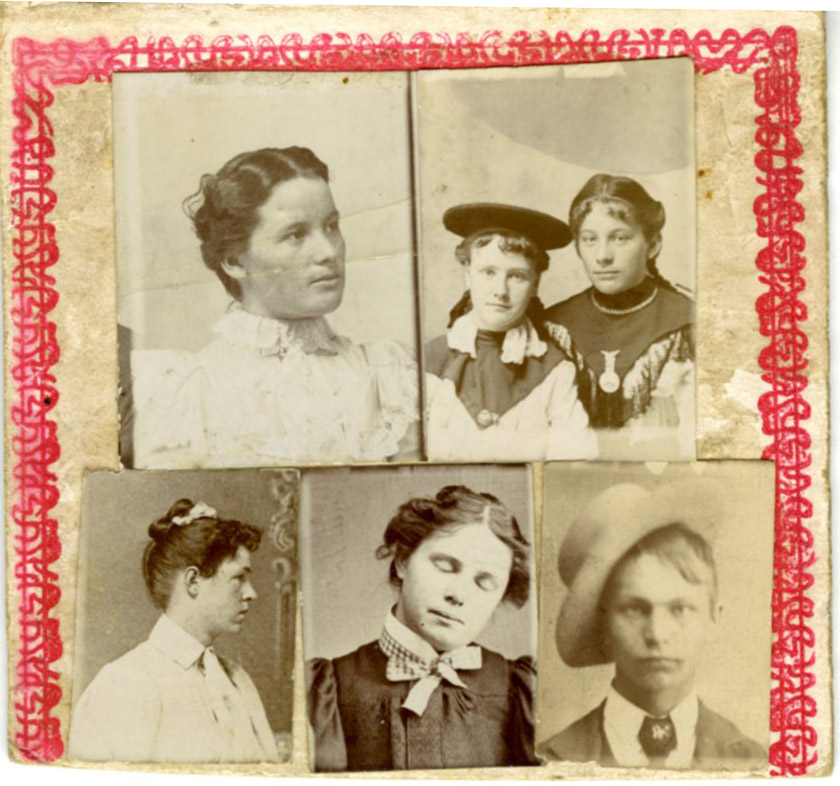 This 3" x 2.5" cardboard card on the back in pencil is written "Belongs to Anna Ender" (small photos of Anna's sisters and perhaps one of her brothers)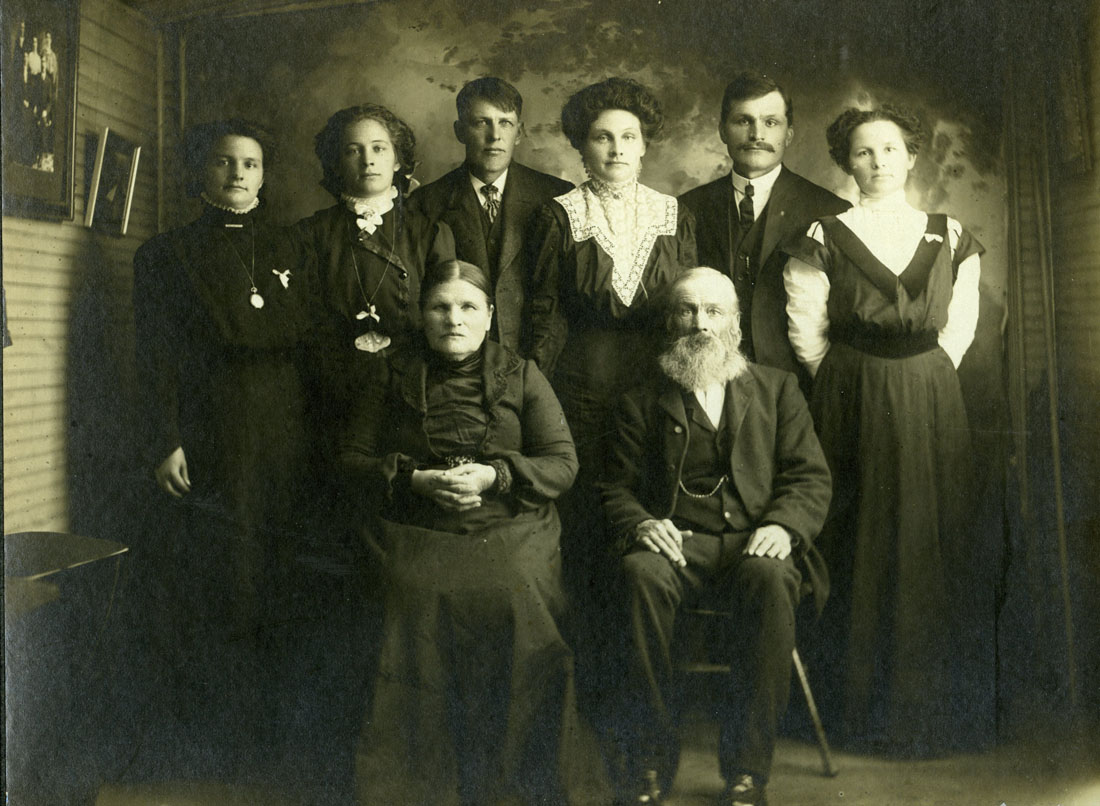 The Ender Sisters circa 1900: (Sarah) Tay, Annie, Maggie and Mary with brothers. Parents Bertha and Christian Ender in front row
Ellen Anna Ender married Frank A. Vogt (b. 1883) on December 28, 1900 in Grand Island, Nebraska.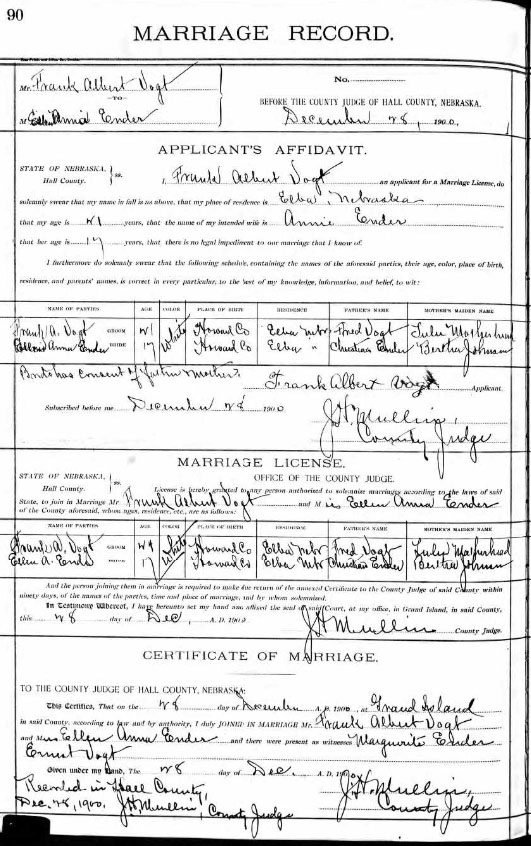 A "Cotesfield Item" for February 28, 1902 in the St. Paul Phonograph Press noted that "Frank Vogt of Fairdale has rented Mr. Chinn's farm formerly occupied by Fred Jeffries and moved in Saturday."
A "Cotesfield Item" for March 28, 1902 in the St. Paul Phonograph Press: "Mr. and Mrs. Ernest Vogt who were married Wednesday of last week, have moved in with his brother Frank Vogt."
April 18, 1902 "Mr. and Mrs. Frank Vogt have been visiting at the parental home in Fairdale the past two weeks." - St. Paul Phonograph Press
The August 28, 1903 St. Paul Phonograph Press "Elba" report stated that "Frank Vogt was building a new house."
May 13, 1904 St. Paul Phonograph Press "Elba Neighborhood News": "Frank Vogt and his wife and Fred Vogt and his family spent Sunday with E. Vogt."
September 23, 1904 St. Paul Phonograph Press - "Fred Vogt and family and Mrs. Frank Vogt and children took in the Farmers' picnic."
Ernest and Frank Vogt and wives "attended the A. O. U. W. picnic in St. Paul Saturday." - June 7, 1907 St. Paul Phonograph Press
Frank died in 1914 leaving two sons (Ray and Chris) and one daughter (Fay).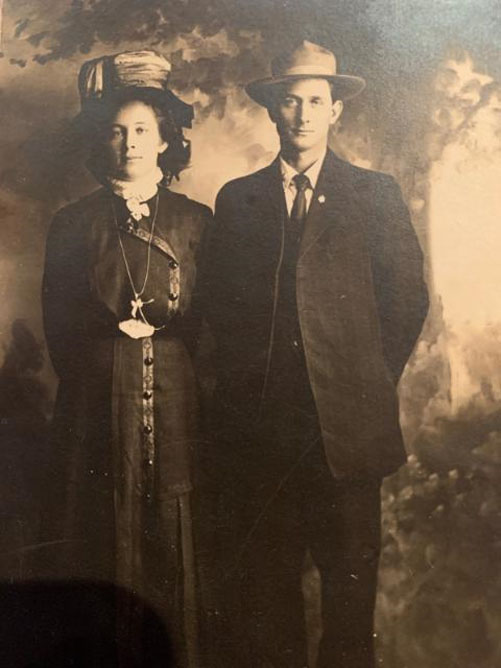 Sarah "Tay" Ender married Ernest Vogt (brother of Frank) on March 19, 1902.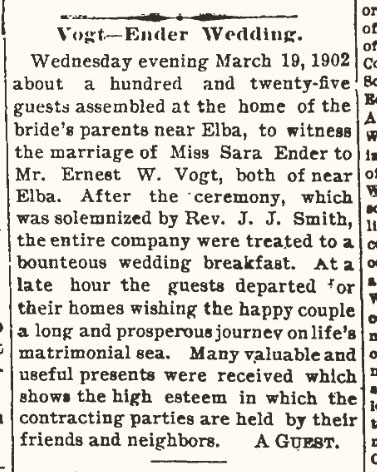 St. Paul Phonograph and Press, March 28, 1902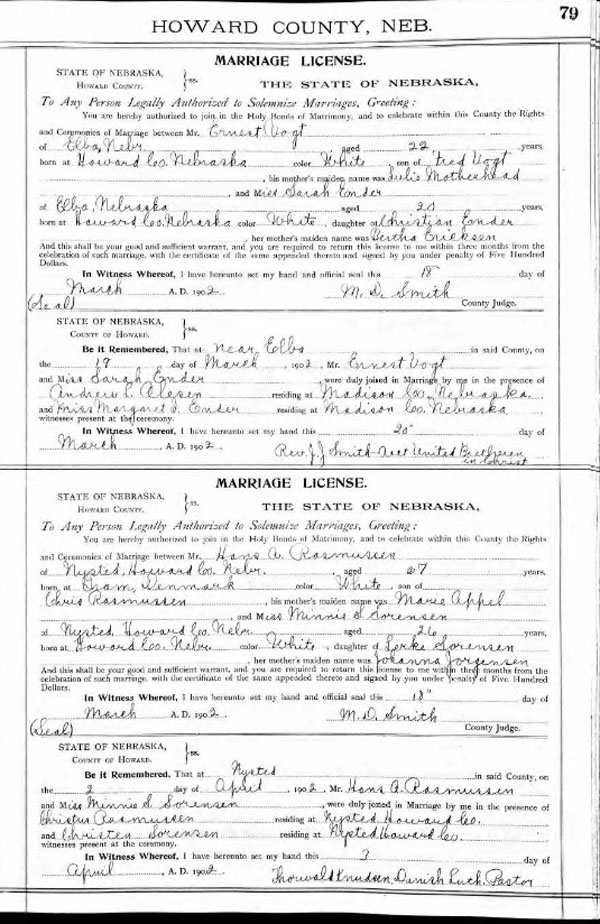 Anna and Frank had three children: Ray (May 12, 1901), Fay (March 22, 1904) and Chris (November 4, 1907).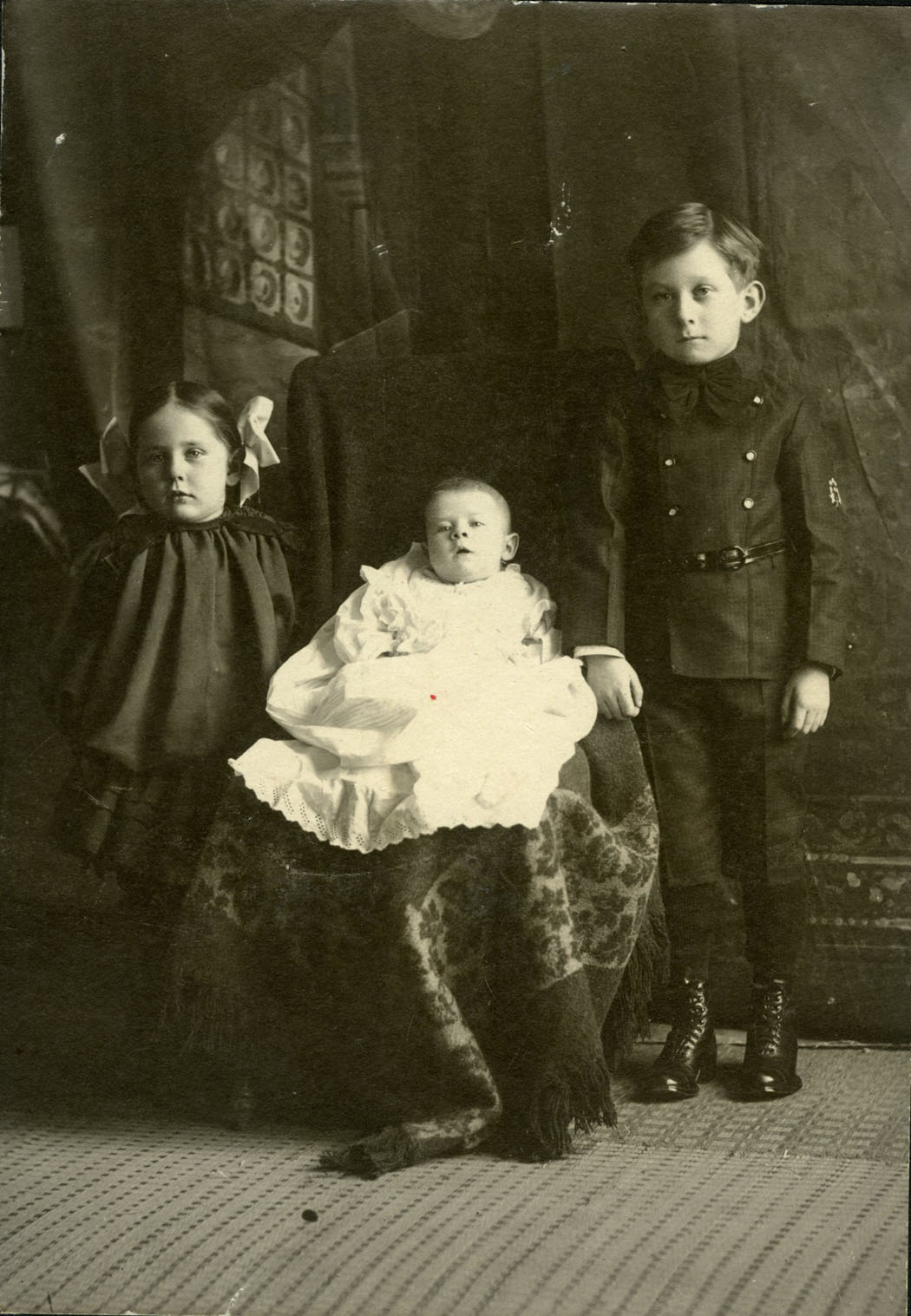 Fay, Chris and Ray Vogt, circa 1908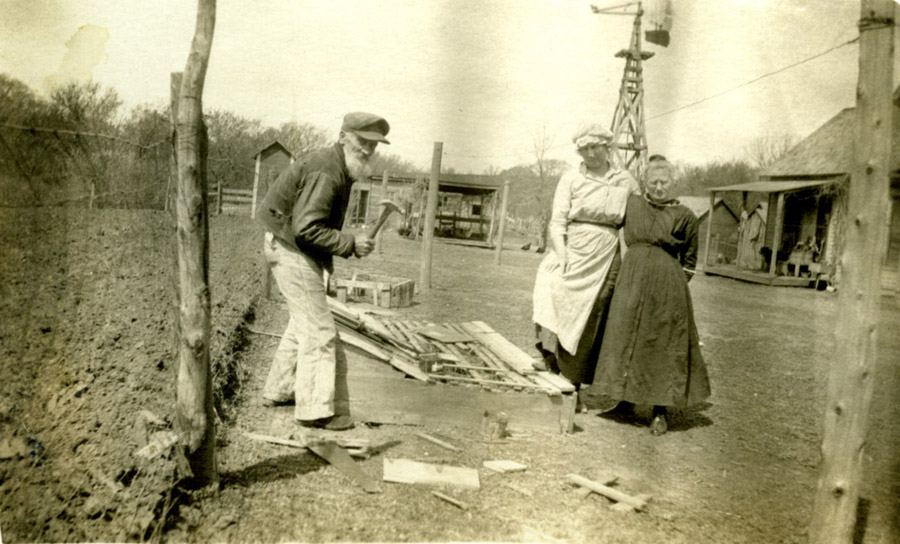 Circa 1910 RPPC unposted with note on back "Anna V. now aint we cute" - believed to be Ender farm (see back porch and windmill of Christian and Bertha photo with grandchildren.)
Anna Ender Vogt married Manley Miller Barr on Monday, October 16, 1922 in Grand Island, Nebraska. T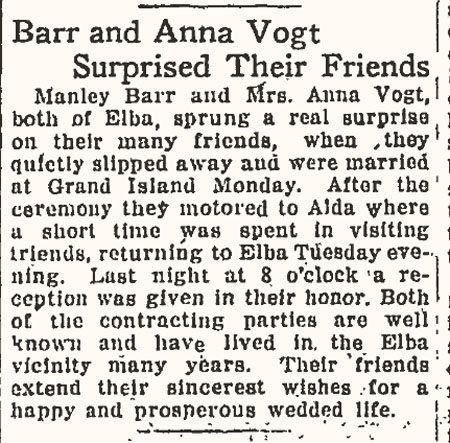 The Howard County Herald, October 19, 1922 p.1
Anna and Manley had one daughter, Betty Ann Barr.
KITCHEN AND DAIRY - CAKES - HOWARD COUNTY FAIR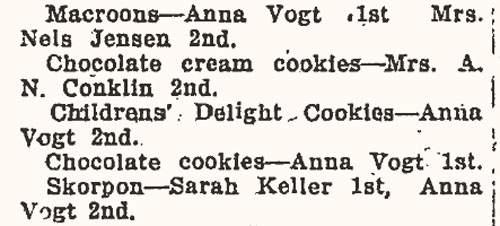 Howard County Herald, October 12, 1922
Anna's older sister's marriage, Sarah "Tay" to Frank Vogt's brother Ernest W. Vogt ended in divorce according to The Howard County Herald October 1,1925 article on Ernest's death and his "addiction to the use of intoxicating liquor" (Ernest Vogt b. Aug 1, 1879 to Sept 27, 1925) (1)
Anna was an active member of the Women's Christian Temperance Union and as a young girl Betty remembers going to some meetings with her mom and her aunt.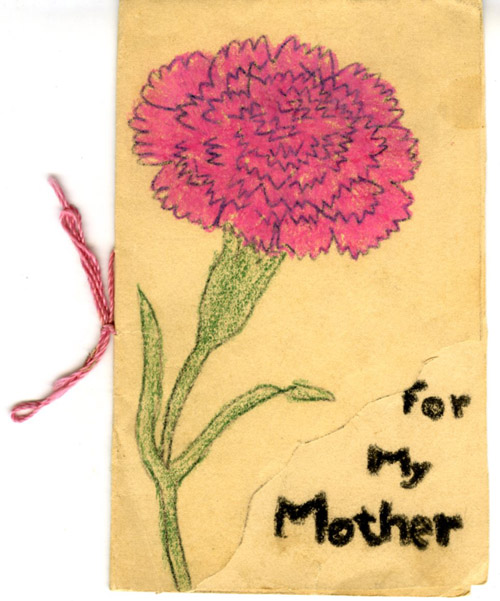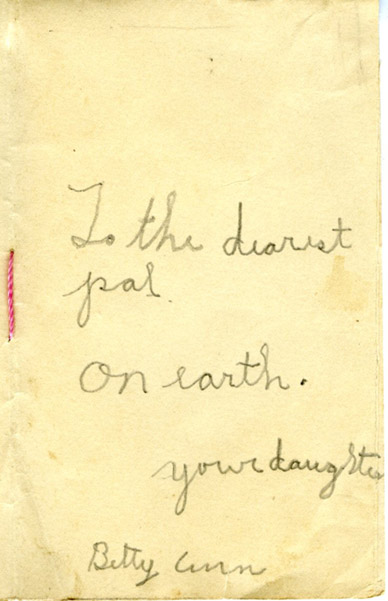 Card made for Anna by Betty Ann circa 1933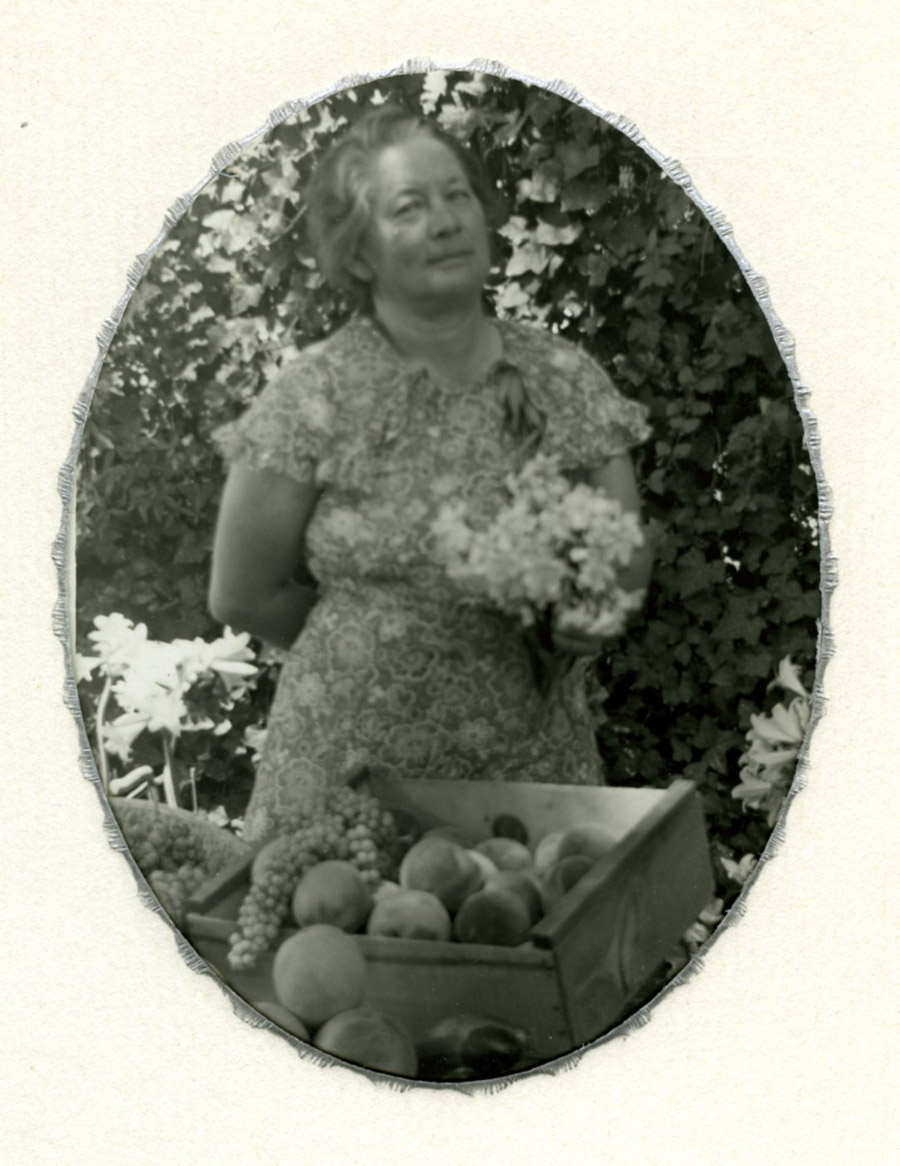 Anna on California trip, 1940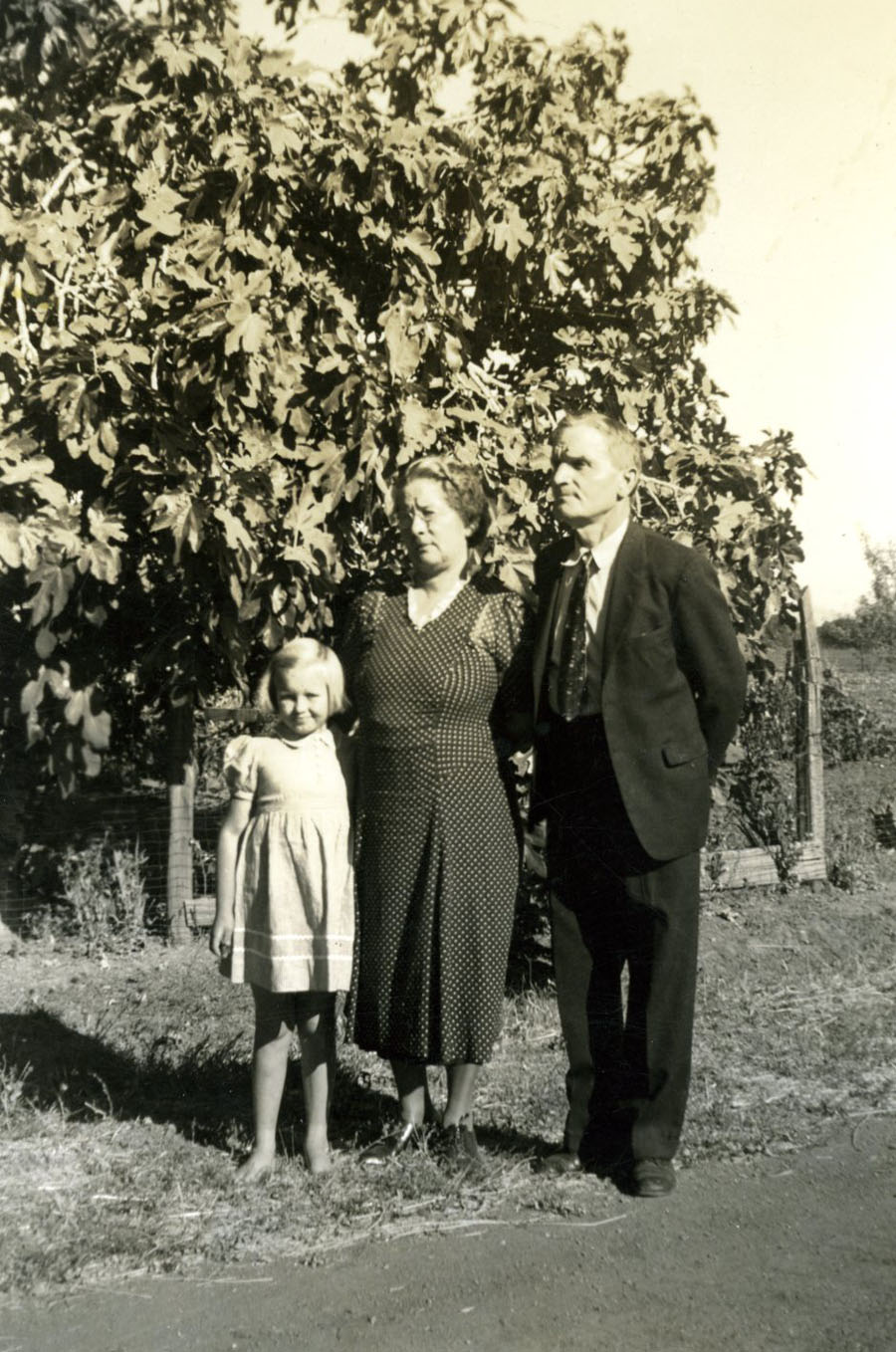 Anna with Brother W. S. Ender and Marilyn Webb in Esparto, California 1940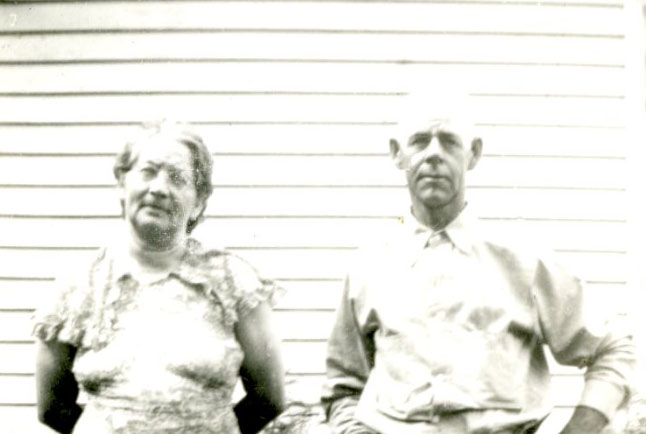 Anna and Manley, 1945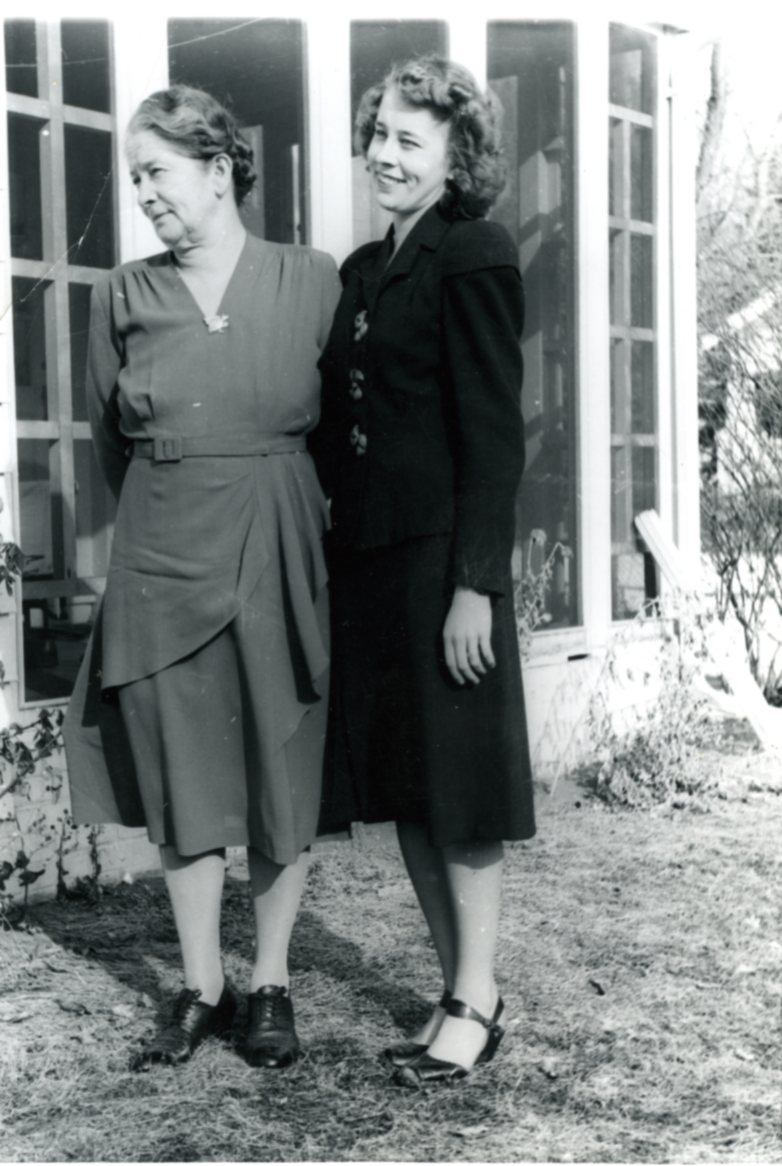 Mother and Daughter, ca. 1943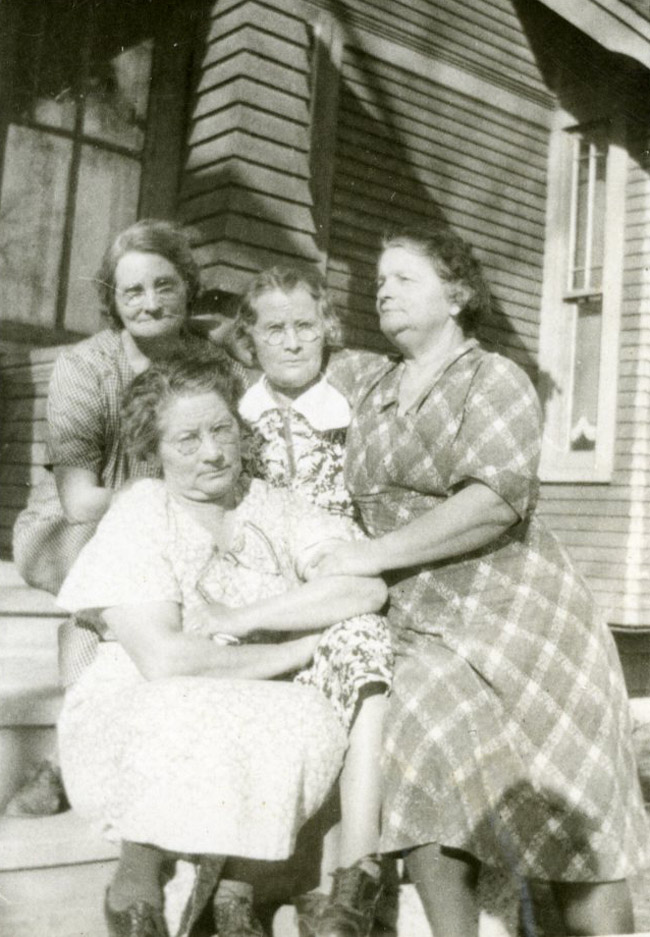 Anna (front left) with sisters (Tay front right) Back row Maggie and Mary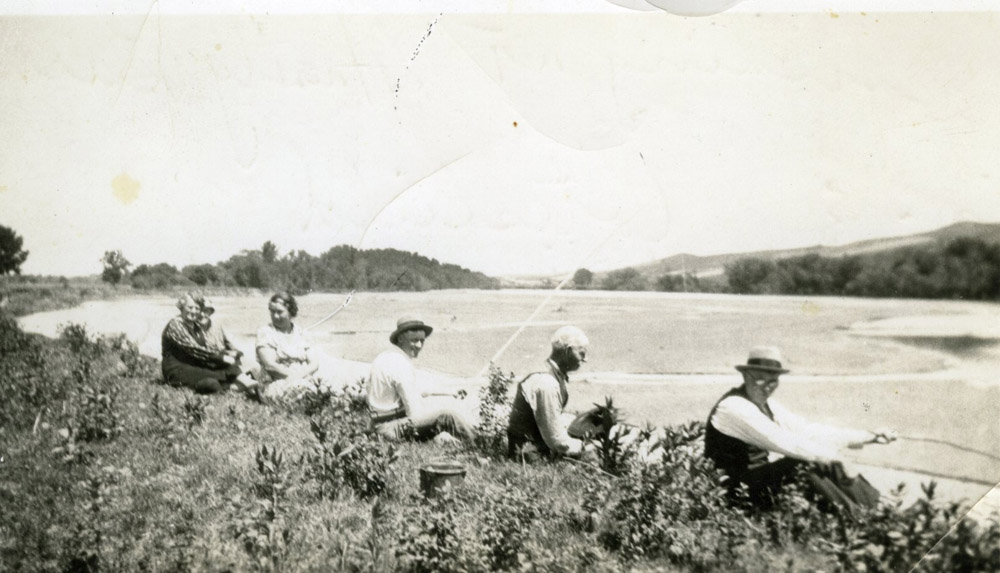 Fishing at Manley Barr's, Cotesfield
(Back identified as Aunt Mary, Ma McLaren, Mrs. M. Barr (Anna), Don, Uncle Jim, D.B. McLaren)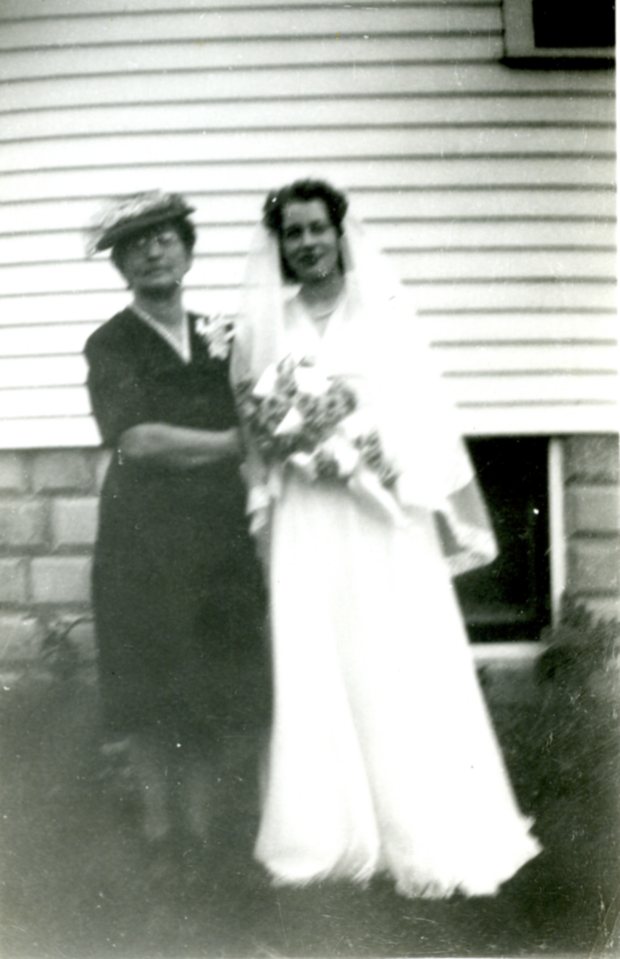 Mother and Daughter, August 25, 1946

Newspaper article about celebration of 25th Silver Anniversary, October 22, 1947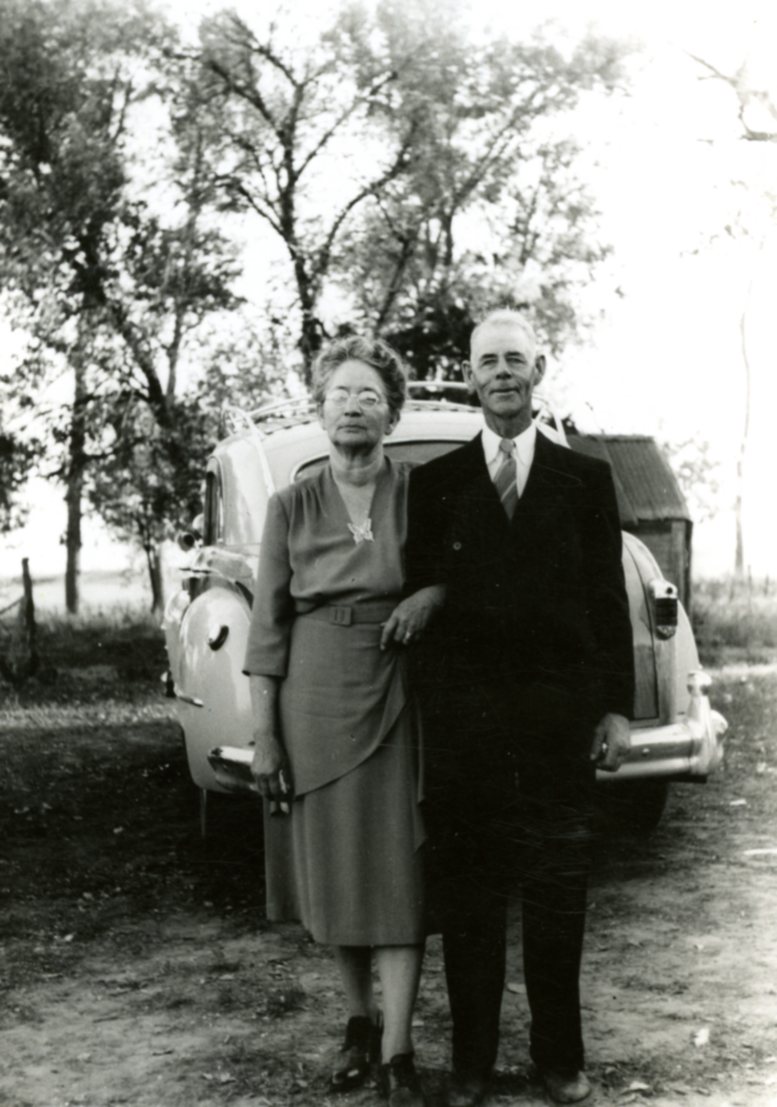 Anna and Manley, October 1947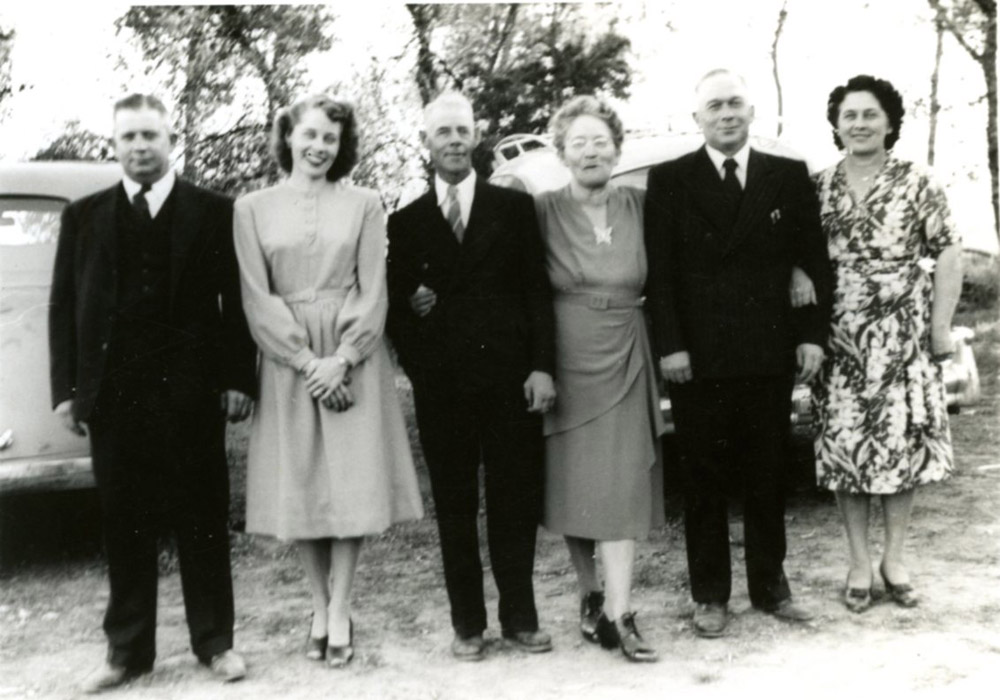 L-R Chris, Betty, Manley, Anna, Ray, Fay - October 1947 "Ain't I horrid, but can't help it, as its my own children." - written on back of picture asking for it to be sent back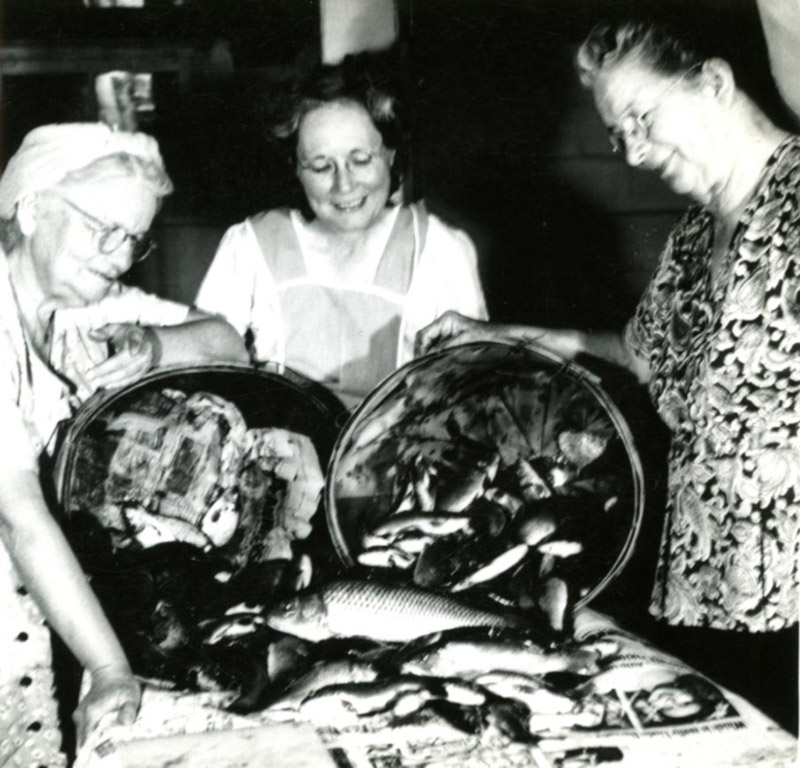 Anna loved to fish with Sister 'Tay' on far left, circa 1950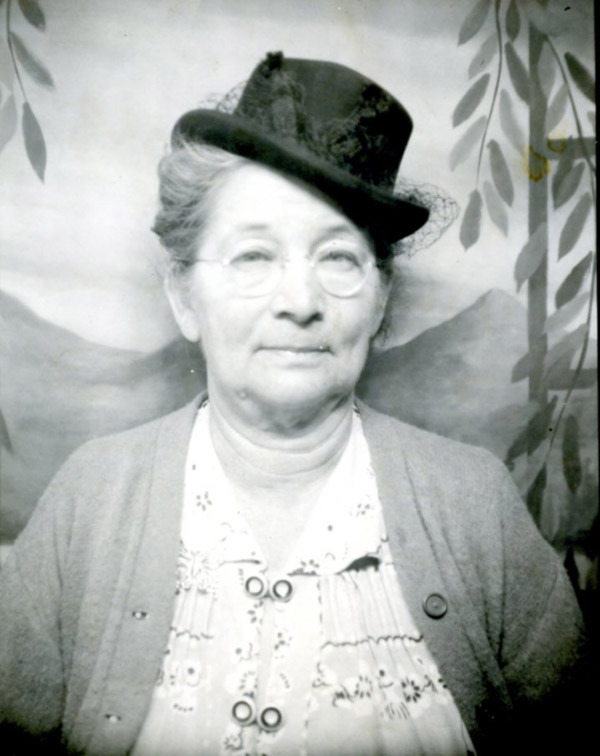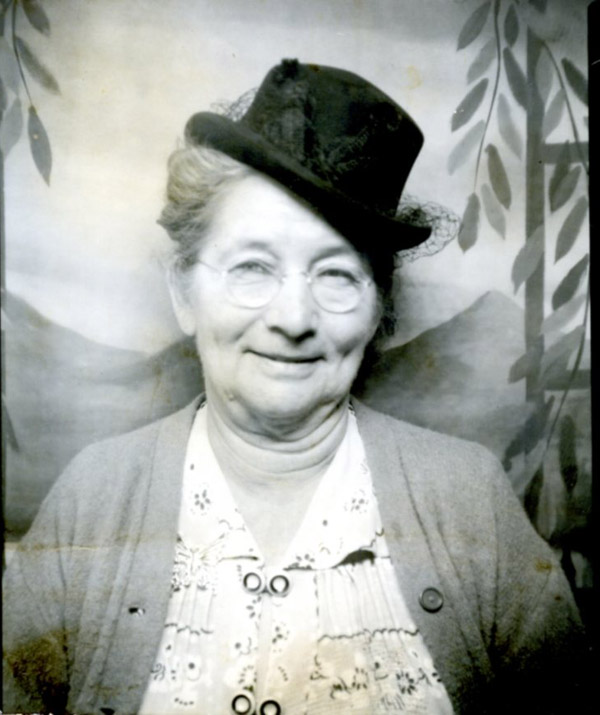 Request on the back on the picture in pencil reads: "Send it back please. This or these 2 are the ones Sara had a laughing fit over."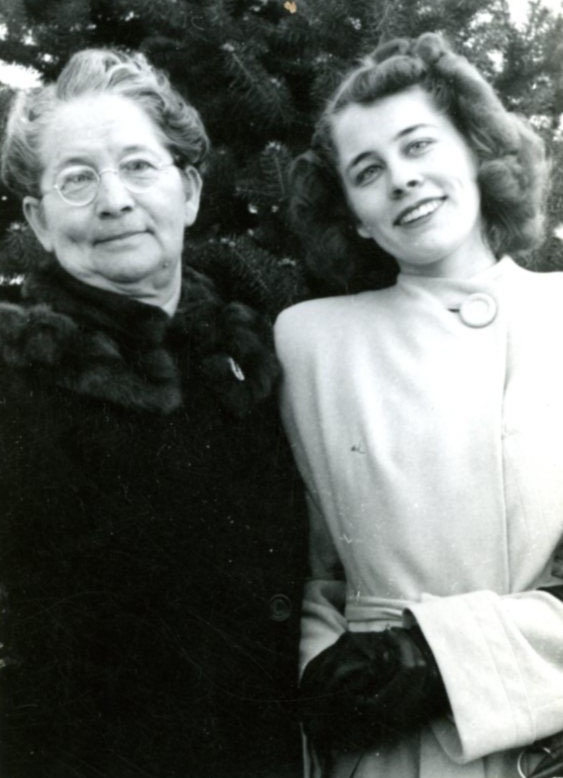 Mother and Daughter, ca. 1948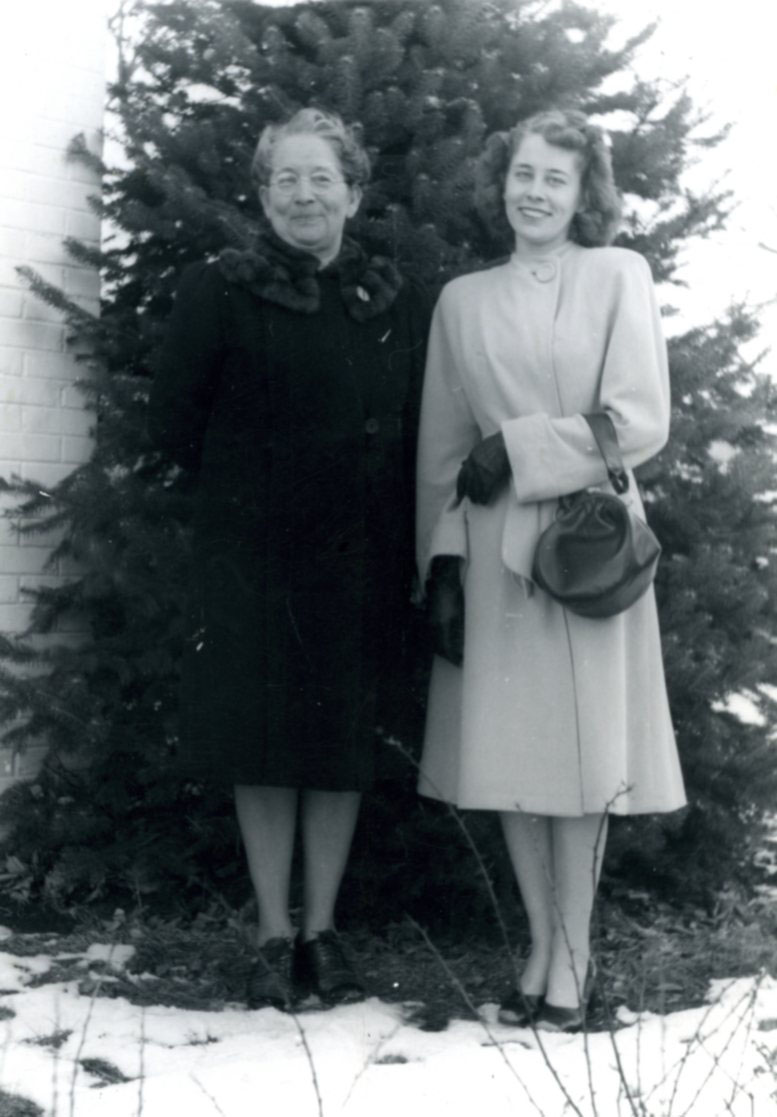 Mother and Daughter ca.1948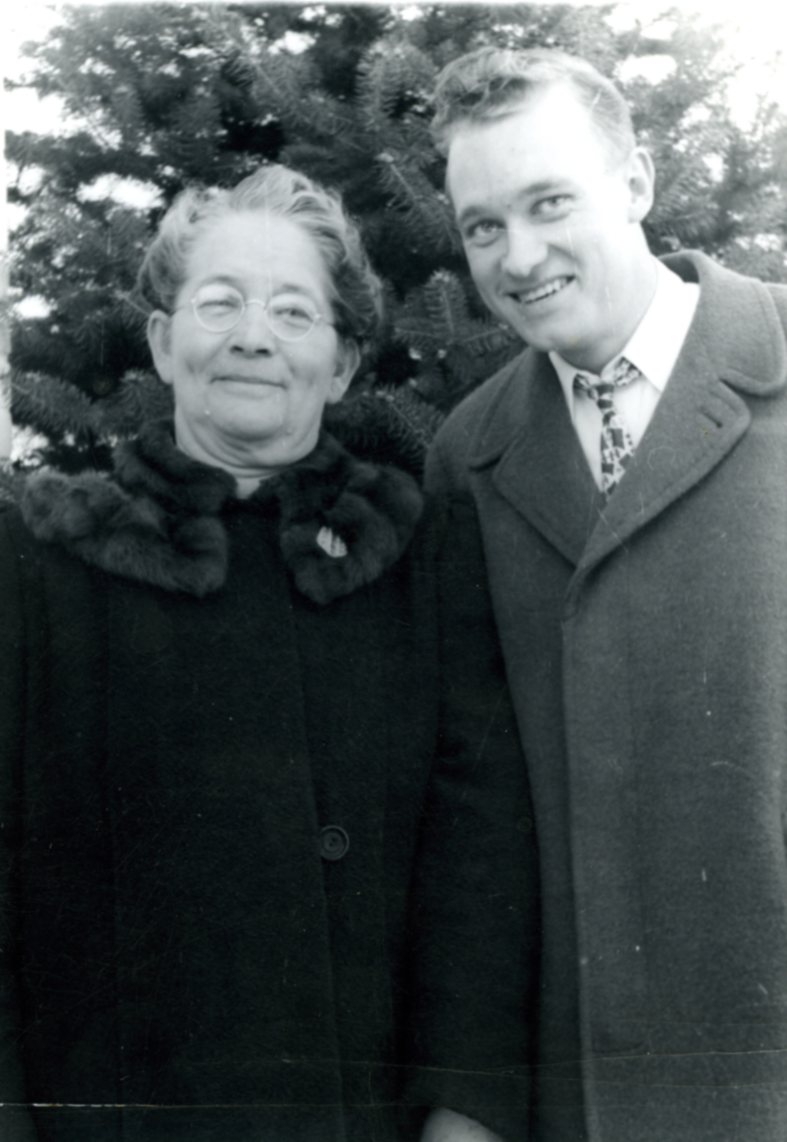 Anna and Axel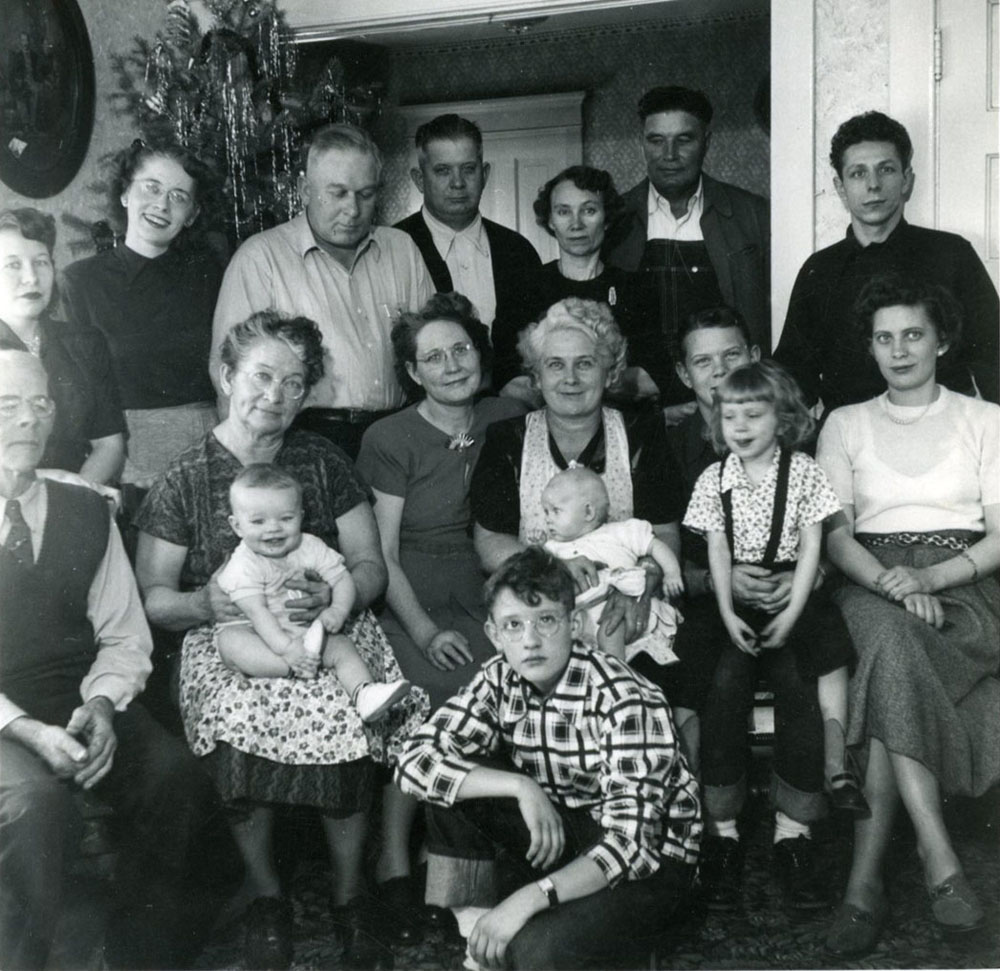 Christmas 1951 with Anna Barr's children and grandchildren
Front L to R: Manley, Anna with Doug on lap, Edna, Fay with baby on lap, Gary V. in front of Fay, Frank V. with Linda Holechek on lap, Dorothy Holechek
Back L to R: Mary Ann? (Andus's niece), Betty B., Ray V., Chris V., Hilda V., Andus E., Elmer Holechek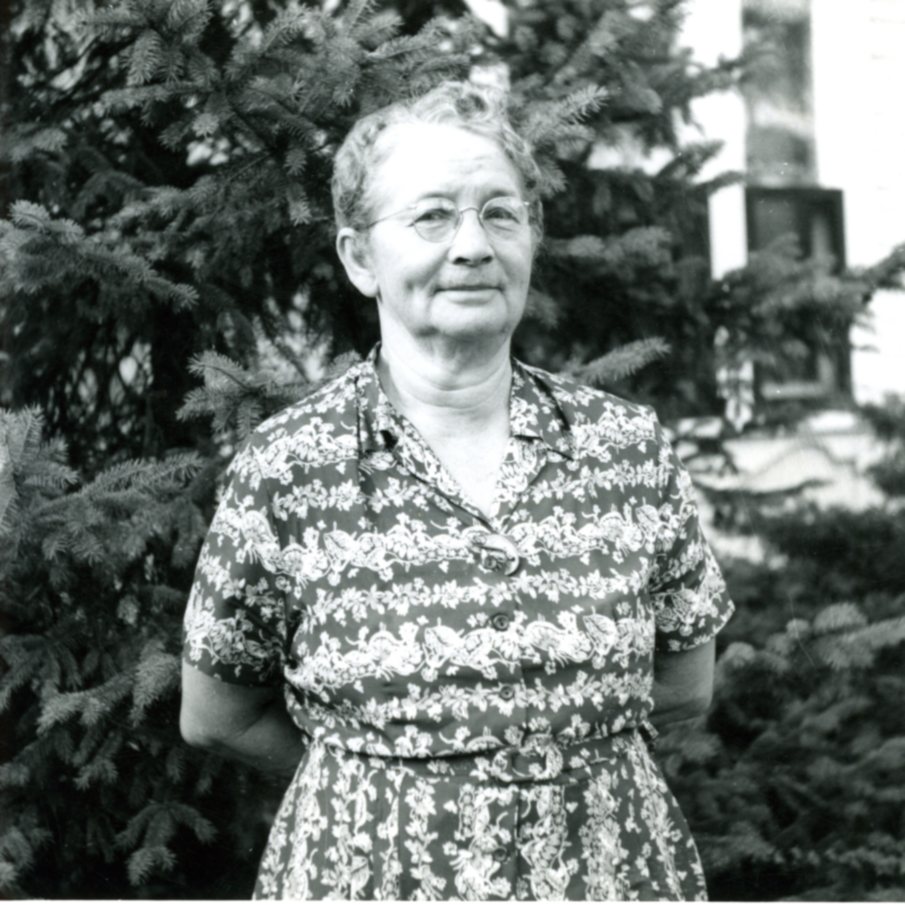 Anna ca. 1951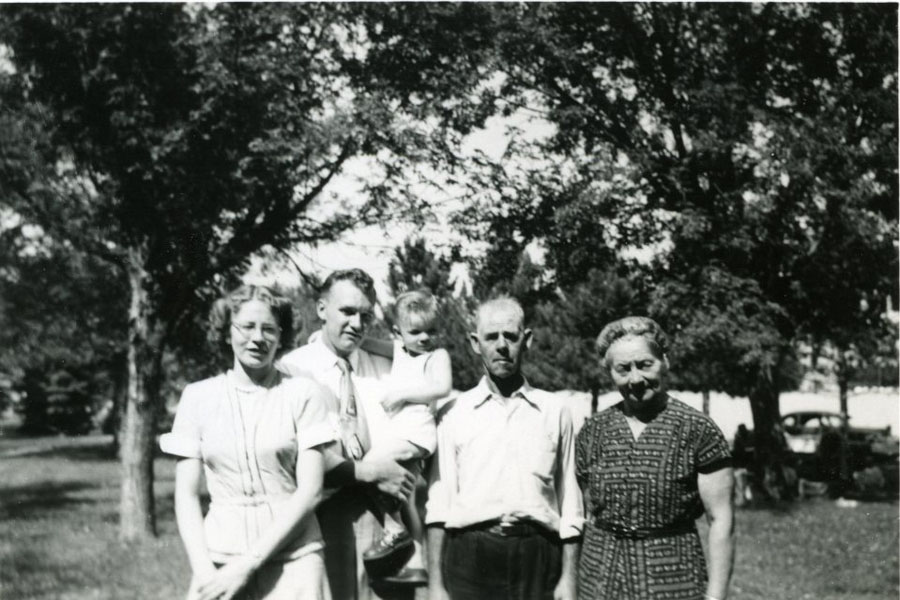 Betty, Axel, Doug, Manley and Anna, ca. 1952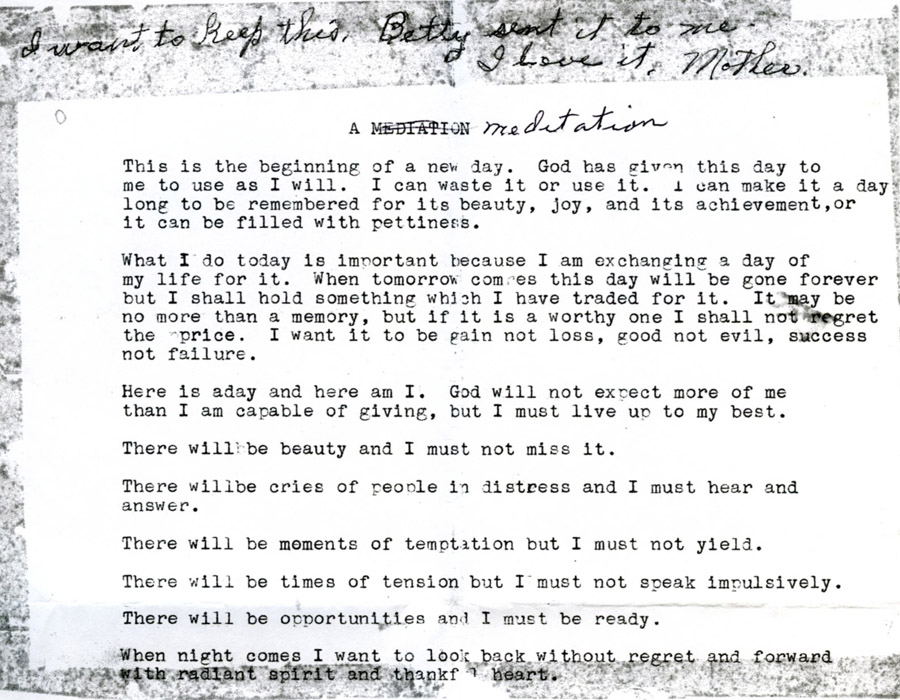 This Meditation was sent by Betty to her mother sometime in the 1950's. Anna wrote that we loved it. After Anna passed according to Sister Bev our mother had it taped to the inside of her kitchen cabinet.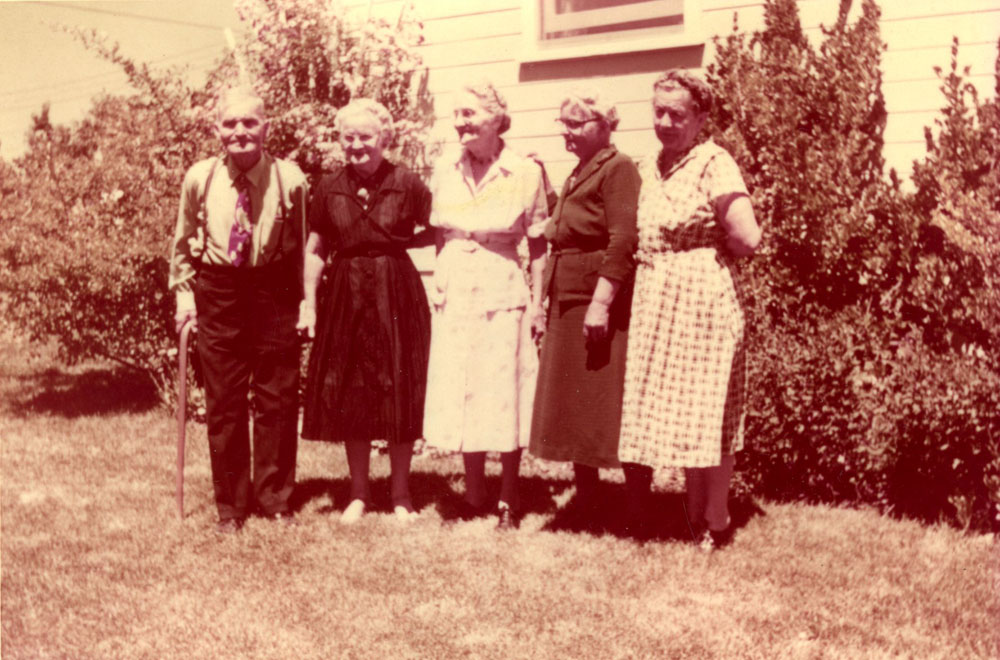 June 1955 at Fair Oaks, California at Margie Olson Harlin's home - Bertha and Christian Ender children: W.S. Ender, Margaret 'Margie' Olson Harlin, Mary Lindsay, Sarah Vogt and Anna Barr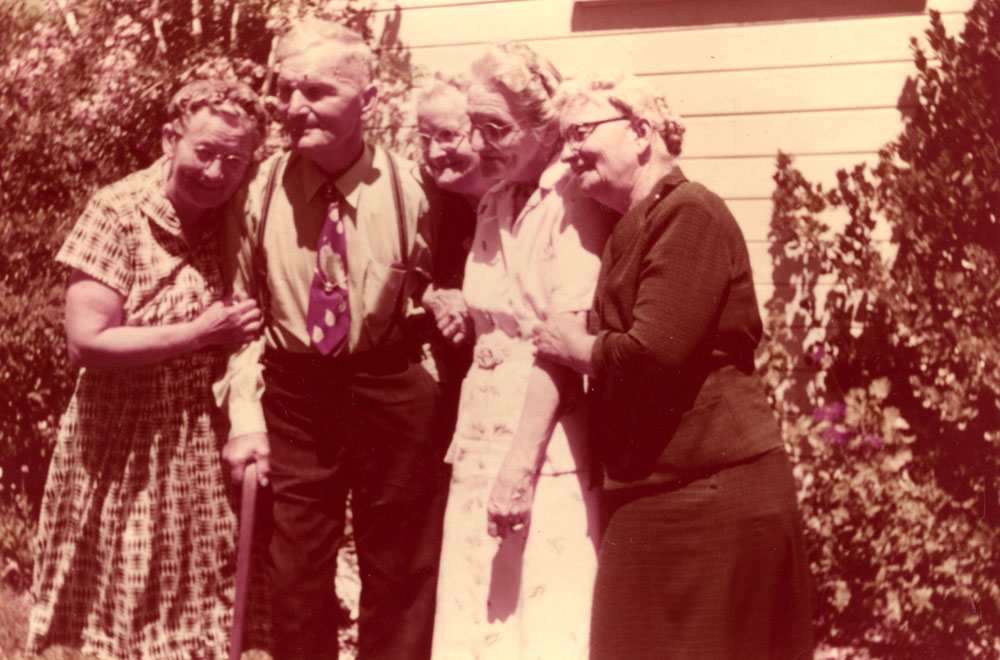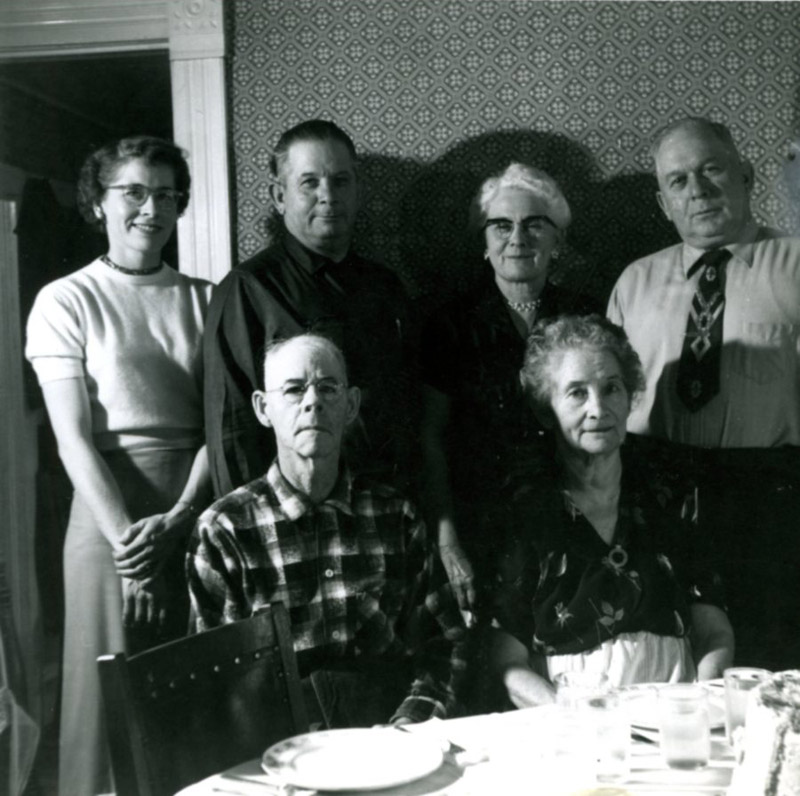 April 1956 - Anna's on back: "My Dear family send this back. its all I have yet that you may care to see how we look."
L-R Betty, Chris, Fay, Ray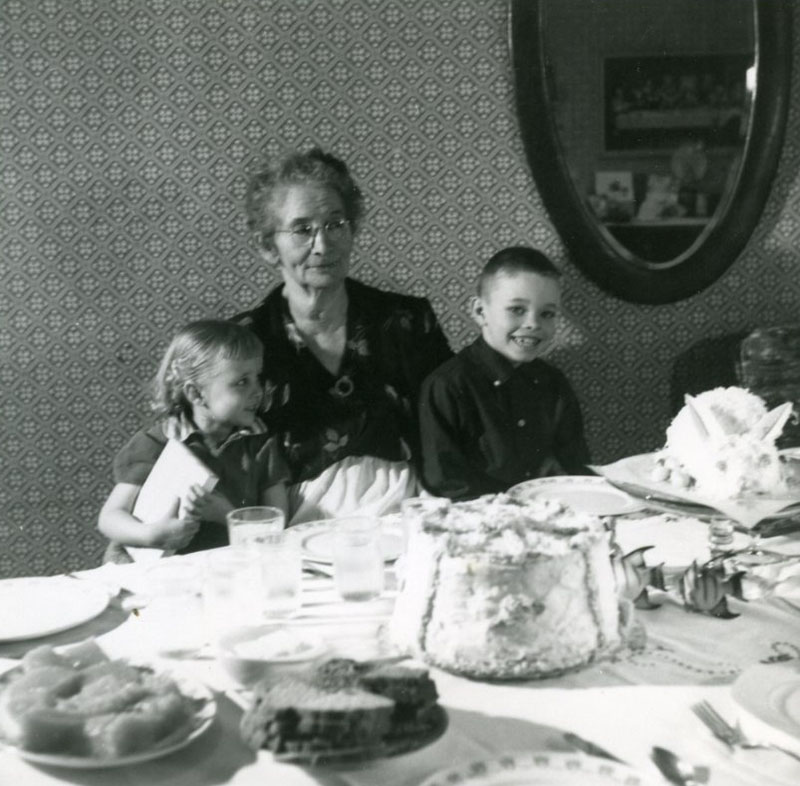 Bev, Grandma Barr and Doug at her house in Elba for an Easter dinner, April 1958
Anna Barr passed on May 29, 1959 and lies next to Manley Barr and adjacent to the burial plot of Frank Vogt.