Betty Ann Barr Boilesen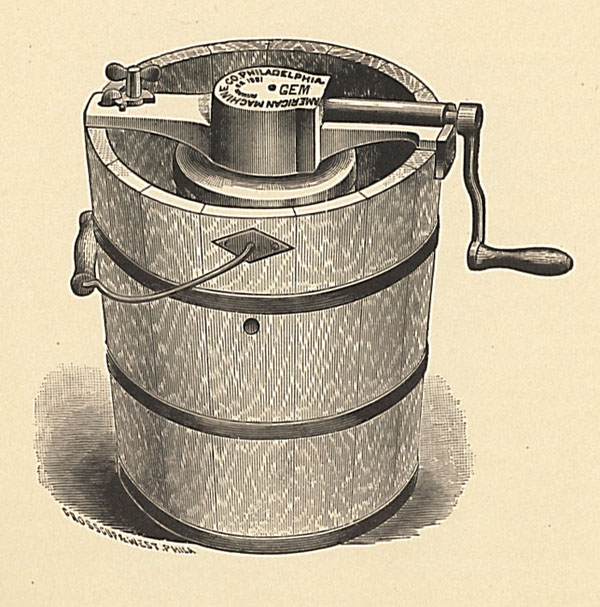 Recipes and Special Treats
Lemonade, Ice Cream, Carrot Cake and Cherry Mash
Betty Ann's mother baked pies, cookies, cakes and cinnamon rolls in their wood burning oven but, in addition to the Christmas cookies, there were four special treats that seemed to stand out in my mom's childhood.
The first was how special for her it was to drink lemonade with ice. Lemonade would be served at picnics or at lunch for the threshing crew or other family gatherings. In other words using ice for drinks wasn't a daily activity. There was no refrigerator on their farm until 1934 and no home ice delivery service. (4) On the farm using ice in the summer was dependant on what ice was still left in the ice house.
The ice house on their farm was a shed where blocks of ice would be layered in straw and covered with tarps. When the North Loup river froze the ice would be cut in blocks and then be transported to their ice house with a horse drawn sled or wagon. I don't have a picture of my grandfather doing this or of their ice house but a period postcard shows a typical Nebraska scene of transporting and storing wintertime ice.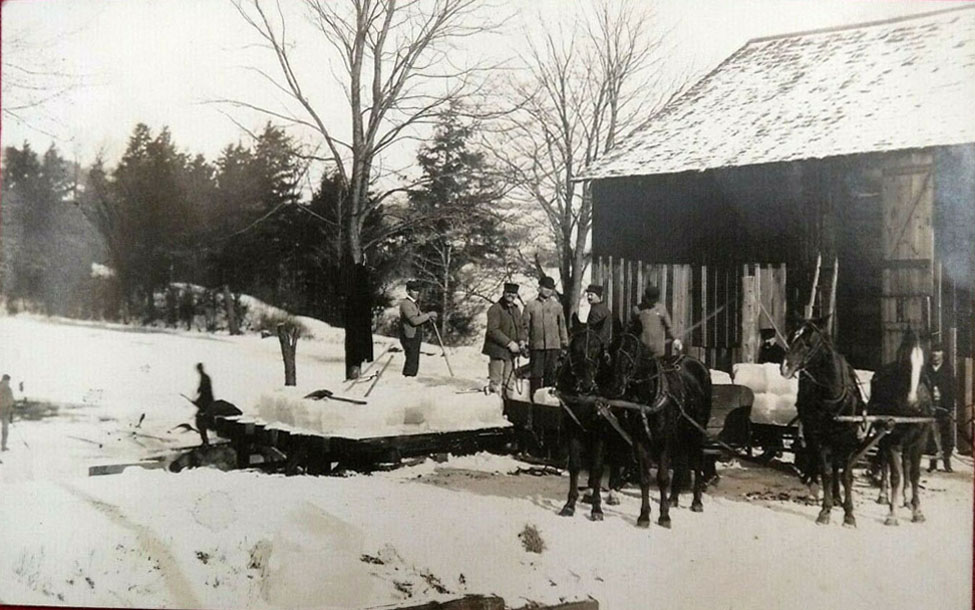 Another favorite use of ice was to make ice cream. Fresh cream, milk, eggs, sugar and vanilla churned in a hand-cranked ice-cream maker that was filled with ice and rock salt to freeze the mix would have been a special dessert for a hot summer day. (5)
Years later Mom still loved vanilla ice cream and her children and grandchildren likewise experienced making ice cream and enjoying it it as soon as the paddles were pulled from the canister of churned and frozen ice cream.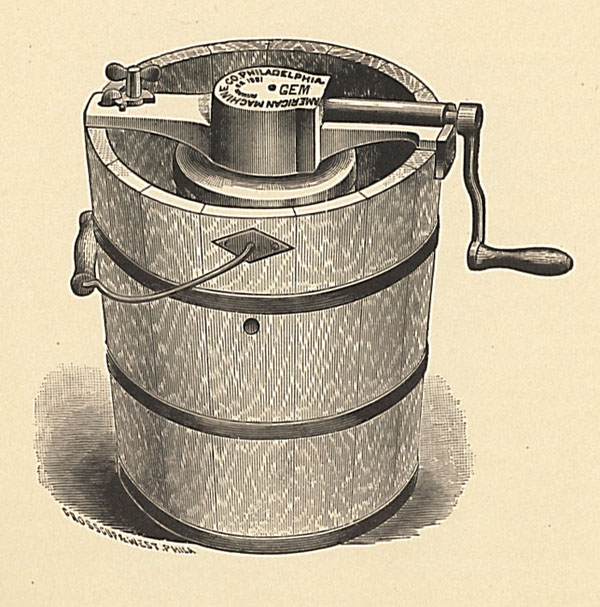 GEM Ice Cream Freezer (6)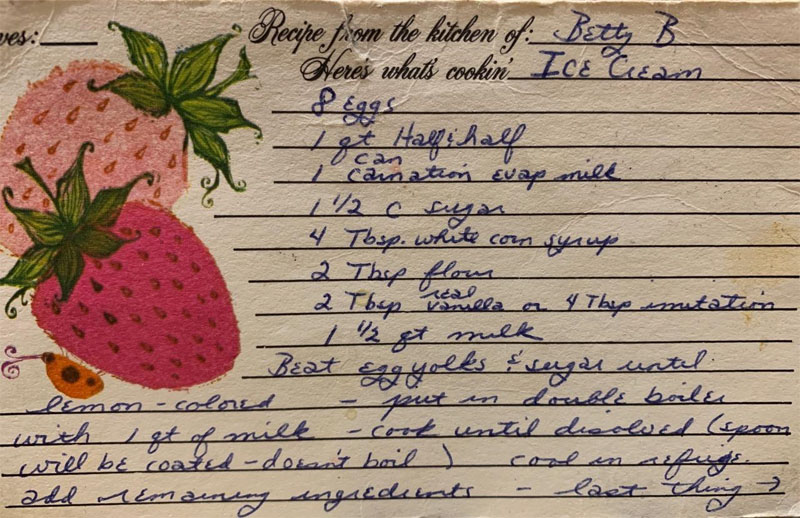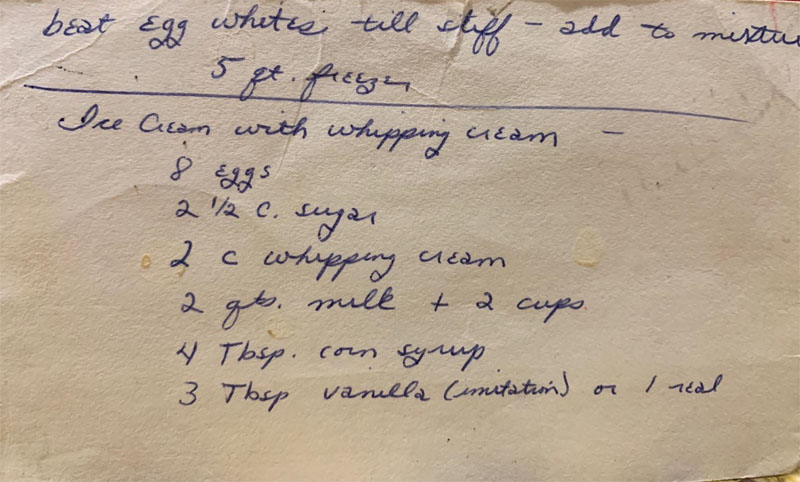 Two Ice Cream Recipes - Probably originated with Betty's Mom in the 1920's, but definitely passed down by Betty to the next generation because this is the recipe copied by Sister Bev, circa 1980
Carrot cake was a special dessert for Mom growing up and it became one of the cakes that her own family years later could expect to enjoy in the rotation of cakes served at birthdays or other special events like the annual Phonograph Birthday party.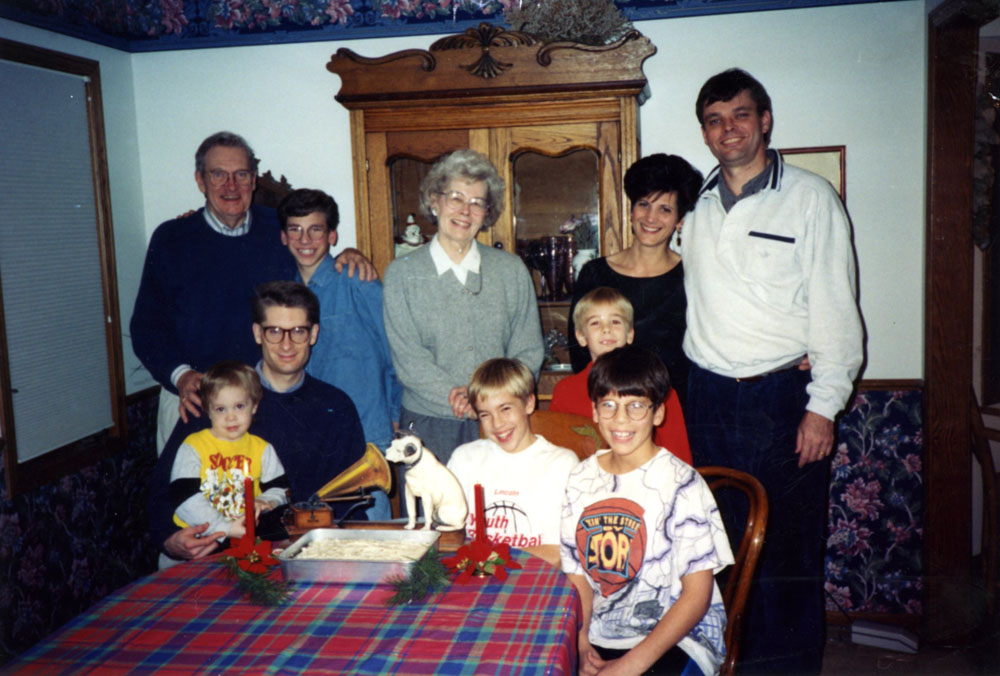 Carrot cake for 1991 celebration with Nipper and family
Betty's Carrot Cake Recipe a.k.a. "Come on Roger. Let's go home. I'll bake you a carrot cake." (Last scene of Roger Rabbit)
Sift:

2 cups flour

2 cups sugar

2 tsp. baking soda


1 tsp. cinnamon

Add:

1 & 1/2 cups salad oil

Beat with dry ingredients

Beat in 4 eggs, one at a time

Add:

2 cups ground fresh carrots

1 cup drained crushed pineapple

1/2 tsp. salt

Grease and flour pan

Mix and bake at 350 degrees 45 - 60 minutes
Frosting

8 oz. Philadelphia cream cheese
1 stick butter
2 cups powdered sugar
Beat and add shredded coconaut (up to 1 Cup) and chopped pecans (optional)
And finally, Chase's Cherry Mash candy bar was said by Mom to be her favorite candy bar and a treat to be enjoyed if she had a nickel for such a luxury. I think Mom had a sweet tooth because she once joked that when she was young she wished she had been named "Candy" (i.e., Candy Barr).
Chase's Cherry Mash, first made in 1918, was a popular candy bar in the 1920's. However, as noted by Chase Candy Company, "the Depression years of the 1930s hit the candy business especially hard. If you had any money, you spent it on food for sustenance, not for your sweet tooth. Chase Candy Company experienced a huge decrease in sales and profits, and an extensive cutback in the number of candies it produced. (7)
The original Cherry Mash was a 4-ounce mound of chopped roasted peanuts, blended with chocolate coating over a smooth cherry fondant center ( a soft, cherry-flavored center containing maraschino cherries). (8)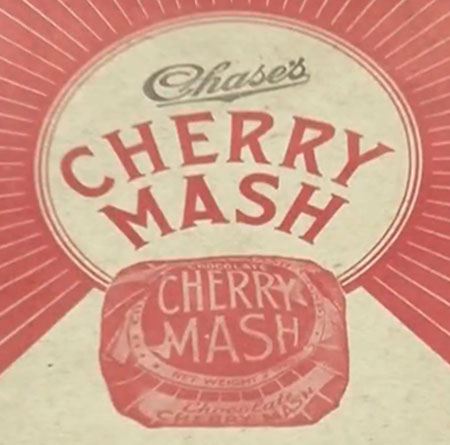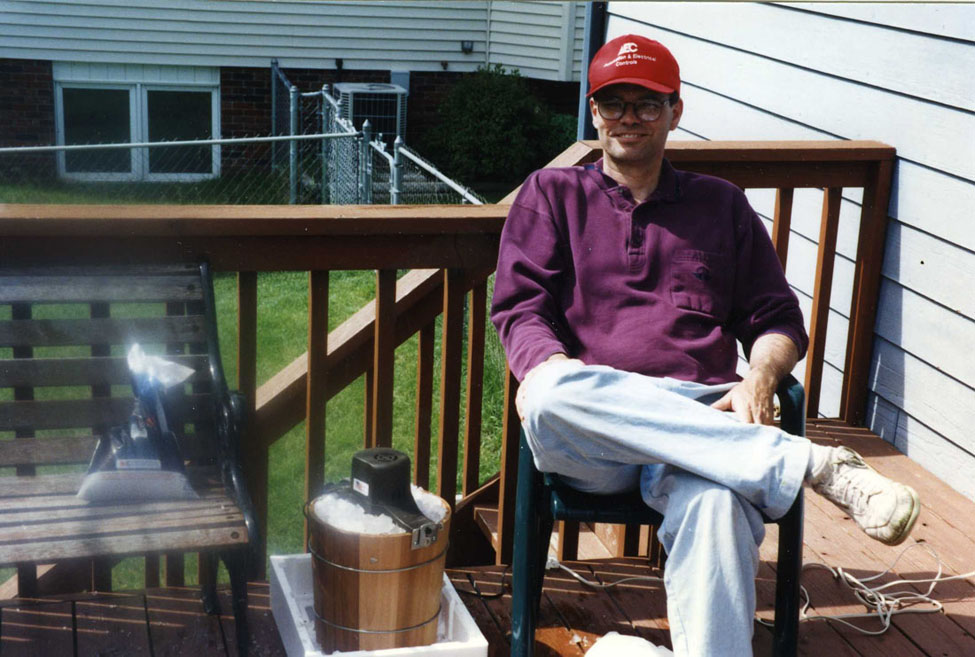 1992