The Phonograph and Its Future

Probability: Advertising, etc.

.
Advertising, etc. -- This class of phonographic work is so akin to the foregoing, that it is only necessary to call attention to it.
The phonograph by its very nature could speak for itself. The fact that the phonograph could capture the human voice and that consumers could buy such a machine and record their own voices was an early selling point.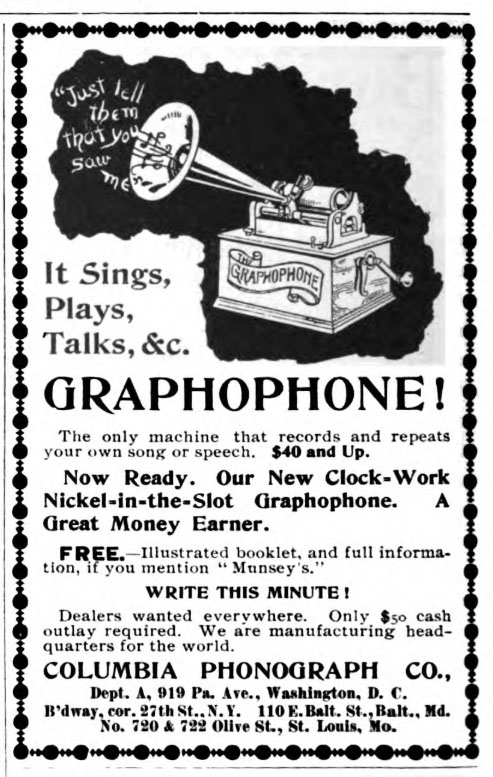 Munsey's, September 1896
This 1897 Berliner Gramophone emphasizes the human voice aspect calling it a machine that "Talks, Talk."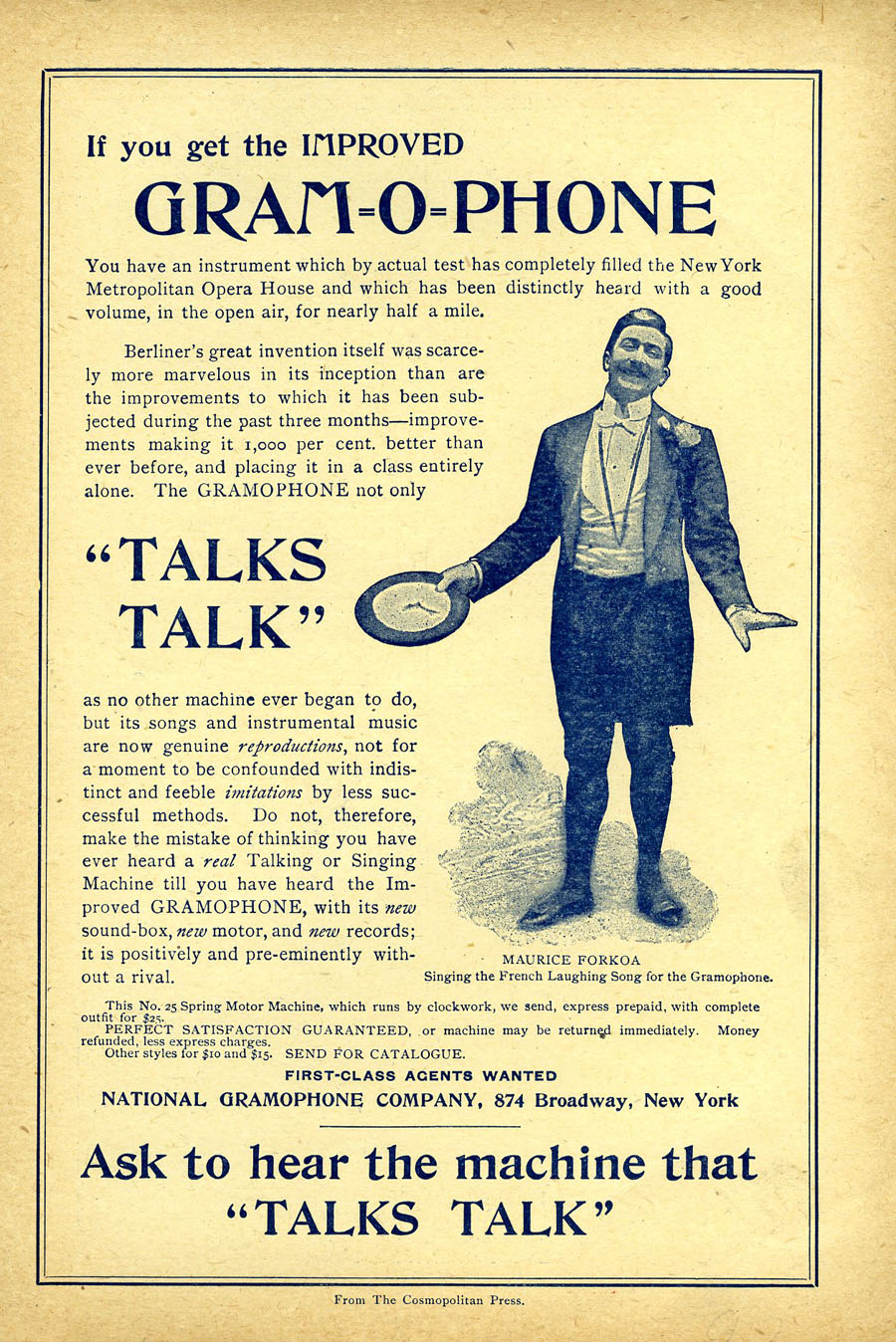 "Ask to hear the machine that "TALKS TALK" The Cosmopolitan, 1897
Besides being a machine that 'talks talk,' the phonograph could advertise itself. George Graham recorded an advertisement for the Berliner Gramophone sometime before June 1896 (the recording is not available but here is the transcript).
In the Edison Trade magazine The Edison Phonograph Monthly of October 1904 under the heading "An Advertising Record" there was a letter published suggesting that it might be a good idea to create a "good talking record that would dilate upon the merits of your Phonographs and Records." The conclusion of EPM was that they would make a decision in the near future but would be glad to receive from the trade suggestions as to what such a Record should say to a crowd of listeners."
That record was eventually created and the January 1906 issue of The Edison Phonograph Monthly announced its availability for Edison dealers. In February 1906 Edison sent an offer to each Dealer entitling them to a copy of this record which "we are loaning the trade for use in connection with store exhibitions."The record was expressed prohibited from being sold or given away to the public and was being loaned to the trade for 'store exhibitions."
The following includes the 'dilated' merits of the Phonograph detailed in the "talk" by Len Spencer with a link to the recording "An Advertising Record" courtesy of the UCSB Cylinder Audio Archive.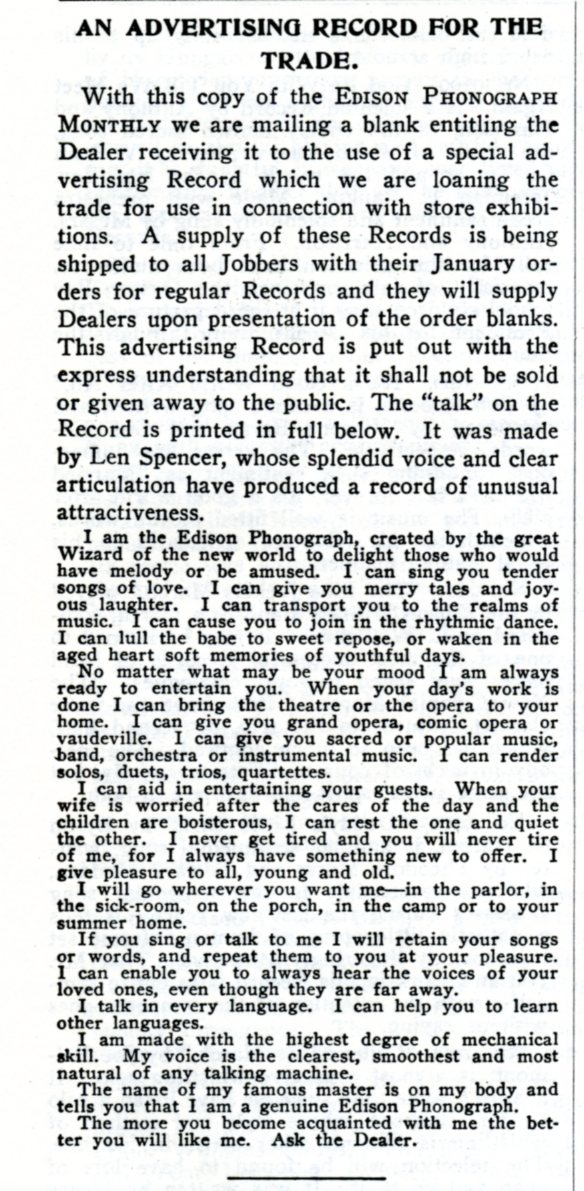 Form 935 Advertising Card - Delighted and Amazed 1905
The success of this advertising record was noted in the March 1906 edition of The Edison Phonograph Monthly saying there had been so many requests for the Record that "we may make it over, eliminating the last sentence "Ask the Dealer," give it a number and title and put it into the regular catalogue as a talking Record."
The Edison Phonograph Monthly, February 1906
Other consumer products would use the phonograph as their own sales representative by recording messages that were heard on early coin-in-the-slot 'jukeboxes.' Located in hotels, ferry depots, railroad stations, saloons, and other public places this was an opportunity for a passerby to perhaps even hear a phonograph playing band music or recitation for free -- with its advertising message.
An early example of an phonograph's use as an advertising machine was Gramophone Record No. 641 "Advertising Plant's Baking Powder" recorded by George Graham in Washington, D.C on May 26, 1896.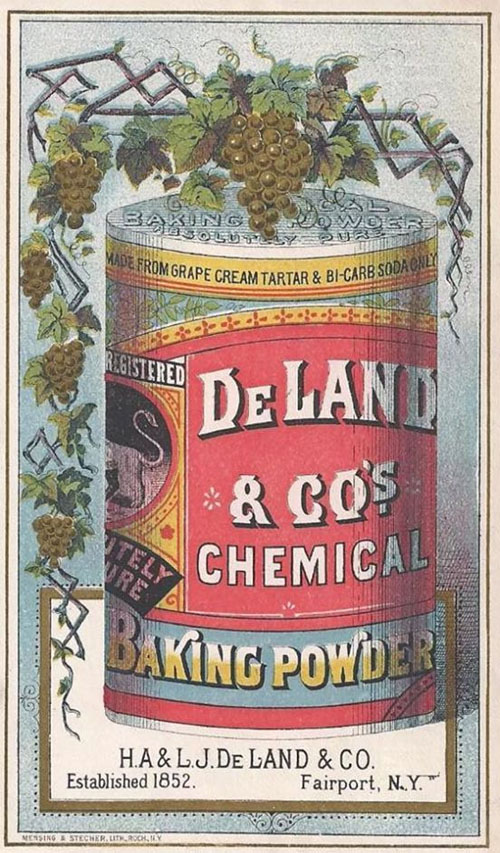 DeLand & Co Baking Power Tradecard - circa 1890 (By Unknown author - Collection of Lynn Purvis, Public Domain, https://commons.wikimedia.org/w/index.php?curid=41522971) and
By using the image of the phonograph 'speaking' an advertisement could also leverage the 'speaking' of the phonograph's horn to promote their own message.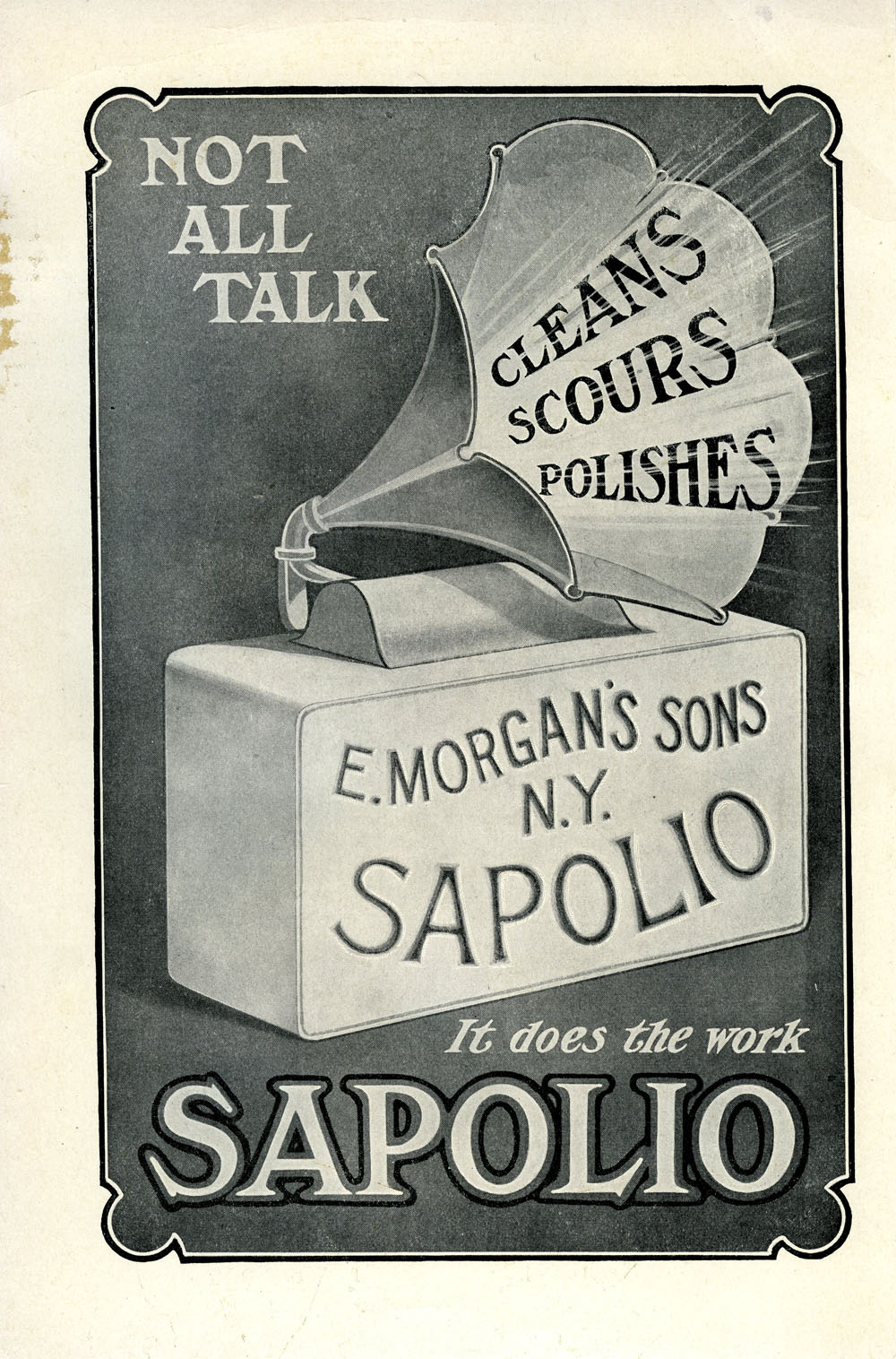 "Not all Talk," ad for Sapolio Soap, Appleton's magazine, 1908
Postcard showing Uncle Sam promoting Hub Gore shoes at the Columbia Exposition with Edison Phonograph providing his sales 'speeches,'1893
Hub Gore advertisement September 1889, Frank Leslie's Popular Monthly
Columbia made a special advertising record in 1913 with one side a sample of Columbia Recordings and on the other side "Good Night, Little Girl, Good Night" sung by Henry Burr for the special price of 25 cents (as opposed to their normal price of 65 cents.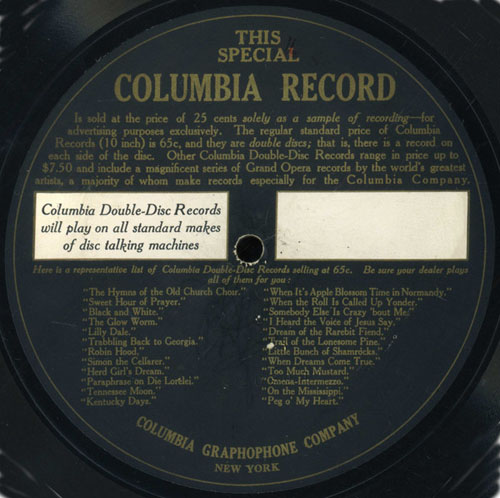 Courtesy of Discogs
Many other advertising records would be made throughout the years promoting the phonograph and other products.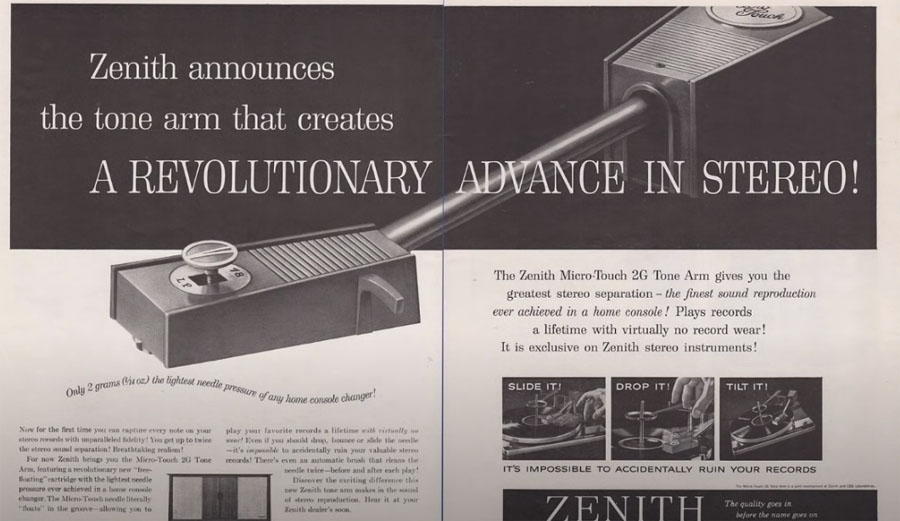 Listen to the Demonstration Record advertising the Zenith Micro-Touch 2G Tone Arm and other Demo Records.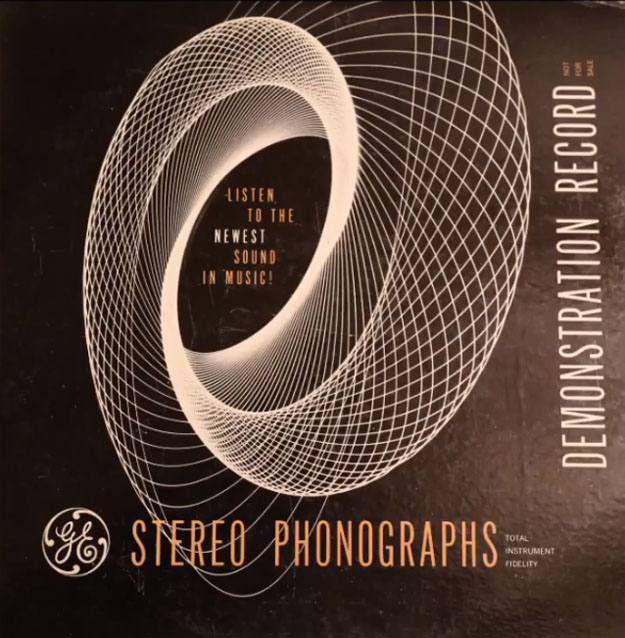 Demonstration Record for GE Stereo Phonographs
1964 Chevrolet Demonstration Record - a musical message from "Ben Cartwright"
And definitely check out my favorite site of flexi discs: Michael Cumella's Internet Museum of Flexi-Cardboard/Oddity Records and in particular ts gallery of Advertisement Flexidiscs.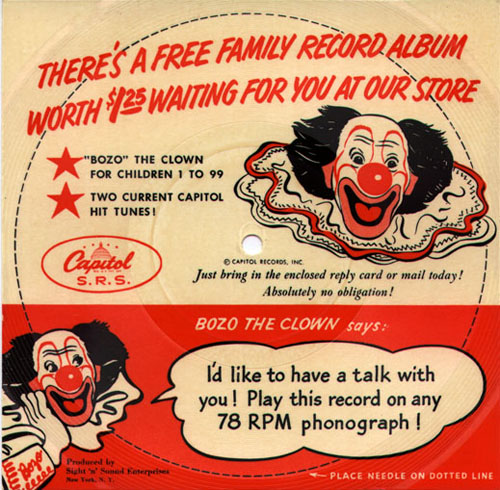 Bozo advertising record for Fedder's Air Conditioners (Courtesy THE INTERNET MUSEUM OF FLEXI/CARDBOARD/ODDITY RECORDS)
Phonographia