Youth and the Bright Medusa by Willa Cather ©1920, Alfred A. Knopf, Inc.
Geraldine Farrar, Prototype for Kitty Ayrshire
By Doug Boilesen, 2020

Geraldine Farrar has been identified as the prototype for Kitty Ayrshire in the two stories in Youth and the Bright Medusa which feature Ayrshire -- Scandal and A Gold Slipper.

Geraldine Farrar was a soprano opera singer with 179 records listed by the Discography of American Historical Records that she made for the Victor Company between 1907 and 1927. Farrar was featured in many Victor advertisements which used her celebrity status, artistic reputation, and the prestige of opera to help promote the phonograph to become a definitive home entertainment device by 1920.

Each book in Phonographia's Library of PhonoLiterature normally has at least one phonograph in its story. There is no actual phonograph identified in Scandal or A Gold Slipper, however, Farrar's significant connections with the phonograph and opera records and her prototype for Kitty Ayrshire put these two stories on Phonographia's bookshelf.

I created a multi-media presentation the 65th Annual Willa Cather Spring Conference titled "Willa Catherís Opera Prototypes and The Phonograph Revolution" to celebrate the one hundredth anniversary of the publication of Willa Cather's Youth and the Bright Medusa and to show its connections with opera, its prototype artists, and the phonograph. This page sourced that presentation along with Phonographia's gallery Willa Catherís Prototypes Who Were Recording Artists and Phonographia's gallery Geraldine Farrar - Recording Artist and Willa Cather Prototype.

Another connection between Cather and Farrar and the phonograph can be made with an article Cather wrote about Farrar in 1914 titled "Three American Singers" where Cather used the phonograph to explain the relationship between Farrar and those who put a Farrar record onto their phonograph.

The story of Geraldine Farrar's early youth is well known; it is the kind of story that Americans like. We admire success in which there is a large element of "luck," more than success laboriously won. We like a rich natural endowment, native "gift," fame in early youth. The mining-camp ideal obtains widely with us, and Miss Farrar's story is one that the ranchman or the miner can understand; it gratifies his national pride, meets his sense of the picturesque. When he puts a "Farrar record" into his phonograph, he has something of the feeling of part-ownership that our fathers had when they spoke of Mary Anderson as "our Mary." (1)

This page is also a reminder for readers of these two Cather stories to think about the connections between Kitty Ayrshire and her prototype Geraldine Farrar in the context of the culture where Farrar was an aspiring woman artist in the prestigous world of opera, a recording artist in the world of phonographs, and a significant promoter of records and the phonograph and the new world of home entertainment.

The examples showing Geraldine Farrar with the phonograph and its records could be called popular culture annotations and explanatory notes for Scandal and A Gold Slipper. I believe they are also glimpses into the consumer world of the growing phonograph industry that wanted phonographs in every home. To get into the home the phonograph industry saw opera and its prima donnas as important messengers to consumers.

Many phonograph advertisements can be distilled into a theme that the phonograph is the gateway to a Thousand and One Entertainments. Recorded sound was said to be like having artists such as Farrar actually in your home, performing just for you on your own Stage of the World with an unlimited repertoire, anytime and as many times as you wanted.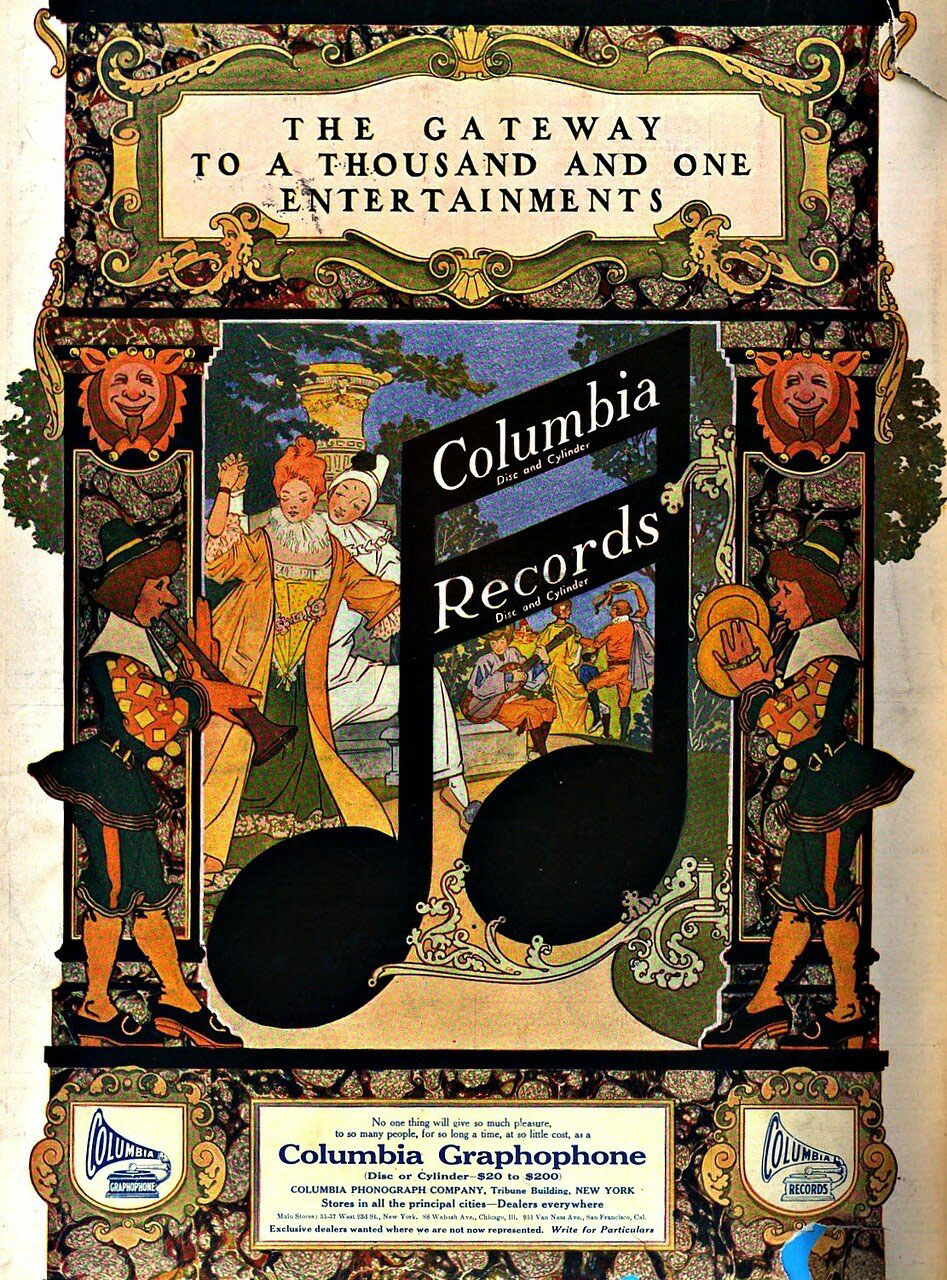 The Gateway to One Thousand and One Entertainments, Collier's, 1908

Cather clearly would not have supported advertisements promoting this suspended belief that artists actually came into your home nor the premise that the phonograph was a true substitute for opera and live performances. Cather did, however, give credit to Farrar for her success with her recording career and for her talent, above all, as a "singing actress."
She would play her own game in her own way, but there is something in her legend, in her personality, in her beauty and enthusiasm, that gets across to the American who is proverbially bored by the art in which she excels. I doubt whether Miss Farrar would be flattered by this. Like all young artists, especially those who have not had an artistic background, she is jealous of art for its own sake. But she must at least be pleased that the phonograph companies find it necessary to issue a new Farrar record every month, and this necessity comes about only because Miss Farrar has made herself heard even above the roar of the ball-park. (2)

"Farrar is, above all, a singing actress."(Courtesy of Willa Cather Archive)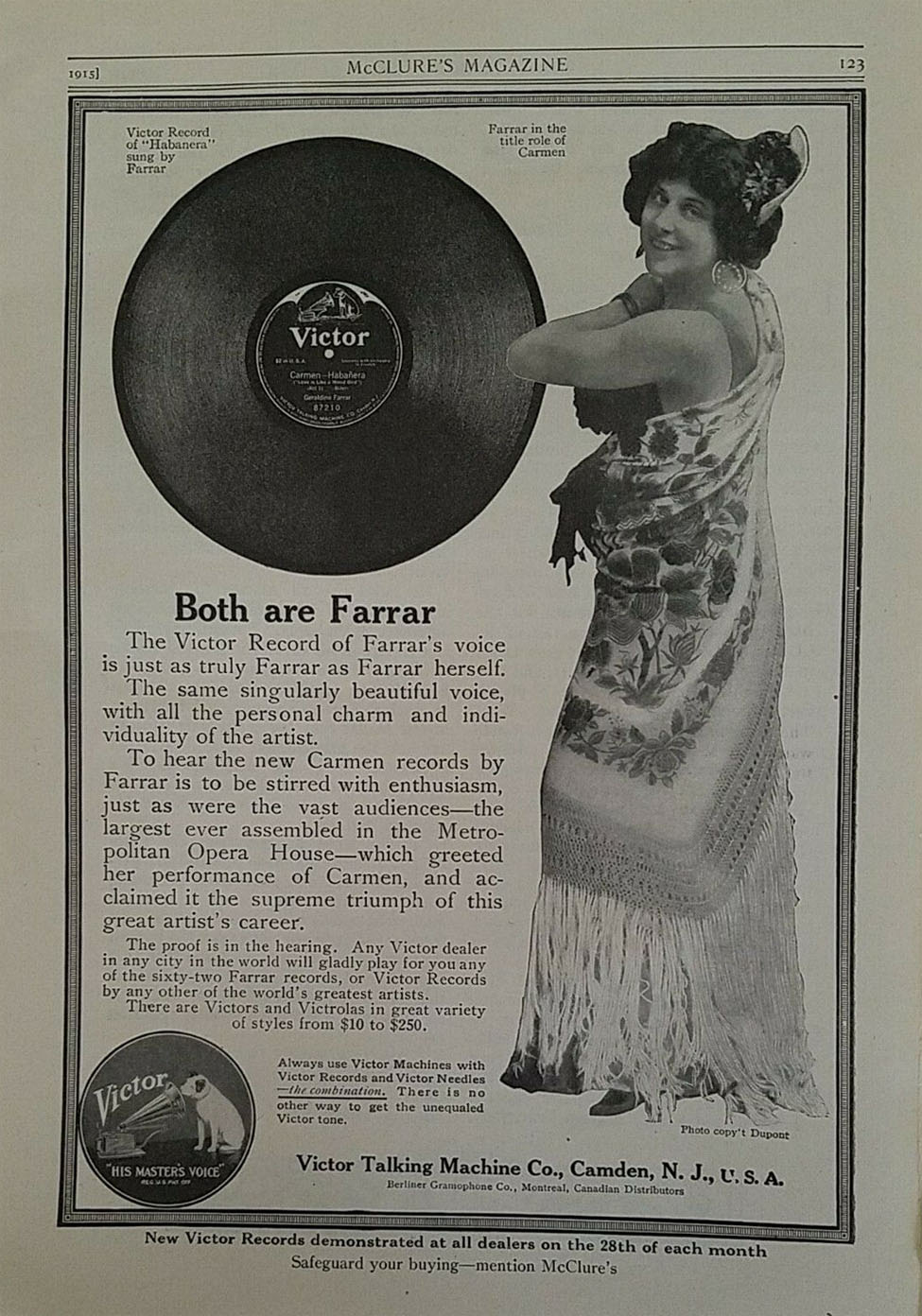 Both are Farrar, McClure's Magazine, 1915
See "Both are" for additional examples of the 1914 - 1916 advertising campaign which wanted to consumers to believe that what you were purchasing was "just as truly" the artist as the artist him or herself.

For examples of Farrar's place in popular culture and her advertisements which contributed her celebrity status, artistic reputation, and the prestige of opera to the promotion of the early phonograph visit Geraldine Farrar - Recording Artist and Willa Cather Prototype.

For an overview of the six Cather opera prototypes who made phonograph records visit Willa Catherís Prototypes Who Were Recording Artists.

Phonographia