The Valentines' Victrola
by Harriet Lummis Smith, 1919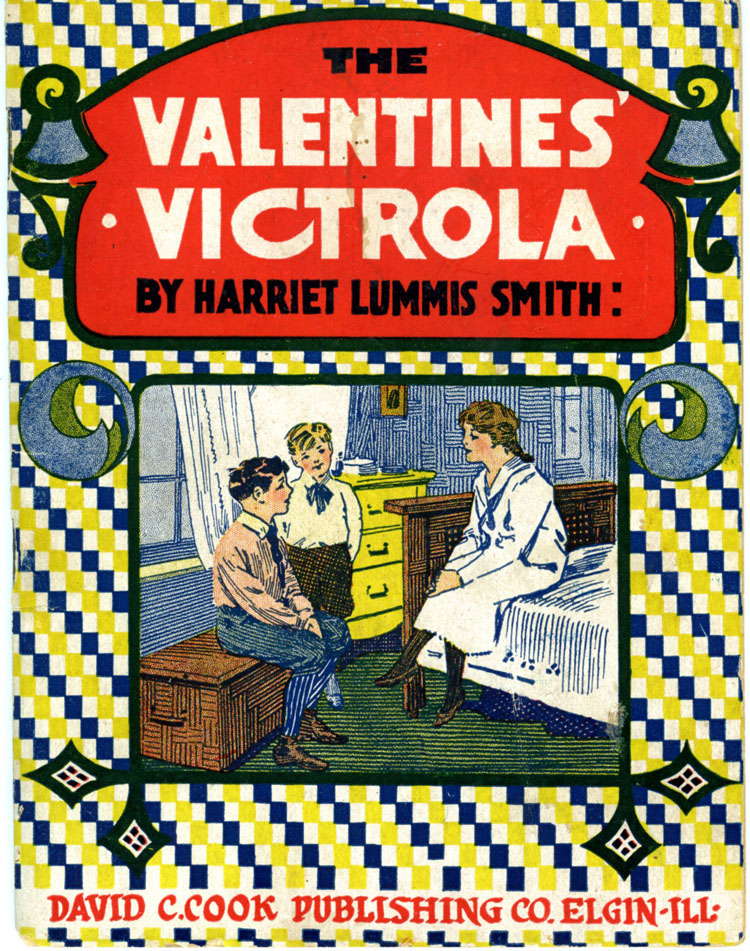 Chapter One
The story begins with a description of the modest cottage belonging to Mrs. Valentine, a widower, and her three children, Patty, Ben and Sandy where Mrs. Valentine also runs her "Dress-maker" business. The brothers have often talked about purchasing a Victrola but at this point it hasn't been discussed with their mother. The idea of buying a Victrola was for Patty just like when she was a little girl and she pretended that she was a princess, and their small cottage was a beautiful palace. In other words, Patty was against it because it cost twenty-five dollars and she knows her mother won't go into debt for anything and that it's a struggle for her mom just to cloth and feed all of them.
The boys are convinced that it is doable because you can simply pay two dollars each month.
"Mother would love a Victrola," Ben argued. "When we're all away at school, and she's lonesome , she could put on a record and have it sing to her while she's sewing. Phil Sturgis has a laughing song. In the chorus the fellow starts in to laugh, all in time to the music, and he laughs so hard that you most have to lie down on the floor and roll."
Patty soon gives in to the idea and decides that on a Saturday she will bring up the subject to their mother.
Mrs. Valentine, of course, is immediately dismissive of any purchase that would require going into debt. But when the family assembled for the midday meal she agrees that they can buy a Victrola but they will first have to save enough money to pay for it.
However, things change quickly as Mrs. Valentine has to make some alterations at the home of Mrs. Drake, one of her customers, and in the process learns that the Drakes had purchased a Victrola but quickly tired of it and had stored it in the attic for the last year. Finding that Mrs. Valentines children are interested in having a Victrola Mrs. Drake offers their Victrola and records to Mrs. Valentine for fifteen dollars, adding that she can pay for it whenever it's convenient. Mrs. Valentine said she would have to think about. "Take your time of course, Mrs. Valentine, but you won't pick up such a bargain again in a hurrry. I'm sure of that."
Chapter Two
A week after the Victrola fund had been started the children woke up to the "sound of the jolliest tune" ever heard. Patty thinks it sounds like a Victrola but Ben says it can't be "because we've got only thirty-eight cents towards it." A quick investigation results in a "shriek from Sandy" proclaiming the discovery of a Victrola sitting on a small table back of Mrs. Valentines' 'figure,' which at the present moment was wearing Mrs. Valentines' cloak and serving as an effectual screen."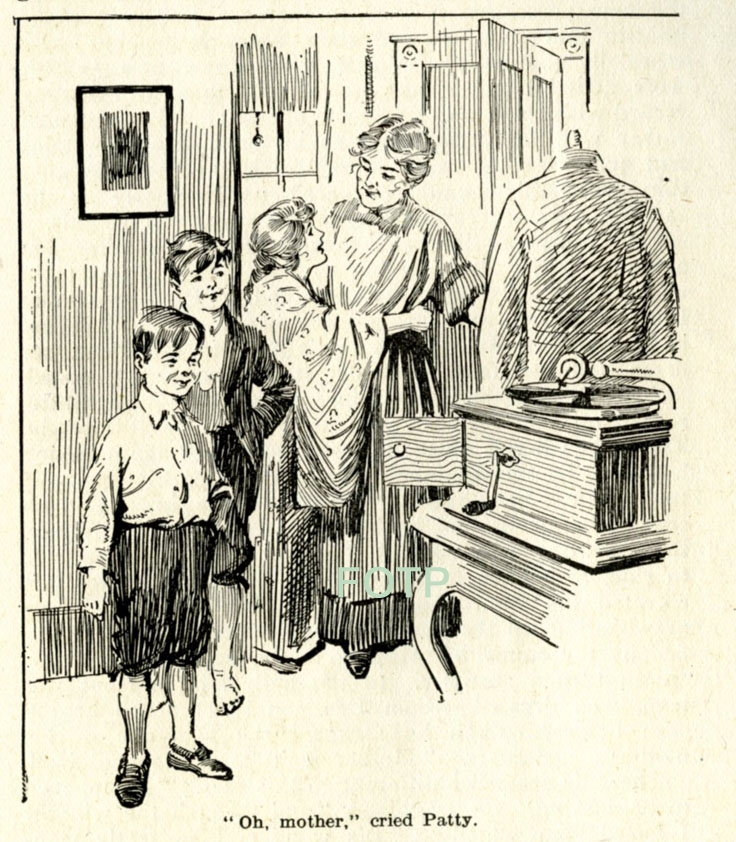 Mrs. Valentine then clarified that by purchasing the Victrola she hasn't gone back on her word about going in debt. "There never was a truer word than that getting things first and pay for them afterward, is putting the cart before the horse. But every rule's got exceptions, and this was such a good bargain that I couldn't make up my mind to let it pass."
"It was fortunate that Mrs. Valentine had chosen Saturday for her little surprise, for had it happened on any other morning, it is doubtful whether the children could have been ready for school in time, in spite of their early start."
There is a twist in the story when a woman, Mrs. Beachem, is passing by their house while Ben is whistling and accompanying a whistling record that he is playing. Mrs. Beachem thinks it's Ben whistling and compliments him for his talent. Ben, however, doesn't correct her misinterpretation and already he feels guilty.
Chapter Three
When Ben tells Patty about his deception, Patty lectures Ben that she doesn't want him to turn out like Uncle Stephen, the mysterious Uncle whom Ben has never been told about because he was so young when his Uncle disappeared. Uncle Stephen had talked their grandfather into loaning him two thousand dollars so that he could go study music. Their grandfather finally agreed to mortgage the farm to get the money and Stephen went off to music school. Stephen did send twenty five dollars, but that was it. They never heard from him again and eventually the bank foreclosed on the farm. "If it hadn't been for Uncle Stephen," Patty continued, "the farm would have come to mother, and she says she could have managed it herself, and made enough to take good care of us all."
A few days later Ben is "looking into a window of a music store in which was printed a placard announcing a number of new Victrola records." Mrs. Beachem happens to be walking by and taps Ben on the shoulder. After a bit of conversation Ben confesses about the whistling record. The two of them go inside and Mrs. Beachem asks the clerk play the whistling record. Ben's confession and hearing the record, however, results in Mrs. Beachem buying four records for Ben.
Ben takes the records home and plays them. When Ben puts on the fourth record on the machine "he announced with the air of a master of ceremonies, Ye Banks and Braes o' Bonnie Doon. He adjusted the needle and stood back and a melodious tenor began to sing the sweet, melancholy Scotch air."
"Suddenly, just as the song was ending the door opened, and their mother stood before them pale as death. "Stephen!" she gasped. "Stephen!" She staggered into the room, looking wildly about her while the music came to an end unnoticed. Patty rushed forward and seized her mother's hands.
"Oh, mother! what is the matter?" she was trembling like a leaf. It was something new to see her mother anything but her self-controlled, resolute self.
Mrs. Valentine dropped into a chair and took a sip from the glass of water Patty brought her. Her face as still colorless.
"I heard -- your uncle's voice."
"It was just a record, mother darling," explained Patty soothingly. "A lady gave it to Ben and three others. Wasn't that lovely of her?"
"It was--" Mrs. Valentine spoke haltingly, as if there was some obstruction in her speech, "your uncle's voice."
"No, honestly, mother, it was a record." Patty was beginning to be frightened. "Play it over again, Ben, so she'll understand."
Ben obeyed, and again the tenor voice was lifted in the sweetly poignant melody. Patty turned triumphantly to her mother, and was transfixed to see the tears coursing down her face.
'"Why, mother--"
"Sh!" Mrs. Valentine raised her hand in warning and Patty subsided. None of the four moved till the song was done.
"Bring the record to me, Ben," said Mrs. Valentine, in a choked voice, and Ben obeyed. She held it to the light where she could read the inscription.
"Ye Banks and Braes o' Bonnie Doon," Stephen Cuthbert, tenor, with orchestra accompaniment." She paused as if to get a fresh grip on her self-control. "I knew I couldn't be mistaken in his voice. That's your Uncle Stephen."
"But, mother, your name wasn't Cuthbert."
"Your uncle was named Stephen Cuthbert. He always said that Hatch was no name for a musician, and I suppose he dropped it. Well, anyway, I'm glad to have my children hear their uncle's voice, if it's only on a talking machine."
Chapter Four
Following this discovery about her long-lost brother Mrs. Valentine loses focus and is not herself. Patty is worried about her and decides to write a letter to her Uncle Stephen. Ben suggests that perhaps Mrs. Beachem can help them get this letter to their Uncle so they take the letter to her and she agrees to help.
The letter does indeed reach Uncle Stephen who then returns to America, reunites with his sister and her children, and joy returns to the Valentine family, all because of the Victrola.
"And to think I was afraid buying that Victrola was an extravagance," Mrs. Valentine said one day." It's the best investment I ever made."
Come into a Music Store, request to listen to a record and buy records or needles for your talking machine.
Bonnie Doon (Ye Banks and Braes o' Bonnie Doon sung by Henry Burr with orchestra, Victor Record Number 16162 (Matrix Number B-2460) recorded on August 21, 1908 (Courtesy The Library of Congress)