Vinyl Culture
The Temporary Sound Museum, Munich, Germany 2008
Munich, Germany Vinyl Culture Exhibit - The vinyl record is an "historic document, a vehicle for time-travel and an inventory of the second half of the 20th century..."
Serendipity struck during our Christmas visit to Munich in 2008 when we went to a concert at the Gasteig and saw a poster for "Vinyl Culture The Temporary Soundmuseum". This exhibit was on the second and third floor foyers of a building next to the concert hall so we made sure to see it. It included 500 objects (mostly phonograph albums and records) displayed in 20 cases. After returning home I found its website which displays over 80 record players and many of the records. The following introduction was written for the exhibit:
Along with the disappearence of the vinyl record a special part of our culture is vanishing, normally disregarded and not found worth of preserving. Being part of pop and mass culture, records (and their relatives) are not seen as a valuable cultural expression. And belonging to the still neglected world of sound does not help either. The exhibition Vinyl Culture tries for the first time to introduce the record as a historic document, a vehicle for time-travel and an inventory of the second half of the 20th century, unrestricted by borders drawn by genre or nostalgia.
The Tempoary Soundmuseum
The Temporary Soundmuseum is a comprehensive and constantly expanded archive interested in the vinyl culture conveying data and vibes of contemporary and recent history.

The vinyl has always been a medium not only of music but also of propaganda by everyone with a message, political, religious, philosophical and other aspects of weltanschauung.

The unusual archive comprises areas like ethics, politics, military, art, environment, science, advertisement, graphics and design, to records by the Muzak Corporation and other rather uncollectibles (go to the text archive for examples). It obviously consists mainly of records and covers, but includes also all the different variants like sounding postcards or flexis, fragile containers of all kinds of elusive messages.

The small but exquisite collection of about one hundred record players shows the various stages of design and raises the question why all the colourful and fanciful units of the 1960ies and 70ies were replaced all of a sudden by boring black and grey boxes.

Every museum of design worldwide displays the same Brauns and Bang & Olufsens, beautiful classics, but less influential as far as our pop consciousness is concerned.
Click here to view some of the soundmuseum's albums displayed
Courtesy of vinylculture.org
Here is the text that accompanied "VINYL CULTURE: The Temporary Soundmuseum"
The Vinyl Record: a (mostly) black disc, overwhelmingly present from 1950 -1990, declared dead before the turn of the millennium, remembered as the medium of pop culture and representing an era of recent history, seemingly gone, but still not extinct, kept alive not only by djs, club culture and collectors.

Undeniably the vinyl record represents an important and even constitutive element of the cultural landscape of the 2nd half of the 20th century. Compared to the cd, the record was much more then a piece of material carrying randomly recorded data. In a slight variation of Marshall McLuhan's famous quote one could say that it (sometimes) was the message itself.

Therefore the vinyl record was able to represent much more then any other commercial sound container. Fashions and attitudes were expressed, the cover alone was at the same time promise, directory and independent piece of art.

Narrowing the attention on pop culture alone though misses all the other messages, entrusted to the grooves. It is one of the basic discoveries of The Temporary Soundmuseum that there is hardly an acoustic statement of any kind not showing up on a vinyl record. Literally everyone has tried to take advantage of this once modern medium to reach a public beyond the lovers of classical or popular music.

Thus a body of material of great cultural and historical relevance has been generated whose importance has to be acknowledged yet. The 'cheap' mass-production tends to overshadow the 'valuable' cultural assets. While every still- or moving picture (photography, film, video) is somehow understood as part of a greater heritage (or at least the possibility of an aesthetic reception is given at any time), everything concerning sound is generally overlooked, adding to the reasons why the vinyl record (including its relatives like flexies and singing postcards etc.) is not valued as an object of cultural significance or source material for researchers of recent history.
2014 Stranger in Paradise Temporary Exhibit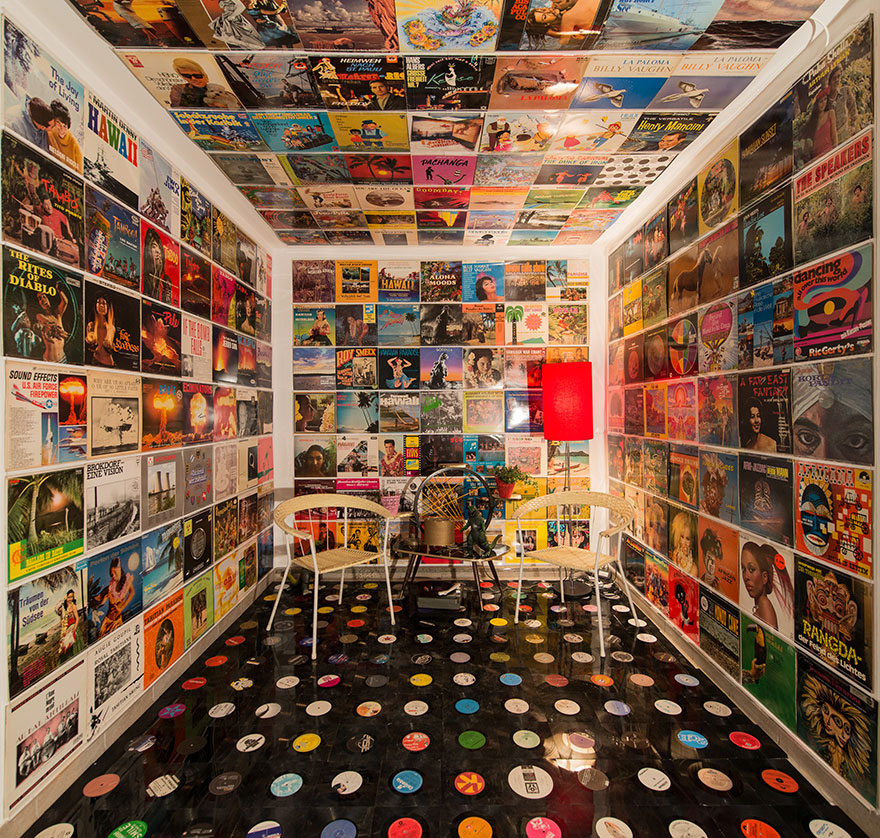 2014 Stranger in Paradise Temporary Exhibit
Installation. 287 Record Covers: Exotica, Pacific, Hawaii, Nuclear Power, Godzilla. A floor made of vinyl records. Small table. Lamp. Garden stools. Two Godzillas. Commissioned by the Kallmann-Museum Ismaning 2014, for the group exhibition "Elswhere - Sehnsuchtsbilder in der modernen Kunst (Depicting Longing in Contemporary Art)"

Visit Vinyl Culture's Soundmuseum for links (like 2014 Stranger in Paradise) for other temporary exhibits staged since 2006 in various venues in Germany.