1900-1905 Ads

Delight and Celebrated Artists Enter the Home
Before 1900 celebrity music wasn't what the public expected to hear on the coin-in-the-slot machines or on the early records that came into the home. But the home phonograph market continued to grow and after 1900 the "Whole Range of Music" began to open up. The "great singers, players, orchestras, entertainers of every sort" that had been generically referenced in previous year's ads now had artist's names that became part of phonograph advertising. The "Joy" and the "Delight" the phonograph promised were still seen in ads describing the phonograph's "pure musical tones" and "sweetness." But the names and pictures of Caruso, Scotti, Plancon, Sousa, Calve, Sembrich, Schumann-Heink, Camanari, Edouard and Jean de Rezki, Adams, Gilibert, Tamango, and others were what truly started to change the reality of what the phonograph offered.
In 1903 a Columbia Phonograph announced "Grand Opera on Talking Machines in your own Home" calling it
"a most extraordinary achievement marking an epoch in the art of recording and reproducing sound: For the first time in the history of the Talking Machine Art successful records have been made of the voices of the world- renowned singers."
It wasn't technically the first time in history for renowned singers to be recorded since Gianni Bettini and others had recorded famous opera stars in the 1890's and in 1898 Bettini had published a record catalogue that included twelve pages of famous artist offerings. But once Columbia, Victor and Edison started making records in the early 1900's the 'world-renowned singers' referenced in national magazine ads changed the consumer conversation regarding home entertainment.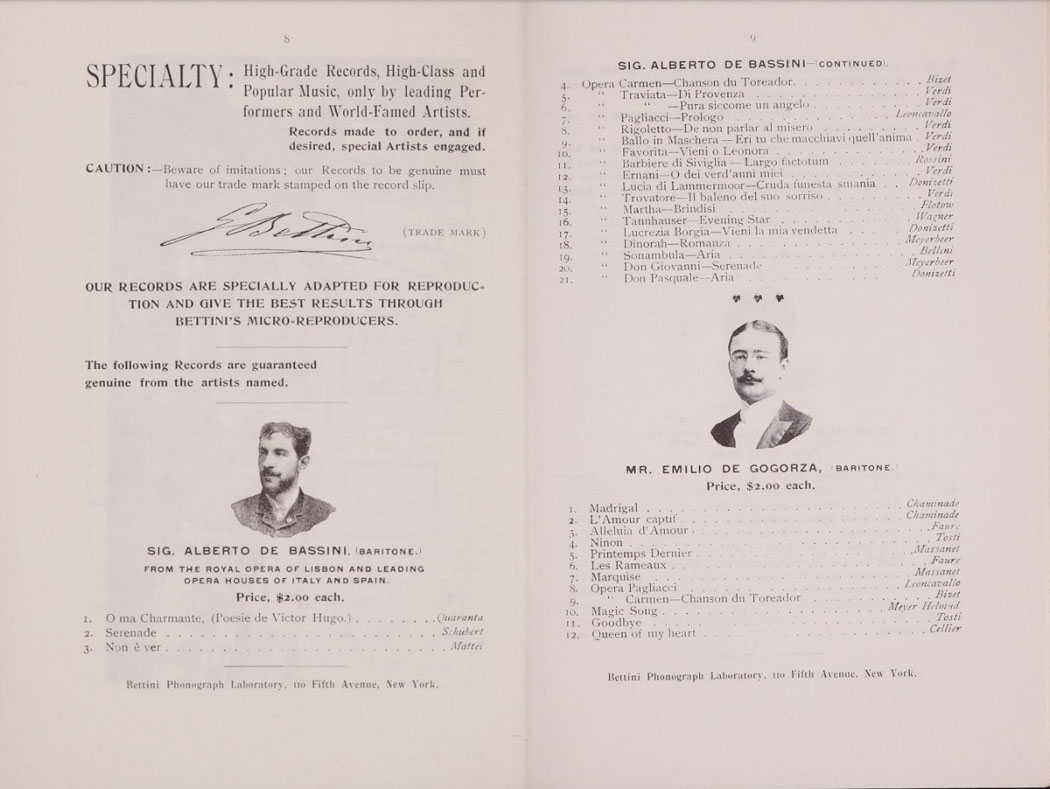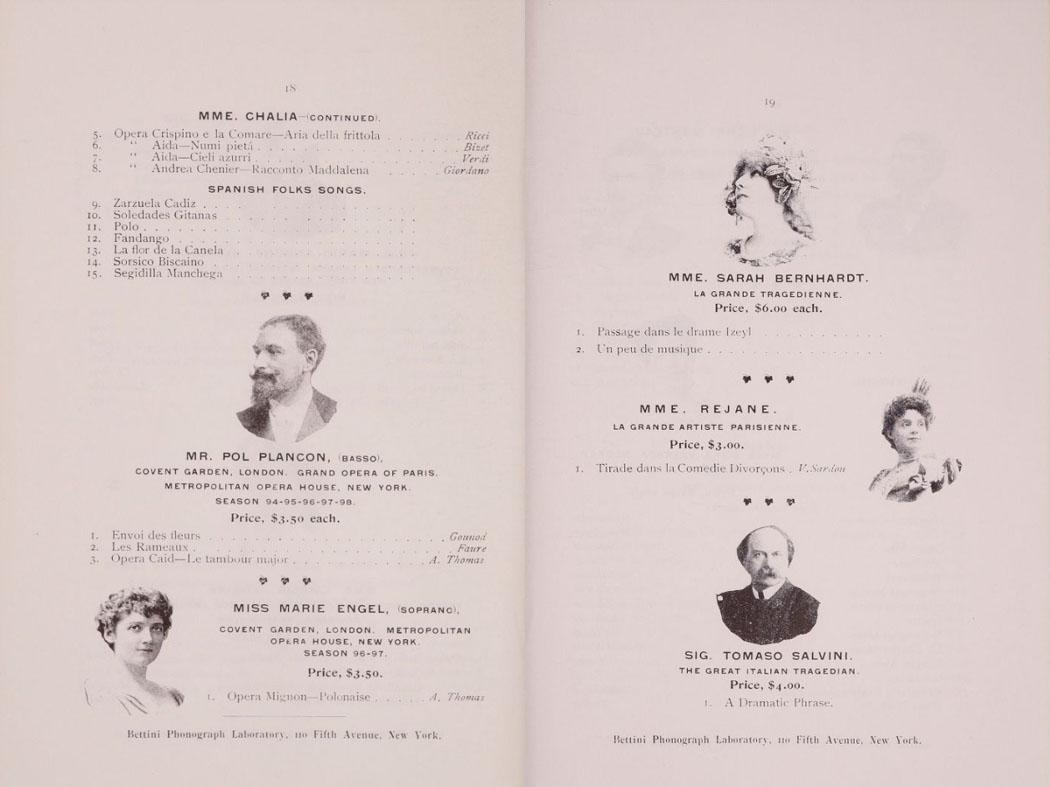 Bettini 1898 Catalog with Specialty Records by famous artists pp.8-9 and 18-19 Courtesy Stanford University Libraries (3)
In 1904 the first full page advertisement by Victor devoted to a single artist, Enrico Caruso, was published following his 'exclusive contract" that he signed with Victor.
The following ads are some examples of how the phonograph industry started introducing celebrated artists into the home at the turn-of-the nineteenth century and how the phonograph became "a perfect musical instrument."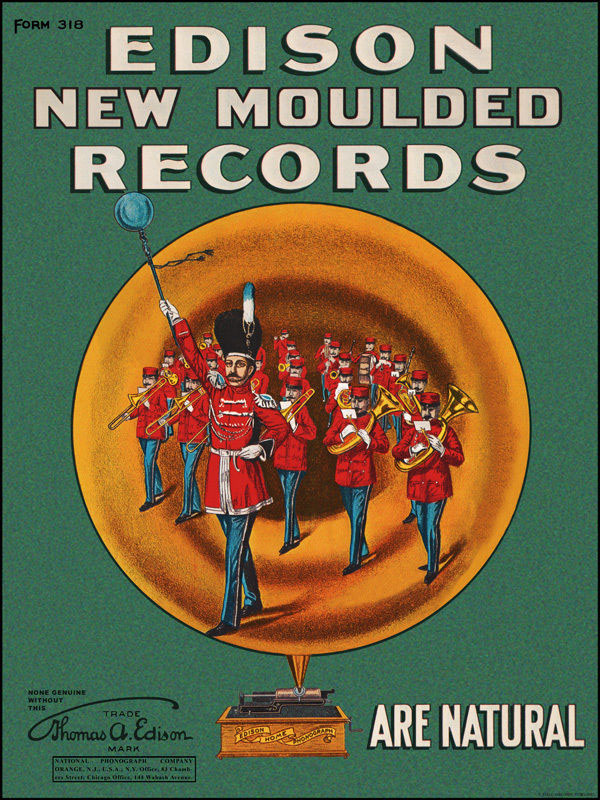 Edison Poster Form 318, c. 1901
The Cosmopolitan, 1901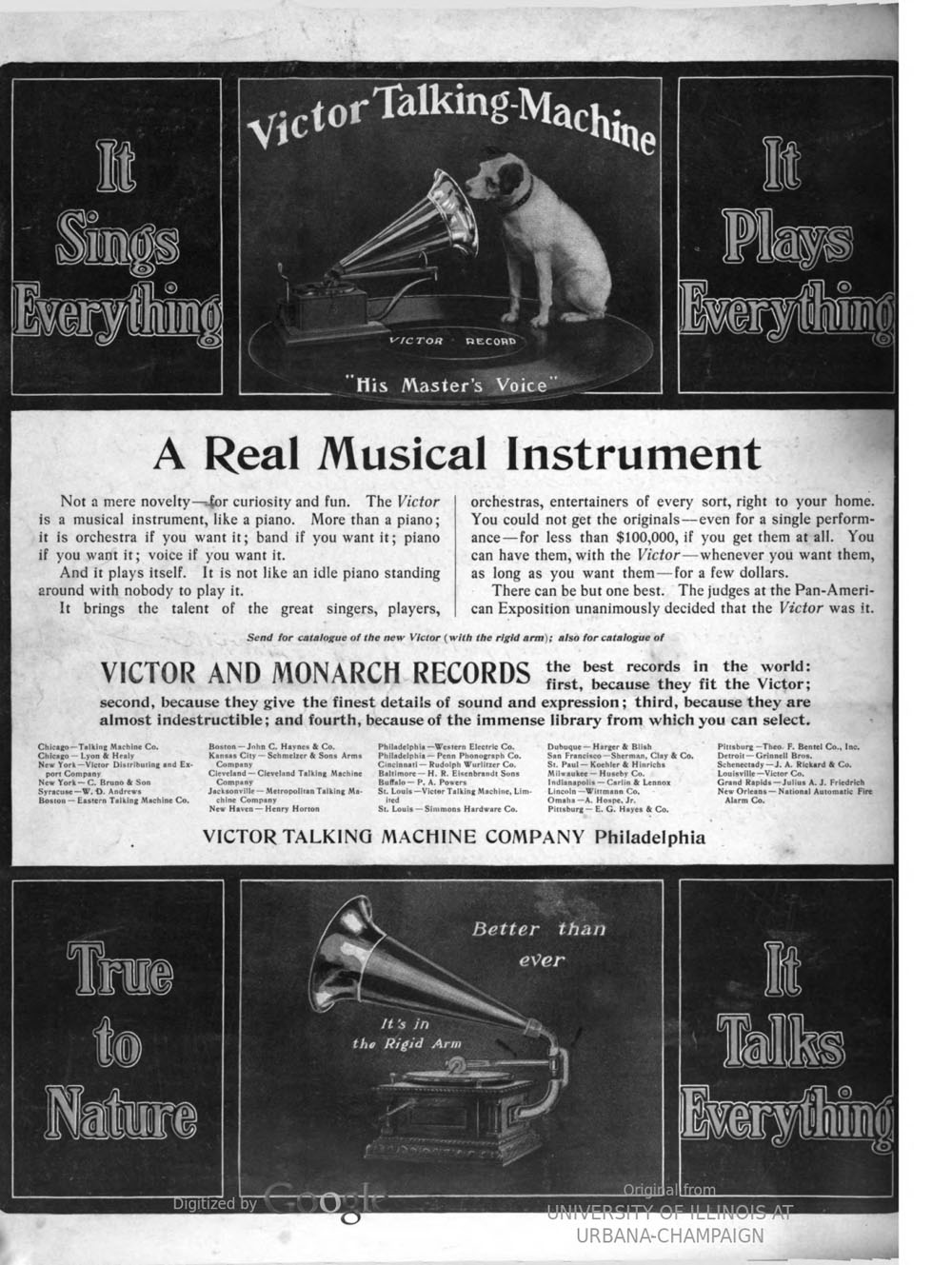 "You could not get the originals -- even for a single performance - for less than $100,000..." The Saturday Evening Post, January 31, 1903
The Saturday Evening Post, April 25, 1903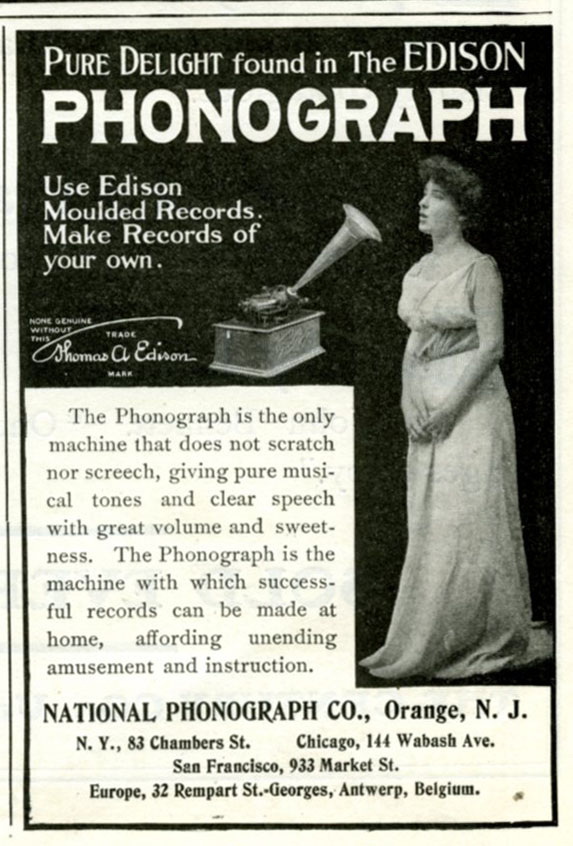 March 1903
See variation used in another Edison ad in The Saturday Evening Post, March 28, 1903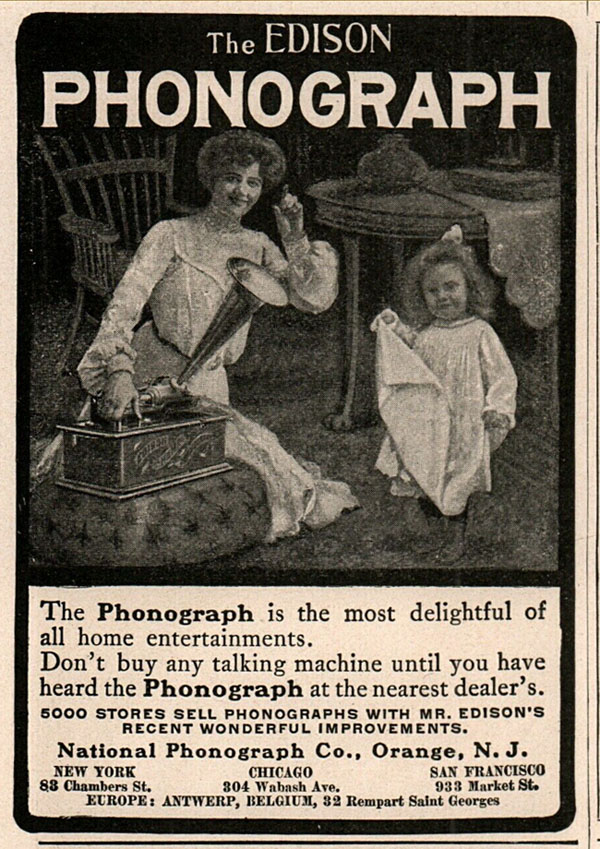 The Saturday Evening Post, July 18, September 19, October 24, 1903 (1/12 page ad)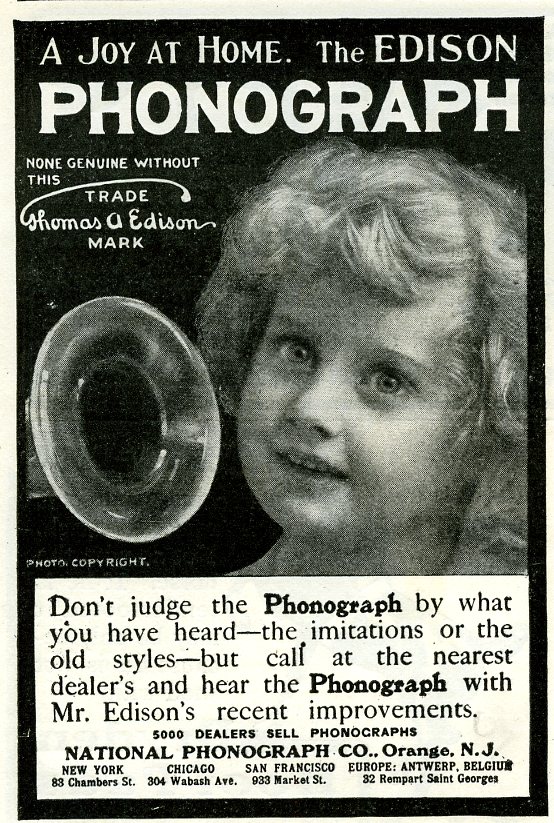 The Saturday Evening Post, November 21, 1903 (1/12 page ad)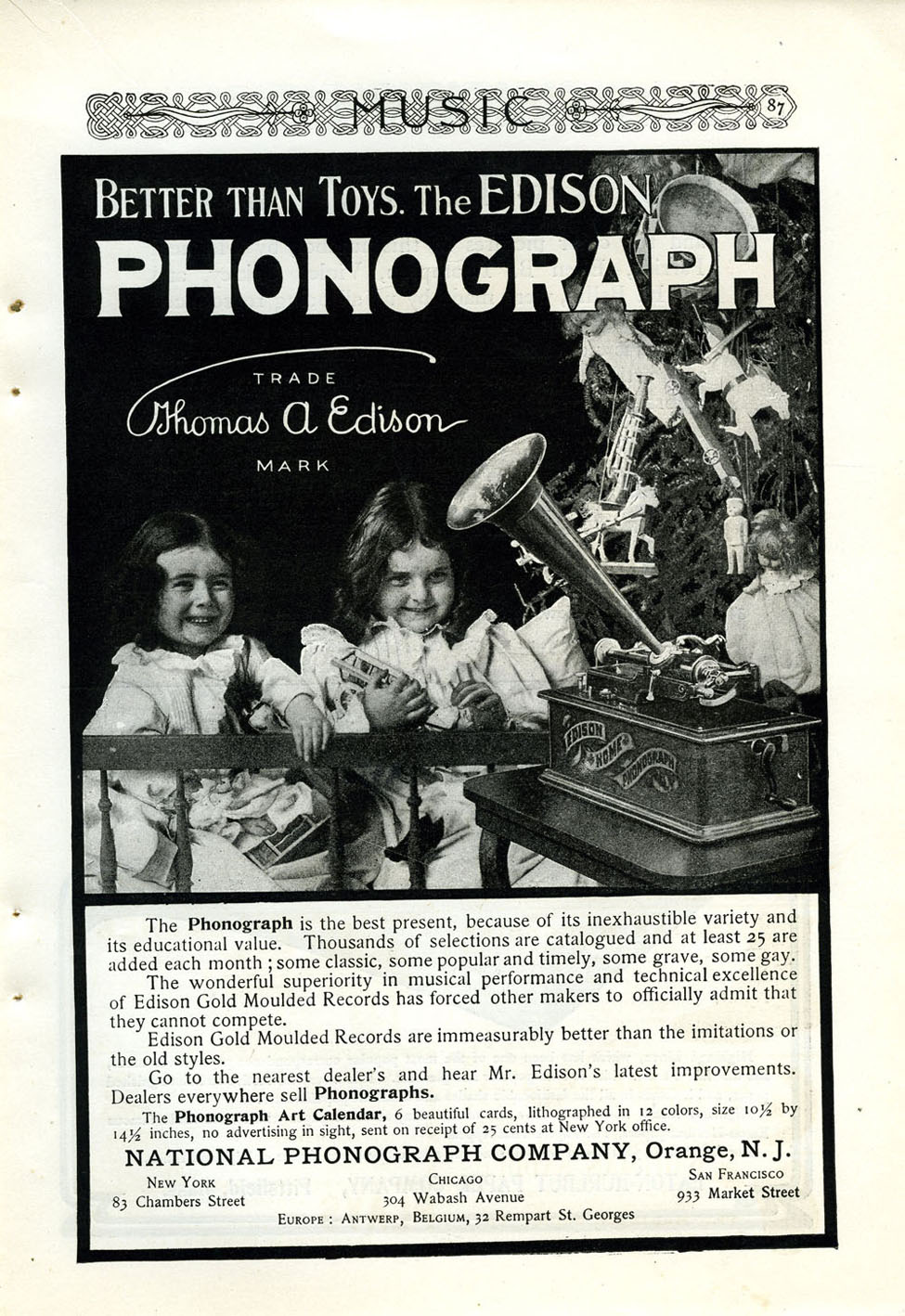 1903
(Also, 1/12 page ad in The Saturday Evening Post, December 5, 1903)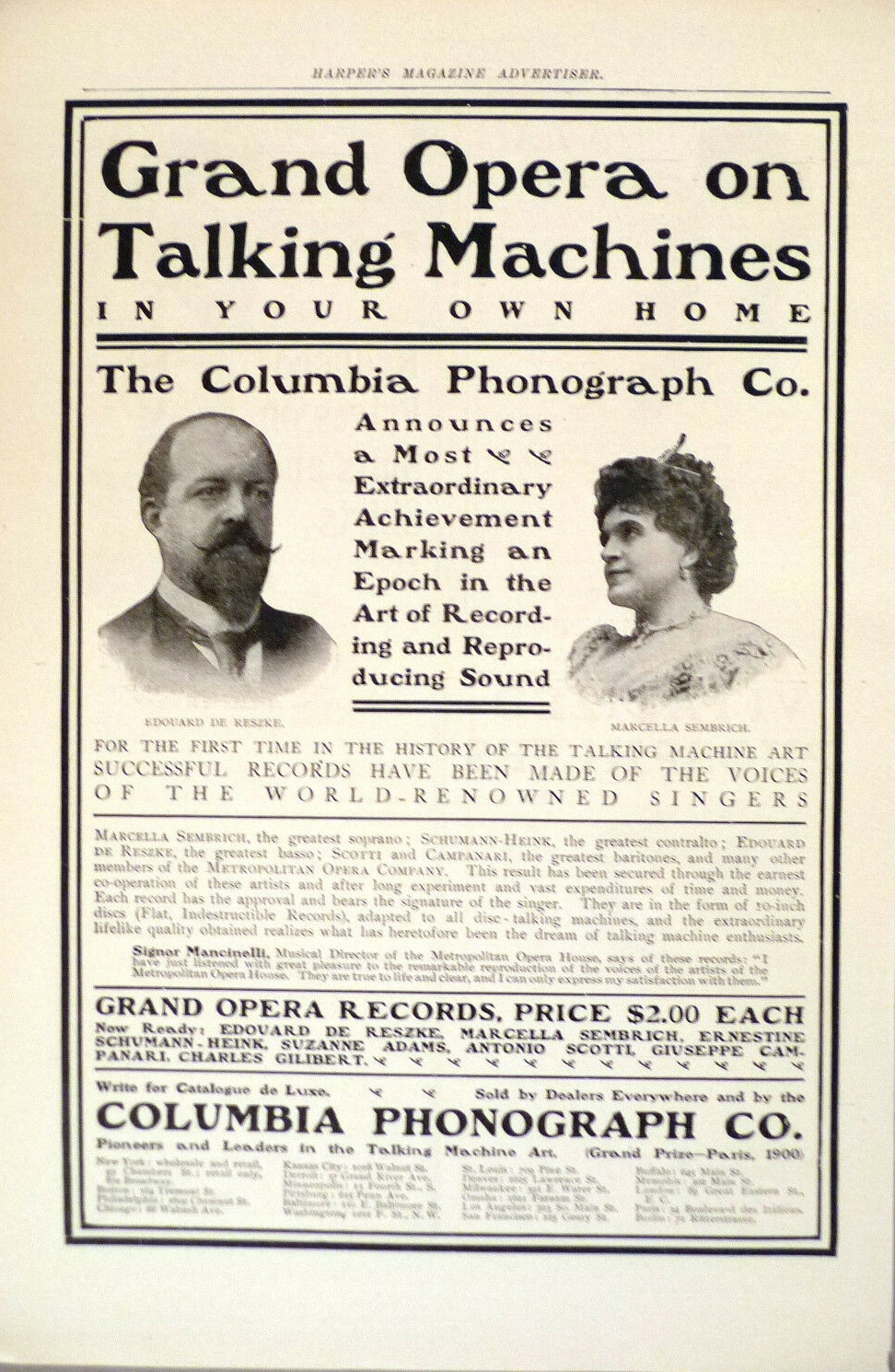 1903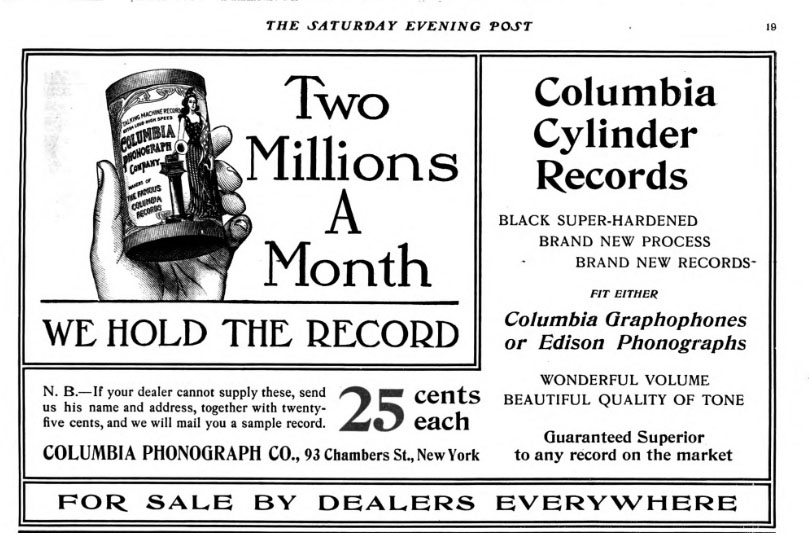 The Saturday Evening Post, December 19, 1903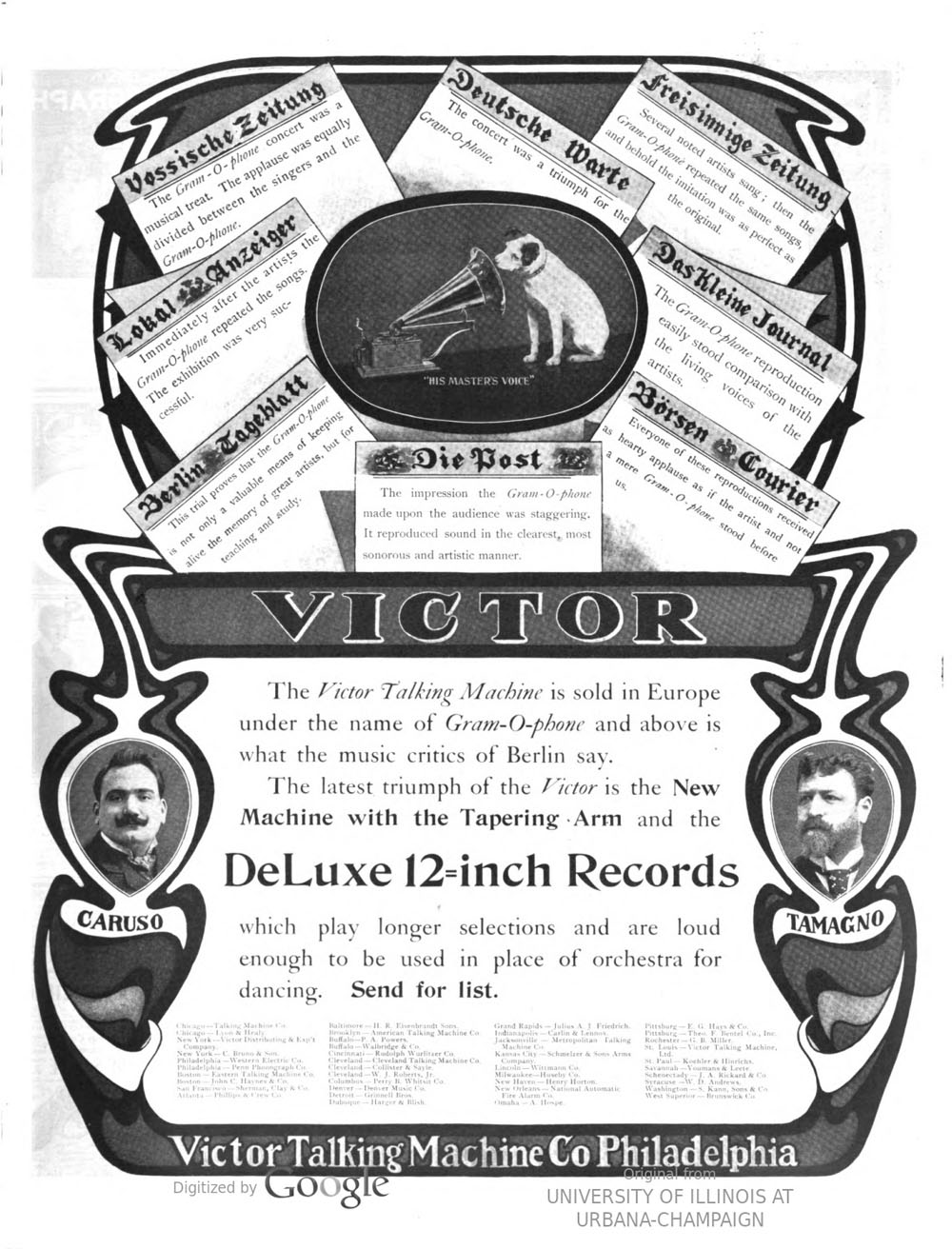 "Several noted artists sang; then the Gram-O-Phone repeated the same songs, and behold the imitation was as perfect as the original." The Saturday Evening Post, October 24, 1903 - pictures of Caruso and Tamagno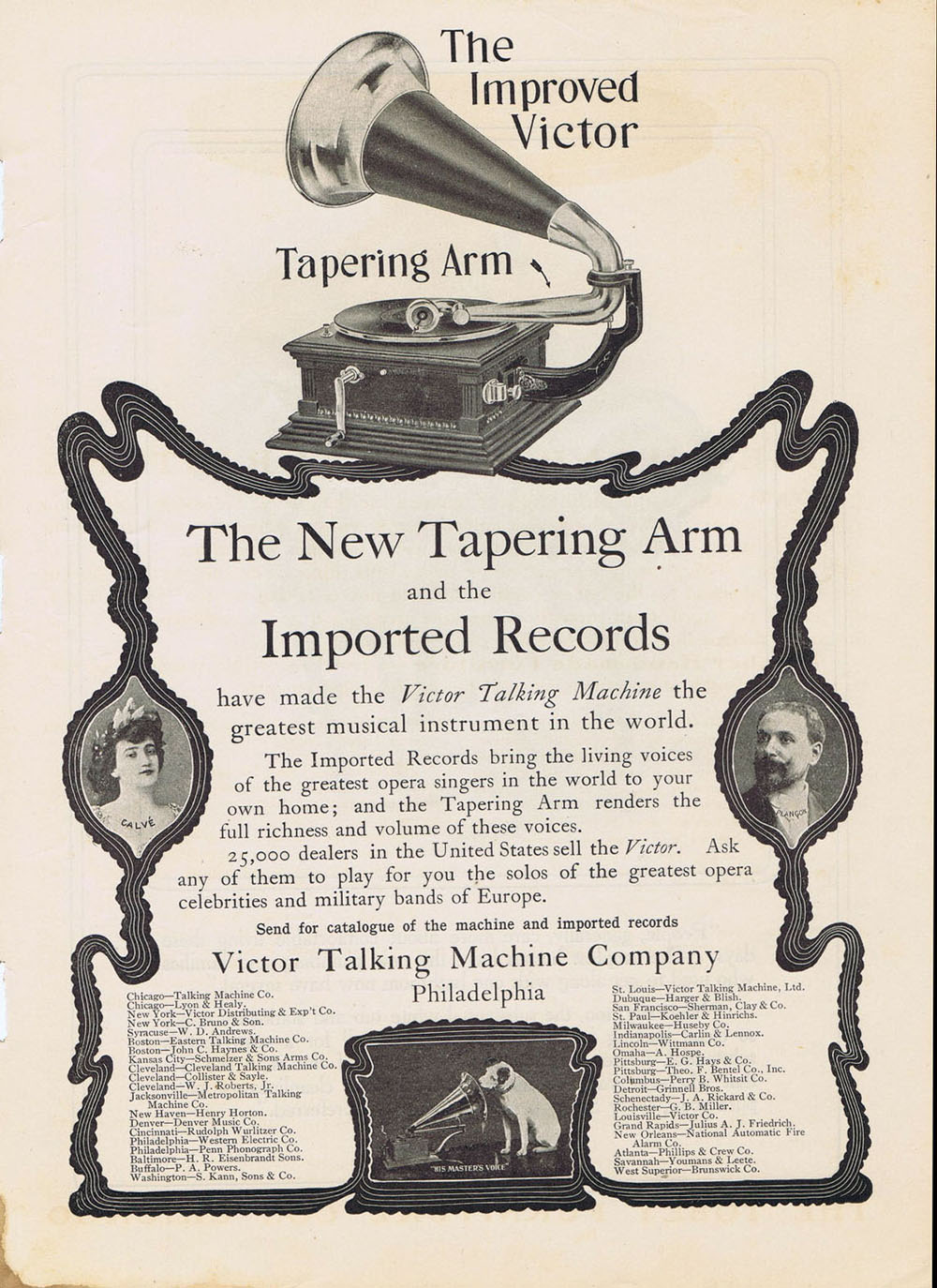 1903 Victor Imported Records - pictures of Calve and Plangon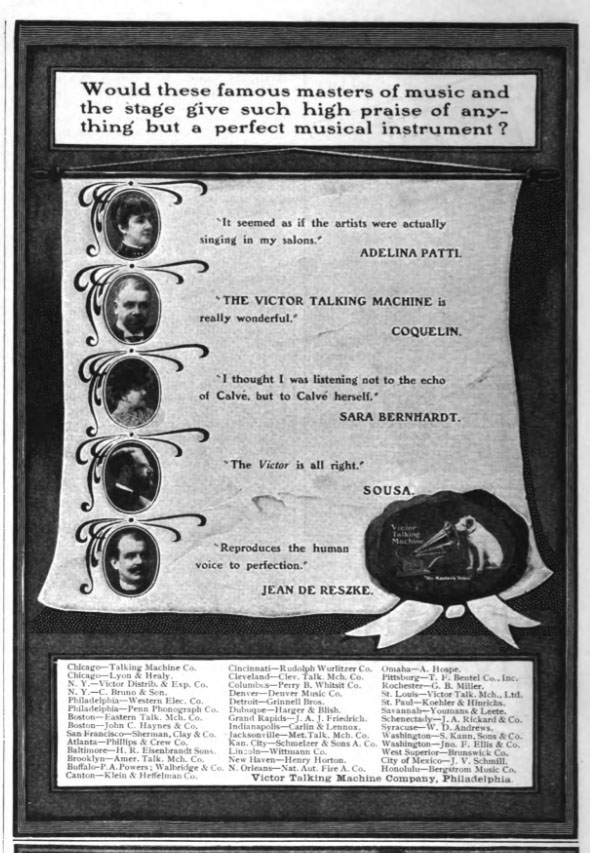 "A Perfect musical instrument." The Saturday Evening Post, January 30, 1904 (1/4 page ad)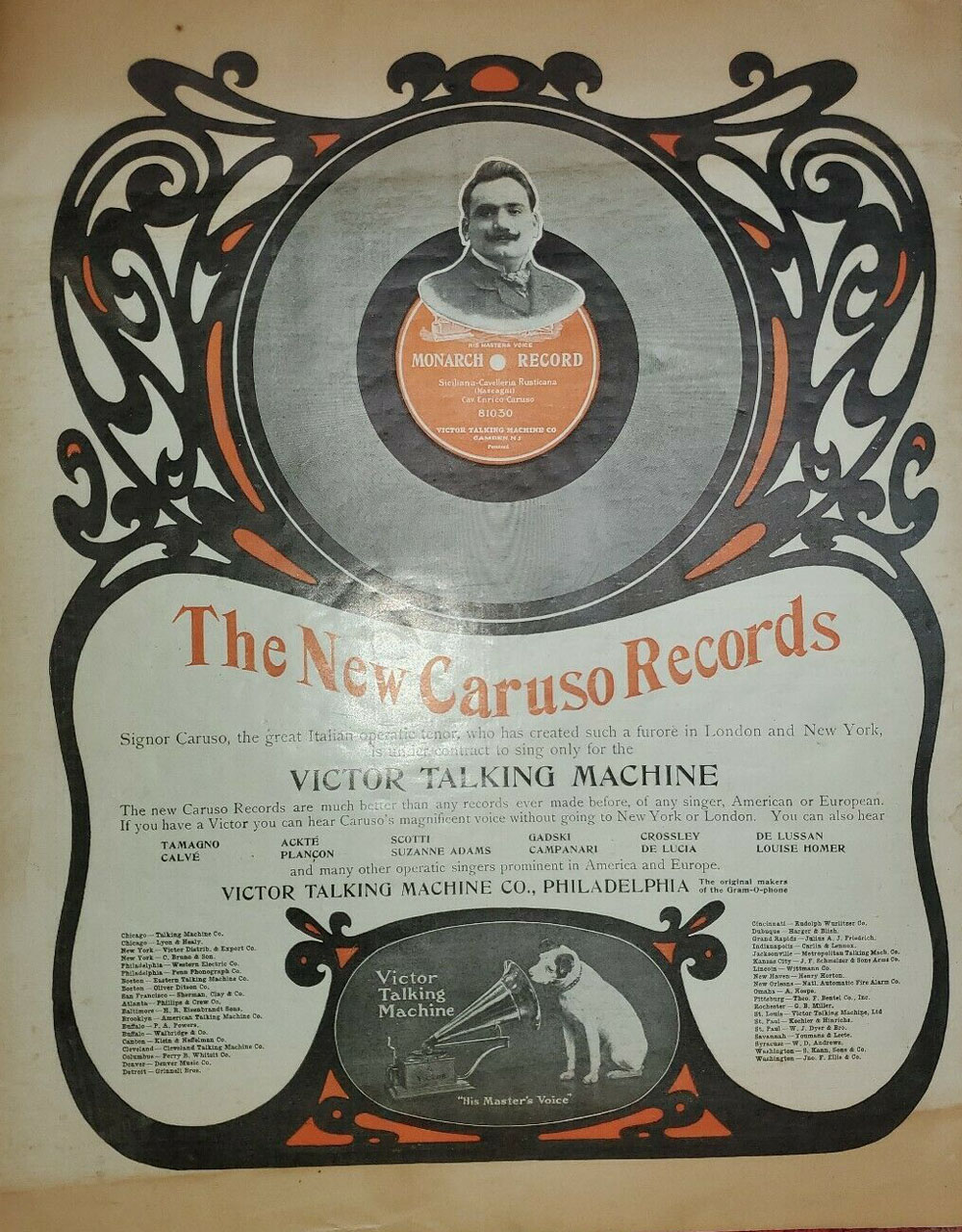 The Saturday Evening Post, April 9, 1904
According to David Suisman in Selling Sounds, this was the first full page advertisement by Victor "devoted to a single artist. The text emphasizes both the reputation Caruso had in Europe and his exclusive contract with Victor." (2)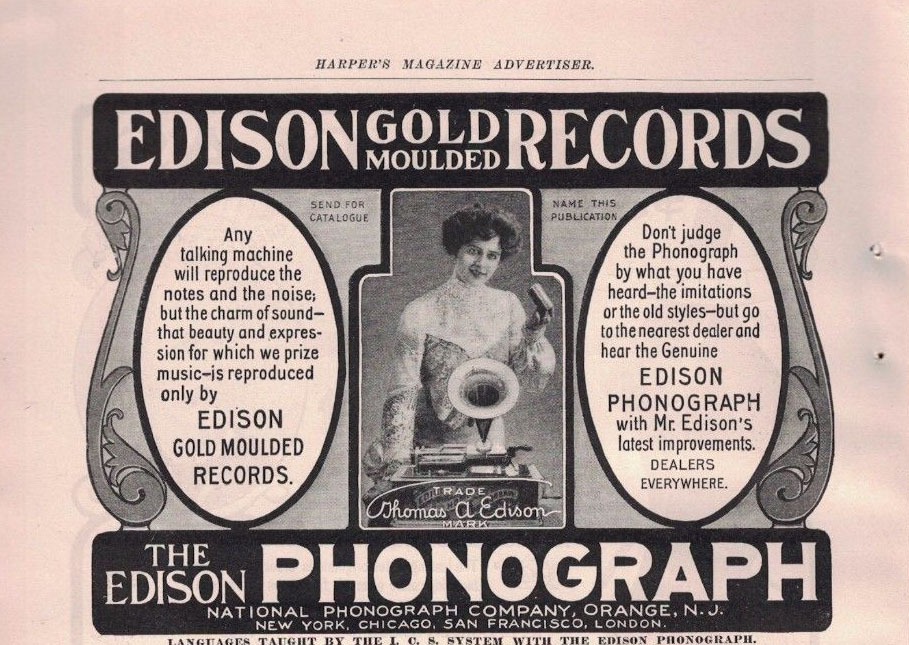 Harper's Magazine, 1904 (1/2 page ad)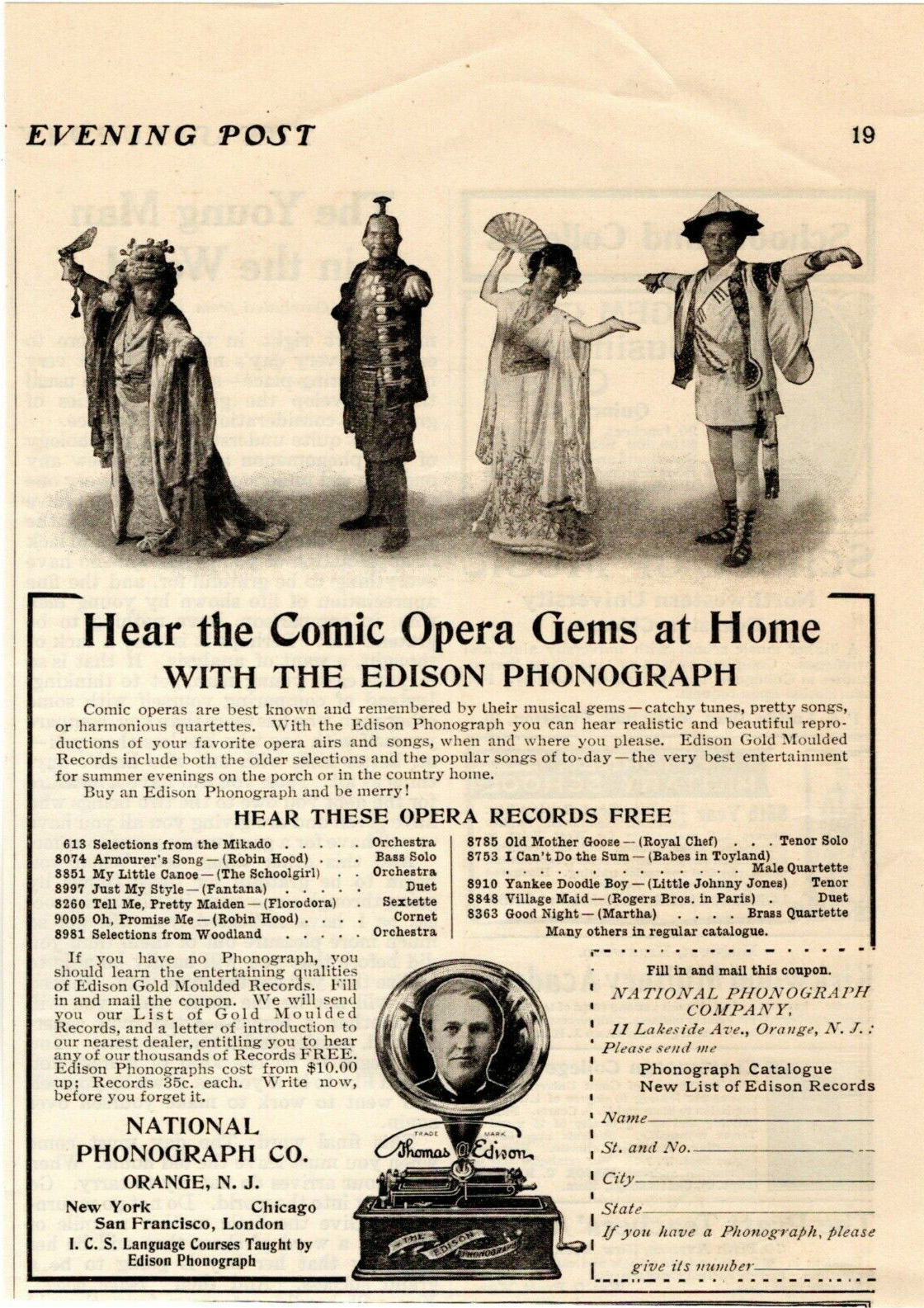 The Saturday Evening Post, 1904
Phonographia