The Victrola™ makes a reappearance... and a discovery is made about "Victrola" in 2016
BED BATH & BEYOND catalogue, $69.99. June 9, 2016
Brookstone, on-line $59.99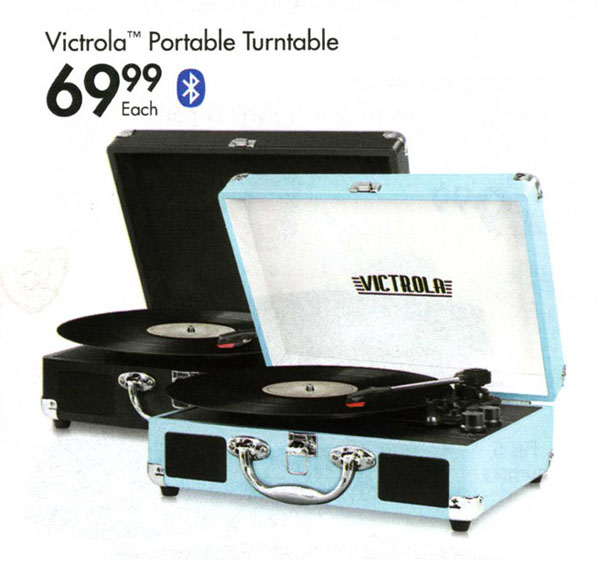 I recently received a BED BATH & BEYOND catalog in the mail and saw the above ad for a Victrola™ portable turntable.
Being a Friend of the Phonograph I was naturally interested in a 2016 turntable that was being labelled a "Victrola."
The word "Victrola" originates from the name given to the internal horn talking machine that was introduced by the Victor Talking Machine Company in 1906. Moving the gramophone's horn inside a piece of cabinetry was designed to appeal to consumers who wanted aesthetics and recorded music for their home and the removal of a large horn protruding into their parlor.
The Victor-Victrola was a huge success and internal horn machines would become the new standard for how elegance and function could merge in cabinets. Later ads would even describe these talking machines as musical 'instruments' partly based on their newly refined appearance.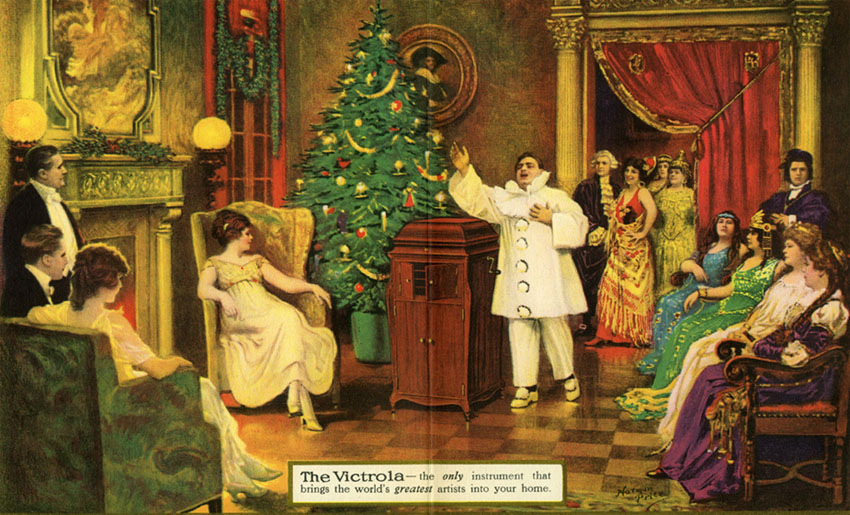 This Victrola 1919 advertisement with Caruso performing in the home illustrates the advertising approach and popularity of the Victrola.
The Victrola was so popular that in later years it became a generic term for referring to any old style record player (much like the adoption in the United States of all record players being called "Phonographs" even though Edison's "Phonograph" was a trade-marked name and originally a cylinder, tin-foil playing machine).
In language certain trade-marked names have become a generic term for a whole group (e.g., Kodak for cameras, Kleenex for facial tissues, Phonographs for all record players) with the Victrola included in that list.
The Radio Corporation of America bought the Victor Talking Machine Company in 1929 and continued to use the word Victrola for decades. RCA was taken over by GE in 1986 and broken up (see Wikipedia RCA Trademarks).
So that's a brief history of Victor's Victrola.
Getting back to the BED BATH & BEYOND advertisement which included a TM with the "Victrola™ Portable Turntable" and which triggered this PhonoLink, I was interested in who now owned this trademark and who was making this machine.
Brookstone also sells this "Vintage Bluetooth Turntable Victrola" and I did find in one of their ads a reference that this turntable is made by Innovative Technology. When Googled, I learned that Innovative Technology now apparently owns the Trademark for Victrola:

The Innovative Technology web site shows how their world of Victrolas goes beyond this 3-speed Vintage Bluetooth Turntable. And it also confirmed that they own the Trademark "Victrola.":
© 2016 innovative technology. All rights reserved. Victrola™, Bright Tunes™ and Justin™ word marks and logos are trademarks of Innovative Technology Electronics Corp.