PhonoArt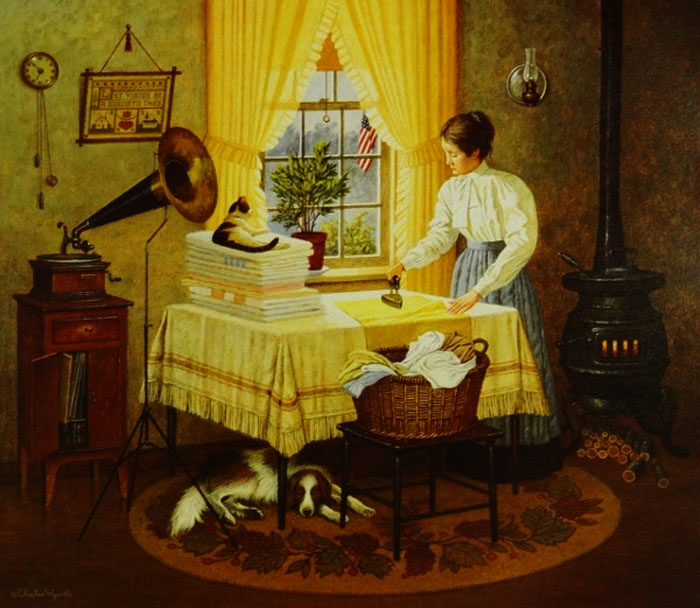 Phonograph Connected Art in Museums and Pop Culture
Arrangement with Phonograph, Mask and Shell
Artist: Jan Matulka, circa 1930

Media: Oil on canvas

Location: National Museum of American Art, Smithsonian Institution, Washington, D.C.

Description: This gramophone is a spring-powered disc player (note crank on right-hand side) with an internal horn and open grill. This model is typical of table top 78 rpm record players of the 1910's and 1920's.

Interior with Phonograph (Interieur Au Phonograph)

Artist: Henri Matisse, 1924

Media: Oil on canvas

Location: Private collection.

Description: This interior scene is from the Matisse period where he featured colorful assortments of fabrics and textiles.The wallcoverings, drapes, rug and tablecover provide a rich setting for the open horn phonograph partially cut-off in the picture. The record player is a disc machine and appears to be a wooden horn model.

His Master's Voice

Artist: Francis Barraud, 1898

Media: Oil on canvas, 36" x 28"

Location: Unknown

Description: Barraud's terrier named Nipper listening to the Victor Talking Machine. Painted 3 years after Nipper's death, this painting, originally sold to the Gramophone Company, became the trademark of the Victor Talking Machine Company. Edison had an opportunity to purchase this image (with an Edison machine displayed instead of a Gramophone) but declined. See the Nipper Gallery for more related Nipper Art.

The Phonograph

Artist: Massani, circa 1905

Media: Oil on canvas

Location: Unknown

Description: Edison used this painting (in this case as an advertising postcard) in literally hundreds of thousands of Edison Phonograph advertisements.Massani's painting was titled "The Phonograph" but it is often called "The Old Couple.

Getting Things Ironed Out with Caruso

Artist: Charles Wysocki, circa 1980

Media: Oil on canvas

Location: Unknown

This turn-of-the-century domestic scene depicts a contented cat and dog listening to a phonograph while the woman of the house does the ironing.

Phonographes

Artist: LUCIEN BOUCHER, 1925

Media: Lithograph

Location: Private collection, No. 357

Description: Original lithograph from Boucher's series illustrating Paris shopfronts. They were gathered together as the album Boutiques in 1925 for prose poems by Mac Orlan. Printed and published in a total of 520 copies by Marcel Seheur, all on Arches paper. Sheet size: 225 x 185 mm ; Image size: 105 x 105 mm

Moscow Cafe 1916

Artist: Boris Mihajlovic Kustodiev, 1916

Media: Oil

Location: © Bridgeman Art Library / Tretyakov Gallery, Moscow, Russia

Dog School

Artist: Arthur Thiele, c.1925

Media: Unknown

Location: Image from postcard

Gramophone

Artist: Alexander Calder

Media: Unknown

Location: Unknown

Description: Alexander Calder's signature is written inside the sylistic spiraling grooves of a record (see closeup to the right of the poster)

Cat and Gramophone

Artist: Unknownr

Media: Oil

Location: Unknown

Description: This Nipper style scene features a cat (instead of the Victor "Nipper" terrier) listening to a gramophone.

15-string Phonoharp

Artist: Walter Kitundu

Media: Wood-constructed turntable

Location: Museum of Craft and Folk Art, San Francisco, CA 2007

Description: This wood-constructed turntable relies on earthquakes for power. Displayed in the "Beats Per Minute" exhibition at the Museum of Craft and Folk Art.

The Lovers

Artist: Unknown

Media: Oil

Location: Unknown

Description: Romance is a common theme for the phonograph in its "mood music" role. This painting features wine, woman and song

Yeah Yeah Girls

Artist: Kerry Beary, 2005

Media: Acrylic on canvas, 20"x20"

Location: Private collection

Another Smash

Artist: Kerry Beary, 2006

Media: Acrylic on canvas, 12"x12"

Location: Private collection

Boomerang

Artist: Kerry Beary, 2006

Media: Acrylic on canvas, 12"x12"

Location: Private collection, Limited Edition 200

Description from the artist: My inspiration comes from a myriad of things. I collect mid-century, Danish modern, 50's and 60's art, furniture, accessories, and fabrics. My husband and I purchased a modern home in sub-tropical Louisiana, built in 1953, and have been filling it with all things retro, vintage, Tiki, and fabulous! My paintings contain elements from my home, especially the lamps, patterns, and furnishings. My models are a blast from the past: photographs of my mother, who was a 50's and 60's fashion hair and makeup diva, advertisements, and of course the glamour of Hollywood and all those wonderful television shows! Leave it to Beaver, I Love Lucy, Bewitched, I Dream of Jeannie and so on. The clothes, the hair, the accessories, the decor; these old things are new again and here to stay. We have been collecting and acquiring these items for many years from many places: New York City, Maryland, Pennsylvania, Southern California, and right here in the Deep South!

Le Gramophone

Artist: Lucien Philippe Moretti, 1922-2000

Media: Limited Edition Lithograph, 26" x 21"

Location: Private collection, 29 of 125

Description: Lucien P. Moretti was a people-watcher, said to never be without his drawing pad. Moretti captured interesting characters and faces, and in this lithograph ot multiple vignettes he features a young girl listening to a gramophone.

Dreams of Long Ago

Artist: Norman Rockwell

Media: Artists proof, 1927

Location: Private collection

Description: The model for this Saturday Evening Post cover of August 13, 1927 was James Van Brunt. Posed next to a Victor Talking Machine he held a Victor record titled, 'Dreams of Long Ago.'

"This record was recorded by Enrico Caruso, an Italian tenor whom Rockwell had met during his work at the Metropolitan Opera House in 1912. The lyrics include: "shadows are falling and I sit alone/My heart recalling Memories when you were my own." Van Brunt's pose and expression in this piece suggest a wistful nostalgia for a time passed". The Norman Rockwell Museum
A Funny Story
Artist: Unknown, 1911
Published by "Chatterbox"
Media: Print, 7 1/4 x 5 1/2

Saluting the Grammy's
Artist: Fazzini, c 2002
Media: 3-D Serigraph, 15"x 17.5", limited edition
Location: Private collection

Birds and Gramophone
Artist: Schlomo Schwartz
Media: Mixed media, watercolor, chalk and gouache, 19 1/2" x 27"
Location: Private collection
Description: Shlomo Schwartz was born in Bukovina, 1934, imigrated to Israel in 1948. He studied art with Aharon Avni, and continued studies at the Avni Institute of Art and Sculpture under the direction of Moshe Mokadi, his persomal instructors were Marcel Janco, Stematzky, Streichman and others.
Music Hath Charms
Artist: George Grosz, 1948
Media: Monochrome Lithograph 7' x 9.5"
Location: Private collection
Description: This piece was illustrated by popular German artist George Grosz (1893-1959) was known for his irreverent caricatures of life in Berlin during the 1920s. Before he emigrated to the United States in the early 1930s he was a member of both the Dada movement and a verist of the New Objectivity group in Weimar Republic of Germany. While in the US, he ventured away from caricatures, preferring instead to focus on landscapes and watercolors.
The Menaced Assassin
Artist: Rene Magritte, 1927

Media: Oil, canvas, 195.2 x 150.4 cm

Location: : Museum of Modern Art, New York, USA

Description: The Menaced Assassin is a 1927 oil on canvas painting by Belgian surrealist artist René Magritte. The main subject of the painting, a blood-smeared nude woman, is seen lying on a couch. The assassin of the painting's title, a well-dressed man, stands ready to leave, his coat and hat on a chair next to his bag. He is however delayed by the sound of music, and in an unhurriedly relaxed manner, listens to a gramophone. In the meantime, two men armed with club and net wait in the foyer to ensnare him, as three more men also watch from over the balcony.

Information from en.wikipedia.org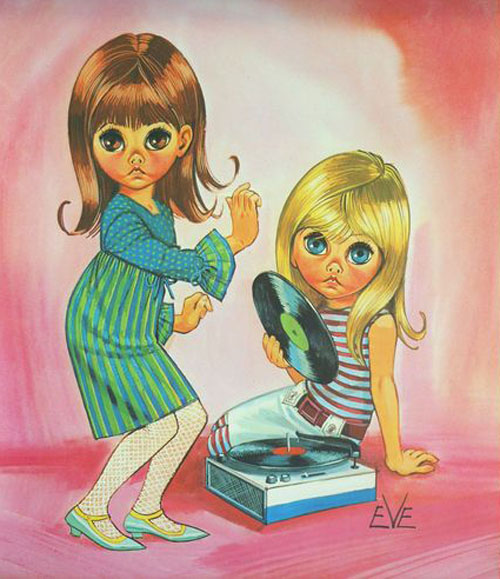 Teenagers in the style of Margaret Keane Big Eyes
Artist: Eve
Circa 1970's
Artist: Elena Maria Ospina Mejia
Location: Unknown
Description: Elena Maria Ospina Mejia is a painter, illustrator and cartoonist from Columbia. This image was found on the European Cartoon gallery website.

Information from http://www.cartoongallery.eu/englishversion/gallery/colombia/elena-ospina/
Coqui Music
Artist: Kaitlin Choi Vuksanic, 2006

Media: Gouache, 2/5" x 3.5"

Location: Private collection

Artist: Unknown, Pacific Sheets, 1945

Media: Magazine ad

Description: This magazine ad from 1945 features a young woman enjoying her record player, telephone and lush bed sheets. The next generation of teens would replace these 78's and have a stack of 45 rpms playing music in their bedrooms.
Unknown title
Artist: F. Hardy

Media: Illustration on paper

Location: Private collection

Description: This illustration by F. Hardy is from the French magazine La Vie Parisienne. The 1929 image depicts a sultry smoking lady playing a record on the gramophone.
Listening to the Gramophone - Antique car and Gramophone - Ex Libris
Artist: V. Jakstas

Media: Mixed media, watercolor, chalk and gouache, 19 1/2" x 27"

Location: Private collection

Description: Ex Libris Bookplates, 8.0 x 6.0 cm
What is the Phonograph?
Artist: Unknown

Media: Woodcut engraving

Description: Wood engraving from FRANK LESLIE'S BOYS AND GIRLS WEEKLY Illustrated Journal (New York), dated June 15, 1878. Featured in this issue is the article "WHAT IS THE PHONOGRAPH?" containing the wood engraving (left): "PROFESSOR EDISON EXHIBITING THE PHONOGRAPH TO VISITORS, AT HIS LABORATORY, MENLO PARK" (7" X 9 1/2").

The article reads, "The simple piece of mechanism known as the phonograph, invented by the now celebrated American, Thomas A. Edison, of Menlo Park, N.J., must be regards as one of the most astonishing triumphs of the human mind over matter...In mechanism the phonograph is simplicity itself. It consists of a cylinder of brass, mounted on a horizontal axis, supported by two bearers, and revolved either by hand, clock-work or steam power...The groove between the threads of the cylinder surface are intended to govern the trace of the needle or point attached to the vibrator when passing over the revolving surface. The vibrator is a small annular frame of wood, over the orifice of which is placed a thin plate of tin type...".
Clarabelle Cow and the Phonograph
Artist: Walt Disney Productions ©

Media: Card stock 1 3/4" x 2 3/4"

Location: Private collection

Description: This image is from a Walt Disney Vintage Card issued in Sweden in the early 1970s.

Sonora - the Aristocrat of Phonographs
Artist: Hilma Lehmann

Media: Sketch, watercolor, July 30, 1922

Location: Private collection

Description: Living room scene with the caption "The Friend you need at your fireside for cheerful Winter Evenings." Sonora's trademark was a bell with the slogan "Clear as a Bell." This sketch was for a Sonora Advertisement for a Trolley Car Sign.
The Gramophone
Artist: J. H. Dowd

Media: Black and white print from book, c. 1930

Location: Private collection

Description: J.H. Dowd is said to have captured "simply and beautifully the characteristic actions and ever changing moods of children", as illustrated in this print.
South Bronx TATS CRU Mural 2018
Welcome to the South Bronx. East 134th Street and mural by TATS CRU with record player

Credit: Devin Yalkin for The New York Times

Phonographia