About This Site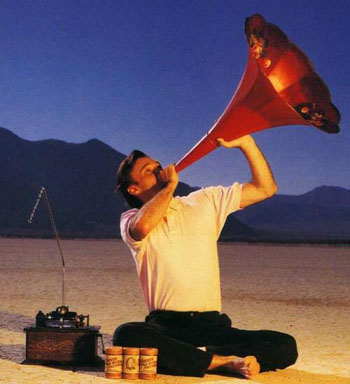 Phonographia.com
Phonographia are popular culture connections with the phonograph.
Three factolas help explain the significance of the phonograph:
1) The Phonograph changed the human perception of ephemeral sound.
2) The Phonograph was a machine that started social, cultural, and literal revolutions with records revolving and playing "bottled up" music and voices on-demand.
3) The Phonograph was promoted as a necessity for every home offering "the best seat in the house" where the world of entertainment could be enjoyed like a king or a millionaire or the possessor of Aladdin's lamp.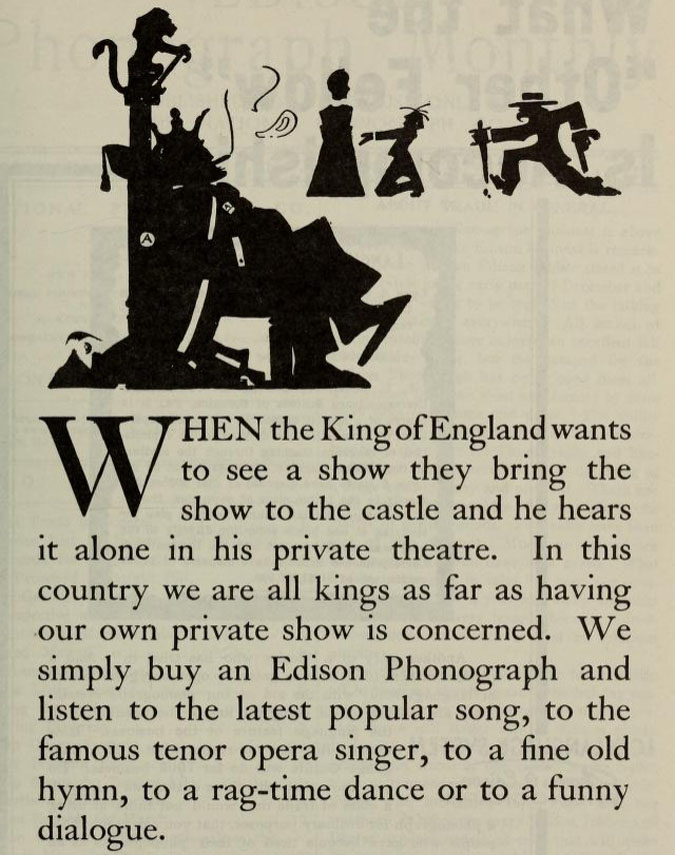 The Edison Phonograph Monthly, December 1906



As a virtual scrapbook (1) phonographia are paper ephemera from magazines, newspapers, ads, cartoons, books and other daily life encounters. Each example originates from its respective time but two concepts are foundational and replay in every decade. First, sound can be captured " for future use"(2). Second, those recorded sounds can be heard by anyone, anytime, and anywhere.
Being able to listen to "bottled up" sound was a revolution in audio perception, altering the ephermal to become sound lasting potentially forever. Early advertisements promised something for everyone if you owned a phonograph. "Its repertoire is as limitless as the realm of melody itself."
As a consumer product, the phonograph offered its diverse entertainment for any home. However, the homes in these ads were often scenes of comfort or wealth. These advertised images of privilege showed consumers how the wealthiest homes were living in relation to music, as was also the intention of the phonograph ads referencing opera recordings and high culture entertainment. Additionally, opera and its opera stars in many early phonograph ads played influential roles in promoting recorded sound not only as belonging in the home but as the equivalent of hearing live music in opera halls themselves.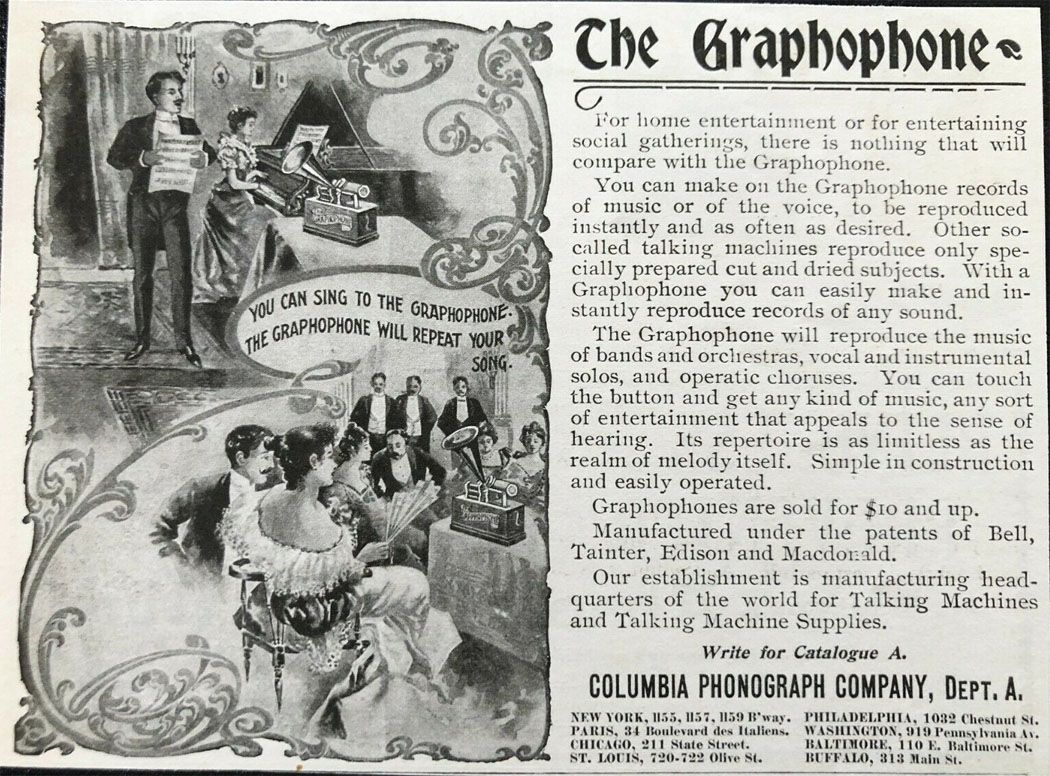 Munsey's Magazine, May 1898
No one, of course, became a member of the privileged class or an actual patron of the Metropolitan Opera House by simply purchasing a phonograph. And other recordings featuring "famous bands and orchestras, popular singers and comedians" were also prominent in early phonograph advertisements. But a happy family and the home as one's castle (be it ever so humble) were embedded goals in American popular culture. And regardless of wealth or where one lived, if your family could be happier and could enjoy the same entertainment of the privileged then owning a phonograph surely was an appealing prospect.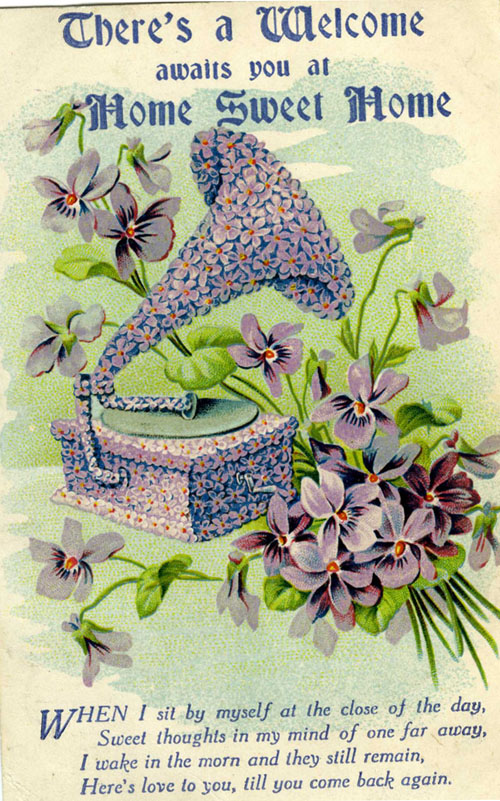 "Home Sweet Home," postcard, circa 1910
Edison added his own detail to the American Dream and "Home Sweet Home" in a 1907 ad saying "I want to see a Phonograph in Every American Home." (3)
Phonograph ads, popular culture connections, phonograph ephemera, and the "small stories"(4) related to the phonograph entering the home could be called the B-side of phonograph history. And it's these B-side pieces that are the focus of phonographia.com, hopefully contributing to the overall "prismatic recollection of history."(5)
Named like any Friend of the Phonograph would expect for phonograph related galleries, readers will find a variety of connections and perhaps some whimsy in pages titled PhonoArt, PhonoToons, PhonoDrinks, Factolas, PhonoAds, PhonoFood, PhonoLyrics, PhonoLiterature, etc.
Additionally, Friends of the Phonograph have their own subgallery featuring personal memories about the phonograph, celebrations and other phonograph related stories.
Phonographia.com is all about connections with many hyperlinks. Since this is neither a book nor a linear history its links hopefully add value without being distractions "in the funhouse of endless hyperlinks." (7)
For several angles on my life-long connections with talking machines and phonograph ephemera see Collecting and Phonographia - One Collector's Perspective.
For my one-off 'about' perspective of "What's It All About?" read About This Site - Postscript.
For some thematic and serendipitous musings see Assorted topics and observations by DB.
Enjoy!
Doug Boilesen a.k.a. DB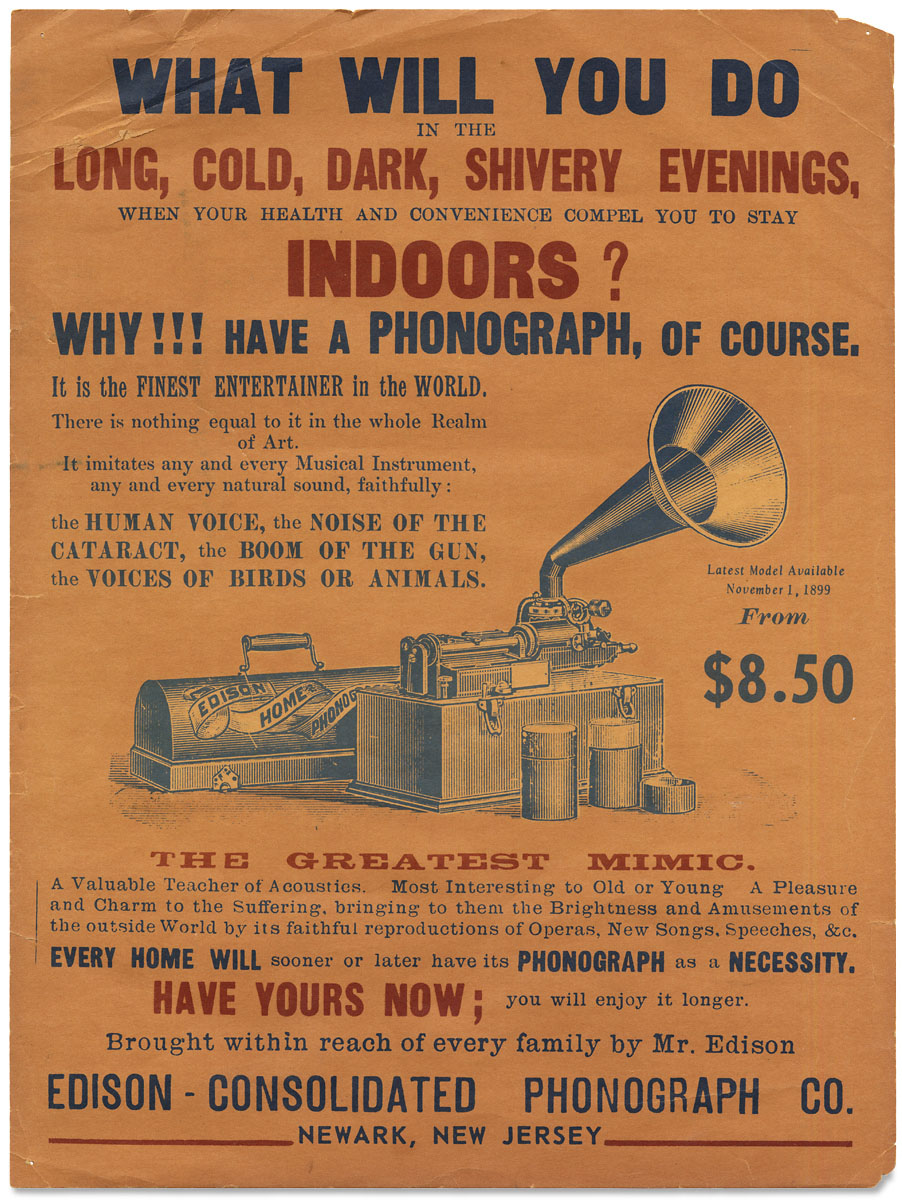 10" x 14" circa ;1899 broadside advertising the "Finest Entertainer in the World"
"Every home will sooner or later have its phonograph as a necessity"
Courtesy of rareamerican.com