PHONOTOONS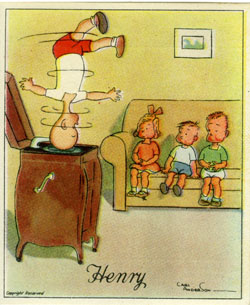 Comics, Cartoons & Jokes with Phonograph Connections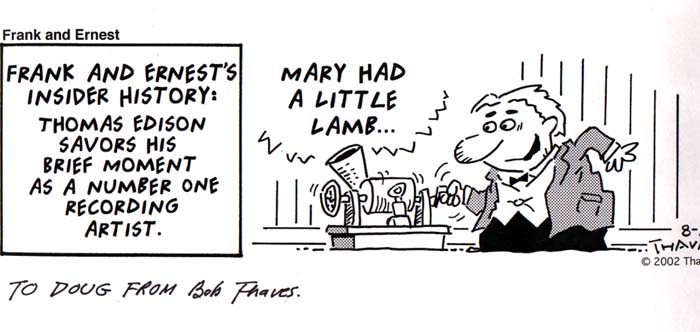 Frank and Ernest
Artist: Bob Thaves, 2002
"Mary had a little lamb..." were the first words reported spoken by Edison into his tinfoil phonograph on December 6, 1877 at Menlo Park, NJ.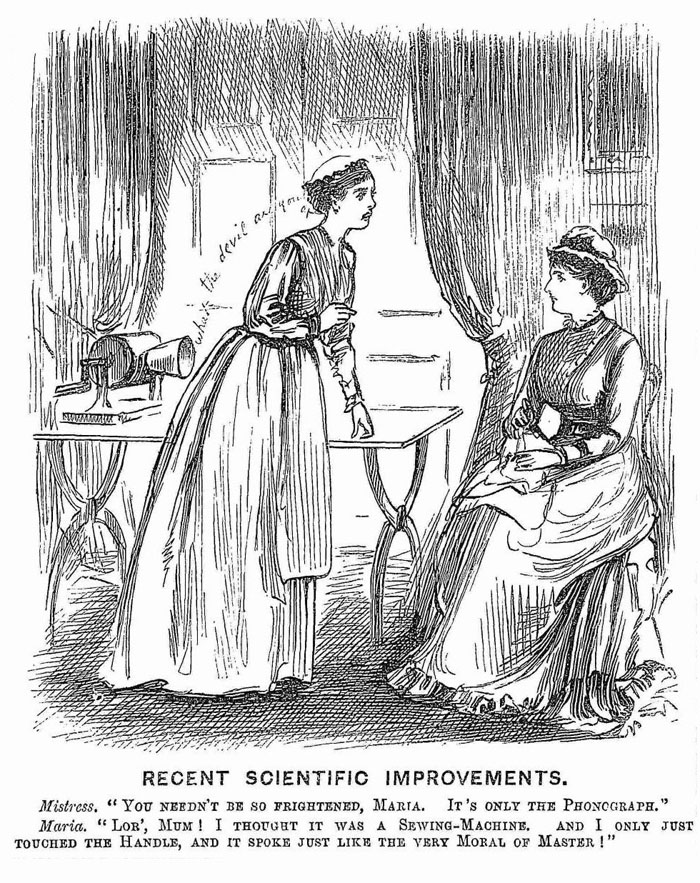 Punch, April 6, 1878 - "I thought it was a Sewing-Machine."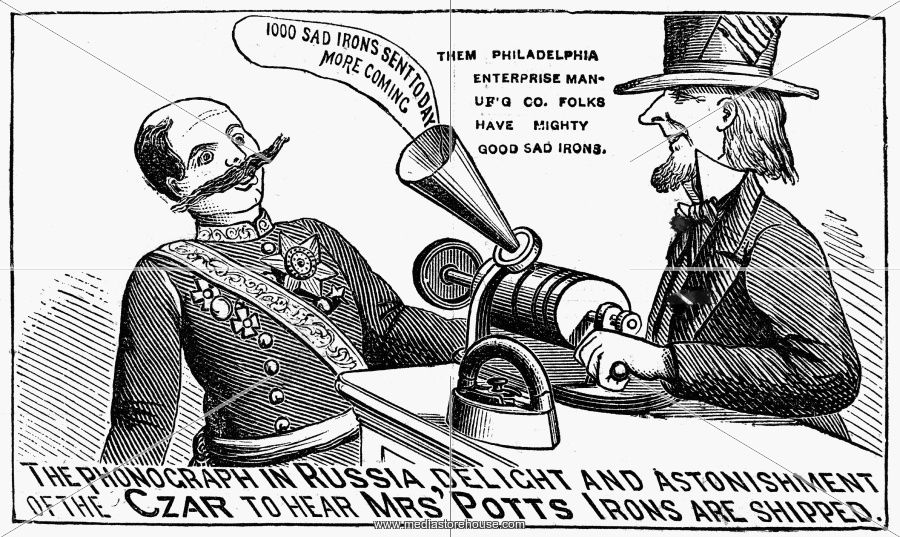 In 1871, Mary Potts of Ottumwa, Iowa, revolutionized the industry by patenting an iron with a detachable handle. This newspaper woodcut is from 1878.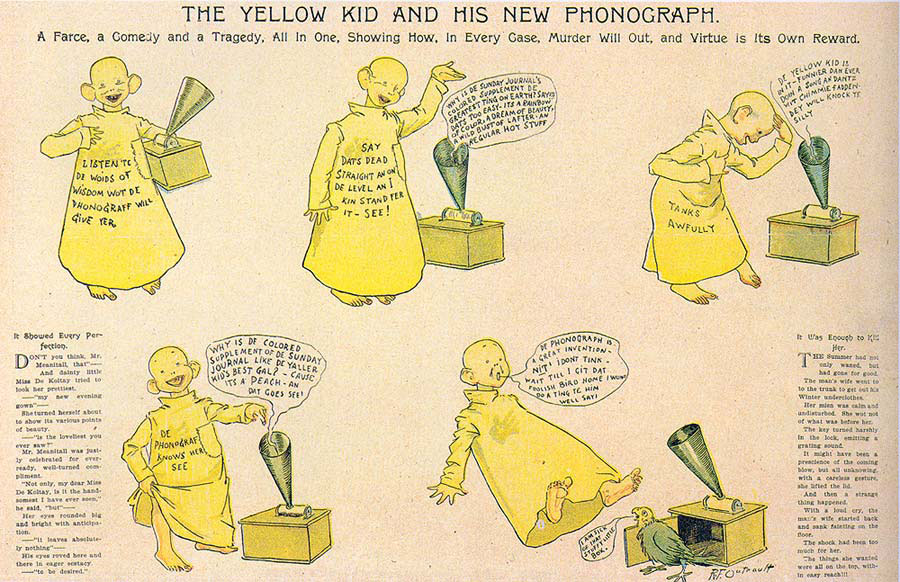 The Yellow Kid and His New Phonograph
Artist: R. F. Outcault, 1896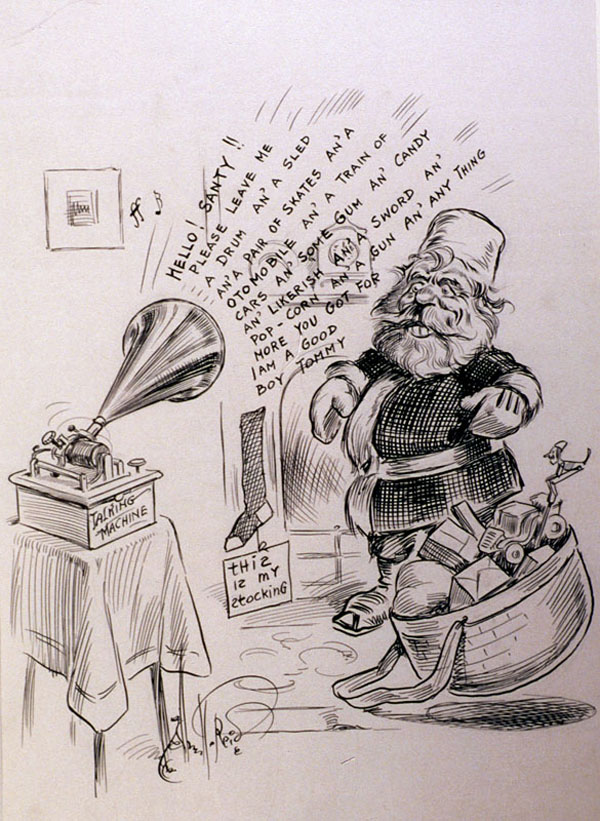 Hello! Santy!! - Cartoon by Albert Reid
Topeka Mail and Breeze, ca. 1897
Courtesy of the Kansas Historical Society: "In this humorous cartoon, Reid depicts the cultural icon Santa Claus as he is about to fill a stocking with gifts. Santa is shocked and alarmed when the newfangled phonograph blurts out a recording of the child's Christmas wish list."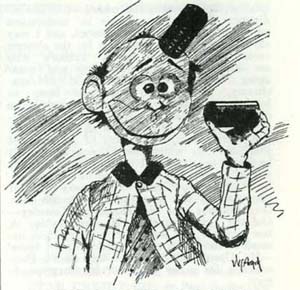 Happy Hooligan
Artist: Frederick Burr Opper, 1900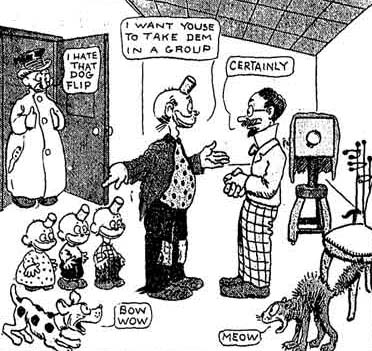 In 1900, Frederick Burr Opper created the always-in-trouble Happy Hooligan, a comic strip character who was known for his tiny tin-can hat. This cartoon (above) is panel number 1 from the June 21, 1903, a comic strip entitled, "Happy Hooligan Takes His Little Nephews to the Photographer," published by William Randolph Hearst newspapers.
Pore Lil Mose - The New York Herald
Artist: R. F. Outcault, 1901
Reprinted in Talking Machine World, March 15, 1907
Reprinted in Talking Machine World, August 15, 1907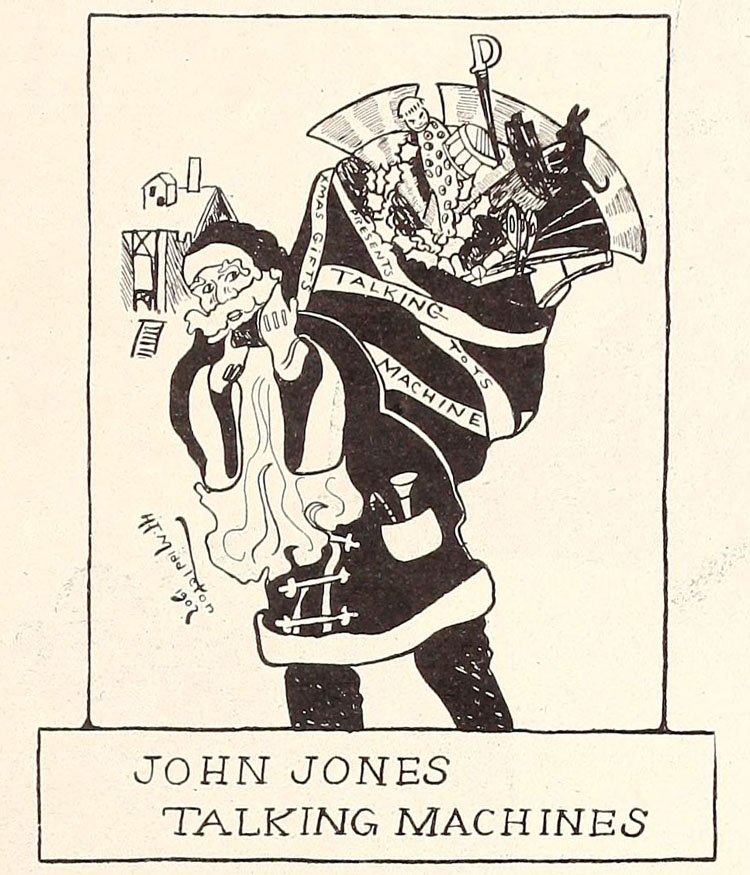 Talking Machine World, 1907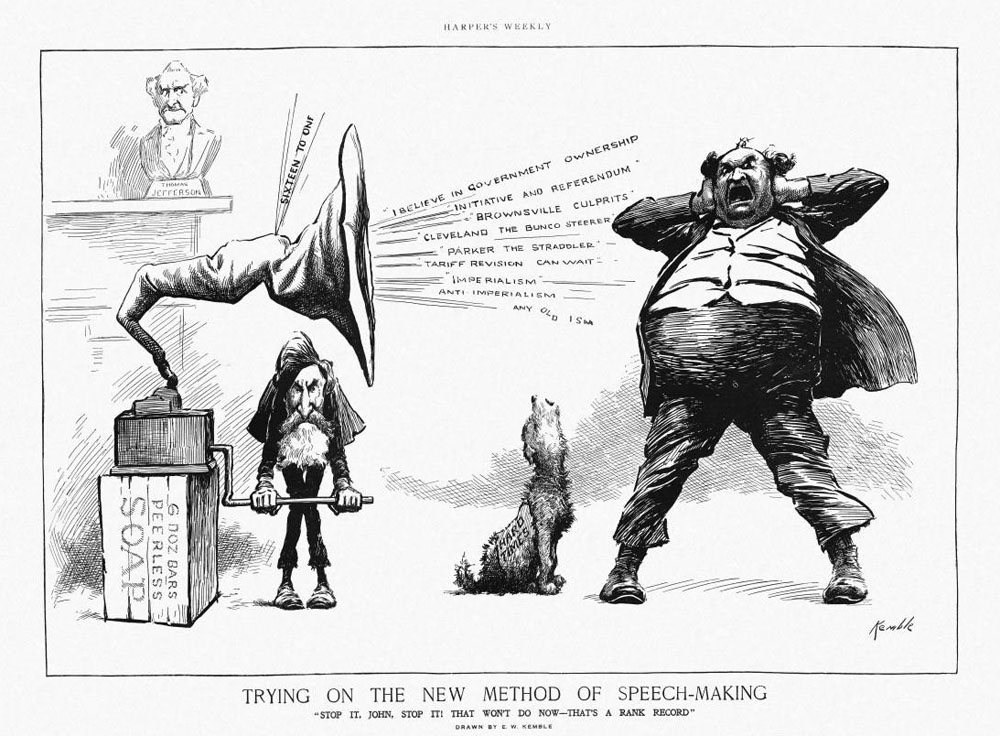 Harper's Weekly, 1908
In 1908, for the first time in history, Americans could listen to the recorded voices of the presidential candidates, Republican William Howard Taft and Democrat William Jennings Bryan.

In this cartoon, Bryan reacts in horror to his own statements for "government ownership," "initiative and referendum," and "any old ism"; his criticisms of previous Democratic nominees, President Grover Cleveland and Alton Parker; and his contradictory comments for and against imperialism.

Bryan bellows to his vice-presidential running mate, John Kern, who is turning the gramophone, to stop the infernal racket. Between them the dog of "hard times" wails, while on the shelf (upper-left) a bust of Andrew Jackson, on a base inscribed "Thomas Jefferson," casts a distressed glance at the party's current standard-bearer.

(Source: Harpweek.com cartoons)
Edison Phonograph Monthly, August 1908
William Jennings Bryan, in his Presidential bid of 1908 recorded a series of cylinder phonograph records for the Edison Phonograph Company. In this cartoon, Taft is seen complaining that he has missed out on this innovative campaigning. The Edison Phonograph Monthly in September 1908, however, announced the release of 12 Edison Records by William H. Taft made at Virginia Hot Springs, after Mr. Taft delivered his speech of acceptance at Cincinnati. The EPM called this an announcement of great importance, noting that "no matter how the November election may result we shall have Records by the next President. This makes new history. It indicates progress."
Making the Taft Records
The morning papers were filled with accounts of Taft's 'canned speeches.' Everybody ... was discussing them as well as the report that Mr. Bryan said the opposition had stolen his campaign thunder. They all seemed greatly interested in the part that the Edison is playing in the Presidential campaign.

...both Messrs. Bryan and Taft gave the Edison first choice for introducing their personal views into American homes. Was ever such a compliment paid a talking machine?

As reported by The Edison Phonograph Monthly, September 1908
Suggested "Ad" for a Graphophone Company
Why go the Metropolitan Opera House when you can sleep so much more comfortably at home?
Artist: Life Magazine, 1910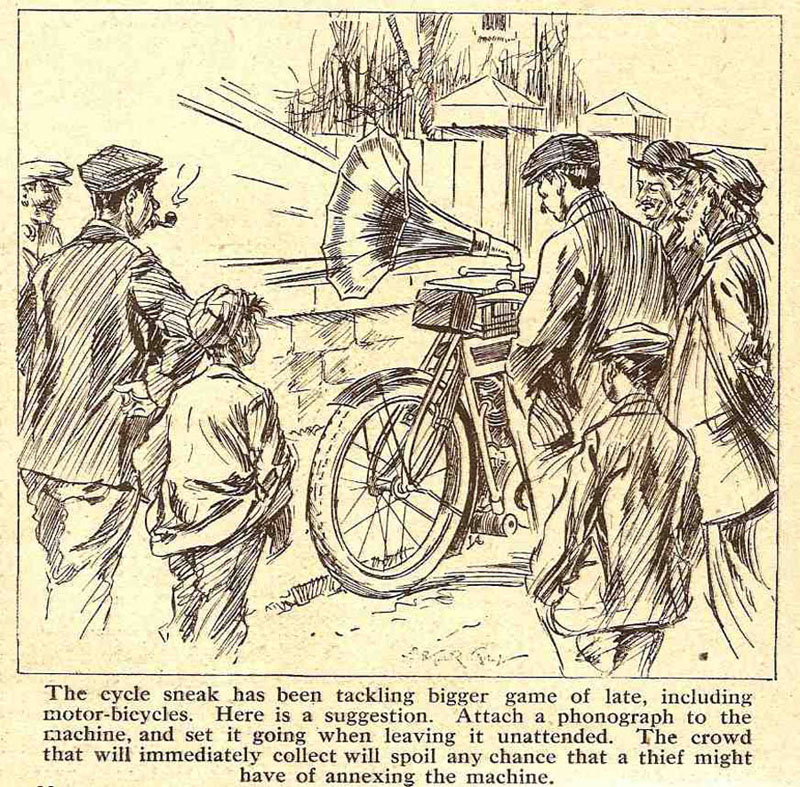 Punch (?), c.1910
St. Louis Post-Dispatch, August 20, 1913
This 1913 cartoon is one of six panels from a comic strip of predictions by Robert Donald, managing editor of the London Chronicle, about the future of newspapers. It was reprinted by the St. Louis Post-Dispatch in 1913 and posted in a blog by Stephen Roth in 2018.
Postcard, circa 1910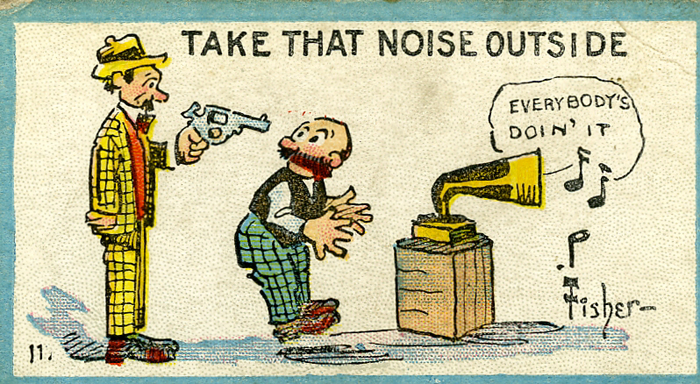 Mutt and Jeff by Bud Fisher, c. 1911
Everybody's Doin' It Now was one of a trio of songs written by Irving Berlin in 1911 that revolutionized American popular music.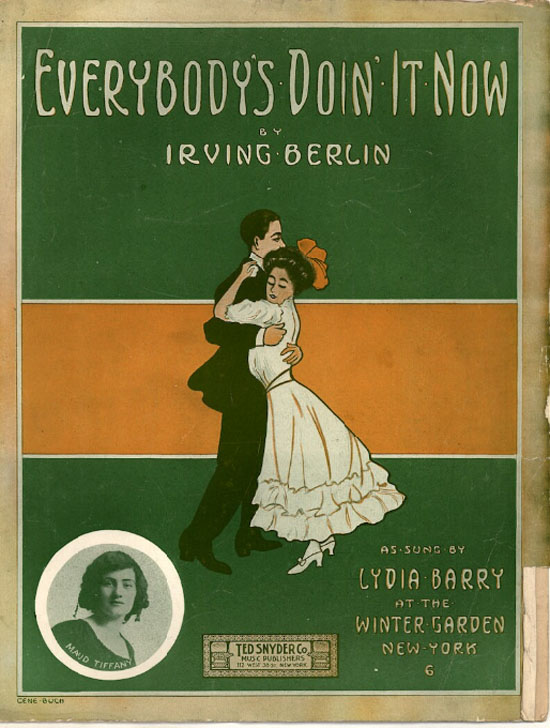 Everybody's Doin' It Now sheet music courtesy of Library of Congress
to Zonophone Record No. 816 by Harry Fay
, 1911
Zonophone Record Everybody's doing it now - 1911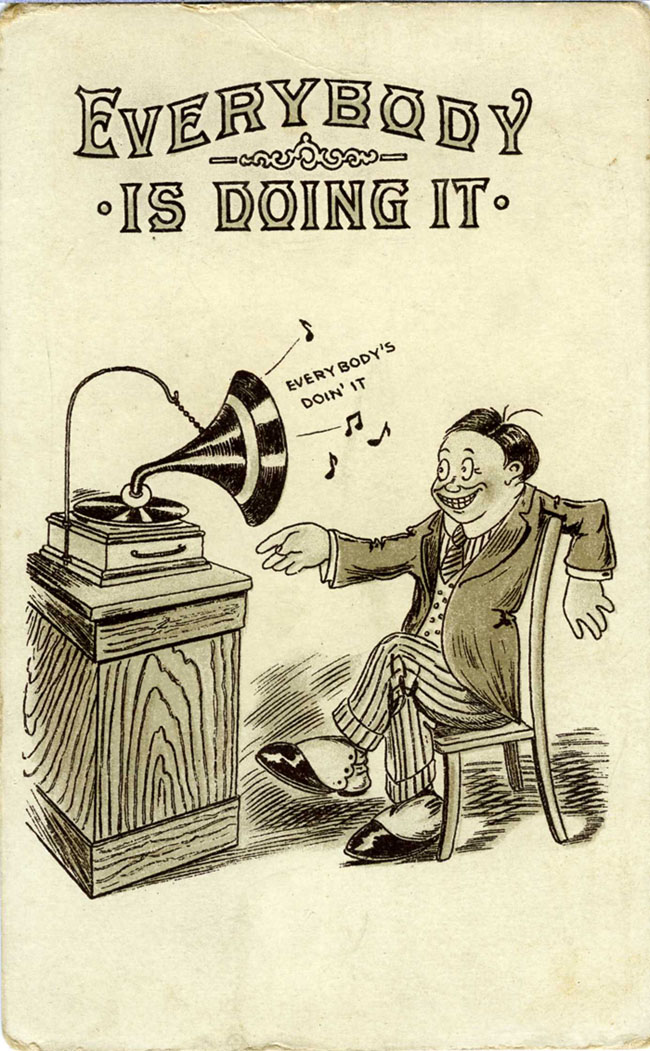 Postcard ca. 1912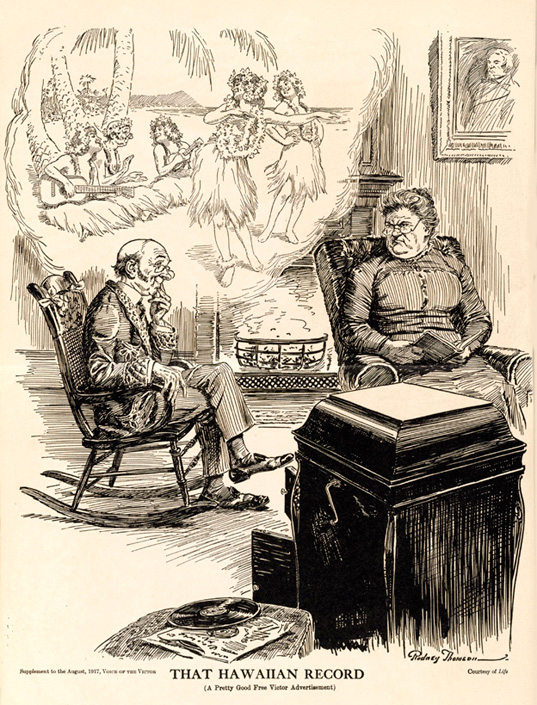 That Hawaiian Record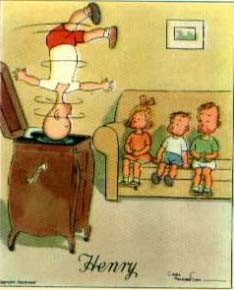 Henry
Artist: Carl Anderson, 1935
This tradecard shows Henry spinning upside down on a turntable. Henry was a popular cartoon character first appearing in the comic strip by the same name in 1932.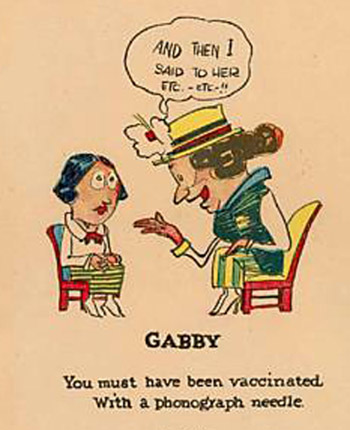 This line was said by Grouch Marx in the 1933 movie "Duck Soup"
"You can leave in a taxi. If you can't get a taxi, you can leave in a huff. If that's too soon, you can leave in a minute and a huff.
You know, you haven't stopped talking since I came here? You must have been vaccinated with a phonograph needle."

Bringing Up Father by George McManus - Courtesy of King Features Syndicate
Dagwood, 2001

Artist: Dean Young & Denis Lebrun, 7-1-2001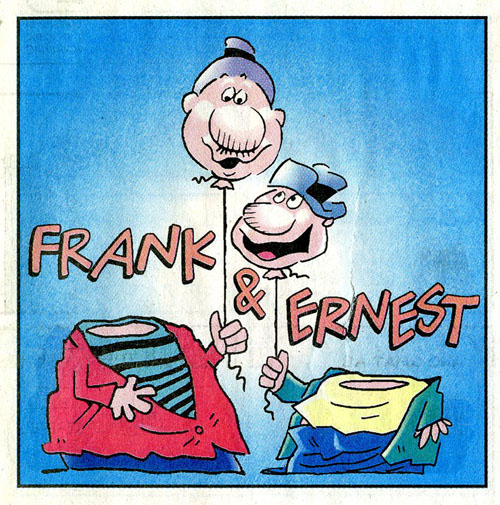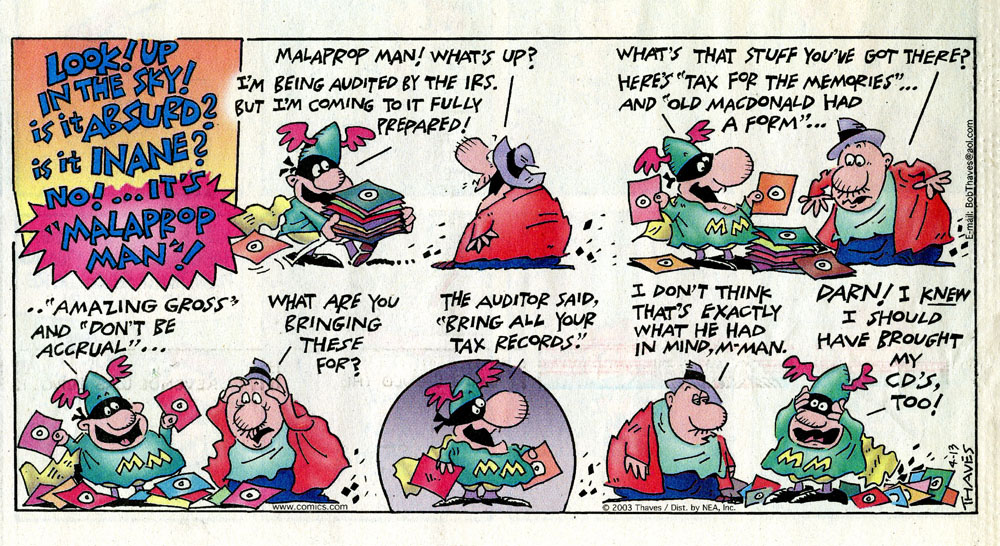 Bob Thaves, Frank and Ernest April 13, 2003

©King Features Syndicate, 6-25-2012
Sita Sings the Blues, c. 2003
Artist: Nina Paley & Stephen Hersh

Calvin and Hobbes, September 2014
Artist: Bill Watterson
The Listening Room
Artist: Stereo Review, August 1980
Test Record - Second Opinion
Artist: Stereo Review, May 1987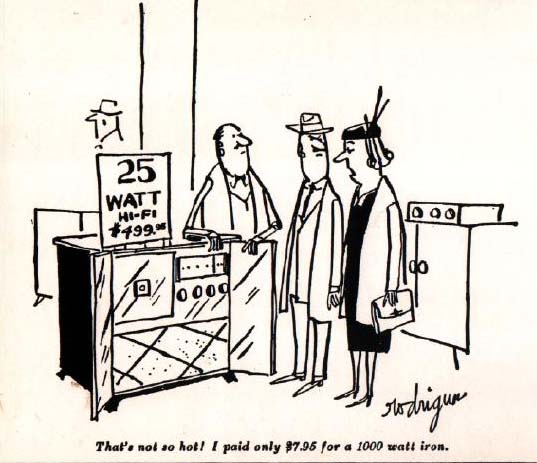 25 Watt Hi-Fi
Artist: Stereo Review
Slightly Used Tape Recorders
Artist: Unknown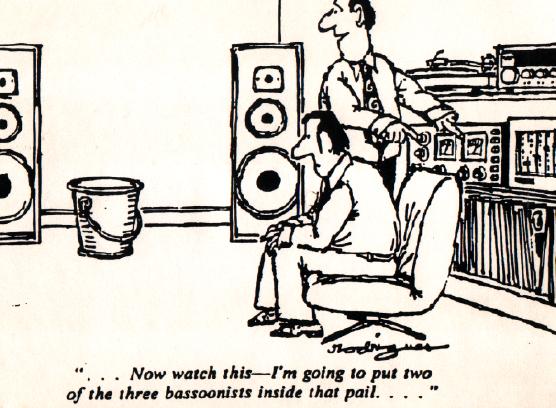 Hi-Fi Performers
Artist: Stereo Review
Divine Sounds
Artist: Stereo Review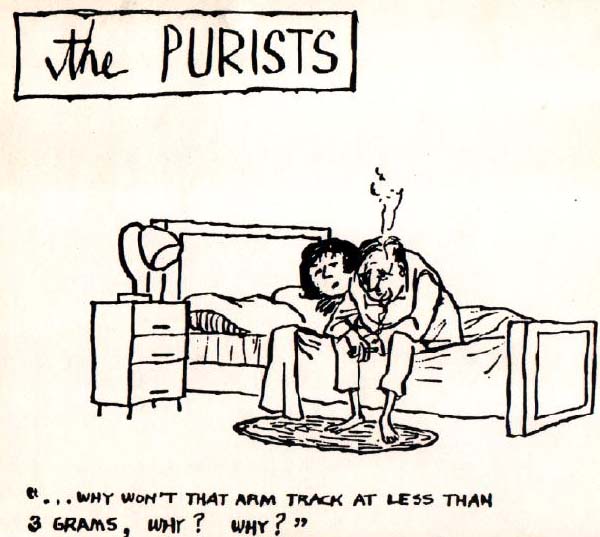 The Purists
Artist: Unknown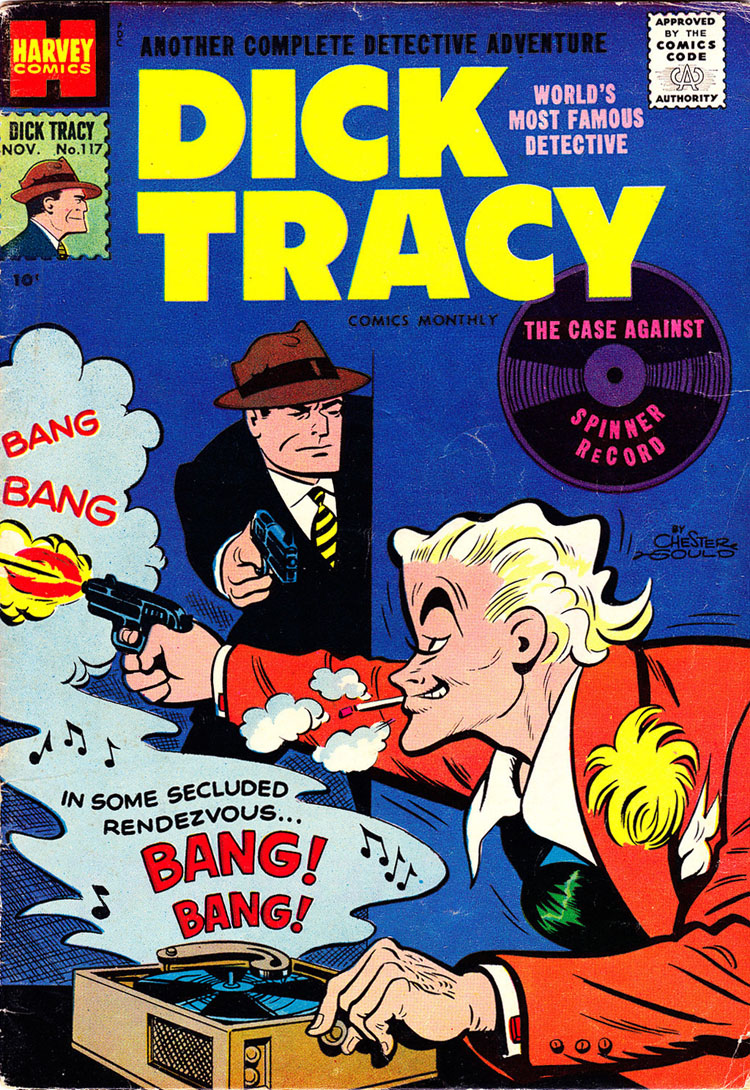 Dick Tracy, 1957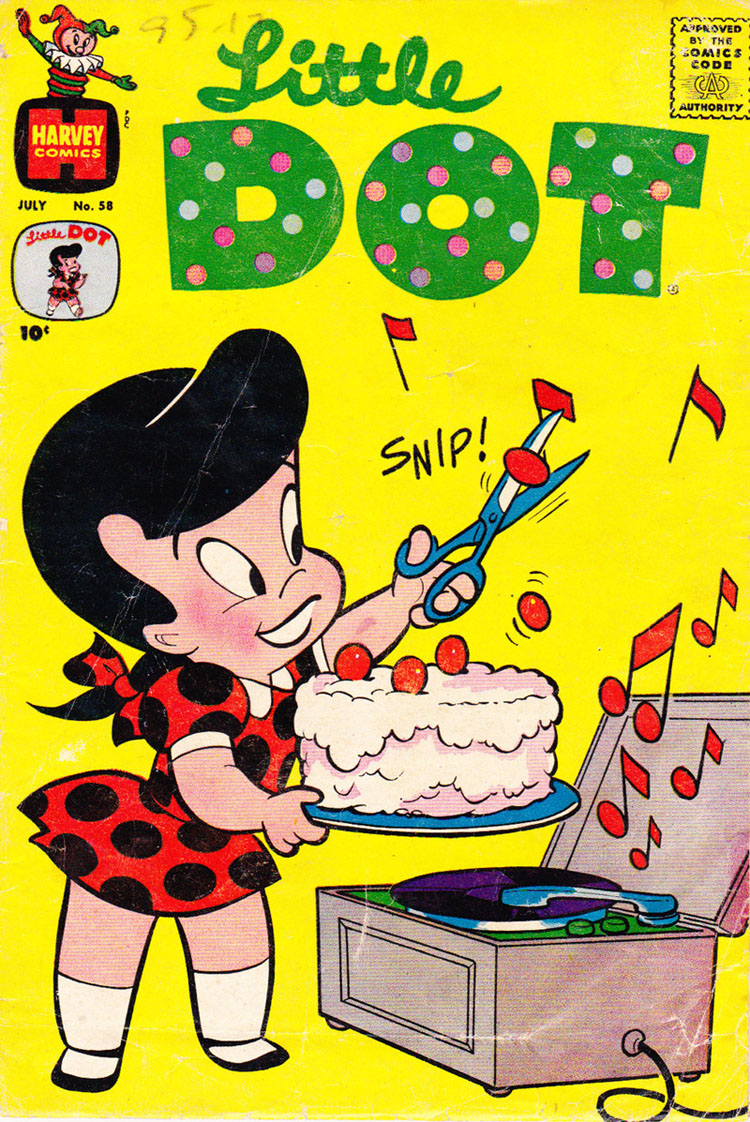 Little Dot, 1960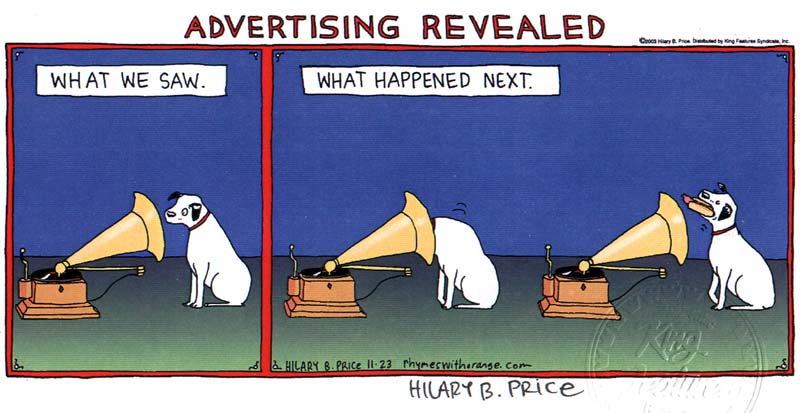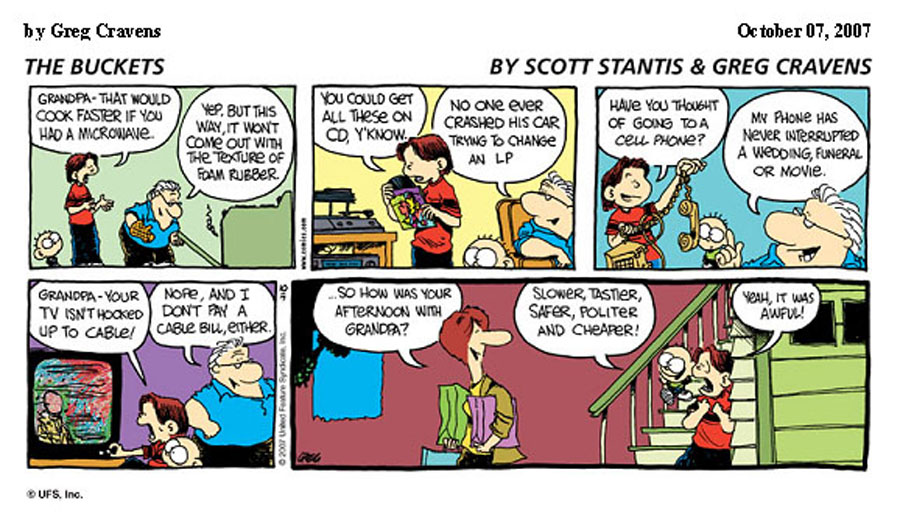 The Buckets - LPs vs. CDs
Artist: Greg Cravens, October 7, 2007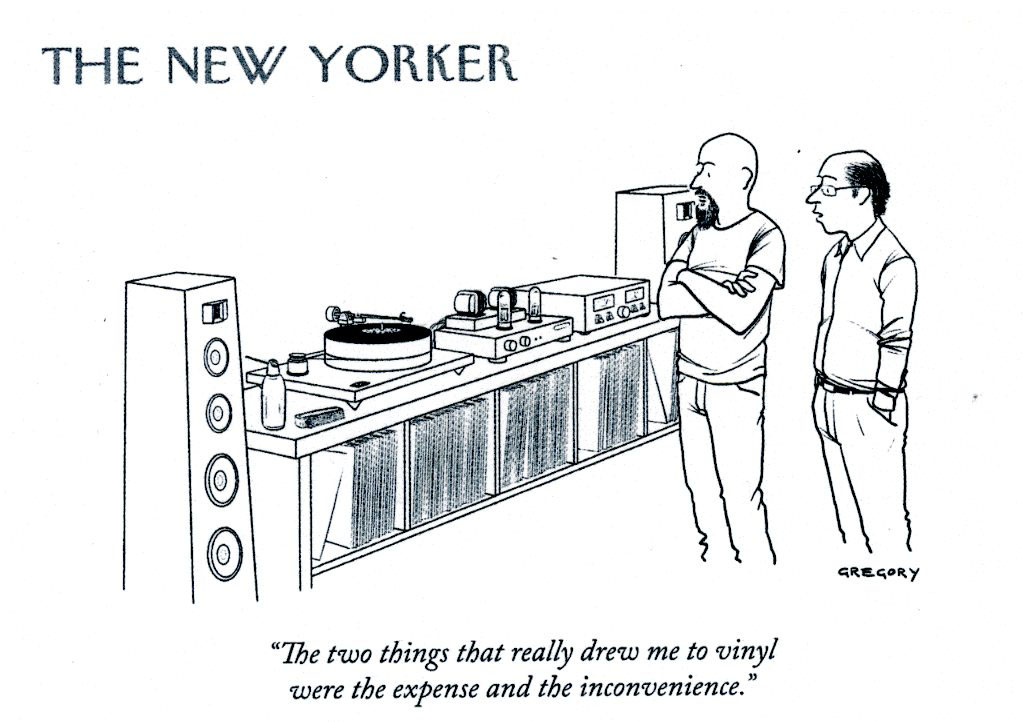 The Attraction of Vinyl
Artist: Gregory

Old-School Music Streaming
Artist: Bizarro, 2018

What's a Record?
Artist: Bill Amend, 1998

Mother Goose and Grimm
Artist: Mike Peters, 2018

Bizarro
Artist: Wayno & Piraro, 2018
Recco
Artist: Joan Cornellà, 2017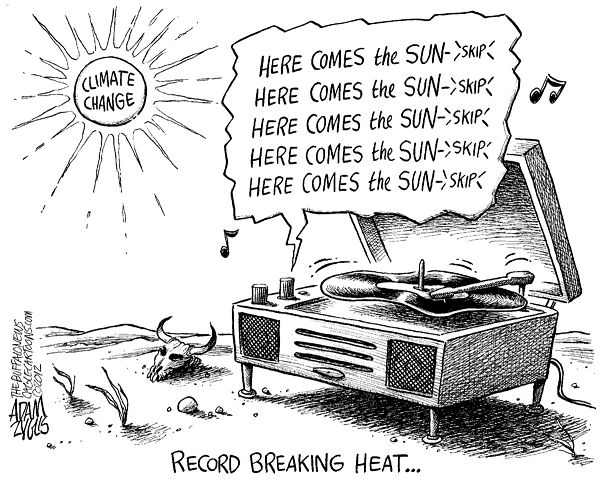 Courtesy of Adam Zyglis, The Buffalo News, July 6, 2012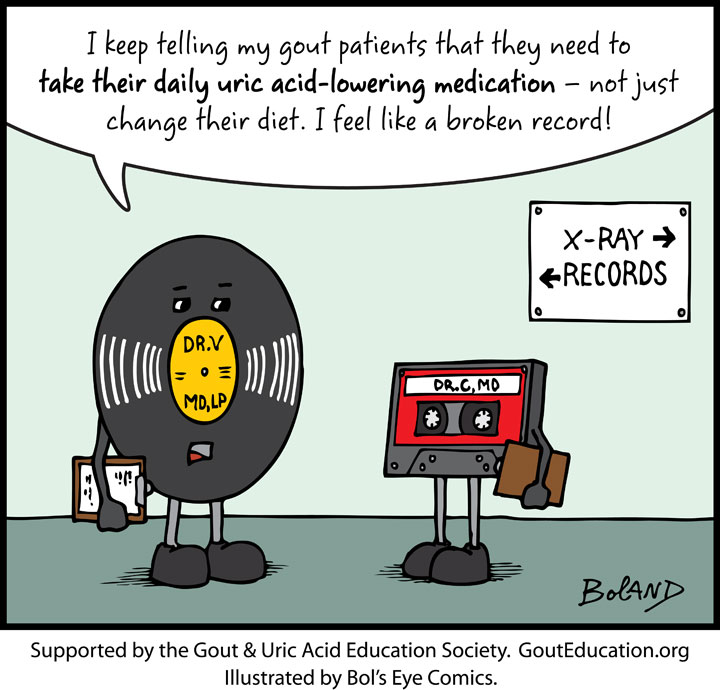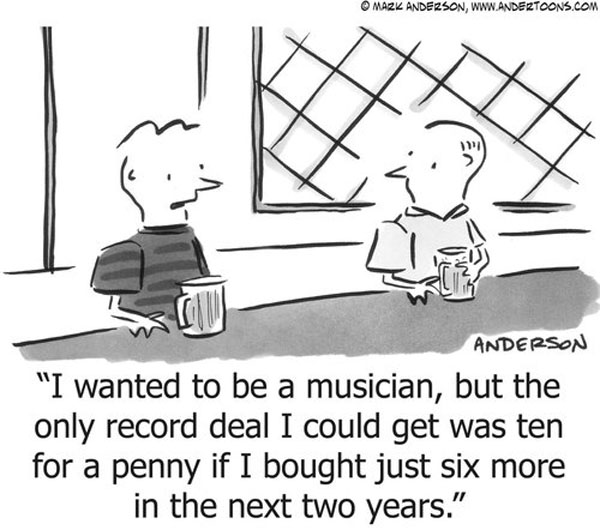 Courtesy of Mark Anderson of Andertoons.com
Courtesy of Daniel Beyers of Creators.com
Bee-Gees, The Honey Bees (The 60's Girl Group)
Courtesy of Daniel Beyers of Creators.com 2016
Capitol Record Club, Magazine Advertisement 1965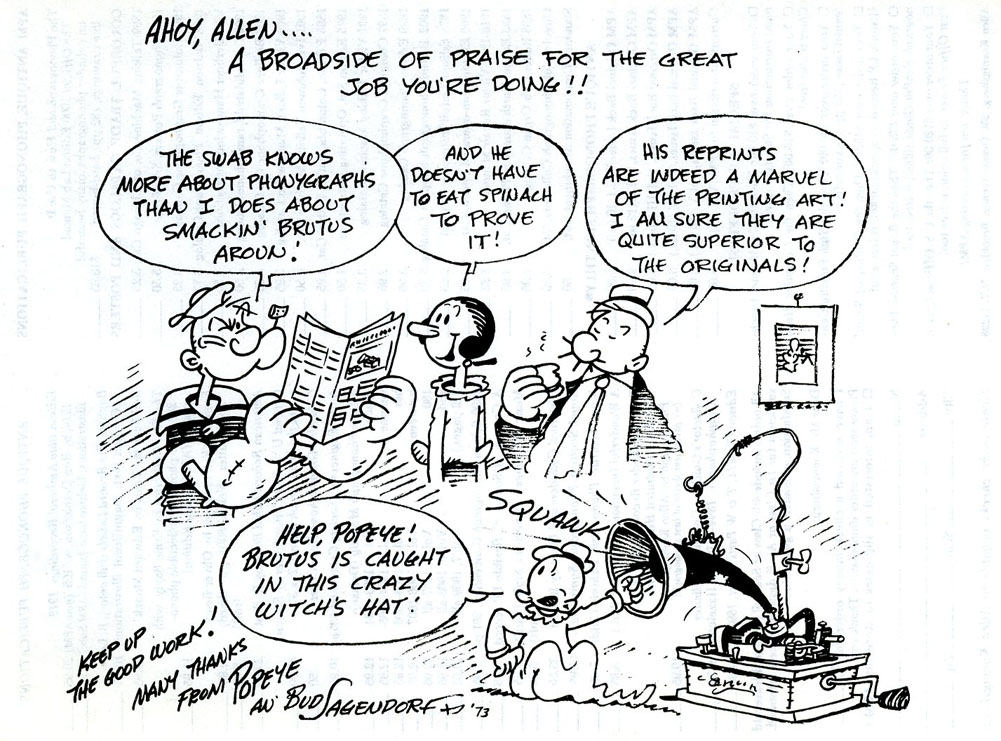 Cartoon tribute to Allen Koenigsberg, author of the Antique Phonograph Monthly and Phonograph expert, from American cartoonist Bud Sagendorf, 1973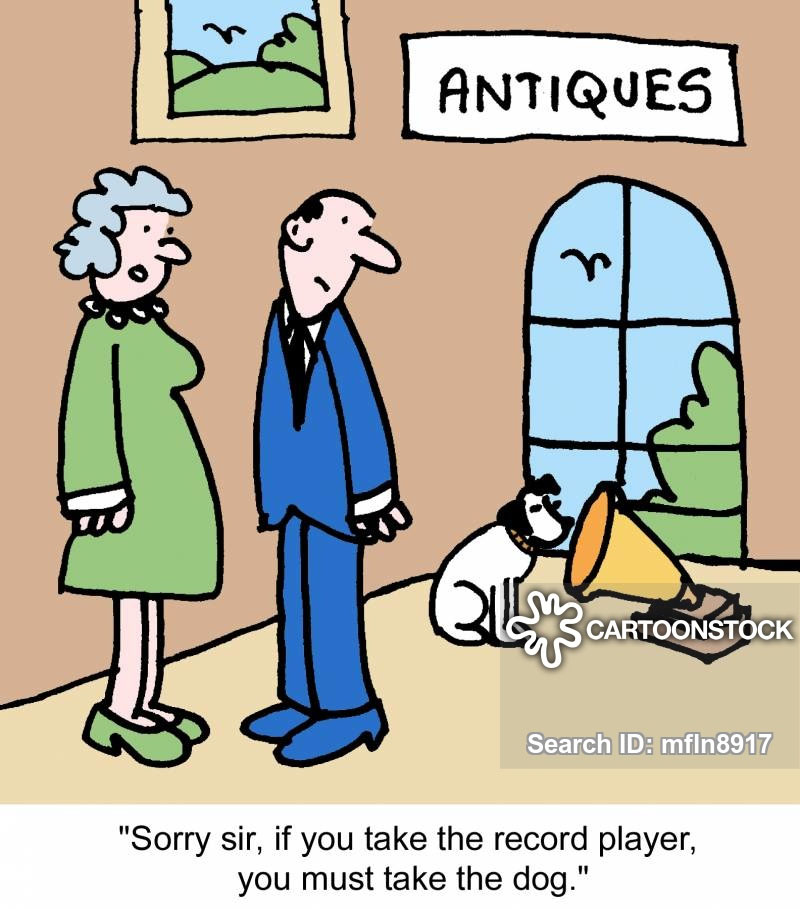 Available for purchase from Cartoonstock